Rural Life Museum and Windrush Gardens
Situated on the Burden Research Plantation, run by the Louisiana State University, is the Rural Life Museum and Windrush Gardens. The museum features an extensive collection of tools, household utensils, furniture, vehicles and farming implements, some outdoors and others housed in some 32 historic buildings that depict the lifestyle of pre-industrial 19th-century Louisiana.
Once you're finished reliving the past, take a stroll through the Windrush Gardens, which are spread over 25 acres and feature majestic oaks and ancient crape myrtles. The Rural Life Museum is set in very pretty grounds and is a popular wedding venue.
Address:
LSU Burden Research Plantation, 4560 Essen Lane
Opening time:
8am to 5pm every day, except prominent holidays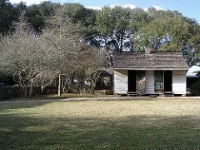 Rural Life Museum Shanna Riley
Old State Capitol
The historic Old State Capitol building, once described by Mark Twain as being the 'ugliest thing on the Mississippi', sits on a bluff overlooking the river and today operates as a museum for political and governmental history.
The unusual building, completed in 1849, housed the Louisiana Legislature until Union forces captured the city of Baton Rouge in 1862. The legislature returned to the building in 1882 and stayed until construction ended on the new capitol in 1932.
Now fully restored, the old Capital offers interesting and interactive exhibits, with multimedia presentations detailing Louisiana's past. This attraction will appeal to those interested in the political history of Louisiana but may be a bit dry and academic for kids and teenagers.
Address:
100 North Boulevard at River Road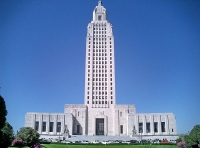 Louisiana Old State Capitol Richard Rutter
USS Kidd Veterans Museum
A highlight of the Baton Rouge Nautical Center and USS Kidd Veterans Museum is the restored 369ft (112m) World War II Fletcher Class Destroyer, USS Kidd (once known as the 'Pirate of the Pacific'), which is the prime exhibit. The ship is a National Historic Landmark and a memorial to the US veterans of World War II.
Overnight camping experiences on the ship are offered, while the centre also features a huge collection of model ships, a restored World War II fighter plane, a jet fighter from the Vietnam era and a walkthrough exhibit of the gun deck of Old Ironsides. Lovers of military history, and naval history in particular, will relish this attraction.
Opening time:
Weekdays 9am-3.30pm, Saturday to Sunday 10am-4pm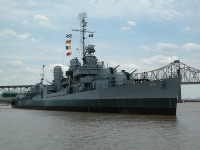 USS Kidd Veterans Museum Derek Jensen
San Francisco Plantation
Louisiana's most authentic restored 'great house' is the San Francisco Plantation house, situated on the east bank of the Mississippi under centuries-old live oaks, about 40 minutes from downtown Baton Rouge and near the small town of Garyville.
Built in 1856 by Edmond Bozonier Marmillion, the galleried house reflects the Creole open-suite style. The home features five hand-painted mural ceilings, faux marble and bois wood graining, and one of the finest antique collections in the United States. Also on the plantation is an 1830s slave cabin, a one-roomed schoolhouse, and a museum store.
Throughout the day, period-costumed guides take visitors on tours lasting about 45 minutes. Other plantation houses open to the public on the Great River Road between New Orleans and Baton Rouge include Oak Alley, Nottoway, Laura, Madewood and Tezcuco.
Address:
2646 Highway 44 (Great River Road), Garyville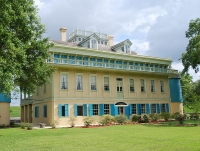 San Francisco Plantation House Bennett-ne
Louisiana Art and Science Museum
Housed in a historic railroad depot, the Louisiana Art and Science Museum offers educational and entertainment opportunities for visitors of all ages. Featured are changing fine art exhibitions, interactive art and science galleries for children, an Egyptian tomb and a simulated space station.
The enormous skull of Jason the Triceratops singlehandedly justifies a visit for many. Also on the site is the Irene W. Pennington Planetarium and ExxonMobil Space Theatre, offering planetarium shows and large-format films. Capital Transportation Corporation buses on the Florida Boulevard route stop on River Road directly across from LASM making the museum easily accessible on public transport.
Address:
100 South River Road
Opening time:
Tuesday to Friday 10am-3pm; Saturday 10am-5pm; Sunday 1pm-4pm; Closed Monday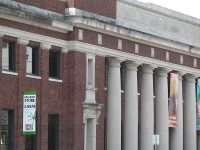 Louisiana Arts and Sciences Museum Derek Jensen
Lafayette
The city of Lafayette is the hub of the eight-parish area in the heart of Louisiana's southern Acadian region, famed for its unique Cajun and Creole heritage, and where the French language is soft on the ear and French traditions prevail.
Lafayette, to the east of Baton Rouge, lies at the intersection of Interstate 10 and Interstate 49. Known for its great food, music, and festivals, it also has historic attractions, majestic plantation homes, vibrant gardens, leisurely swamp tours and fascinating museums to entice visitors.
Authentic Cajun and Creole cuisine served up with original zydeco and Cajun music is usually top of the lists for tourists, but sites like the Acadian Cultural Center, University of Art Musuem, and the Natural History Museum are all well worth visiting.
Lafayette is only a short drive away from Baton Rouge and is comfortably explored in a day. Although, there is certainly enough about to see and do to justify a weekend getaway.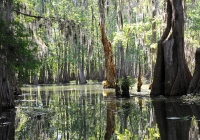 Swamp near Lafayette Richard Weil
Baton Rouge is quintessentially warm and wet. The city experiences rain showers all year round, high temperatures and humidity during summer, and generally warm, sunny winter weather. The climate of Baton Rouge can be unpredictable sometimes, and cold spells have been experienced in winter, with even the odd unexpected snowfall.
Temperatures in summer (May to August) range between 71°F (22°C) and 92°F (33°C), while in winter (November to February) temperatures range between 41°F (5°C) and 64°F (18°C). The best time to travel to Baton Rouge is between February and April, when the weather is usually fine and the heat and humidity are not at peak levels.
Baton Rouge Metropolitan Airport
Location:
The airport is located eight miles (13km) outside of Baton Rouges central business district.
Time:
GMT -6 (GMT -5 from mid-March to the first Sunday in November).
Getting to the city:
Shuttle services are available and the Capital Area Transit System (CATS) provides an express airport service to downtown. The bus leaves hourly.
Car Rental:
Cars from major car rental companies including Hertz, Avis, National, Enterprise, and Budget are available at the airport.
Airport Taxis:
A great number of taxi companies service Baton Rouge Airport in addition to Uber and Lyft ride-hailing services.
Fascilities:
Baton Rouge Airport offers a number of amenities, including a children's play room, a reading room, restrooms, a smoking lounge, a business centre, a food court, gift shops, an arcade, ATMs, cable TVs, courtesy phones, massage chairs, a nursing room, a non-denominational chapel, shoe shine services, vending machines, and a conference room.
Parking
Two three-storey parking garages are located directly opposite Baton Rouge Airport terminal. For standard parking it costs $1 per half hour or portion thereof, or $2 per hour for economy parking. For a full 24 hours it's $12 in the standard lot, or $9 in the economy lot. Payment is at check out while exiting the lot and most major credit cards are accepted.
Public transport options include buses and trolley buses. Buses go all over the city but run infrequently. The Capitol Park Trolley, which provides free service around the downtown area, is a great way to explore Baton Rouge.
The trolleys run between Monday and Friday, 10.30am to 2.30pm. Renting a car is also a good option. The minimum age for this is usually 25, although some agencies only require drivers to be 21 years of age.
Keep in mind that Baton Rouge is a much busier place than it once was. When Hurricane Katrina hit nearby New Orleans, many people evacuated to Baton Rouge, and a lot of them stayed. Many roads and highways now experience significant congestion regardless of the time of day.
As the city is located in the heart of plantation country, travellers to Baton Rouge should not miss the opportunity to explore some of the stately country mansions. There are many such estates in the Baton Rouge area, of which San Francisco Plantation is a sterling example.
Follow this visit up with an excursion to the Rural Life Museum and Windrush Gardens to get a real feel of what life was like in the area's past. Another popular plantation house is the 18th-century Magnolia Mound Plantation, a house seemingly frozen in time and surrounded by old oak trees.
One can comfortably explore on foot the picturesque downtown area, where most travellers find accommodation. Many of the city's prime sightseeing attractions are in this area, including the Louisiana State Capitol and the USS Kidd Veterans Museum.