Oahu Beaches
The main attraction for visitors to Oahu are the range of 139 beaches which, from the pounding waves of the north shore to the gentle swells of Waikiki in the south, offer the chance to bathe and soak up the sun, or tackle a variety of watersports in water temperatures that never fall below 75ºF (24ºC) all year round.
The south shore is favoured by families, offering picnic spots and opportunities for snorkelling, tide-pooling and swimming. Magic Island near Waikiki is a peninsula where the beach is protected by a man-made breakwater offering safe bathing and a stretch of shady, grassy areas on which to picnic. At Ala Moana Beach a half-mile of white sand is protected by a reef, washed by calm shallow waters. Hanauma Bay marine sanctuary is located in the crater of an extinct volcano and is an ideal snorkelling spot while Waikiki Beach, the most famous stretch of sand in the world, draws about four million visitors a year to its sands where sun worshippers can buy fast food, snacks and cocktails to enjoy under their rented umbrellas.
The North shore is favoured by surfers, particularly during the winter months when waves can reach heights of 25 feet (8m) at beaches like Ehukai with its famed Pipeline, Sunset Beach and Waimea Beach.
The East shore boasts lush tropical beach settings with conditions ideal for windsurfing and sailing. Kailua Beach Park is picturesque and usually in the 'top ten beaches in the United States' lists. Lanikai is even better. Sandy Beach is popular for kite-flying, and Waimanalo offers four miles of uninterrupted white sand framed by palm trees.
On the West coast the Ko Olina Resort and Marina offers seven crescent shaped sandy beaches with palm trees and views of the Waianae Mountains, and Yokohama Bay is a quiet, beautiful spot away from the madding crowds.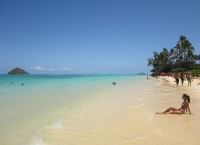 Lanikai Beach Hakilon
Polynesian Cultural Centre
Hawaii's top tourist attraction, the Polynesian Cultural Centre, is situated on the Kamehameha Highway in Laie on the scenic north shore of Oahu island. This remarkable venue, visited by more than one million people a year, consists of seven Polynesian 'islands' in a beautifully landscaped 42-acre setting, representing Samoa, New Zealand, Fiji, Hawaii, Tahiti, the Marquesas and Tonga, all situated in a freshwater lagoon.
The centre gives visitors a holistic insight into the culture of the different Polynesian communities, employing students from the nearby Brigham Young University-Hawaii campus to bring various activities, from pageants and ceremonies to tribal tattooing demonstrations, to life.
A highlight of a visit to the Centre is the evening show spectacular, 'Horizons', presented in the 2,770 seat Pacific Theatre with its multi-level stages allowing for fiery volcanoes and brilliant fountains to erupt as special effects in this huge Polynesian song and dance revue.
Address:
55-370 Kamehameha Highway (83), Laie, HI
Transport:
Most visitors purchase a ticket package that includes various types of ground transportation
Opening time:
Monday to Saturday 12pm-9pm. Closed Sunday. The box office is open 9am-8pm.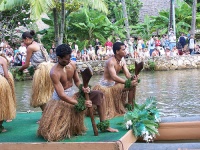 Polynesian Cultural Center coconut wireless
Valley of the Temples
Opposite a bustling shopping centre on the Kahekili Highway in Kaneohe, below the Koolau mountains, nestles a little piece of Japan tucked away in Hawaii. The Valley of the Temples Memorial Park contains oriental gardens and koi ponds, a massive nine-foot Buddha statue, Japanese Tea House and an exact replica of Japan's 900-year-old Byodo-in Temple, the original of which stands in Uji near Kyoto. The temple was recreated to honour the first Japanese immigrants to Hawaii.
Opening time:
Daily 8.30am-5pm.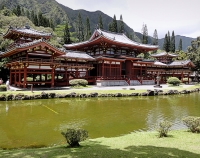 Byodo-In Temple Cristo Vlahos
Iolani Palace
The only royal residence in the United States, the Iolani Palace, stands on the corner of King and Richard Streets in Honolulu, its opulent interior giving a glimpse into the lives of Hawaii's last reigning monarchs between 1882 and 1893.
It was originally home to King Kalakaua and his Queen, until he died in 1891. His successor, Queen Lili'uokalani, then took up residence until the Hawaiian monarchy was overthrown in 1893 by the US Marines in a palace coup. The palace has been fully restored. Visitors on guided tours can see the portraits of Hawaiian kings and queens, valuable vases and statuary, the grand staircase, the throne room decorated in crimson and gold, the state dining room and the royal family's private quarters.
Address:
364 South King Street, Honolulu
Opening time:
Monday to Saturday 9.30am-4pm. Closed Sunday. Guided tour groups enter the palace every 15 minutes between 9am and 10am (Tuesdays and Thursdays), and between 9am and 11:15am (Mondays, Wednesdays and Saturdays).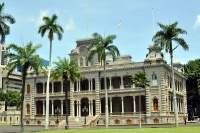 Iolani Palace WPPilot
Surfing in Oahu
Synonymous with surf, sand and sun, Hawaii is a place where South African and Australian surf legends Shaun Tomson, Mark Richards and Wayne 'Rabbit' Bartholomew pioneered the surfing scene, turning it into the professional sport it is today. Hawaii's surfing beaches are internationally famous, as immortalised in the surfing documentary Riding Giants.
The most famous surfing beach in Hawaii is Oahu's North Shore, featuring the classic point break of Waimea Bay as well as the likes of Waikiki, Off the Wall, Backdoor Pipe, Sunset Beach (known for its big wave surfing) and the notorious Pipeline, a reef break located off Ehukai Beach Park ideal for eager spectators, bikini-clad girlfriends and surf photographers due to its close proximity to the beach.
Oahu's North Shore works best during the winter months when large waves are created by winter storms in the North Pacific, a stark contrast to the clear, calm water during the summer months. Other key spots for surfing in Hawaii include a great point break at Magic Sands Point on Big Island, the reef break of Pine Trees in Kauai, and Maui's Honolua Bay.
Beginners are also catered for with small and easy rollers at places like Waikiki Beach, Chuns Reef, Cockroach Bay and Puena Point, and there are plenty of surf schools and experienced instructors available. The south coast of Kauai is also an excellent surfing spot for beginners, with reliable waves at Poipu and Kalapaki Beach.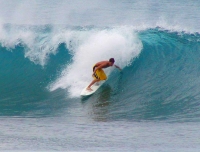 Oahu North Shore Surfer Stan Shebs
Oahu experiences constant warm, balmy weather all year round, its tropical climate subject to variations caused by different elevations and geographic exposure rather than seasons. Temperatures vary little throughout the year, averaging between 66°F (19°C) and 89°F (32°C). The southern side of the island, including Honolulu and Waikiki, is drier than the leeward side, the rain-bearing trade winds blocked by the mountain ranges. The wet season in Oahu is from October to March, and averages 7-10 rainy days per month. The water temperature in Oahu is also warm year round, staying between 77°F (25°C) and 81°F (27°C).
Aloha Festivals
The Aloha Festivals, celebrated on six islands in Hawaii - Oahu, Kauai, Maui, Molokai, Lanai, and Big Island - taken together, comprise the only statewide cultural festival in the United States. Established in 1946 (then known as Aloha Week), the purpose of the Aloha Festivals is to celebrate the music, dance, history and traditions that make Hawaii unique.
Every year, up to 30,000 volunteers are involved in organising the various events; and over the festival's six-week running period, a million visitors, from all over the US and the rest of the world, are drawn to Hawaii to attend this fascinating cultural celebration. All events are free, and the highlight is the Floral Parade through Waikiki, Honolulu - a colourful equestrian procession of pau riders and extravagant floats, festooned with cascades of Hawaiian flowers, and accompanied by hula dancers and marching bands.
Venue:
Various venues in Oahu, Kauai, Maui, Molokai, Lanai and Big Island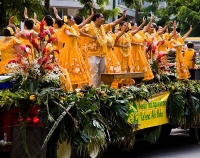 Aloha Festival Floral Parade Hawaii Tourism Authority
Getting around Honolulu, and Oahu in general, means orienting yourself to local directions. Visitors may be told to go makai (toward the sea) or mauka (toward the mountain); the famous Diamond Head crater is also an important landmark and reference for the east, and the town of Ewa stands in for the west.
The main public transport system is simply called TheBus, and serves Honolulu and most of Oahu. The most popular route runs between Waikiki and Ala Moana Center every 10 minutes.
The Waikiki Trolley is also a fun way to get around Honolulu, looping around about a dozen key locations approximatley every hour with commentary by the driver. Stops include Hilton Hawaiian Village, Iolani Palace, Wo Fat's in Chinatown, the State Capitol, King Kamehameha's Statue, the Mission House Museum, Aloha Tower, Honolulu Academy of Arts, Hawaii Maritime Museum, Ward Centre, Fisherman's Wharf, and Restaurant Row.
Taxis are also available, and are a good way to get around at night; they are locally regulated so fares are standard across all companies. Relying on taxis for all transport gets expensive quickly however.
The heart of Hawaii's tourism, Oahu has no end of attractions and activities to entertain the millions of tourists who fly into Honolulu each year.
Whether attending luaus at the Polynesian Cultural Centre and learning about local history at the Bishop Museum and Honolulu Academy of Arts, or visiting royal palaces and WWII memorials, Oahu is the best place to get a taste of Hawaiian culture and history while enjoying its idyllic pleasures.
And there are plenty of pleasure-seeking activities to enjoy. Visitors can choose from dozens of world-class beaches offering everything from enormous waves and snorkelling lagoons to beautiful sunsets, with plenty of space to simply lay out and enjoy the Hawaiian sunshine.
There are plenty of scenic spots inland as well, as holidaymakers can hike the Diamond Head Crater, explore the Ho'omaluhia Botanical Garden, or even visit one of the world's largest pineapple plantations. Tours of the North Shore and Windward Koolau Range are also offered on horseback.
Cooling off on a hot day is easy at the Wet n Wild Hawaii waterpark or the Waikiki Aquarium, both great activities for the whole family. And after a full day of exploring the beauty of Oahu's wild side, visitors can enjoy the excellent restaurants, shopping and nightlife offered in Hawaii's capital, Honolulu.