Bishop Museum
The Bishop Museum in Honolulu is the largest museum in Hawaii and the premier natural and cultural history institution in the Pacific, recognised worldwide for its cultural collections, research projects and educational programmes. The museum was founded in 1889 by Charles Reed Bishop, in honour of his late wife, Princess Bernice Pauahi Bishop, the last descendant of the royal Kamehameha family of Hawaii.
Originally the museum housed the extensive family heirlooms of the royal family, but now the collection includes millions of artefacts, documents and photographs relating to Hawaii and other Pacific island cultures. It also has one of the largest natural history specimen collections in the world. All these treasures are housed in the former Kamehameha School for Boys in Bernice Street, Honolulu, established by the princess, which moved to a new location in 1940.
Address:
1525 Bernice Street, Honolulu
Opening time:
Daily 9am-5pm.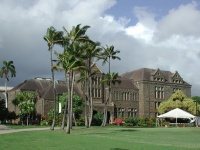 Bernice Pauahi Bishop Museum cliff1066
USS Arizona Memorial Museum
The USS Arizona was one of several United States battle ships that were sunk by the Japanese Imperial Navy during its surprise historic attack on Pearl Harbour, Oahu, on December 7, 1941, causing the US to enter into World War II. The Arizona sank in about nine minutes, along with 1,177 sailors and marines who were on board.
Visitors are carried by Navy shuttle boats to the unusual memorial centre, which has been constructed over the sunken hull that lies six feet (2m) below. The names of the dead are inscribed in stone inside the memorial. Visitors are shown a documentary film, and can view artefacts and exhibits explaining the tragedy. The memorial is open daily, but there is always a large queue for the free tickets, which are issued on a first-come-first-served basis, so be prepared to wait. Bookings are not taken.
Address:
1 Arizona Memorial Place, Honolulu
Opening time:
Daily 7:30am-5pm. Interpretive programs, including a documentary film about the attack on Pearl Harbour, and the boat trip to the USS Arizona Memorial, begin at 8am (7:45am in summer). The last program each day begins at 3pm.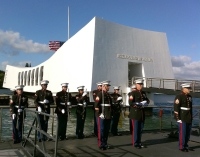 USS Arizona Memorial Museum Public Domain
Honolulus Chinatown
Enter Honolulu's Chinatown neighbourhood through the Gateway Plaza on the corner of Bethel and Hotel streets in the city's downtown business district, and you step into an exciting and exotic world made up of a colourful and eclectic blend of Southeast Asian cultures.
Here Vietnamese, Laotian, Chinese, Japanese, Thai, Filipino, and a myriad of other ethnic groups work in harmony to sell their wares, serve their delicacies and perpetuate their cultural traditions.
The market sells an array of delicacies from noodles to duck eggs, and tantalising smells issue from the numerous inexpensive speciality restaurants in this 15-block area. Visitors can also consult a herbalist, view an art exhibit, watch a dragon procession, make an offering at a Buddhist temple, or perhaps buy a precious jade memento in this rich and memorable part of town.
Address:
Entrance is on the corner of Bethel and Hotel Streets, in downtown Honolulu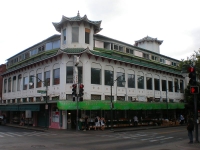 Wo Fat Building Joel Bradshaw
Waikiki Aquarium
The award-winning Waikiki Aquarium in Honolulu is home to more than 3,500 plants and animals. One of the oldest aquariums in the United States, the facility is a great place to say hello to the colourful inhabitants of the Pacific Ocean, including zebra shark, giant octopus, monk seal, sea turtles, and giant clam.
The aquarium offers classes and activities for children, however these are very popular and must be booked in advance to avoid disappointment.
Address:
2777 Kalakaua Avenue, Waikiki
Opening time:
Daily 9am-4:30pm. Closes 3pm on Thanksgiving and New Years Day. Closed on Honolulu Marathon Day and Christmas Day.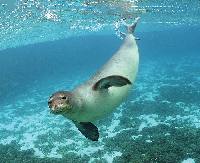 Monk Seal flickker photos
Diamond Head Crater
One of the most famous landmarks in Hawaii, Diamond Head dominates the landscape over Honolulu. Officially termed an extinct volcanic tuff cone, the mammoth cone is a US Monument, and a popular attraction on Oahu.
Located near resorts and beaches in Honolulu, Diamond Head has a hiking trail that takes roughly two hours to complete; while the trail is uneven and includes nearly 200 steps, the view of Oahu from the summit is well worth the effort.
Note that hikers should bring plenty of water and protection from the heat, as there are no facilities along the trail, and the only comfort station is located at the base of the crater.
Address:
Off Diamond Head Road Between Makapuu Avenue and 18th Avenue
Opening time:
Daily 6am-6pm.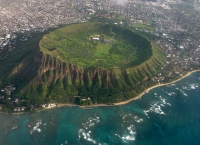 Diamond Head Crater Steve Jurvetson
Honolulu experiences warm, balmy weather all year round, its tropical climate subject to variations caused by different elevations and geographic exposure rather than seasons. Temperatures vary little throughout the year, averaging between 66°F (19°C) and 89°F (32°C). Located on the southern side of Oahu, Honolulu is drier than the leeward side, the rain-bearing trade winds blocked by the mountain ranges. The wet season in Honolulu is from October to March, and averages seven to 10 rainy days per month. The water temperature in Hawaii is warm year round, staying between 77°F (25°C) and 81°F (27°C).
Honolulu offers diners anything and everything, from the local and delightful, to many exquisite international cuisines. If home-grown and unassuming cuisine is what you're after then you will find it in and around the city without too much effort.
Classic dining spots offering regional food at its best are the likes of Helena's Hawaiian Food, a famous eatery in and around Honolulu established in 1946 and still producing firm favourites for tourists and residents alike. Another popular spot in Honolulu is Uncle Clay's. Friendly staff, a relaxed atmosphere and original snow cones are what keep people coming back.
If you want a truly luxurious experience, Honolulu happily caters to that too; many high-end restaurants are always abuzz in the city. Sushi Sasabune offers visitors a unique and upmarket sushi experience while La Mer ensures a breezy and romantic oceanside evening in a restaurant known for its impeccable service and French cuisine.
Helenas Hawaiian Food
Located in Honolulu's Chinatown, Helena's Hawaiian Food is an unassuming eatery that has gained a well-deserved reputation as one of the best restuarants in Oahu to sample Hawaiian specialties like Kalua Pig, Lomi Salmon, Pipikaula-Style Short Ribs, and Haupia (a coconut milk-based dessert). Portions are small and economical, which allow diners to try several dishes at once, or sample one of the set menus. Helena's is always busy, so expect to wait a minimum of 15 minutes for a table. The restaurant is open Tuesday through Friday, 10.30am to 7.30pm.
Address:
1240 North School Street
Uncle Clays House of Pure Aloha
Uncle Clay's doesn't have a large menu, but that hasn't stopped it from becoming one of the most popular restaurants in Hawaii. The restaurant specialises in a range of shaved ices using all-natural ingredients ranging from sweet potato and kale to chocolate, guava and coffee: this isn't your average snow cone! Uncle Clay and his staff draw equally rave reviews for the friendly service. Despite the restaurant's location in an unassuming strip mall, it is a must-visit on any trip to Honolulu.
Address:
820 West Hind Drive
Hys Steakhouse
An old-school steakhouse with a reputation for the best cuts of beef in Honolulu, Hy's Steakhouse is set in an elegant wood-panelled dining room in the Waikiki Park Heights Hotel. The menu offers a mixture of American, European, Hawaiian and Pacific cuisine, including their famous Kiawe-Broiled Steaks. Reservations recommended.
Address:
2440 Kuhio Avenue
Sushi Sasabune
Sushi Sasabune isn't a cheap sushi joint with a bumpy conveyor belt; the chefs take pride in each creation, made from the freshest ingredients like Japanese sea urchin, Louisiana blue crab, or Nova Scotia salmon. The elegant dining room offers a menu of excellent options, but the real experience at Sushi Sasabune is to be had at the sushi bar, where 'Sushi Nazi' chefs are very specific about how each type of sushi is to be eaten; a special experience for any sushi lover!
Address:
1417 S King Street
La Mer
Housed in the Halekulani Hotel in Waikiki, La Mer is a breezy and romantic oceanside restaurant known for its impeccable service and French cuisine. The menu, offering choices like Dorade Baked in a Rosemary Salt Crust and Big Island Lobster, is accompanied by an excellent wine selection, and the tasting menu is a great option for diners who just can't decide. Reservations are recommended. Diners should note that children under eight are not allowed at La Mer.
Leonard's Bakery
You can't go to Honolulu and not try the malasadas from Leonard's Bakery. Fluffy balls of dough are fried until just crispy and coated in cinnamon and sugar or filled with fresh custard… it's impossible to eat just one! Leonard's Bakery also offers a variety of freshly-baked goods like cookies, cakes, danishes and Pao Doce (Portuguese sweetbread). The small bakery can get very crowded, and unfortunately there are no tables to sit at.
Address:
933 Kapahulu Avenue, Kaimuki
Daniel K. Inouye International Airport
Location:
The airport is located on Oahu Island about six miles (10km) west of downtown Honolulu and nine miles (15km) west of Waikiki Beach.
Time:
Local time is GMT -10
Transfer Between Terminals:
The three terminals are connected by shuttle buses and outdoor walkways.
Getting to the city:
There are several city bus services that follow different routes and schedules connecting to central Waikiki. Many hotels offer pick-up services and the The Roberts Hawaii Express Shuttle offers affordable, on-demand, island-wide transfer services from honolulu international airport.
Car Rental:
Car hire companies represented at the airport include Advantage, Avis, Budget, Enterprise, Hertz and National. Some other car rental companies are located off-site and provide buses to ferry passengers to their offices; it's worth checking the rental companies' location before booking.
Airport Taxis:
Taxis are available; the ride to Waikiki takes around 20 minutes and has a metered fare of about $40-45. Fares may be slightly more if it's rush hour or peak travel time.
Fascilities:
The airport is well supplied with restaurants, bars and shops, including duty free. There are ATMs and bureaux de change throughout the airport terminals, a massage centre, a hairdresser and a nearby hotel, which offers shower facilities and rooms charged by the hour. The business centre in the main lobby offers fax, internet and photocopy services. Facilities for the disabled are good; those with special requirements should contact their airline in advance.
Parking
There is parking located near each terminal. The first half hour costs $1 and a full hour costs $3. The maximun daily charge is $18 per day. There is an economy lot, which charges $15 per day. Monthly parking is available for $300.
Molokai Hoe Canoe Race
Outrigger canoe racing is embedded in the culture of Hawaii, and each year the race, considered to be the world championship, attracts thousands of fans. The canoes form a large part of the way of life of the islanders and in the past the prestige allocated upon those who would win the race was enormous. Nowadays, although the symbolic nature of the victory remains, the festival enjoys a relative influx of tourist interest and media attention.
Venue:
Duke Kahanamoku Beach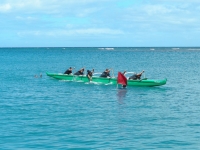 Moloka'i Hoe Canoe Race Kristina D.C. Hoeppner
Ukulele Festival Hawaii
The ukulele is surely Hawaii's signature instrument, and its popularity today - within a diverse range of musical styles - is largely down to the efforts of one man, Roy Sakuma. In 1971, at a time when very few people were interested in the ukulele, Sakuma organised the 1st Annual Ukulele Festival, in an effort to show the world how the ukulele could be played, not just as a rhythmic addition to background music, but as a solo instrument of sophistication and virtuosity. Waikiki's Ukulele Festival is now a summer tradition in Hawaii, and is by far and away the largest ukulele festival in the world. Every year, thousands of people gather to watch performances from local and international artists, and an 800-strong ukulele orchestra compromised of Sakuma's students.
Venue:
Kapiolani Park Bandstand in Waikiki, Oahu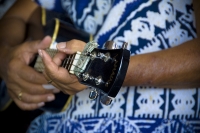 Ukulele Bret Robertson
While many tourists think of Hawaiian nightlife as resort luaus with hula dancers and roast pigs, Honolulu offers a much more diverse experience for the adventurous visitor. Waikiki has a number of bars and restaurants ranging from friendly pubs to upscale nightclubs, and some host live music on various nights of the week. Chinatown is also a bustling neighbourhood after dark, with a number of underground bars. Other great nightlife hubs in Honolulu include The Aloha Tower Marketplace, which has more than 60 restaurants and bars, and the Ala Moana Shopping Centre.
Getting around Honolulu, and Oahu in general, involves familiarising yourself with local directions. Visitors may be told to go makai (toward the sea) or mauka (toward the mountain); the famous Diamond Head crater is also an important landmark and reference for the east, and the town of Ewa stands in for the west. The main public transport system is simply called The Bus, and serves Honolulu and most of Oahu. The bus network is comprehensive, with about 100 fixed routes and more than 4,000 stops allowing travellers access to all parts of the island. The most popular route runs between Waikiki and Ala Moana Center every 10 minutes. Single tickets are $2.75, or 1-day visitor passes are available for $5.50. The Waikiki Trolley is also a fun way to get around Honolulu, looping around 12 key locations every 40 minutes with commentary by the driver. Taxis are also available, and provide a good means of getting around at night; they are locally regulated so fares are standard across all companies.
Honolulu welcomes visitors from across the globe who come to enjoy its beautiful beaches, lively nightlife, shopping districts and tropical climate.
The city is made up of three areas, Waikiki, Downtown and Pearl Harbour. Waikiki is a main tourist hub, drawing travellers with its exquisite stretch of beach and picturesque shoreline. While visiting Waikiki, a visit to the Waikiki Aquarium is a must; not only is it one of the oldest aquariums in the US but it is also home to more than 3,500 plants and animals. The Downtown neighbourhood is geared more towards history and culture with a range of good museums, historic buildings and landmarks which provide interesting sightseeing fodder. The USS Arizona Memorial is a must-see when in Honolulu, allowing for a look back in time to the tragedy of Pearl Harbour and America's entry into World War II. Another unique attraction, of a very different sort, is the Diamond Head Crater; this extinct volcano is one of the most famous landmarks in Hawaii.
Exploring Honolulu's Chinatown is a novel option and illustrates just how multi-cultural the Hawaiian islands are. Markets and restaurants in this vibrant neighbourhood sell all sorts of delicacies and visitors can view art, a dragon procession or even make an offering at a Buddhist temple.