St Petersburg
A picturesque peninsula located on Florida's west coast, bordered by the Gulf of Mexico to the west, St Petersburg is the fourth largest city in the state of Florida and is commonly referred to as 'St Pete' by locals. It offers up 35 miles (56km) of beaches on eight major barrier islands and is home to some of America's award winning beaches, such as Caladesi Beach.
With an average of 360 days of sunshine each year, it has earned the nickname 'The Sunshine City' and is a popular tourist and retirement destination. This area is diverse and comprises 26 communities, ranging from the Greek influence in Tarpon Springs to the Scottish heritage of Dunedin. St Petersburg's unique melting pot culture has resulted in some eclectic eateries, museums, galleries, and boutiques, all with their own unique charm.
Some of the many attractions in St Petersburg include the Salvador Dali Museum and the mazes of the Sunken Gardens. The Pier offers a concentration of shops, boutiques, restaurants and bars, a large food court, aquarium, and bayside observation deck.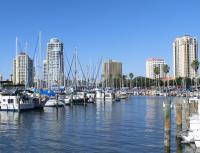 Ybor City
Ybor City in central Tampa, is a National Historic Landmark District that beckons visitors back to an era when this Latin Quarter was the cigar capital of the world. The historic enclave, founded in 1886, has been fully restored. The old cigar factories now house shops, restaurants, clubs, and art galleries drawing large numbers of visitors. It is still possible to watch locals demonstrate the ancient art of premium hand-rolled cigar making, or spend a wild night applauding Spanish Flamenco dancers.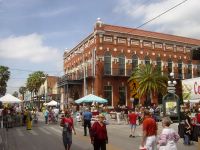 Ybor City Bobak Ha'Eri
Busch Gardens
Busch Gardens is an extraordinary adventure park: a combination between massive zoo and theme park. It predates Florida's more famous Walt Disney World and offers an equally exciting and entertaining experience for visitors. The park is based on an overall African theme, divided into numerous different areas with thousands of animals living in naturalistic environments. At Busch Gardens it is possible to come face-to-face with some of the world's most endangered animals, including Bengal tigers and orangutans. The site also contains thrill rides, live entertainment venues, shops and restaurants, all overseen from the Skyride cable car that crosses high above the park. In one day it is possible to visit Tutankhamen's Tomb in Egypt, cross the plains of the Serengeti, and watch snake charmers in a Moroccan sultan's tent. Popular rides include the Cheetah Hunt roller coaster, that travels up to 60miles per hour (96 km per hour), and the Falcon's Fury drop tower.
Opening times vary according to season so be sure to check the official website when planning your trip. If you plan to visit any other theme parks in the region it is well worth investigating the combination tickets on offer for deals.
Address:
10165 N McKinley Drive
Opening time:
Monday to Friday 10am-6pm; Saturday 10am-8pm; Sunday 10am-7pm.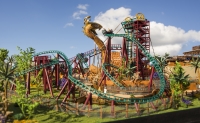 Cobras Curse at Busch Gardens Tampa Bay Busch Gardens
Museum of Science and Industry
The hands-on Tampa Museum of Science and Industry, affectionately known as MOSI, is designed to educate, amaze, and amuse both young and old with more than 450 interactive exhibits. Visitors can experience what it is like to be in a Gulf Hurricane with winds of up to 74 miles per hour (200km/h), or defy the laws of gravity in space. The biology section features a unique way to explore the human body, and visitors of all ages will enjoy strolling through the butterfly garden. Also at the museum is Florida's first IMAX dome theatre, and the museum building is set in a 47-acre nature reserve which features walking trails. The museum can easily occupy the whole family for at least half a day.
Address:
4801 E Fowler Avenue.
Opening time:
Open daily 10am-5pm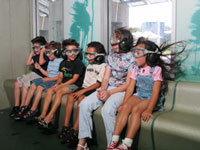 Wind generator Tampa MOSI
Tampa Museum of Art
The Tampa Museum of Art's stunning facilities is located along Gasparilla Plaza. The 66,000-square-foot building houses a collection of 20th-century and contemporary art, as well as a renowned collection of Greek and Roman antiquities. There is also a changing special exhibitions programme. From the innovative translucent ceilings to walls covered with LED lighting, the seven interior galleries and one exterior sculpture gallery offers visitors a world-class experience. Visitors will appreciate the museum's setting and should take the opportunity to stroll along Hillsborough River while in the area.
Address:
20 W Gasparilla Plaza, Tampa
Opening time:
Monday to Thursday 11am-7pm; Friday 11am-10pm; Saturday to Sunday 11am-5pm.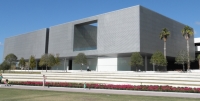 Tampa Museum of Art Zeng8r
Henry B. Plant Museum
The Henry B. Plant Museum, in the heart of downtown Tampa, is designed to transport visitors back to the turn of the century. The ornate building is Moorish in design, featuring 13 silver minarets which is said to be a copy of the famed Alhambra Palace in Spain. Railroad tycoon Henry Plant built the edifice in 1891 as the 511-roomed Tampa Bay Hotel. Today it houses period art and furnishings from Europe and the Orient, and details via exhibits the history of the resort and the early days of the tourist industry.
Address:
401 W Kennedy Boulevard.
Opening time:
Tuesday to Saturday 10am-5pm, Sunday 12pm-5pm, Closed Monday.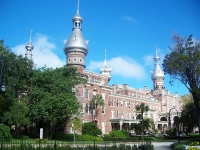 Henry B. Plant Museum Ebyabe
Florida Aquarium
More than 5,000 aquatic creatures live at the three-storey Florida Aquarium, where it is possible to explore the underwater world in air-conditioned comfort. The Florida Aquarium is home to an impressive array of the animals found in the famous waterways of the state, including crocodiles and moray eels, as well as many of the favourites found in aquariums the world over. The aquarium offers behind-the-scenes tours, dive shows, audio tours, close-up animal encounters, and touch-tanks for an immersive the experience. There is a little waterpark and play area for young children needing some extra entertainment.
Address:
701 Channelside Drive.
Opening time:
Open Daily 9.30am-5pm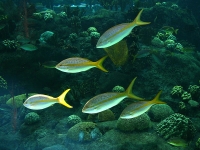 Florida Aquarium adobemac
Clearwater Beach
Known for the breath-taking sunsets over the Gulf of Mexico and warm tropical breezes, Clearwater Beach has consistently been voted one of the top 10 beaches in the United States. Perfect for family vactions, Clearwater is generally known as a safer, quieter, and more affordable option than other more prominent destinations in Florida. With over two and a half miles (4km) of beautiful, tropical sandy white beaches, Clearwater Beach has some of the best water activities in Tampa Bay, including jetskis and parasailing, boat tours, diving, fishing, and sailing charters. Pirate ship cruises aboard the 70-foot (21m) three-tiered Pirate's Ransom are a must for anyone up for a little swashbuckling. The Jolley Trolley is a great way to visit some of the surrounding attractions, such as Sand Key and the Clearwater Marine Aquarium. Holiday makers can enjoy a shopping spree at Pier 60, sample the famous Stone Crabs at Frenchy's restaurant, or visit one of the fifty golf courses around the area.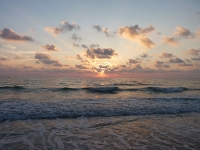 Sunset on Clearwater Beach Waters2100
Tampa Bay experiences a subtropical to tropical climate with hot, wet weather during the summer months and cooler, dry conditions during winter. In summer, between May and September, temperatures average between 69°F (21°C) and 90°F (32°C), although it can get substantially hotter. Temperatures remain pleasant during the winter months, between November and February, with average temperatures between 51°F (11°C) and 76°F (25°C). The shoulder seasons are short and mild. In summer, frequent afternoon thunderstorms and cool evening breezes interrupt the heat. Spring and winter are the most popular times to visit Tampa, when it is pleasantly warm, dry and sunny.
Tampa International Airport
Location:
The airport is located nine miles (14km) west of downtown Tampa.
Time:
GMT -5 (GMT -4 from mid-March to the first Sunday in November).
Getting to the city:
Shared passenger van services as well as several city buses travel to Tampa and other destinations. The local HART bus stop is located at the Rental Car Center. Taxi services are available outside the Baggage Claim Level.
Car Rental:
Car hire companies represented at the airport include Avis, Budget, Dollar, Enterprise, Hertz, National, Alamo and Thrifty.
Airport Taxis:
Taxis from Yellow Cab and United Cab are available curbside outside all the baggage claim areas. The minimum airport fee is $18 and the flat rate fee to downtown Tampa and the cruise terminal is $28.
Fascilities:
The airport has a bank, ATMs, currency exchange facilities, a shopping mall, and several restaurants, bars and cafes. The Airport Marriott (located in the terminal) has its own business centre and conference rooms. Disabled facilities are good; those with special needs should advise their airline in advance.
Parking
Short-term parking at Tampa International is located above the terminal. The first 60 minutes is free. Then it costs $4 for up to 80 minutes and $2 per 20 minutes thereafter, with a daily maximum of $22. In the long-term lot the daily maximum is $18, and in the economy lot the daily maximum is $10. Walkways, a monorail, or free shuttles connect the parking lots to the terminal, depending on distance.
As with most US cities, a rental car is the easiest way to get around Tampa for travellers due to limited public transport and the fact that many visitors choose to stay just outside the city in one of the neighbouring resorts. However, HART provides local and express bus services for the Tampa area, serving all the major malls and attractions and connecting to nearby beaches. Particularly useful for tourists is the TECO Line streetcar system, which operates in Tampa's historic district, connecting the downtown area, Channelside, and Ybor City. Taxis are available, but often need to be ordered in advance.
The city of Tampa is one of the top spots in Florida. As a holiday destination, its main draws are the fantastic Busch Gardens amusement park and Ybor City, the historic downtown Spanish district, with its nightclubs, bars and shops, converted from Cuban cigar factories. The Henry B. Plant Museum offers visitors exotic exhibitions and architecture and tropical gardens to explore. The Tampa Museum of Art lures tourists with both ancient and contemporary treasures. The Museum of Science and Industry (MOSI) will delight and educate young and old. The Tampa Bay History Center walks visitors through 12,000 years of the region's history.
Holidays in Tampa are designed for families with children. Apart from the impressive Busch Gardens, families will enjoy the enormous Florida Aquarium and the Big Cat Rescue, the largest accredited big cat rescue facility in the country.