Tallahassee
The capital city of Florida, Tallahassee is located 191 miles (308km) east of Pensacola on the 'Big Bend', close to the border with Georgia, 14 miles (23km) to the north. The city is more reminiscent of the Deep South than sunny Florida, with its fragrant magnolia trees, and old plantation houses Tallahassee hosts the Florida State University and the state's new Capitol Building, which towers 22 storeys above the downtown area. The city's five Canopy Roads, where trees form tunnels, are lined with sites such as plantations, ancient Native American settlements and mounds, gorgeous gardens, and scenic picnic spots. There is also a Museum of Natural History and Science combined with a natural habitat zoo of indigenous wildlife.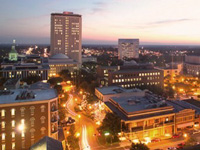 Downtown Tallahassee skyline Zverzver
Gulf Islands National Seashore
Located on the western end of the Florida panhandle, Gulf Islands National Seashore is a 150-mile (241km) stretch of undeveloped beach. What it lacks in tourist traps, it makes up for in sheer beauty. Camping, hiking, and biking in the isolated regions is a treat for travellers looking to get away from the crowded resorts of southern Florida. The park includes several islands, including Santa Rosa Island (home to the popular Fort Pickens Campground), Perdido Key, Horn Island, and West Ship Island (home of Fort Massachusetts). There are limited restaurants and shops in the Gulf Islands National Seashore region, though most camping sites are near enough to coastal beach communities that visitors don't need to bring everything with them and will find necessary amenities not too far away.
Address:
3500 Park Road, Ocean Springs
Opening time:
Daily from 8am-9pm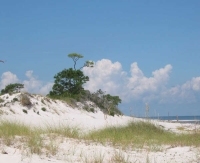 Gulf Islands National Seashore National Park Service
Panama City
Located near Pensacola on the gulf coast of the Florida panhandle, Panama City is a popular travel destination. Set along 27 miles (43km) of white sand beaches, the town is a great place for families on holiday in Florida, with plenty of outdoor activities available in St Andrews State Park and Pine Log State Forest, and city attractions like the Panama City Visual Arts Center and Ripley's Believe It or Not! Museum. Panama City is usually a fairly quiet town, but comes alive each spring as thousands of students flock to the town for Spring Break. Concerts, parades, and other events are regular occurrences during this period. Travellers looking for peace and quiet should remember to avoid Panama City at this time.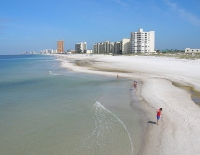 Panama City Beach j.s. clark
Pensacola has a humid subtropical climate, with short, mild winters and hot, humid summers. Summer temperatures are moderated by the southerly prevailing winds from the Gulf of Mexico and temperatures in the peak summer months, between June and August, average between 72°F (22°C) and 89°F (32°C), though highs can reach 100°F (38°C). Summer is the wettest season, with frequent afternoon thunderstorms providing relief from the heat. In winter, between December and February, temperatures average between 42°F (6°C) and 63°F (17°C). Snow is rare in Pensacola. The city enjoys an average of 228 days of sunshine a year, making it a year-round travel destination, but visitors should note that late summer and autumn can be very windy.
Pensacola International Airport
Location:
The airport is situated six miles (10km) from central Pensacola.
Time:
GMT -6 (GMT -5 from mid-March to the first Sunday in November)
Getting to the city:
Escambia County Area Transit (ECAT) buses service the airport, departing roughly every hour on weekdays. Shared shuttles, taxis and limousines can also be hired at the airport and cars can be rented. Uber and other similar mobile app based taxi services are also available.
Car Rental:
Alamo, Avis, Budget, Dollar, Payless, Enterprise, Hertz, National and Thrifty are all represented at the airport.
Airport Taxis:
Taxis are available at the airport.
Fascilities:
Pensacola International Airport is a small, simple facility, but does provide an ATM, a lost and found, postal services, public phones, free wifi, a gift shop and a restaurant for passengers.
Parking
In the Surface Parking Lot rates are $2 per hour, up to $9 per day; in the Garage Parking Lot rates are $11 per day; and in the Economy Parking Lot rates are $2 per hour, up to $6 per day. The Cell-phone lot is free for the first hour, thereafter it costs $2 per hour.
The Escambia County Area Transit System (ECAT) runs public buses around the city daily, although service is more limited on weekends. There are bicycles and scooters for hire, and taxis can be ordered by telephone from various companies. Most visitors to Pensacola opt to hire a car, which provides maximum convenience for exploring the city and surrounding region. Uber and other similar mobile app based taxi services are also available.
Pensacola caters for a more sedate market: those who appreciate excellent seafood, miles of deserted beach, spectacular views, scuba diving on shipwrecks, and exploring the local historic sites.
50-odd miles (80km) of white sandy beach should be enough to draw sun-seekers to holiday in Pensacola, but this Florida city contains much more than natural attractions and historic sites. The city is home to the US Navy's Blue Angels flight squad, and is renowned for the spectacular air displays that attract hundreds of spectators to Pensacola. The National Museum of Naval Aviation also holds a number of other interesting military craft and exhibitions. Pensacola is also celebrated for its location: Tallahassee and Panama City are close by and Amelia Island, Santa Rosa Island, and the Gulf Islands National Seashore offer many diversions for visitors, making the city a great travel base for those wanting to explore the surrounding coastline and islands.