Little Rock Nine Memorial
After a ruling by the US Supreme Court that segregated schools were unconstitutional in 1954, a group of African-American students known as the 'Little Rock Nine' were enrolled in Little Rock Central High School in 1957, much to the dismay of their fellow all-white classmates. The move was considered to be one of the most important events in the African-American Civil Rights Movement. On 4 September 1957, several segregationist councils held protests at the school to deny the new black students entry, and angry mobs spat at and verbally abused the nine teenagers as they made their way to school.
On 25 September, the Little Rock Nine were finally admitted to the school under the protection of the US Army, with 1,000 US paratroopers protecting them from segregationist whites, but they still endured a full year of physical, verbal and emotional abuse from fellow white students. Nevertheless, on 27 May 1958, Earnest Green became the first black student to graduate from the school. Finally, in 1964 the Civil Rights Law prohibited racial discrimination in education, employment or in public places. Little Rock Central High School still functions as part of the Little Rock School District, but is home to a National Historic Site that houses a Civil Rights Museum.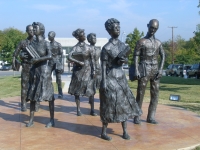 Little Rock Nine Monument Cliff
Clinton Presidential Center
History buffs visiting Little Rock should be sure to visit the William J. Clinton Presidential Center and Park, the presidential library of former US president Bill Clinton that features the Clinton Presidential Library, the offices of the Clinton Foundation, and the University of Arkansas Clinton School of Public Service. Visitors can enjoy viewing artefacts from Clinton's two terms as president at the museum, including full-scale replicas of the Clinton-era Oval Office and Cabinet Room. Other exhibits include Clinton's Cadillac One, a gallery consisting of a 110-foot (34m) timeline of each of Clinton's years as President and 14 alcove displays featuring the Oklahoma City bombing, and Northern Ireland and Middle East peace efforts, as well as personal letters written to and by the Clinton family and family photographs. The Clinton Presidential Center is a slick attraction and a popular stop in Little Rock.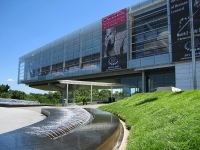 William J. Clinton Presidential Library Thomas R Machnitzki
Arkansas Governors Mansion
The official residence of the Governor of Arkansas and his family, this mansion is located within the Governor's Mansion Historic District. Before its construction in 1950, there had never been an official residence of the state's chief executive. Eleven of Arkansas' 45 governors have lived in the Mansion with their families and pets, and many of the rooms feature heirlooms handed down through the years. Tours of the gardens are a must for visitors, as the sweeping vista of botanical beauty makes an afternoon stroll an experience to remember. Tours of the mansion itself are available upon request, although they must be booked at least a day in advance by telephone - find details on the official website listed below. These tours are offered free of charge.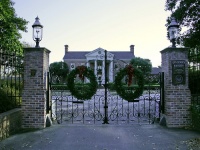 Arkansas Governor's Mansion Cliff
Hot Springs
Located just 43 miles (68km) outside of Little Rock, Hot Springs is a popular weekend getaway and excursion for both locals and tourists in Arkansas. The small city takes its name from 47 natural hot springs, which supply heated water to a number of spas in town, most notably in the beautiful old buildings on Bathhouse Row, designated a Historic Landmark District. Most of the popular attractions in and around Hot Springs, apart from the spas, involve outdoor activities like mountain biking, hiking, golf, horseback riding and fishing. Parts of the town are actually located within Hot Springs National Park, making it easy to explore the beautiful landscapes of the area. Hot Springs describes itself as 'America's first resort' and the town has been attracting eager travellers for decades.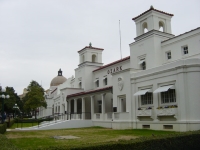 Bathhouse Row Wolfgang Beckers
Little Rock has a humid subtropical climate with hot summers and fairly cold, but short winters. The average daily temperatures during the summer months, between June and August, range from 69°F (21°C) to 92°F (33°C), while the winter months can be relatively cold, with plenty of rainfall and average temperatures between 31°F (-1°C) and 55°F (13°C). Snow is not unheard of but is seldom excessive. The spring and autumn months of March and April, and September and October, respectively, are the best times of year to visit Little Rock as the weather is pleasantly mild and the colours during these shoulder seasons are glorious, with blossoms and new foliage in spring, and dramatic, rich colours in autumn.
Bill and Hillary Clinton National Airport Little Rock
Location:
The airport is situated four miles (6km) from the city.
Time:
GMT -6 (GMT -5 from mid-March to the first Sunday in November).
Getting to the city:
Shuttle services are available near Exit D and taxis outside Exit H on the west side of the baggage claim area. Public transport is available through Rock Region Metro; the bus stop is adjacent to the shuttle pick-up area.
Car Rental:
Car rental service is offered by Alamo, Avis, Budget, Enterprise, Hertz, National and Thrifty.
Airport Taxis:
Taxis are available at the airport. The taxi stand is located outside Exit H, on the west side of the baggage claim area.
Fascilities:
Facilities at the airport include restaurants, a food court, gift shops, newsagents, a book shop, ATMs and a visitor information centre.
Parking
Short and long-term parking is available. Parking costs $1 per 20 minutes in all lots, with daily maximums ranging from $8 to $13.
Renting a car is the best option for those planning to travel beyond the downtown area of Little Rock. Taxis are available in the city, but are not plentiful so it is best to call in advance as they can be difficult to hail on the street; the exception is the airport, where taxis are always available. The Little Rock Metro Streetcar services most of the main tourist attractions and entertainment venues downtown and is a cheap and convenient transport option for travellers. There is also a bus system which services most of the city, but it is less popular with visitors. Little Rock has a sizeable population of cyclists and renting a bike is a fun option.
Little Rock is a springboard to the many natural wonders of the region, but the city also boasts some interesting attractions. One of Little Rock's prime tourist sites hearkens back to the turbulent Civil Rights Movement: Little Rock Central High School, now a National Historic Site with a memorial and visitor's centre, attracts many visitors keen to commemorate the brave Little Rock Nine. For lovers of politics, The Clinton Presidential Center is fascinating, and the Arkansas Governor's Mansion beckons history buffs. Visit the oldest surviving Capitol building west of the Mississippi; shop for unique antiques and trinkets around town; take a ride on a riverboat down the Arkansas River; enjoy a drive through the picturesque historic Quapaw Quarter; view the Villa Marre, the home featured in the 1990s sitcom, or relish teeing off on a championship golf course.
Nature lovers can hook a fish from a world-class trout stream, walk in the scenic Ouachita Mountains where the Hot Springs National Park awaits, or enjoy breathtaking views, pristine lakes, rivers and vast underground caverns in the Ozark Mountains and River Valley. Especially worthwhile for nature lovers, the city of Little Rock is worth a visit for all who visit Arkansas.