Burrell Collection
Glasgow's top cultural attraction was donated by the shipping magnate Sir William Burrell in 1944. Over his lifetime, Burrell amassed more than 8,000 works of art. The collection includes hundreds of sculptures, drawings and paintings from the 15th century to the present, some notable medieval European tapestries, as well as artefacts from Arabia and the Orient. The collection is housed in a functional, purpose-built building set in the sedate surroundings of Pollok Country Park.
Although it may seem unassuming, the building was meticulously designed to showcase the collection and complement the natural landscape. Within walking distance of The Burrell is Pollok House, which contains a fine collection of Spanish paintings including works by Goya, Murillo and El Greco. The Edwardian house is the ancestral home of the Maxwell family, who donated the house and the collection to the National Trust in 1966.
Currently undergoing extensive renovations, the Burrel Collection is set to reopen in 2020. The changes to the museum will increase its floor space fourfold, allowing 90% of Burrel's collection to be on display at any given time.
Address:
2060 Pollokshaws Road, Pollok Country Park
Transport:
Train from Glasgow Central to Pollokshaws West; or public bus 45, 47, 48 or 57
Opening time:
Monday to Thursday and Saturday 10am to 5pm, Friday and Sunday 11am to 5pm.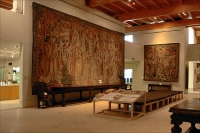 Burrell Collection Jean-Pierre Dalbera
Gallery of Modern Art
Located in a former Grecian-style mansion near George Square and Buchanan Street, the Gallery of Modern Art (GoMA) displays Glasgow's extraordinary range of post-war art and design. Opened in 1996, the gallery includes works by Niki de Saint Phalle, David Hockney, Sebastiao Salgado, Andy Warhol and Eduard Bersudsky as well as Scottish artists such as John Bellany and Ken Curry. GoMA is Scotland's most visited modern art gallery, and is conveniently located in Royal Exchange Square, in the heart of the city.
The permanent collection tends to divide visitors, with hugely varied reviews of the museum from tourists, with some visitors finding it fascinating, inspiring and edgy, while others lament the lack of 'real art'. The statue of the Duke of Wellington with a traffic cone on its head, just outside the museum, has become rather iconic. There is free internet access in the museum and an impressive library, with an extensive collection of art and design books and a simple cafe. The gallery hosts special events and exhibitions throughout the year; check the official website to see what is on during your visit.
Address:
Royal Exchange Square
Transport:
Within walking distance of Buchanan Street and St Enoch underground stations
Opening time:
Monday, Tuesday, Wednesday and Saturday 10am to 5pm, Thursday 10am to 8pm, Friday and Sunday 11am to 5pm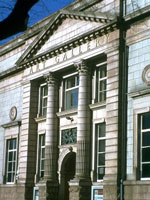 Aberdeen Art Gallery
Kelvingrove Art Gallery and Museum
Glasgow's principal art gallery and museum, the Kelvingrove is one of Scotland's most popular free attractions. This imposing red sandstone building, opened in 1901, houses a superb collection of paintings by old masters such as Botticelli, Rembrandt, Monet, Van Gogh and Picasso, as well as an impressive display of European armour, military weapons and prehistoric relics. There are 22 themed galleries containing an incredible 8,000 artefacts and objects from all over the world and covering extremely wide-ranging interests and subjects, ensuring that every visitor should be able to find something that genuinely interests them in the museum.
For many people, the main attraction of the permanent collection is a room dedicated to the works of the 19th-century architect Charles Rennie Mackintosh, who studied at the Glasgow School of Art and designed many of the city's great Art Nouveau buildings. The museum also hosts regular temporary exhibitions, for which visitors are usually charged a small entrance fee. There is a pleasant restaurant at the museum, and a shop for souvenirs. Kelvingrove is one of the top attractions in the city and generally receives rave reviews from tourists.
Address:
Kelvin Park, Argyle Street
Transport:
Kelvinhall underground station. Alternatively, public bus services 9, 16, 18/A, 42/A or 62 all stop directly outside Kelvingrove Museum
Opening time:
Open daily, from 10am to 5pm (Monday to Thursday and on Saturdays), from 11am to 5pm (Fridays and Sundays)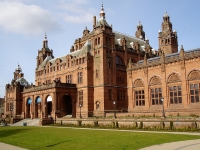 Kelvin Grove Gallery Ian Dick
Glasgow Science Centre
One of the city's premier tourist spots, the Glasgow Science Centre is a captivating attraction that will appeal to visitors of all ages. Located in Glasgow's Clyde Waterfront Regeneration area, the Science Centre has been awarded a five-star ranking from VisitScotland, the country's official tourist board. There is much to see and do in the Glasgow Science Centre. The heart of the Centre is its Science Mall, which features hundreds of interactive exhibits spread over three floors.
The Science Mall includes fun, hands-on experiences focused on how the body works, perception and illusion, powering the future and quantum technologies, to name a few. The Glasgow Science Centre is also home to an IMAX theatre and Scotland's leading planetarium. A world-class attraction, a trip to the Glasgow Science Centre is a must for visitors to this Scottish city, and an absolute godsend for those travelling with kids. Put aside at least three or four hours to take it all in.
Address:
50 Pacific Quay, Glasgow
Opening time:
Open daily, from 10am to 5pm (summer); open Wednesday to Friday from 10am to 3pm, and on weekends from 10am to 5pm (winter).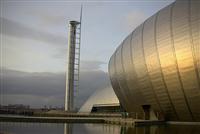 Glasgow Science Centre Bruce Cowan
Glasgow Cathedral
The history of the city of Glasgow is intimately linked to that of the Glasgow Cathedral, as it was the city's patron saint, St Mungo, who oversaw its original construction. The Saint's remains are buried in the cathedral's crypt, and the cathedral itself continues to form a vital part of the religious life of the city of Glasgow. The church has now been in constant use as a place of worship for a remarkable 800 years and its age is palpable. The cathedral's age is all the more remarkable considering how many of Scotland's churches were destroyed during the Reformation.
The impressive medieval building, which dates back to the late 12th century, is one of the best examples of Scottish Gothic architecture you'll find anywhere in the country, featuring vaulted arches, stained glass, and spires that have been beautifully blackened with age. A highly recommended activity for tourists in Glasgow, take about an hour to explore the Cathedral's quiet, serene and splendid interior. Guide books in English, French, German, Italian and Spanish are available at the cathedral and simple leaflets are available in 12 different languages. Guided tours can be arranged, although this service is more limited in the winter months.
Address:
Cathedral Square, Castle Street, Glasgow
Opening time:
In summer (April to September): Open Monday to Saturday from 9.30am to 5.30pm, on Sundays from 1pm to 5pm. In winter (October to March): Open Monday to Saturday from 9.30am to 4.30pm, and on Sundays from 1pm to 4.30pm. Last admission to the Cathedral is always 30 minutes before the closing time.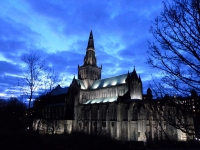 Glasgow Cathedral Guillaume Capron
Like the rest of Scotland, the weather in Glasgow is unpredictable and several degrees colder than England in the south of the British Isles. Winters (December to February) are long and wet, with very cold winds and some snow, and average temperatures ranging from 35°F (2°C) to 45°F (7°C) with seldom a sign of the sun. However, when spring arrives (between March and May) the mild temperatures and colourful flowers in parks and gardens make the city a cheerful place to be. In summer (June to August) most days start off misty but warm up to sunny, mild afternoons, with an average high of 67°F (19°C) in the height of summer.
As the city gradually becomes more cosmopolitan, the restaurants in Glasgow follow suit. The home city of celebrity chef Gordon Ramsay, Glasgow seems to be growing into a reputable gastronomic destination. Plenty of good options can be found when looking for places to eat in Glasgow, a city where young chefs are redefining Scottish cuisine and travellers can find a comprehensive offering of enticing international eateries.
Interestingly, Glasgow has been named the 'Curry Capital of Britain', and you'll find a number of good Indian restaurants catering for all budgets, as well as the ubiquitous fish and chips takeaways. Glasgow is home to large immigrant populations, so there are tasty restaurants that serve Greek, Korean, Lebanese, Spanish, Japanese, and Turkish cuisine in addition to the usual Chinese, Italian and Thai options. This variety is one of the main delights of eating out in Glasgow, but there are also plenty of restaurants serving traditional Scottish grub.
The West End is packed with pubs, bars and restaurants, and The Merchant City district is also a great place to find trendy restaurants.
Many Glasgow restaurants close for either Sunday or Monday. Diners are expected to tip wait staff around 10 percent, or 15 to 20 percent for very good service. Smoking is prohibited in all restaurants and bars in Scotland and hefty fines await those breaking the law.
The Corinthian Club
The Corinthian in Glasgow is one of the most popular venues in the city. A bar/restaurant/nightclub, situated in a stately former Bank of Scotland building with fully-restored Victorian style, it's a truly impressive location. The menu is full of local specialties, including Aberdeenshire steak, Ayrshire corn-fed chicken, Loch Fyne mussels, and Gruth Dhu cheese. The venue is always hopping, and it's best to make a reservation ahead of time.
Address:
191 Ingram Street, Merchant City
Fanny Trollopes
For good, local Scottish food in Glasgow, many head to Fanny Trollope's. The decor and service are both old-fashioned and welcoming, and the menu is constantly adjusting to what produce is in season with new and old favourites like Glenfarg lamb, ox cheeks, Cullen skink, and orange marmalade. As a bonus, the kitchen has a reputation for being accommodating to vegetarians. Fanny Trollope's is open Tuesday to Thursday from 5pm, Friday to Sunday from 12pm (closed 2pm-5pm).
Address:
1066 Argyle Street
Glasgow Airport
Location:
The airport is located 11 miles (18km) west of Glasgow.
Time:
GMT (GMT +1 from last Sunday in March to the last Sunday in October).
Transfer Between Terminals:
A covered walkway connects the terminals.
Getting to the city:
Buses leave regularly for Glasgow, stopping off at the main railway and bus stations. The journey to the city centre takes 15 to 20 minutes. There are also eight trains per hour from Paisley Gilmour Street Station to Glasgow Central Station, which is one mile (2km) from the airport and can be reached by taxi or by regular bus services.
Car Rental:
Car hire options at the airport include Avis, Europcar, National, Alamo, Hertz, Enterprise, Budget, and Dollar/Thrifty.
Airport Taxis:
Taxis are available 24 hours a day at the taxi rank opposite the main terminal. They are obligated to meter the journey.
Fascilities:
Facilities at Glasgow Airport include ATMs, a bureau de change, a post office, and many shops, bars and restaurants. Disabled facilities are good; those with special needs are advised to inform their airline or travel agent in advance. There is also a multi-faith prayer room.
Parking
Short-term parking is located near the terminal, charging roughly £2 for ten minutes or £3 for twenty minutes. Long-term parking is also available. Parking can be booked in advance via the airport website.
Glasgow International Comedy Festival
Now more than a decade old, the Glasgow International Comedy Festival is the largest festival of its kind in Europe. The festival attracts bigger crowds every year, showcasing the best of local comedic talent as well as some of the biggest comedians worldwide.
The festival programme now includes more than 350 shows in 40 venues around the city, including the Citizens Theatre and the Kings Theatre. The festival is about more than just stand-up comedy, featuring a great variety of entertainment spanning all forms of comedy with something to suit all tastes and ages.
There are live stand-up shows by some of the biggest names in comedy, as well as character acts, political satirists, classic family variety acts, children's entertainment, workshops, screenings of comedy film classics, and theatre productions.
Every year, the full programme is released early in the year and it's a good idea to book a few months in advance to avoid disappointment, particularly for the most popular acts. It is also recommended that accommodation is booked well in advance for those visiting during the Glasgow International Comedy Festival. Check the official website for details.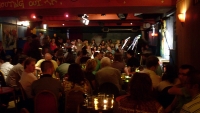 Glasgow Comedy Festival Tom Brogan
West End Festival
Every summer the Bohemian West End in Glasgow becomes the stage for performances, film, music, street parties and exhibitions. The West End Festival is the biggest event on Glasgow's cultural calendar. These days, the festival includes more than 400 performances in about 80 venues. Festival Sunday is the highlight of the celebrations, with the famous Midsummer Carnival and Street Party taking over Byres Road in a swirling procession of colour and dancing, with a variety of other activities in the area.
The day is filled with street theatre, funfair rides and stalls, comedy shows, a farmer's market, art fairs, music performances and regular features such as Shakespeare in the Park. Many of the events are public and free of charge, so that even without buying tickets for any of the big performances visitors can have a splendid time walking around the area and enjoying the street artists, exhibitions, stalls, live music concerts and party atmosphere. The festival was first held in 1996 and has been growing steadily in size and popularity ever since. Check the official website for the full festival programme and details on the event.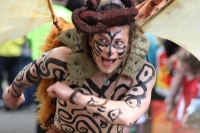 West End Festival Muhammad Younas
Glasgow Jazz Festival
One of the biggest jazz festivals in Europe, the Glasgow Jazz Festival infects the Merchant City area with a celebratory atmosphere, spilling out onto the streets from the bars in the neighbourhood and from the main open-air stage in George Square. Musicians from around the world, and the best performers from all over Scotland and the UK, flock to the city to take part in lively concert performances that have attracted huge crowds every year.
First held in 1987, in a bid to rival the cultural festivals of other big European cities, the Glasgow Jazz Festival has become a major feature on the city's cultural calendar. As well as a variety of jazz styles, the festival has extended its programme to encompass compatible genres like world music, blues and hip hop. The full programme and venues are available on the official website and tickets can also be bought via the site. True jazz enthusiasts may well travel to Glasgow specifically to attend the festival, but travellers who happen to be in the city during the jazz festival will also find the programme entertaining. It is not necessary to be an established jazz fanatic to enjoy the variety of musical events on offer.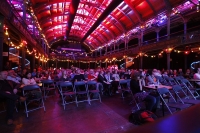 Glasgow Jazz Festival Ville.fi
Shopping in Glasgow is one of the best-kept secrets in Europe. The city is second only to London for the most retail space in the UK, and attracts dedicated shoppers from all over the country.
The heart of the Glasgow shopping districts is the 'Golden Z', which zigzags through the city centre along the pedestrian malls of Argyle, Buchanan and Sauchiehall streets. Here you'll find all the major European brand names, with Buchanan Street and its mall the Buchanan Galleries attracting the most upmarket shops. The Argyle Arcade has a large concentration of jewellery shops, and Princes Square is a stylish centre set in a renovated Victorian building.
If chain stores aren't your fancy, nearby Bath Street and Hope Street are home to a number of independent shops and boutiques where you can find a unique Glasgow souvenir or gift. De Courcy's Arcade has a fun variety of book and music stores, and a few quirky independent gift shops. Popular Glasgow souvenirs include wool knits like cashmere sweaters, mittens and scarves; swirling paperweights of Caithness glass; and local food like smoked salmon and shortbread cookies.
There are also city centre markets that are well worth a visit, including the Barras in the East End, which boasts hundreds of market stalls selling all manner of items. Be wary of counterfeit goods however, as the market is rife with knock-offs and pirated goods.
There are a few popular shopping malls in Glasgow, mostly on the periphery of the city. The biggest and busiest can be found in Braehead, Silverburn and Glasgow Fort.
Shops in Glasgow are generally open from 9am to 6pm Monday to Saturday, closing later (8pm) on Thursday evenings. The shops in the outer parts of the city may be open slightly later, and more and more stores are opening on Sunday afternoons.
Glasgow's city centre is compact and easily explored on foot, but public transport will be needed to reach some of the major attractions, which are farther out. The integrated transport network includes a reliable but confusing bus system with connections to the underground and train network. Some routes operate limited services throughout the night. The simple underground system, also known as the Clockwork Orange, has two circular routes that are easy to understand; this is the best way to get between the city centre and the West End. The suburban train network is fast and efficient. Taxis are readily available and provide excellent, if fairly expensive, service. A car is not necessary in the centre, and it is often easier to get around using public transport. Car users can make use of the park-and-ride system at underground stations outside the city centre.
With lovely parks, an abundance of museums and galleries, excellent shopping, and a lively music scene, your holiday in Glasgow won't be short of entertainment. Glasgow is a young city, with a lot of energy, and sightseeing attractions compete with pubs, bars, malls and restaurants for the attention of visitors. Music enthusiasts, football fans and party animals will be as happy in the city as culture vultures.
There is a wealth of galleries and museums in Glasgow, with the best of them including the Burrell Collection, housed in the lovely Burrell Park, and the Gallery of Modern Art (GoMA), which challenges visitors with its impressive variety. Kelvingrove Art Gallery and Museum, Glasgow's principal art gallery and museum, and the fascinating Hunterian Museum, Scotland's oldest public museum are undoubtedly worth a visit. A Glasgow attraction which delights visitors interested in architecture is the Glasgow School of Art, a famous building designed by Charles Rennie Mackintosh, which can be explored on a guided tour lead by a student of the institution. The Glasgow Science Centre is another great favourite with tourists, as is the beautiful, 12th-century Glasgow Cathedral.
Sightseeing in Glasgow is a joy, particularly as so many of the museums and galleries have free entrance.