Castle Keep and New Castle
Originally known as Monkchester, Newcastle only got its present name when Robert Curthose, son of the infamous William the Conqueror, built his 'New Castle' on the site of the Roman fort Pons Aeliu in 1080. Used as a point of defence, the castle was originally built of wood and timber, but was later rebuilt in stone. Today, visitors can explore the remains of the castle, as well as the Castle Keep built later on the same site by Henry II. The Castle Keep is acknowledged as one of the finest surviving examples of a Norman Keep in the country.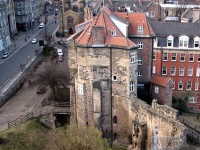 Castle Keep Glen Bowman
Hadrians Wall
In order to separate the Roman Empire in Britain from the native 'barbarians', Emperor Hadrian ordered the building of an impressive wall in the year 122. Taking approximately six years to complete, the wall stretches for roughly 80 miles (120km) from South Shields to Ravenglass, passing through present-day Newcastle. Dotted along it are several forts, temples, turrets and mile castles, and visitors can explore these fascinating 2,000-year-old remains, as well as the often stunningly beautiful surrounding countryside. Hadrian's Wall was declared a UNESCO World Heritage Site in 1987, and continues to delight and amaze historically-minded visitors to the north of England.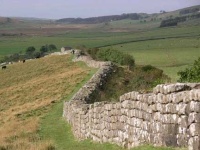 Part of Hadrian's Wall Alun Salt
BALTIC Centre for Contemporary Art
The BALTIC Centre for Contemporary Arts is a unique and fascinating collection of ever-changing exhibits, set in an old flourmill on the south bank of the River Tyne. The biggest gallery of its kind, the Centre allows visitors to explore the innovative and unusual world of top contemporary artists, both local and international. The BALTIC Centre also plays host to various performances, activities and talks, and visitors have the opportunity to interact with the current artist-in-residence. Some of the Centre's past and present exhibitors include Sam Taylor-Wood, Wang Du, Sofia Stevi, Susan Hiller and Keith Haring. Check out the official website listed below for details on what's showing during your visit.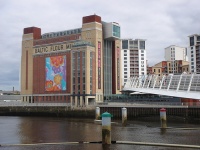 BALTIC Centre for Contemporary Art phototram
Newcastle's Oceanic climate is temperate, and although typical of the United Kingdom, it can be highly changeable. Due to the Gulf Stream, temperatures are usually warmer than in the rest of the UK and as Newcastle is in the rain shadow of the North Pennines, it is also one of the UK's driest cities. Summers (June to August) are usually sunny and warm, with average lows of 50°F (10°C) and highs of 68°F (20°C), while winters (December to February) are cold, with occasional snow and average temperatures between 36°F (2°C) and 44°F (7°C).
Newcastle International Airport
Location:
The airport is situated six miles (10km) from Newcastle city centre.
Time:
GMT (GMT +1 from last Sunday in March to last Sunday in October).
Getting to the city:
The Metro system connects the airport to Newcastle Central Station, and other parts of the city, leaving every few minutes. Buses also leave regularly for the Eldon Square Bus Concourse.
Car Rental:
Car hire companies represented at the airport include Avis, Europcar, Hertz and Interrent.
Airport Taxis:
Taxis are available outside the terminal.
Fascilities:
Newcastle Airport has shops, bars and restaurants. Other facilities include a bank, bureaux de change, ATMs, left luggage, baby care rooms, and a children's play area. Disabled facilities are good; those with special needs are advised to inform their airline or travel agent in advance.
Parking
The short-stay and express parking lots are located directly opposite the terminal. The medium-stay lot, just beyond, offers 15 minutes free parking for picking up or dropping off passengers. The long-term lots are located furthest from the terminal and offer the cheapest daily and weekly rates. Discounted rates are available for bookings made via the airport website.
Newcastle has an excellent public transport system, with plenty of buses, trains and taxis available. It may be worth phoning ahead for a taxi at the weekend, as the city can get quite busy. Newcastle is also home to the Tyne and Wear Metro, a fast and efficient means of transport that operates within the city and connects Newcastle and Gateshead. There are plenty of car rental agencies in the city, though exploring Newcastle on foot is perhaps the best way to take in all the sights and sounds. There are also several cycling paths and bike rental options. Mobile app based taxi services like Uber are also available.
With its stylish waterfront and a host of historic sites, Newcastle is a mix of fun and culture, heightened by the legendary Geordie folk heritage. Newcastle, the party capital of northeast England, is often underrated as a travel destination and has been dubbed one of England's best-kept secrets. A weekend break in Newcastle is well-suited to a younger crowd, who will get the most out of the party culture of this university city. However, history buffs may also enjoy a trip to Newcastle for its ancient Roman heritage, particularly its proximity to Hadrian's Wall.
The city's modern amenities actually lie comfortably close to numerous historic sites and impressive old buildings, including the Castle Keep and New Castle, Wallington Hall, the lovely old buildings of Grey Street, and the Victoria Tunnel, a fully-preserved 19th-century wagon tunnel which became an air raid shelter during the war. A safe city that is easily navigated, with a range of fascinating museums and year-round cultural events, Newcastle is far more than its party reputation suggests.
Like most of England, summer is the best time to travel to Newcastle-upon-Tyne, which has the advantage of being one of the United Kingdom's driest cities. Summertime brings warm temperatures, when locals and visitors alike can take advantage of outdoor bars and clubs.