Brighton Lanes
Brighton is unquestionably England's most spectacular seaside resort town. Made popular in the 18th century, when the Prince Regent (later King George IV) chose it as the site for his holiday palace (the bizarre and fantastic onion-shaped Brighton Pavilion), it is still famous for its frivolous entertainment venues and enviable nightlife. An eclectic combination of Regency and Victorian architecture gives Brighton a unique air, with winding village lanes and its flamboyant East Pier stretching out over the sea sparkling with thousands of lights from its funfair and amusement arcades.
The historic Brighton Lanes host a variety of quaint and quirky shops, with everything from antiques and jewellery to fortune-telling on offer. Wander lazily through the winding streets and relax at one of the numerous cafés while enjoying a cappuccino and a live jazz performance. By night, this quarter takes on a more ghoulish character, with the famous Ghost Walk being offered for the brave...with drinks at the haunted pub for survivors!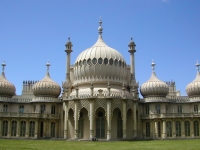 Brighton Royal Pavilion, England Xgkkp
Brighton Palace Pier
As you step foot onto Brighton's Palace Pier, you are overwhelmed by the sound of repetitive arcade music and the inviting scent of popcorn or fried fish. A row of stalls selling fast-food, toys and souvenirs leads visitors towards the arcade, which is filled with an assortment of gaming machines and a couple more eateries. This opens out onto the funfair section at the end of the pier, where a number of rides - including a Ghost Train, Dodge 'Em Cars and a lovely Carousel - attract quite a crowd. A great place for both kids and the young-at-heart to spend the day, Brighton Pier is also a wonderful spot to set up one of the iconic striped deck chairs and just take in the view and soak up the atmosphere.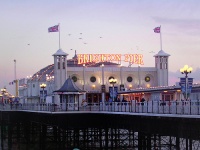 Brighton Palace Pier Ed.ward
Royal Pavilion
The Royal Pavilion was built in stages between 1787 and 1823 as a pleasure palace for British royalty and remains one of Brighton and Hove's chief tourist attractions. The interior of the Royal Pavilion is extraordinary in its combination of exotic Asian and quintessentially Brittish design. Classic furnishings belonging to Queen Elizabeth II stand beside fierce gilded dragons and imitation bamboo staircases, while the Music Room and the Great Kitchen are also truly impressive sights. The gardens are reminiscent of revolutionary 1730s landscaping, with curving paths between natural groups of trees and beautiful views afforded at every turn. Allow at least two hours to explore the palace and its noteworthy collections.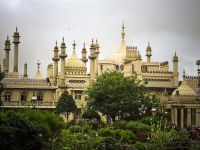 Brighton Royal Pavilion llamnudds
Brighton has a temperate, fairly mild climate. The weather is quite unpredictable, as with the rest of the UK, but generally winters are cold and wet, and summers are comfortably warm with frequent showers. July and August are the warmest months, while January and February are the coldest. Temperatures do not usually drop below 32°F (0°C) in winter. The best times to visit Brighton are spring (May and June) and autumn (September and October). Summer is wonderful in many ways and is the peak travel season, but the beaches can become very crowded.
Brighton Festival
Since 1966, this entertaining arts festival has featured talented local and international contributors to the world of graphic art, theatre, circus, music, dance, film and literature. The Brighton Festival is England's largest event of its kind and is one of the highlights of the British cultural calendar. The Artists Open House allows visitors into artists' homes to view and purchase their work in intimate, personal surroundings, while live performances and other exhibitions take place throughout the city during the month of May, some free and some ticketed. Check the official website listed below for the full programme and other details.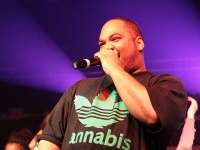 Cannabis performing at the Brighton Festival Erinisfunky
Pride Summer Festival Week
This summer Pride festival features an exciting array of events throughout the city. The Carnival Parade starts at Madeira Drive, next to Brighton Pier, with spectators following the parade through town towards Preston Park. Once in the park, visitors can enjoy a variety of music tents, cabaret, food stalls and bars. One of the most vibrant and energetic Pride festivals in Britain, with over 400,000 people participating in the festivities, the Pride Summer Festival Week in Brighton is well worth attending for anybody keen to stand up for LGBT rights and have a glorious party at the same time. For details on all the associated events check out the official website listed below.
Venue:
Madeira Drive to Preston Park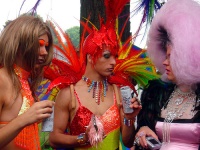 Pride Summer Festival Week FreeRangeLife
Brighton has excellent rail connections to other UK destinations. The train from London Waterloo to Brighton takes about an hour. There is an excellent network of frequent bus services for getting around the city, and taxis are also available 24 hours a day. Cycle lanes throughout Brighton and Hove make cycling a quick and safe travel option. In many ways walking is the best way to get around Brighton and it is not necessary to hire a car, although this is certainly possible. Brighton also has an airport. Mobile app based taxi services, like Uber, are also available.
Brighton is blessed with a proliferation of ornate Regency architecture, and buildings like the Royal Pavilion are must-see tourist attractions, but in truth visitors generally come for the shopping, nightlife and beaches more than they do for sightseeing. The Brighton Palace Pier is packed with holiday attractions like a funfair, fast food stalls and a game arcade, and the beachfront is central to touristic stays in Brighton.
Mention shopping in Brighton and the first thing that springs to mind is 'The Lanes!'. And for good reason - the Lanes have been operational in Brighton since the 17th century and today host an assortment of boutiques, antique shops, jewellers and book stores, as well as a few cafés and pubs. Here visitors can find anything from kites, tribal textiles and hand-made crafts to vintage shoes or funky fashion accessories. If the weather is bad, head for one of the delightful retro pubs and tea rooms that are strewn around Brighton. Those wanting a slight change of scene should head to neighbouring Kemp Town, a charming village with the same Regency appeal of Brighton and plenty of lovely shopping opportunities.
The nightlife in Brighton and Hove is exceptional. This exciting seaside escape, only an hour from London, is a vibrant social hub year-round. With plenty of great restaurants, cafés, bars and clubs, the party just keeps on rolling; many of Brighton's chief attractions only come to life after dark.