Barber Institute of Fine Arts
Praised by as 'one of the finest small art galleries in Europe', the vivid red walls of the enchanting Barber Institute of Fine Arts are adorned with some of the most celebrated art from the 13th to 20th centuries. Browsing the robust artworks, visitors are treated to the timeless talents of the old masters and modern pioneers such as Monet, Manet, Gauguin, Van Gogh and Degas. Offering a fascinating collection of paintings, drawings, prints and sculptures, history enthusiasts can also venture into a bygone age at the coin gallery, which hosts one of Europe's finest collections of Byzantine coins. The Barber Institute's Gallery Shop is a worthy stopover for some souvenirs and gallery-related literature.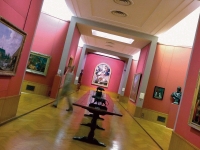 Barber Institute interior Barber Institute
Alton Towers
Alton Towers is the UK's premier theme park aimed at the thrill-seeking and young-at-heart, and can be a welcome excursion for those who have overdosed on the culture and tranquillity of the Cotswolds. Rides with names such as Nemesis, The Blade, Submission and Ripsaw are definitely not for the faint-hearted, but the park does cater for the whole family with an adventure land and farmyard for younger visitors, as well as a hugely popular Charlie and the Chocolate Factory ride. For those exhausted by the day's antics, Alton Towers operates its own hotel, and there are plenty of spots to grab a bite to eat.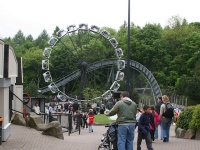 Alton Towers rogerbarker2
Balti Triangle
Any visit to Birmingham is not complete without visiting the city's 'curry capital' and sampling its unique Balti fare. Originating from the large Kashmiri population, the Balti dish was officially discovered in 1976. The word 'balti' means 'bucket', and refers to the round-bottomed pan, similar to a wok, in which the dish is served. A mouth-watering stir-fried curry with an amalgamation of spices and fresh herbs, newcomers should forget their knives and forks and mop up the sauce with a wad of aromatic naan bread. Located in the Sparkbrook area, ten minutes from the city centre, the Balti Triangle boasts over 50 restaurants dedicated to Eastern cuisine and a smattering of shops, ranging from Asian clothes and fashion to exotic foods and Bollywood merchandise.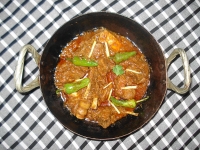 Balti Cuisine Miansari66
Selfridges Store
A Birmingham landmark, the Selfridges store at the Bull Ring Market boasts a stylish design, proving that contemporary architecture can thrive outside of trendy London. Designed by Future Systems' architects, the knobbly silver façade was inspired by Paco Rabanne's chain mail dresses. Constructed with concrete, which was then painted a glowing blue and adorned with 16,000 polished aluminum disks to create a mottled outer 'skin', the contemporary construction cost just over one million US dollars to build. Transforming Birmingham's urban fabric, the store draws thousands of visitors each week to witness its bizarre design and browse the designer goodies inside.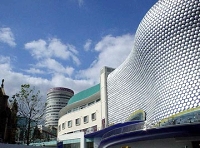 Selfridges exterior Birmingham Municipality
Birmingham Museum and Art Gallery
Boasting part of the largest collection of Pre-Raphaelite paintings and drawings in the world, the breathtaking works of luminaries such as Dante Gabriel Rossetti and Edward Burne Jones can be found at the Birmingham Museum and Art Gallery. The spectacular Waterhall Gallery of Modern Art is littered with impressionist masterpieces and is not to be missed on any trip to Birmingham; while the same can be said of the Greek, Roman and Ancient Near East Gallery, which never ceases to please. With fine art from the 14th century onwards and an impressive collection of archaeological finds documenting 400,000 years of history, culturally-minded visitors will be entranced. The Edwardian Tea Room provides a cosy space to discuss what you saw in the 40 galleries of this remarkable museum and serves warm beverages, light snacks and scrumptious cakes. Entrance to the permanent collection is free.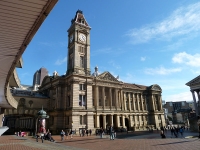 Birmingham Museum JimmyGuano
Drayton Manor Theme Park
A short drive from Birmingham's city centre, the Drayton Manor Theme Park offers an exhilarating alternative to shopping and sightseeing. Loaded with more than 50 rides offering high-octane thrills and a range of attractions, the park provides fun for all ages. Visitors can drop 177 feet (54m) from the world's first stand-up tower, take a watery plunge in a rescue boat down a slippery 180º platform, fly around one of the parks two swirling rollercoasters, or tackle the rapids with friends at Splash Canyon. Family fun at Drayton Manor Theme Park has not been short-circuited either, as a wide variety of child-friendly rides are provided. The Thomas Land area (based on Thomas the Tank Engine) is wildly popular among younger visitors.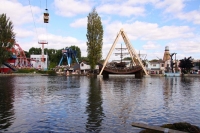 Drayton Manor Theme Park Steve Daniels
Birmingham's weather is typically English, if slightly more temperate than the coast. Rainfall occurs all year round but is heavier in winter. Average temperatures in summer (June to August) range from 52°F (11°C) to 70°F (21°C) and in winter (December to February) from around 34°F (1°C) to 44°F (7°C). Due to its inland location snow does occur in the city centre during winter but has become less frequent over the past few years. Tornadoes occur intermittently.
Birmingham Airport
Location:
The airport is situated eight miles (12km) southeast of Birmingham.
Time:
GMT (GMT +1 between the last Sunday in March and the Saturday before the last Sunday in October).
Transfer Between Terminals:
The two terminals are within easy walking distance of each other.
Getting to the city:
Buses to the city centre and surrounds can be caught opposite the airport at the Bus and Coach Terminus. Birmingham city centre can also be reached via Birmingham International railway station connected to the airport by a free monorail system called the Air-Rail Link. Trains run from Birmingham International Station to Birmingham New Street Station and vice versa throughout the day but are less frequent in the evenings and on weekends. Uber, and other mobile app based taxi services are also available. For onward travel, Birmingham International Station is connected to over 100 towns in and around the UK.
Car Rental:
Car rental companies include Avis, Budget, Europcar, Hertz and National. All car hire booking desks are located within the arrivals lounge which can be found easily once through security.
Airport Taxis:
Taxis are available from outside passenger terminals and take about 15-20 minutes into Birmingham.
Fascilities:
There are banks, bureaux de change, shops, restaurants, business lounges, play areas for kids, baby changing facilities and a tourist information desk in the airport. Disabled facilities are good; those with special needs should contact their airline in advance.
Parking
The airport's 'drop and go' area is adjacent to the departures terminal and is free for the first 30 minutes. Car parks 1, 2 and 3 are best for short and medium-stay parking; they are located beside the terminal building and charge per hour or per day. The long-stay parking garages are located next to the second roundabout along Airport Way, a ten-minute walk from the terminal. There are regular shuttle-buses between the long stay parking lots and the terminal. Long-stay parking is free for the first 15 minutes.
The best way to explore Birmingham is on foot as the majority of the city centre is now pedestrianised and the canals, which have been cleaned up, make for attractive walkways. The most popular form of transport used in Birmingham and the West Midlands area are buses. There is no central bus station, but a bus stop can be found on almost every corner. Single fares, travelcards and Daysaver tickets are available for unlimited travel for a day. An exact fare is required when boarding the bus, as drivers will not give change.
Black cabs can be hailed in the street or reached at one of the many taxi ranks in the city centre, the main ones situated at New Street Station, Stephenson Street and Digbeth Coach Station. New Street and Moor Street train stations provide rail connections to destinations throughout the UK. For coach transfers to other major towns and cities, National Express is a good bet. Mobile app based taxi services, like Uber, are also available.
Idiosyncratic in its language and Kashmiri cuisine, Birmingham offers something new to travellers in England. From pubs and canals to shopping and curry, the Brummies impart an impressive spread. A student town atmosphere coupled with big city features and sightseeing attractions ensures a holiday in Birmingham makes for a rewarding UK travel experience.
A rich bounty of cuisine and culture make up the world-renowned Balti Triangle, and the curvaceous Selfridges store with its mottled futuristic 'skin' is not to be missed at the Bull Ring centre, a commercial hub that has been in use since the Middle Ages. For a breath of fresh air, head to one of Birmingham's five Green Flag-status parks, and enjoy the shade of the city's dense oak tree cover. A host of excellent art galleries and museums promise to entertain culture vultures: the RAF Museum is interesting for history fans; the small but fascinating Museum of the Jewellery Quarter showcases a different side of the city; and the Birmingham Museum and Art Gallery boasts one of the best Pre-Raphaelite collections in the world.
For those travelling to Birmingham with kids, the Cadbury's factory will delight children and cocoa lovers alike, and the Drayton Manor Theme Park will be fun for the whole family.