Ferrari World
Strap yourself in for the ride of a lifetime at Ferrari World, which opened at Abu Dhabi's Yas Island in November 2010. At over 2 million sq feet (200,000 sq m) this is the largest indoor amusement park in the world. The headline attraction is the Formula Rossa rollercoaster, by some margin the world's fastest, attaining speeds of up to 160 miles p/h (240km) and an acceleration of 4.8 G, which is what a Formula One racing driver experiences at full throttle. The park's many attractions include the largest Ferrari gallery outside of the brand's headquarters in Marinello, Italy; the Speed of Magic immersive 4-D film experience; the G-Force space shot tower; Bell'Italia, which reproduces Italy's main attractions in miniature; and various state of the art racing simulators. An enormous red-domed roof encloses the facility, creating a futuristic and unique structure that has been nominated for several architectural awards. Ferrari World includes six restaurants, featuring four Michelin-starred chefs.
Address:
Yas Island, 30 minutes drive from Abu Dhabi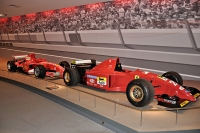 Ferrari World Alberto Gonzalez Rovira
Al Hosn Palace (White Fort)
The oldest building in young Abu Dhabi is the Al Hosn Palace, known colloquially as the White Fort. It was constructed in 1793 as the official residence of the former ruling family, and was extensively renovated in 1983. Today it houses the Cultural Foundation, featuring a museum of traditional artefacts and historical photographs. The Palace is renowned for the magnificent tile work over its main gate.
Address:
Khalid bin Walid St
Opening time:
Opening times may vary during Ramadan. Museum is open but building expanse closed due to renovations.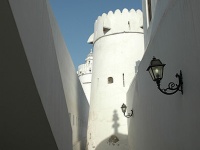 White Fort X@x
Heritage Village
Designed as a living museum depicting traditional Bedouin life, the Heritage Village over the Abu Dhabi Corniche features tents, courtyard houses, an ancient irrigation system, workshops where craftsmen ply their trades, a museum and much more.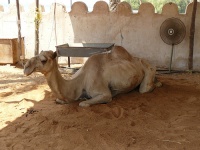 A camel at the Heritage Village lucadex
Liwa Oasis
Numerous local tour operators in Abu Dhabi offer trips from the city to the famed Liwa Oasis, about three hours drive away along a modern highway. This green, agricultural strip at the edge of the Rub Al Khali ('Empty Quarter') is surrounded by desolate desert with farms abutting towering sand dunes. Visitors enjoy overnight camel trips to camp in the desert. The oasis, made up of a string of small towns and villages, is resplendent with pools of fresh water and date plantations, and is the ancestral home of the Bani Yas tribe from whence sprang Abu Dhabi's ruling family.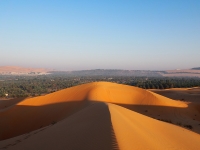 Liwa Oasis Nick & Mindy Martin
Marina Mall Fun City
The Fun City at Marina Mall is a great place for kids, offering an exciting range of arcade games and rides to enjoy. Favourite rides at the amusement centre include the thrashing shark rollercoaster, the whizzy little bumper cars and the 'Extreme Shock' machine - actually very safe!
Address:
Marina Mall, Ras Al Akhdar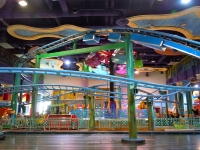 Marina Mall Sarah Ackerman
Bowling, Paintball and Table Tennis
Kids in Abu Dhabi will love honing their skills in the bowling alley at the Armed Forces Officers' Club, or perhaps playing a game of paintball or table tennis. There is also a large playground and an Olympic-size swimming pool at the club for kids to cool off in after all that action. The Armed Forces Officers' Club also has a Ladies recreation area with massage tables, a swimming pool, steam bath, sauna and gym.
Address:
Al Maqtaa, near the Grand Mosque
Opening time:
Daily 10am-10pm.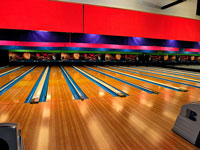 Bowling Alley a4gpa
Hili Fun City
A great attraction for children and often called the 'Disneyland of the Middle East', Hili Fun City is the largest theme park in the Gulf. Completely refurbished and modernised in 2009, the park offers a number of rides and amusements, including a mini train tour, an ice skating rink, a rollercoaster and sky-flyer, and the Dynamic Motion Theatre. There are also beautifully landscaped gardens and various picnic spots to enjoy at the park.
Opening time:
Fridays, Saturdays 10am-10pm, weekdays 4pm-10pm. Closed Sundays. Wednesdays are female admission only.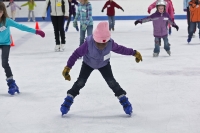 Ice Skating Steven Depolo
Hiltonia Beach Club
Belonging to the Hilton Abu Dhabi Hotel, the Hiltonia Beach Club is an exclusive beach with excellent facilities. Open to non-guests on weekdays for a fee, the beach offers lounge chairs and umbrellas in the sand, and water sports like snorkeling, fishing, windsurfing, water skiing, kayaking and sailing. There is also a café and cocktail bar, and three swimming pools with water slides.
Address:
Hilton Abu Dhabi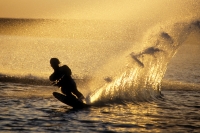 Water skiing Tony Klarich
Although Abu Dhabi's glittering skyscrapers and opulent boulevards suggest more of an adult wonderland than a children's paradise, visiting parents will be happy to learn that there are plenty of amusements that promise to keep the children entertained during their time in the city.
The many beaches and water parks are a sure way to keep the whole family occupied. For visitors seeking an escape from the sun, there are plenty of malls and amusement parks which specifically cater for children. Hili Fun City, for example, is the United Arab Emirates' answer to Disneyland, and the amusement centre at the Marina Mall offers a wide variety of arcade games and thrilling rides. The Armed Forces Officer's Club has many facilities for kids too, and even features a spa for weary parents in need of some pampering. Khalifa Park is well worth a visit, featuring an aquarium, museum, play parks, a train and even formal gardens to enjoy some time out under the shade of a tree. With all these options, Abu Dhabi is ideal for travelling families.
Sunshine and blue skies are guaranteed almost every day in Abu Dhabi. Temperatures between June and September can be unbearably hot for most Westerners, exacerbated by high humidity and ranging between 85ºF (29ºC) and 109ºF (43ºC) in July and August. Air-conditioning is the norm in all buildings. The best time to travel to Abu Dhabi is between October and May. In January and February it even becomes cool enough to warrant wearing a cardigan outdoors, with temperatures ranging between 55ºF (13ºC) and 75ºF (24ºC). Rainfall is almost non-existent.
The city has a reputation as a cosmopolitan melting pot, and Abu Dhabi's restaurants are no exception to this rule. A wide variety of choices is available to suit all palates, ranging from cheap and cheerful curry and Chinese takeout to five-star French restaurants. One great thing about the restaurants in Abu Dhabi is that diners need not go out to enjoy them; nearly every establishment will deliver, usually for free.
Dining out in Abu Dhabi becomes more complicated during the month of Ramadan. As Muslims are fasting during daylight hours, restaurants are obligated by law to close at this time. Fines are given to anyone eating or drinking anything (even water) in public. Some large hotels catering to Westerners will keep one restaurant open for non-Muslim customers however, and it's a good idea to check with your hotel on arrival.
Many high-end restaurants in Abu Dhabi add a service charge of around 10 percent to the bill, while hotel restaurants may also add a tourism levy of 6 percent. These charges are sometimes included in menu prices. Tips of 10 percent are customary for waiters.
Travellers to the UAE should keep in mind strict regulations regarding the consumption of alcohol. The only restaurants that are licensed are in hotels and private clubs. Some restaurants are segregated into 'family sections' where men and women must sit separately.
Beach Rotana Brunch City
Friday brunch is an institution in Abu Dhabi and this five star hotel sets the bar very high with an epic brunch spread, combining the food selection of a number of its restaurants to provide customers with a dazzling array of culinary choice. Beach Rotana's relatively high prices are offset by the exceptional food and complimentary champagne.
Address:
10th Street, Al Zahiya Area
Al Mina
Al Mina is a relaxed restaurant on the harbour serving traditional Iranian cuisine, with a special focus on local seafood like lobster and squid. Try one of the starter platters, overflowing with hummus, tabbouleh, and dolmades. The restaurant has both an Arabian-style indoor section and an outdoor patio with waterfront views. Open daily from 4-11pm.
Address:
Al Dhafra, Dhow Harbor
Automatic and Lebanese Flower
These restaurant chains offer a good local variety of fast food at a low price. They do shawarmas (roast meat rapped in pita bread), hummus, falafels and roast chicken. The mouth-watering fare and local cultural inspiration makes them a must try.
Address:
Near the corner of Hamdan & 4th Streets, Al-Manhal, Khalidia
Pars Palace
Considered the best place to eat Persian food in Abu Dhabi, Pars Palace is tucked away in a small backstreet behind Corniche Towers, near the marina. A wide selection of authentic Middle Eastern dishes, including saffron chicken and spicy kebabs, is accompanied by complementary fresh loaves of flat bread with sheeps-milk cheese. One of the best-value restaurants in Abu Dhabi, Pars Palace is busy for lunch and dinner. Open 11am to 3:30pm and 6pm to midnight.
Hediard
This elegant French patisserie is popular over lunch for its excellent people-watching and relaxed environment. Linger over a cup of coffee and a petit four, or indulge in a leisurely meal of French fusion cuisine. Located in the Marin Mall, Hediard is open daily from 9am to midnight.
Address:
Marina Mall, Ras Al Akhdar
Abu Dhabi International Airport
Location:
The airport is 20 miles (32km) east of Abu Dhabi.
Transfer Between Terminals
Abu Dhabi Airport has a city terminal where passengers can check in up to 12 hours before a flight, and then be shuttled to the actual airport. The three terminals at the airport are within walking distance of each other.
Getting to the city:
The green and white A1 bus goes to the city and stops outside Arrivals at Terminals 1 and 2. It departs every 40 minutes, 24-hours a day. Travel time to the city is approximately 40 minutes depending on traffic.
Car Rental:
Car rental companies represented at the airport include Thrifty, Avis, Budget and Europcar.
Airport Taxis:
Metered airport taxis are readily available outside the arrivals hall. The journey to Abu Dhabi takes approximately 30-35 minutes.
Fascilities:
The City Terminal offers a business centre with internet access, showers, ATMs, a duty-free shop, restaurants, and a VIP lounge. Facilities at the airport itself include duty-free shops, a meet and assist service, a VIP lounge, pharmacy, medical service, ATMs, bureaux de change, restaurants and cafes, a business centre and post office.
Parking
There are many parking options at Abu Dhabi International Airport: short-term parking is conveniently located near the terminal and costs AED 20 per hour. 24 hours costs AED 240.
Al Ain International Airport
Location:
8 miles (18km) northwest of Al Ain
Parking
There is free parking located across the road from the terminal.
While quieter than Dubai, Abu Dhabi has a very festive nightlife. Most of the bars and clubs are located in the city's upmarket hotels, which are allowed to serve alcohol under UAE law. The nightlife only really kicks off at around 11pm. Many venues have a strict dress code to adhere to, but still offer a relaxed and safe atmosphere to enjoy. There are a number of English, Mexican and American-style bars and pubs in Abu Dhabi. Some of the most popular include the Harvester's Pub at Sands Hotel, the Jazz Bar at Hemingway's and the Irish pub at the Abu Dhabi Grand. Live performances, happy hour, ladies nights and quiz evenings are regular events in Abu Dhabi bars. The local nightclubs feature international and local DJs, as well as live performances from Arab singers and belly dancers. Exotic cocktails, vintage brandies and Arabic mezzes (snacks) are also offered by most venues. Popular Abu Dhabi nightclubs include Le Meridien's Gauloises Club, and the Tequilana Discotheque at the Hemingway's complex.
Abu Dhabi is well-supplied with a vast number of metered taxis offering very reasonable fares. These are the best way of getting around in town, and outside of it. There are unmetered taxis too, and when using these it is best to agree on a fare up front. Most taxi drivers speak English. It is worth noting that a surcharge can be added for air-conditioning in the taxi.
There is a limited bus system, but it does not follow fixed routes. Most hotels offer bus services to principal destinations, including the airport. Car and limousine rental is slightly more expensive but of course petrol is cheap. Driving in the Emirates, however, can be a hair-raising experience, with an established hierarchy as to who has right of way, so it is often best to hire a vehicle with a local driver. There is also the Abu Dhabi Metro Rail system which is convenient and aims to relieve traffic congestion. It provides optimal connectivity between Abu Dhabi Island and the suburbs.
Abu Dhabi is not typically considered to be a tourist destination, but there is whole lot more to see and do here than shopping or business meetings. More good news is that many of Abu Dhabi's quality attractions are free. Travellers should take note that getting around the city by foot is not much of an option due to the extreme heat and the best time of year for sightseeing in Abu Dhabi is between October and May.
Famed for its amazing shopping opportunities, many visitors might choose to scrap any sightseeing and spend their time wandering the seemingly endless malls and districts. For those less interested in shopping, a good place to start is Corniche, Abu Dhabi's spectacular waterfront which stretches for miles. Stroll along the walkway, stop on one of the sandy beaches or take the kids to the playgrounds or go-karting track. The Sheikh Zayed Mosque is the largest mosque in the United Arab Emirates and a must-see for visitors to the city.
Most of Abu Dhabi's hotels have their own beaches, and swimming or simply lazing in the sun is a popular pastime for weary travellers looking to get their feet up.