Phuket Beaches
Few places in the world can match Phuket for its array of beautiful beaches with white sands and crystal clear waters. From the popular Patong Beach, which daily draws hundreds of visitors to its shores, to the quieter Kata Noi hidden away from the crowds, Phuket has a strip of sand for everyone. For those who want to burn off some energy, activities such as parasailing, jet skiing and snorkelling can be found on many of the more popular beaches. The best beaches in Phuket for snorkelling would be Ao Sane and Paradise Beach. For those who prefer to sit back and enjoy the atmosphere, there are beachside massages, restaurants and cocktail bars around every corner. In this regard, the best beaches in Phuket for relaxing, with a more secluded, hidden feeling would be Mai Khao, Had Sai or Freedom Beach. When the day is done, Phuket offers some of the most beautiful sunsets travellers will ever see, framed by sheer limestone cliffs and the lazy coconut palms which line the beaches.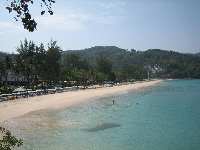 Kata Noi AHappyRock
Thalang National Museum
The best place to learn more about Phuket's past and present is the Thalang National Museum, which chronicles the island's daily life as well as its long history. There are exhibits on tin mining, military history, the Sea Gypsy culture and artefacts of the ancient Sukothai kingdom, dating back to the 9th century. One of the most interesting exhibits is the Monument of the Two Heroines, sisters Thao Thep Krasattri and Thao Si Sunthorn, who helped to repel the Burmese invasion in the 18th century.
Address:
229 Soi Lak Mueang 1, Thalang, north of Phuket City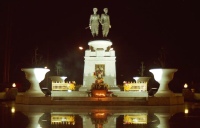 Thalang National Museum Sry85
Wat Chalong Buddhist Temple
Wat Chalong is the most famous of the 29 Buddhist temples in Phuket, welcoming thousands of visitors every year. The site is dedicated to two monks who used their knowledge of herbal medicine to assist in the tin miners' rebellion of 1876. The many buildings of the temple complex contain gilt statues, paintings, and relics, including a splinter of bone said to belong to the Buddha. A unique aspect of Wat Chalong is the regular sound of firecrackers, which are set off to show gratitude for answered prayers. Visitors to Buddhist temples should take care not to wear revealing clothing (with knees and shoulders covered), and be prepared to leave their shoes at the door.
Address:
Chao Fah Tawan Tok Rd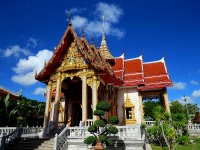 Wat Chalong Pekka Oilinki
Phuket has a tropical monsoon climate, with high temperatures and humidity all year round. March to May is the hottest time of year on the island, but even during the rest of the year average daily temperatures range from 75°F (24°C) to 89°F (32°C). During the summer monsoon season from May to October, the island experiences thundershowers in the late afternoons and early evenings. The best time to visit Phuket is from December to March, when temperatures are slightly cooler.
Phuket International Airport
Location:
The airport is situated 20 miles (32km) from Phuket city.
Time:
Local time is GMT +7.
Transfer Between Terminals:
It is possible to reach the terminals on foot.
Getting to the city:
Many hotels also offer transport for arriving guests. Several companies provide limousine and minibus services at the airport to transport passengers to their required destination.
Car Rental:
Car rental companies represented at the airport include Avis, Budget, and Sixt.
Airport Taxis:
A taxi stand is located outside of the airport. Metered taxis have limited space for luggage; if travellers have large luggage and there are more than two passengers, they should consider a limousine taxi, which operates on a fixed fare, or minibus transfer.
Fascilities:
Airport facilities include ATMs, shops (including duty-free shops), currency exchange services, an information counter, a sauna and spa, medical services, left luggage facilities, a restaurant, and a bar.
Parking
The parking garage is located directly outside the terminal. Both short and long-term parking is available. Parking is free for the first 15 minutes, THB 20 for the first hour, THB 40 for two hours, THB 50 for three hours, THB 100 for up to six hours, and THB 200 per 24 hours.
Phuket's nightlife is second only to Bangkok for sheer buzz. The liveliest resort area in Thailand, the larger towns on the island offer plenty of entertainment into the wee hours of 5 or 6am. Many restaurants and markets also stay open until 11pm, enhancing the festive atmosphere.
The epicentre of Phuket's nightlife is Patong Beach, and within the town, Bangla Road is the main concentration of bars and clubs. Options range from seriously dodgy beer bars to upscale cocktail lounges, as well as pumping nightclubs, rowdy karaoke bars, gay bars, jazz clubs, relaxed pubs and go-go bars. At the top end of Bangla Road, visitors can party into the early hours at several side-by-side establishments. Paradise Complex is Patong's gay area, with more than 50 bars, karaoke clubs, restaurants and discos.
Lady bars, or beer bars, are clustered together and staffed with beautiful women tasked with getting patrons to drink as much as possible through drinking games or sheer distraction. In Patong, travellers will find the famous 'ladyboys' (or katoeys) of Thailand, transvestites who are often more feminine, slimmer, and sexier than Thai women. While katoeys working in bars are notoriously friendly, visitors should remember that they are working and will expect drinks, gifts, and/or money for their time. If the seedy clubbing scene isn't what travellers are looking for, many hotels in Phuket stage Thai dance shows - including elaborate drag cabaret shows.
The bars and nightclubs in Phuket have gotten stricter in the last few years about carding patrons, especially in venues offering more than food and drink. Tourists should take care not to go out alone at night, and to keep an eye on their drinks at all times.
Public transport is quite limited in Phuket. Local buses, in the form of converted pick-up trucks (songthaews), operate along set routes and are a convenient and cost-effective means of getting around. The destination of the songthaew should be written in English on the front of the vehicle. Tuk-tuks are popular on the island, but they are not metered and it's not uncommon for drivers to overcharge unsuspecting passengers. It's best to negotiate a fare before getting in the vehicle.
Although not as common as songthaews and tuk-tuks, metered taxis are available in Phuket. Drivers are sometimes reluctant to use the meter, and it's best to agree on the fare before embarking on a journey in a taxi. Motorbike taxis are a cheaper means of getting around the island, but by no means the safest. Car and motorbike hire is available on Phuket and both offer a good means of getting around the island.
Though many visitors holiday in Phuket simply for the beaches, there are many things to see and do out of the water as well. Phuket's long and fascinating history is detailed at the Thalang National Museum, while the island has almost 40 Buddhist temples, including the famous Wat Chalong. The 147-foot (45m) Big Buddha is also a popular attraction, visible from most of southern Phuket.
Phuket has rightly earned its reputation as a paradise for outdoor activities, and visitors will enjoy exploring some of the biggest waterfalls in Thailand, and other pastimes like fishing and hiking. Also interesting are the Muay Thai boxing matches staged in Saphan Hin Stadium. Fun in the sun and sea is the main attraction of Phuket however, and there is no end of opportunities for snorkelling, scuba diving, cliff diving, sailing, kayaking, and jet-skiing.
Phang Nga Bay
The holiday spot of Phang Nga Bay is characterised by sheer limestone cliffs that jut vertically out of the emerald green water. The bay contains a fascinating collection of 3,500 islands, most of them uninhabited, which are unique in that they have central hollows or 'rooms', actually collapsed cave systems, containing hidden realms of unspoilt fauna and flora. Many of these can only be reached by inflatable kayak, which makes exploring the bay on the water an exciting way to enjoy the spectacular scenery. The largest and most popular Phang Nga Bay islands are James Bond Island and Koh Pannyi, the first named for having been where the movie The Man with the Golden Gun was filmed. Koh Pannyi or Sea Gypsy Island is where a village has been built on stilts in the water with a giant monolithic rock guarding its rear. Regular boat trips carry holiday tourists from Phuket to Phang Nga Bay, and it can be overcrowded during high season.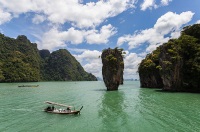 Phang Nga Bay Diego Delso
Similan Islands National Park
The Similan Islands have a reputation, even among the many Thai islands, as one of the world's top scuba diving sites. The intense blue waters are framed by white coral sand beaches, and are home to intricate coral reefs and rock formations. The most famous dive site in the Similan Islands is Richelieu Rock, where whale sharks are commonly spotted. The Similan archipelago consists of nine islands: Ko Bon, Ko Bayu, Ko Similan, Ko Payu, Ko Miang, Ko Payan, Ko Payang, and Ko Huyong. Not all are open to visitors, and all are virtually uninhabited. Many charters offer day trips to the Similan Islands from Phuket and Phang Nga, but there are limited accommodation opportunities as well. Note that the park is closed from May 1st to November 1st every year, and it is illegal to visit during this period; guests who do so put their lives at risk as there are is no emergency support.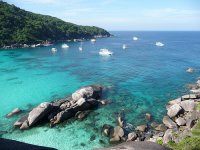 Similan Islands National Park Fred von Lohmann
Koh Yao Islands
The Koh Yao Islands are located in Phang Nga Bay, halfway between Phuket and the Krabi mainland. The islands are known as quiet retreats from the bustle of Phuket, and are popular excursions for tourists in the Thai islands. In 2002, Koh Yao Noi received the World Legacy Award for Destination Stewardship from Conservation International and National Geographic Traveler Magazine for its innovative home stay programmes offered by locals. Maintaining their traditional way of life is important to the residents, as is preserving their environment; the top activities on the islands include hiking, kayaking, swimming and snorkelling. Though the islands are both small and have few facilities, Koh Yao Noi has recently added amenities like restaurants, shops, and internet service. The islands are a quiet and secluded refuge from the hordes of tourists in nearby resorts. Visitors are advised to bring cash with them, though there are a few ATMs.
Koh Yao Islands Vyacheslav Argenberg