Doi Suthep
Some 13 miles (21km) west of Chiang Mai lies the Doi Suthep Mountain, famous for the Wat Phrathat temple perched on the summit. Legend has it that in the late 14th century King Ku Na was looking for somewhere to house a collection of holy relics. He placed them in a howdah (canopied seat) on the back of an elephant and let the animal wander. The elephant proceeded to climb Doi Suthep, on top of which it trumpeted, turned round three times and knelt to indicate that this was the spot. Within the site are bells, pagodas, statues and shrines influenced by both Buddhist and Hindu culture, including a model of the Emerald Buddha and a statue of the Hindu god Ganesh. Wat Phrathat can be reached either by a flight of about 300 steps, or by funicular, and offers breathtaking views of the countryside.
Transport:
Songthaews (red taxi trucks) leave from in front of Chiang Mai University and in front of the Chiang Mai Zoo. They cost around THB 30 per person one-way.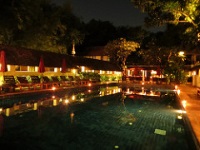 Doi Suthep Doug Knuth
Mae Sa Waterfall
Set in the lush Doi Suithep-Pui National Park, only 10 miles (15km) out of town, the Mae Sa Waterfall is definitely worth visiting on any Thailand holiday. Travellers should follow the winding pathway to the waterfall's plummeting 10-tiered cascades. There are various little secluded areas along the trail where visitors can relax with a picnic. The jungle villages dotting the riverbanks are also fascinating to see. This popular picnic and swimming spot gets a bit over-crowded on weekends.
Opening time:
Open daily 8am-6pm.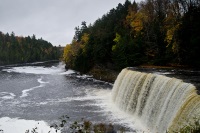 Mae Sa Waterfall Arvind Govindaraj
Chiang Mai Zoo
Boasting giant pandas from China, Chiang Mai Zoo has earned itself quite a reputation with travellers as one of the top attractions in the region. The perfect destination for a day trip with the kids, the Chiang Mai Zoo also features exhibits such as a walk through aviary, Gibbon Island, an aquarium, a Cape Fur seal exhibit and even a special Children's Zoo. With two waterfalls, plenty of space to run around and a fabulous variety of exotic residents, a trip to the zoo is a must for all animal lovers and a great way to spend the day. Seal shows and other animal shows are conducted several times a day.
Address:
100 Huay Kaew Road, Tambon Su Thep, Amphoe Mueang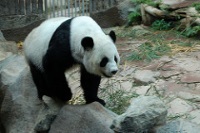 Giant Panda Jeff Tollefson
Pai
Located 83 miles (135km) up a coiled mountain road from Chiang Mai in the extreme northwest of Thailand, Pai is an unlikely tourist attraction. The town has undergone a number of transitions from hill tribe village to hippie hideaway to a tourist playground. Its relaxed atmosphere and peaceful mountain scenery have enlarged its widening reputation and it is now a tourist hot spot. Pai is a popular base camp for treks into the hills which can be arranged through hotels or travel agencies in the city. Closer waterfalls and hot springs are worth a visit, and elephant camps are nearby as well. An airport now connects Pai to Chiang Mai, but the best way to get there is by motorbike or bus in order to see the beautiful scenery on the way.
Address:
83 miles (135km) from Chiang Mai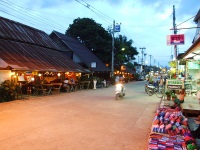 Pai Kansaikiwi
Chiang Mai Temples
Temple tours of Chiang Mai are a wonderful attraction for visitors. The old town is home to the most honoured temples and some tranquil Buddhist sanctuaries. The historic Wat Pra Singh holds the revered Phra Singh Buddha, which possibly dates from the 14th century. The oldest temple in Chiang Mai is Wat Chiang Man (established by King Mengrai), noted for its ancient bas reliefs and massive teak columns. Wat Chedi Luang boasts a gigantic chedi ruin, said to be the tallest structure in the old town, and was once home to the sacred Emerald Buddha (now in Bangkok).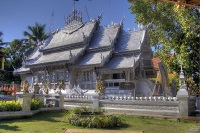 A Chiang Mai Temple Michael Jenselius
Chiang Mai City Arts and Cultural Center
The Chiang Mai City Arts and Cultural Center is an interesting attraction near the Three Kings Monument (Saam Kasat). This multimedia history and cultural education centre offers English-subtitled video displays of Chiang Mai, followed by tours of the rooms documenting the region's history and culture since the pre-Muang period. There are also exhibits showcasing Buddhism and regional beliefs, as well as agricultural history, hill tribes and other regional cultures, and the royal dynasties are also represented. The guides are elegantly outfitted in traditional Thai clothing. The Center is a must-visit for anyone interested in learning more about the rich culture and history of Chiang Mai.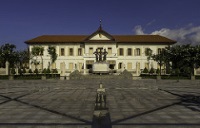 Chiang Mai City Arts and Cultural Center Stefan Fussan
Lisu Hill-Tribe Display
A worthwhile Chiang Mai attraction is the Lisu Hill-Tribe display at the Hill-Tribe Research Institute Museum. The lives and cultures of the hill-tribe people of Thailand are exhibited here through photographs, agricultural implements, religious artefacts and musical instruments. Household utensils and ethnic costumes are also displayed. The non-hill-tribe ethnic minority, the Mlabri (who are often associated with the 'spirit of the yellow leaves'), are included in this extraordinary exhibit.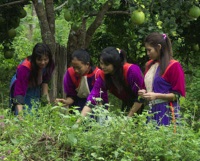 Lisu Women ShahJahan
Bhubing Palace
The royal winter palace of Bhubing has beautiful, regal structures and extravagantly landscaped gardens for visitors to take in. The palace may not be entered but the gardens can be explored when the Thai royal family is not in residence. The gardens of Bhubing Palace are known for their stunning roses, and are home to a variety of bird and insect life. Visitors can walk up to the Queen's water fountain and find some shade under a pagoda. There is a strict dress code which must be adhered to when visiting this royal site, including a ban on shorts and dresses that show the shoulders.
Address:
Doi Buak Ha, Doi Suthep
Opening time:
8.30am to 4.30pm, closed when the Royal Family is in residence.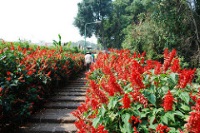 Bhubing Palace Flowers Alpha
Queen Sirikit Botanic Garden
A beautiful Chiang Mai attraction, the first genuine botanical garden in Thailand was the Queen Sirikit Botanic Garden in the Mae Sa Valley. It now also serves as a centre of botanical research and studies. The main feature of this attraction is the Glasshouse Complex, made up of four exhibition conservatories and eight display glasshouses. A lovely river runs melodically through the grounds. The Thai Orchid Nursery and Rock Garden are other highlights of the gardens, as well as various walking trails and shaded rest areas. Facilities for visitors include a restaurant, a first-aid station, souvenir shops and toilets.
Opening time:
8.30am - 5pm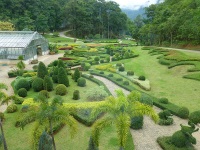 Queen Sirikit Botanic Garden User:Amada44
Maesa Elephant Camp
Maesa Elephant Camp is a popular attraction located up in the Muang hills, about a half hour's drive north of Chiang Mai. The camp is home to dozens of Asian elephants, and is dedicated to conservation and breeding. Visitors to the camp will be privy to shows which include elephants playing football and even painting! There are also elephant rides available for the more adventurous. Although this is not a natural environment for these great animals, they are well cared for and very entertaining. The best time to visit Maesa Elephant Camp is on March 13th, which is National Thai Elephant Day and is celebrated by an enormous banquet for the pachyderms.
Address:
119/9 Tapae Road, Muang District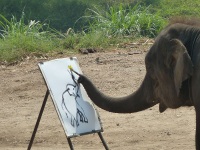 Elephant painting Deror Avi
Museum of Insects and Natural Wonders
Kids will love this wonderland of interesting creepy crawlies. Founded in 2002 by Manop Rattanarithikul (nicknamed 'The Mosquito Man') and his wife, Dr Rampa Rattanarithikul, a distinguished academic with 44 papers published in her name. The couple both have a keen interest in insects and have been studying them for most of their lives. Manop guides curious visitors through his vast and rare collection of insects and invertebrates that comprises 422 species of insects in Thailand.
Address:
Sirimungkalajarn Road Soi 13
Opening time:
Open daily 10am - 4pm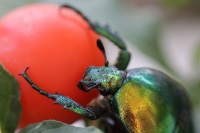 Coleoptera Georgios Katsanevakis
Chiang Rai
Nestled into the lush mountains of northernmost Thailand, Chiang Rai is a hotspot for travellers who want to get a real cultural experience from their stay in Thailand. The region is home to the remote hill tribe communities that make up about 10 percent of Thailand's population. Scattered through the mountains and valleys of the province, the tribes are descendents of nomadic peoples from Tibet and southern China. Each tribe is unique, with its own colourful culture and traditions. Many travellers arrive in Chiang Rai from Chiang Mai (a three-hour bus journey) to begin their treks to hill tribe villages, but there is plenty to see and do in Chiang Rai itself including many beautiful temples and interesting museums. Visitors will also find good restaurants and food stalls offering a taste of northern Thai cuisine. The city has a lively, if not endless, nightlife, with a few good bars and pubs hosting live music. Chiang Rai is situated near the coming together of the three modern nations of Thailand, Myanmar and Laos, a region known as the Golden Triangle, which is dissected by the mighty Mekong River.
Transport:
Chiang Rai is 3-4 hours by bus from Chiang Mai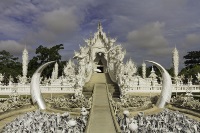 Wat Rong Khun Stefan Fussan
Generally more family friendly than Bangkok, Chiang Mai is a great place to take the kids while on holiday in Thailand. The national way of life, sanuk (fun), is enough to keep the kids on their toes. Couple that with the friendly, child-loving qualities of the Thais, and travellers have a recipe for a fun-filled holiday with the family in Chiang Mai.
Parents can take their kids to watch the animal shows in the Mae Sa Valley, where monkeys ride tricycles and play basketball. Also, kids can hold a cobra at the Mae Se Snake Farm, enjoy the views from an elephant's back at the Elephant Conservation Centre on the Chiang Mai-Lampang road, swim and play under a waterfalls in the Doi Suithep-Pui National Park, go fishing in a local pond, or visit Chiang Mai Zoo's giant pandas from China.
Parents should make sure their kids have plenty of sunscreen on and kit them out with a sunhat, as the temperatures can be searing. With all these attractions and more, children on holiday in Chiang Mai will be entertained from dawn to dusk.
Chiang Mai has a tropical climate, but is cooler and less humid than most of Thailand. The city experiences monsoons: the southwest monsoon arrives from India at the end of May and lasts until November, with the heaviest downpours in August and September. Rain usually occurs in the late afternoon. Summer temperatures range from 73­°F (23°C) to 98°F (37°C). Between November and May cool air blows in from China and northern Vietnam, bringing a dry season with mild days and balmy nights. Temperatures are at their lowest in December and January, dropping to about 59°F (15°C), and it is chilly enough to require a warm jacket at night, although temperatures can still reach 86°F (30°C) during the day.
The unique and world renowned food of Thailand is definitely a highlight of any trip to the 'land of smiles', with no exception in Chiang Mai. The ancient city of Chiang Mai rivals the quality of some of the best restaurants in Bangkok, but has the bonus of almost always offering up less expensive food than the capital. With a wide range of eateries in Chiang Mai, travellers can pick and choose between some of the best local cuisine on offer or try one of the many top-rated restaurants serving world-class international dishes. Among the options, Aroon Rai severs authentic northern Thai cuisine, while Le Coq d'Or is a renowned French restaurant. The settings of many of the best restaurants in Chiang Mai are exquisitely located on the tranquil Ping River, creating a beautifully romantic atmosphere for diners as they enjoy a carefully prepared meal. The outdoor atmosphere of some of these restaurants also produces a unique dining experience, as visitors enjoy the reliably temperate evenings which Chiang Mai will provide. So whether diners enjoy a deliciously spicy Thai curry or a high-class affair of French cuisine, there will be a restaurant in Chiang Mai that can cater to their appetite and often a fraction of the cost to which they are accustomed for such a grand meal.
Chiang Mai is tourist-oriented, and it is therefore relatively easy to get around, with several transport options. Three-wheeled tuk tuks, also known as samlors, are usually the quickest means of transport, and fares should be negotiated before travelling. Songthaews are another novel (if slightly hair-raising) way to travel. Songthaews are small, usually red, pickup trucks with benches fitted along the side; they have no fixed route but pick up and drop off passengers like buses and need to be flagged down. Passengers should be sure to check the destination with the driver. The Chiang Mai bus service is very limited; catching a metered taxi can also be difficult at times. Renting a motorbike is a popular option, and car rental agencies are also available, though traffic can be heavy, and it is advised to rather hire a car with a driver. Bicycles are another good way to explore Chiang Mai and can be hired in the old city, though travellers will have to watch out for other drivers.
Chiang Mai is a magical wonderland for visitors to explore. With so many breathtaking natural and cultural attractions, travellers will be hard-pressed to know where to begin. The best time of year for sightseeing in Chiang Mai is between November and May, when the cooler weather allows for perfect days spent outdoors. A must while on holiday in Chiang Mai is the Maesa Elephant Camp, where visitors can enjoy an elephant ride and even watch them play football or paint a picture. The Mae Sa Waterfall in the Doi Suithep-Pui National Park is a great place for a picnic and a swim, while the Chiang Mai City Arts and Cultural Center will teach visitors about the region, its culture, religion and its history. And if travellers enjoy cultural activities, they should check out the Lisu Hill-Tribe display at the Hill-Tribe Research Institute Museum to learn about the lives of the hill-tribe people. There are plenty of temples in Chiang Mai to visit too, such as Wat Phrathat Doi Suthep, which overlooks Chiang Mai from the slopes of Mount Suthep; and Wat Phra Singh, the city's best-known temple which houses the Phra Singh statue, dating back to the 14th century.