Damnoen Saduak Floating Market
The Damnoen Saduak Floating Market is an escape from the Western-style shopping malls of Bangkok and a glimpse into the past, revealing the centuries-old way of life of the residents whose stilt-houses perch on the canals and make their living selling fruits, vegetables and flowers. Visitors can explore the market with boat trips and sample the wares of local farmers as they do so. They can also enjoy the experience of floating through one of Thailand's many river villages.
Transport:
Bus 78 from Bangkok Southern Bus Terminal to Damnoen Saduak Bus Terminal.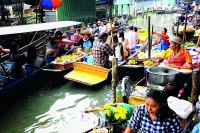 Damnoen Saduak Floating Market Mr.Niwat Tantayanusorn, Ph.D
Royal Grand Palace
The Royal Grand Palace is a popular Bangkok attraction. Construction of the palace began in 1782 and was completed in time for the coronation of King Rama I, and opened in 1785 to signify the end of the Burmese invasion of Thailand. The palace itself is made up of a complex array of smaller buildings, most notably the Wat Mahatat (the Palace Temple) and the Wat Phra Keow (the Royal Chapel), which houses the famous Emerald Buddha sculpted from a single piece of jade, one of the most revered objects in Thailand.
Address:
Na Phralan Road, Phra Nakhon
Opening time:
Open daily 8.30am - 3.30pm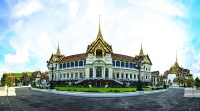 Royal Grand Palace Mr. Sayompoo Setabhrahmana
Royal Barges National Museum
The Royal Barges National Museum houses several decorative royal barges, the earliest of which dates back to 1357. Most of the barges served as War Vessels at one point, and were subsequently used on royal or state occasions on the Chao Phraya River. Due to their age, the barges are now rarely used, but their intricate designs reflecting Thai religious beliefs and local history are of great importance to the country's heritage. The barges were last used at the end of 1999 to celebrate the king's 72nd birthday.
Address:
Arun Amarin Road, Bangkok Noi
Transport:
Get a guide to take you, or take the ferry to Phra Pin Klao Bridge Pier and walk the rest of the way.
Opening time:
Open Saturdays and Sundays 9am to 5pm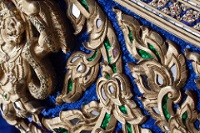 A barge on display Roger Howard
Temple of the Reclining Buddha (Wat Pho)
Situated adjacent to the Royal Grand Palace, Wat Pho is Bangkok's oldest, largest and most famous temple, recognised by the UNESCO Memory of the World Programme. The grounds of Wat Pho contain over 1,000 statues of Buddha, and the temple houses one of Thailand's most spectacular sights, the Reclining Buddha: a 151-foot (46m) long and 49-foot (15m) high statue that is gold-plated and inlaid with Mother-of-Pearl on the soles of its feet. In the 19th century King Rama III turned Wat Pho into a centre of learning and it is considered the birthplace of the traditional Thai massage. Visitors today can still have a massage and learn about the ancient art of Thai Medicine.
Address:
2 Sanamchai Road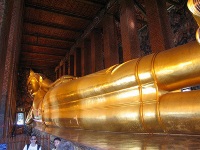 The Reclining Buddha Francois Rey
Jim Thompson's House
American silk entrepreneur Jim Thompson deserves most of the credit for the current popularity of Thai silk around the world. Having travelled to Bangkok with the US Army in World War II, Thompson was struck by the beauty of Thai silk and began marketing it to US buyers in 1948, establishing the Thai Silk Company Limited. His fame increased when, in 1967, Thompson disappeared in the Cameron Highlands of Malaysia under mysterious circumstances. He has never been heard of since. The house itself is an excellent example of Thai residential architecture, and inside is a display of his Oriental art and antique collection, as well as an array of his personal belongings.
Address:
6 Soi Kasemsan 2, Rama 1 Road
Opening time:
Open 9am - 6pm daily.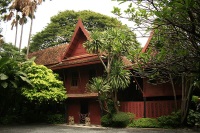 Jim Thompson's House Taguelmoust
Temple of the Golden Buddha (Wat Traimit)
Dating back to the 13th century, the buddha at Wat Traimit stands nearly 10 feet (3m) tall, weighs over five tons and is believed to be solid cast gold, the largest gold statue in the world. It was discovered by accident in 1957 when an old stucco image was dropped by a crane, shattering the plaster shell to reveal the brilliantly shining gold underneath. The statue is breathtaking and is thought to have come from Ayutthaya covered in plaster to hide it from the Burmese invaders.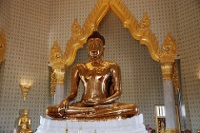 The Golden Buddha Yellow.Cat
Bangkok National Museum
Originally built in 1874, the Bangkok National Museum is located within the grounds of the Royal Palace, just a 15-minute walk from the palace of the Emerald Buddha, and displays thousands of artefacts ranging all the way from Neolithic times to present day. It is known as Thailand's central treasury of art and archaeology. Many of the actual buildings are works of art themselves, surrounded by brightly-coloured pavilions and boasting some of Southeast Asia's most ornate jewellery and historical treasures. A visit to the museum is a must for anyone who wants a better understanding of Thailand's rich culture and history. Guided tours are conducted on Wednesdays and Thursdays in various international languages.
Opening time:
Wednesday to Sunday 9am to 3.30pm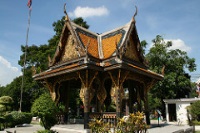 Pagoda at Bangkok National Museum Laughlin Elkind
Wat Suthat and the Giant Swing
Wat Suthat is among the oldest and largest temples in Bangkok and is home to the beautiful 13th-century Phra Buddha Shakyamuni, a 25-foot (8m) tall bronze Buddha image that was brought from Sukhothai and containing the ashes of King Rama VIII. It is also known for its exquisite wall paintings, done during the reign of Rama III. The enormous arch made of teak outside the wat is all that remains of an original swing which was used to celebrate and thank Shiva for a bountiful rice harvest. Teams of men would ride the swing on arcs as high as 82 feet (25m) into the air, grabbing at bags of silver coins with their teeth. The swing ceremony was discontinued in 1932 due to countless injuries and deaths, but the thanksgiving festival is still celebrated in mid-December after the rice harvest.
Address:
Sao Chingcha Square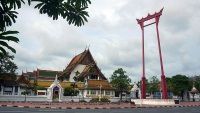 Wat Suthat Chusak Vijakkhana
Wat Benchamabophit (The Marble Temple)
Wat Benchamabophit, also known as the Marble Temple, is constructed of white Carrara marble (even the courtyard is paved with polished white marble) and is known as one of Bangkok's most beautiful temples. The temple's name literally means 'The Temple of the fifth King located nearby Dusit Palace'. Built of Italian marble and designed by Prince Naris, a half-brother of the king, it is unique in that, unlike older complexes, there is no wihaan or chedi dominating the grounds. The temple houses many Buddha images representing various regional styles. Inside the ornate Ordination Hall (Ubosot) is a Sukhothai-style Buddha statue named Phra Buddhajinaraja, and buried under this statue are the ashes of King Rama V. The site also contains the Benchamabophit National Museum.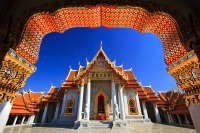 Wat Benchamabophit Khunkay
Vimanmek Mansion Museum
Built by King Rama V in 1900, the exquisite golden teakwood mansion, also known as Vimanmek Palace, is located in the Dusit Palace complex. It was restored in 1982 for Bangkok's bicentennial and King Rama IX granted permission to transform Vimanmek Mansion into a museum to commemorate King Rama V by displaying his photographs, personal art and handicrafts, and to serve as a showcase of the Thai national heritage. The informative hour-long tour takes visitors through a series of apartments and rooms, a staggering 72 in total, in what is said to be the largest teak building in the world. It is now a major tourist attraction and a definite must for anyone visiting the intriguing city of Bangkok. Visitors to the Vimanmek Palace are required to dress modestly, meaning men must wear long pants and women must wear skirts or pants below the knee and have their shoulders covered. Sarongs are available to hire if visitors need to cover up, but they occasionally run out.
Address:
5/1 Ratchawithi Rd, Dusit Palace grounds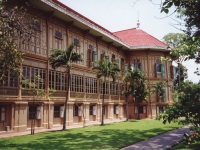 Vimanmek Mansion Gisling
Chatuchak Market
The Chatuchak Market (also known as the JJ Market) is said to be the largest flea market in the world. 'Organised' along narrow grid lines under tin roofs, this enormous market is packed tight with all of Thailand's wares. Around 15,000 stalls are loosely categorised into clothing, crafts, food, and animal sections and it is easy to become disoriented quickly. Some of Thailand's illegally traded animals are sold here and vendors are quick to spot signs of oncoming raids. However, a host of legal but bizarre goods are also traded; cock-fighting roosters, monkeys, fake designer gear and antiques are just the tip of the iceberg. The market is only open on the weekends from 8am to 6pm and on Fridays for wholesalers. It is easily reached by the Skytrain from the Mo Chit station and by subway. Visitors should keep the import restrictions of their home countries in mind when shopping at Chatuchak Market, and buy accordingly.
Opening time:
Weekends 9am-6pm.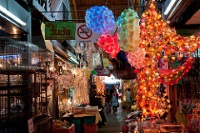 Chatuchak Market Mark Fischer
Muay Thai
Fight fans will get a kick out of Thailand's national sport, Muay Thai. The matches are best watched at the Rajadamnern stadium, though visitors should be warned that the prices for foreigners or farang are much more than local's. Usually fewer than 10 matches are arranged for a night but the brutality of the style means that some of these result in quick knockouts. The events are a mix of traditional Thai music and traditional pre-match customs before the hard hitting fight that utilises elbows, knees, fists, and shins to knock out the opponent. Several types of tickets are available, the more expensive fight floor, and the more rowdy informal gambling area on the second tier. Tourists should watch their hand movements as they can be interpreted as willingness to bet. Fights can be seen on Mondays, Wednesdays, Thursdays, and Sundays in the evening. Lumpinee Stadium also showcases fights to a more touristy audience.
Address:
Rajadamnern Stadium, 1 Rajadamnern Nok Rd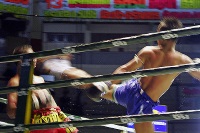 Muay Thai JM
Lopburi Monkey Temple
The two and a half hour, 100-mile (150km) train ride to the Monkey Temple in the town of Lopburi is an easy day trip out of Bangkok. Legend has it the temple was founded by a fallen arrow of Hanuman, the Hindu Monkey God. The animal kingdom hierarchy is reversed here as the temple gives the monkeys free roam and food. Often novelty turns into nervousness as visitors are followed by crowds of the impolite inhabitants. Visitors can buy packs of sunflower seeds for THB 10 to feed the monkeys, but should keep watch of loose items like glasses, purses, and especially food as the monkeys are keen pickpockets and they bite. November is the Monkey Festival in Lopburi but it is interesting to visit year-round.
Address:
Lopburi, 93 miles (150km) north-east of Bangkok.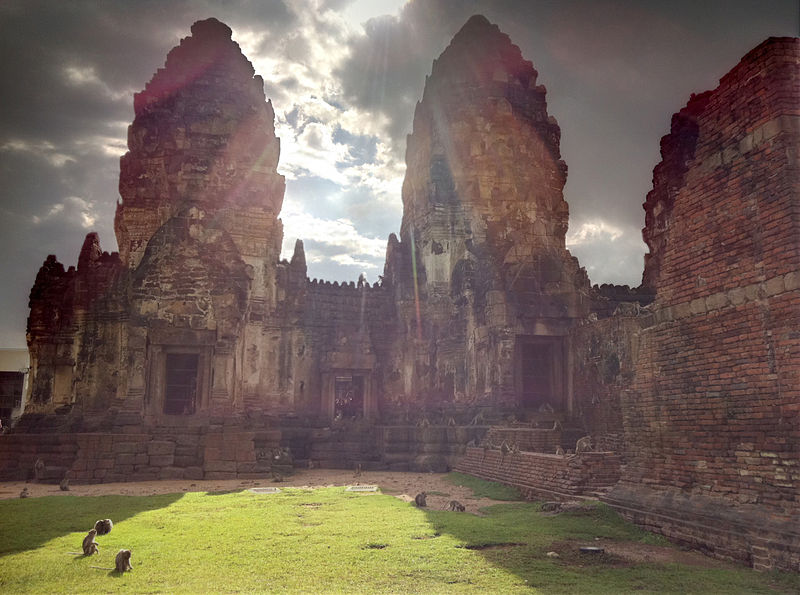 The Monkey Temple Andreas Haja
Bangkok Children's Discovery Museum
Featuring fun, interactive exhibits, the Children's Discovery Museum in Bangkok encourages hands-on experience in science, nature, culture and society. With galleries themed Body and Mind, Culture and Society, and Technology, children can learn about a multitude of sciences in an interesting and enjoyable way. The best times to visit are in early morning and late afternoon, in order to avoid large school groups.
Opening time:
Open daily 10am to 4pm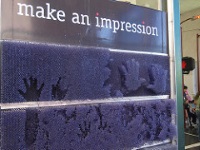 Children's Discovery Museum Mike Liu
Dusit Zoo
Built by King Chulalongkorn (Rama V) as his private garden adjacent to the royal palace, the Dusit Zoo is Thailand's oldest zoo. The zoo boasts an animal hospital, zoo museum and educational centre, sightseeing train, activity ground and cafeteria. Kids will love exploring everything that the Dusit Zoo has to offer and meeting rare animals like the White Bengal Tiger and Albino Barking Deer, along with others such as monkeys, penguins and camels.
Address:
Rama V Road, Dusit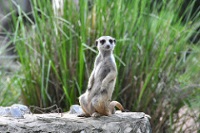 Meerkat Greg Walters
Siam Ocean World
Located in the Siam Paragon Shopping Centre, the Bangkok Sea Life Ocean World is one of the largest aquariums in Southeast Asia and features seven different zones; from weird and wonderful and deep reef, to living ocean and rocky shore. The aquarium features 30,000 marine animals, including Oriental Small-Clawed otters, ragged-tooth sharks, stingrays and giant groupers. Children will simply love Siam Ocean World, where they can watch live shows, have a shark encounter, ride in a glass-bottom boat, or enjoy a 4D cinema experience.
Address:
Basement floor, Siam Paragon Shopping Centre
Opening time:
Open daily 10am - 9pm.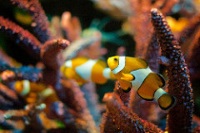 Clownfish Eco Dalla Luna
Snake Farm (Thai Red Cross Farm)
Originally set up to for research to extract the venom from snakes to make anti-venom, the Snake Farm is a great place to take the kids if they're interested in these slithering creatures. Featuring Malayan Pit Vipers, King Cobras, Banded Kraits and Russell Vipers, the Snake Farm educates the public on snakes and safety surrounding them. Venom-milking and snake-handling shows are held daily at 10:30am and 2pm on weekdays, and 10:30am on public holidays.
Address:
Corner of Henry Dunant and Rama IV Roads
Opening time:
Monday to Friday 9.30am to 3.30pm, Saturday and Sunday 9.30am to 1pm.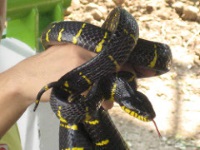 Mangrove Snake Thomas Wanhoff
Bangkok Butterfly Garden and Insectarium
Located between the Queen Sirikit Gardens and the Children's Discovery Museum, this massive enclosure with rockeries, plants, ferns and a waterfall features some of the most dazzlingly beautiful butterflies in Thailand. Boasting dozens of species, including rare butterflies, looking up at the dome at any given moment, visitors to the Bangkok Butterfly Garden and Insectarium can see more than 500 types of butterflies, such as the Golden Birdwing or Siam Tree Nymph. The Queen Sirikit Gardens are a wonderful place to take a walk and feature magnificently coloured flowers, mazes, ponds and shady trees. Visitors who come here can enjoy a wonderful day of stunning gardens and scenery, butterfly spotting and even picnicking.
Address:
Rod Fai Park, BTS Mochit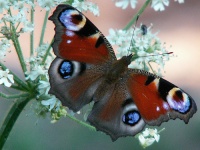 Peacock Butterfly Hans-Peter
Contrary to popular belief, Bangkok is a fantastic place for parents to bring their kids on holiday. From zoos and theme parks, to museums and indoor playgrounds, there are plenty of things for children to see and do in Bangkok, and more than enough to keep the little ones happy. When the sun is shining, parents can take their kids to one of the fantastic water parks, such as Siam Park, Leoland Water Park, or even Fantasia Lagoon to cool off; or for something really cool, take the children ice skating at the Sub Zero Ice Skate Club. For something a little less energetic, families can take a stroll through the Queen Sirikit Gardens and stop in at the Butterfly Garden and Insectarium, where the kids will enjoy the hundreds of beautifully coloured butterflies dancing around them. When the weather in Bangkok is either too hot, or it's raining and outdoor activities with children are not an option, families can visit one of the many indoor playgrounds dotted around the city, such as Yoyoland in the Seacon Square shopping complex, or Jamboree Land in the Emporium Shopping Complex. Older kids will enjoy the Hero City Arcade, located in the MBK Shopping Centre.
Bangkok has a hot, tropical climate with average high temperatures ranging between 88°F (31°C) and 93°F (34°C) all year. November to February is the driest time of year and the most popular with tourists. March, April and May are the hottest months, and the rainy season runs from May to October. During the wet season, short showers are likely during the afternoon, though sometimes it will rain all day.
Food is an inescapable part of everything in Bangkok, with every home, market and small alley continually throwing chopped ingredients into a hot wok. This has made nearly everyone an expert chef and food connoisseur, having the curious effect of finding the very best meals made in the most unexpected locations. While ambiance is often wanting, peeling walls and plastic chairs provide just enough bare-bones restaurant amenities to serve the best food in the city. Portable food stalls line the busy streets, creating a continuous unofficial buffet. It is a mistake to be put off by such street vendors (as many tourists are), as they are Bangkok's great equaliser, bringing the very richest and poorest together at a table. However, wary travellers should try one of the food courts in the shopping malls and markets for equally cheap and tasty eats. These are also a great alternative on Mondays, when street vendors are banned from trading. Tourists should try the clusters of stalls in Surawong and Silom Roads, the Khao San Road Area, and the Suan Lum Night Bazaar. Choosing between one restaurant and another is a difficult task, but in general, it's useful to follow the local crowds. Some truly unique places can be found in Chinatown, with trendy dining along Sukhumvit and cheap western food in Banglamphu. The most romantic restaurants are along the Chao Phraya River or on it, aboard one of the many dinner cruises.
Neon lights, go-go bars, ladyboys and mysterious cocktails: Bangkok's nightlife enjoys an international reputation for wild abandon. Go-go bars in Soi Cowboy, Nana Plaza and in the strip clubs surrounding Pat Pong night market aren't only the territory of the unscrupulous but also expat hangouts with cheap drinks and an open air feel. The bright lights, cat calls, costumed patrons and scandalous behaviour will make one's head start to swim. Hip clubs around Sukhumvit and Silom with hip-hop beats and electro rhythms (often at the same place) vie for hot spot coolness. Ratchadapisek (RCA) sports a block of trendy and densely packed clubs for young party goers. Khao San road is known more as a backpacker hangout but underneath (again, literally) are popular Thai clubs with a cavernous appeal and trance music mixing with the Billboard's top ten. Up and down Bangkok there are also the standard assortment of pubs, chic hotel lounges and bars. Many foreigners prefer sections closer to Sukhumvit Road but parts of Banglamphu (Khao San excluded) and Ratchadeaphiseck have more trendy local bars. Giant beer gardens are always a fun way to sample the local brew and entertainment.
The Skytrain (BTS) has two lines running above Bangkok's central areas, while the Bangkok Metro has one route and covers areas not connected by the Skytrain. The Metro intersects with the Skytrain at three points and has 35 stations, with frequent services running until midnight. The bus system has always been the main form of public transport, but it should be used with care due to pickpockets. The most interesting way to get around is on the waterways of the Chao Phraya River, where numerous river taxis, long-tail boats and large waterbuses make most tourist sites easily reachable. Tuk tuks (colourful three-wheelers) are the standard way of making short journeys by road and are cheaper and quicker than regular taxis, but fares should be negotiated before boarding. Metered and un-metered taxis are air-conditioned, but passengers should be aware that drivers don't carry much change. Any taxi or tuk tuk can be hired for a day's tour of the sights. Bangkok also has free bikes for tourists for two set routes along the river; the east side goes past some of the biggest temples, while the west side goes through more residential areas.
The most visited attractions in Bangkok expose visitors to Thailand's fascinating history, despite Bangkok's relatively recent construction as a city. The most impressive of these is the enormous and extremely ornate Grand Palace, and the adjacent Temple of the Reclining Buddha. Numerous temples spread over older districts near Chao Phraya River, making up an inexhaustible number of interesting visits, each one with a unique religious significance. Attractions in Bangkok aren't all serene sights as the city also holds a vibrant and flashy appeal. Among the most fun of attractions is watching a Muay Thai boxing fight; spectators can put some money down to increase the thrills. Bustling markets, which sell literally almost everything, can be wandered for a full day, especially the giant Chatuchak weekend market. Bangkok's unique neighbourhoods encompass many small treasures. Both Khao San road in Banglamphu district and alleys off of Sukhumvit are attractions in themselves. The first is a backpacker's Disneyland, and the second an expat playground famous for its debauchery. Little Arabia, a middle-eastern district, is also a unique and fun place to explore. Hiring a river cruise is the only real tour of the city, although only a few attractions are visited.
Kanchanaburi
Located 89 miles (143km) west of Bangkok, the town of Kanchanaburi has secured its position of infamy as the original site of the Bridge Over The River Kwai, where during World War II allied prisoners of war were used by the Japanese to build the Death Railway, killing thousands in the process. With its modern hotels and welcoming air, Kanchanaburi seems an unlikely setting, but the bridge is still in use and the graves of the Allied soldiers are testament to the town's unfortunate past. Worth a visit is the JEATH (Japan, England, Australia/America, Thailand and Holland) War Museum in Kanchanaburi, which recounts experiences in the Japanese POW camps during the War. The Sai Yok Yai Waterfall in the Sai Yok National Park is a place of idyllic beauty and makes a good excursion from Kanchanaburi; the falls are widely celebrated in Thai poetry and songs. The turquoise waters of Erawan Falls are also reachable from Kanchanaburi as an interesting day trip.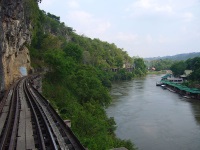 Kanchanaburi Nick Steemans
Koh Samet
The T-shaped island of Koh Samet is within easy distance of mainland Thailand, and at only 104 miles (168km) from Bangkok a great weekend excursion to get out of the city. A popular island for both foreigners and locals on holiday in Thailand, Koh Samet is a small island known for its white sandy beaches and crystal-clear waters. Koh Samet has just one (rather bumpy) main road, and getting around the island is accomplished either by songthaew (a pick-up truck-style taxi), or by hiring a motorcycle or ATV. This way, tourists can visit the stunning beaches on Koh Samet, including the busy Hat Sai Kaew, quiet Ao Hin Khok, and romantic Ao Wai. Most of the activity is centred on Hat Sai Kaew, where holidaymakers can enjoy activities like swimming, windsurfing, jet-skiing, yachting or just sunbathing. There are also nightly fire-twirling shows at 6pm and 10:30pm. The tourist centre of Koh Samet, tourists can also enjoy excellent Thai seafood restaurants and lively bars, and take classes in Muay Thai boxing or fire-spinning.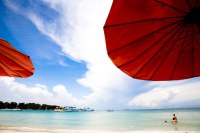 Ayutthaya
Ayutthaya is the former capital of Siam, from 1350 until mid-18th century, and at one time was one of the largest cities in the world. The capital was relocated to Bangkok in 1768 when the Burmese army destroyed much of Ayutthaya. Today, tourists needn't imagine too much to experience the splendour of the old capital, as many of the enormous structures are still there, and the ruins of Ayutthaya have been designated a UNESCO World Heritage Site. Multiple buses (a trip that takes a bit over an hour) and trains arrive daily from Bangkok and a boat up the Chao Phraya River to Ayutthaya can be organised through travel agencies. Although many organised tours in Thailand can be a frustrating experience, a tour guide here can give some fascinating history to the already impressive wats. This is an easy way to experience some of the ancient history of Siam as Bangkok is relatively new.
Address:
At the junction of the Chao Phraya, Lopburi and Pa Sak rivers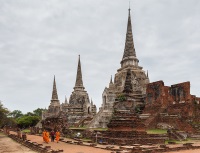 Ayutthaya Diego Delso