National Museum and House of Culture
Located next to the Botanical Gardens, the National Museum (now officially called the National Museum and House of Culture) was opened in 1940 in the King George V Memorial Museum. A new wing was built in 1963 and King George V's car can be viewed here. Visitors can see archaeological finds such as rock paintings and a 3.6-million-year-old hominid footprint. The museum presents an overview of Tanzania's history, including displays on the Kilwa period (9th - 15th century), the English and German colonial occupation, the slave trade, local rebellions, and the struggle for independence. Although by no means a state of the art museum, this simple institution has some fascinating artefacts and is a good one-stop attraction for those wanting to come to grips with the history of the country.
Address:
Shaaban Robert St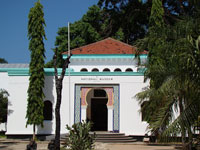 National Museum Digr
Makumbusho Village Museum
A popular tourist attraction, the Makumbusho Village Museum displays traditional Tanzanian homes and lifestyles, representing about 18 ethnic tribes from different parts of the country. Marketed as a way to experience the whole of Tanzania in a day, the village is an interesting living museum. Visitors are taken on a tour through the homes, which include furnished huts, meeting places and cattle pens, and can view artists and craftsmen weaving, carving and painting. Some of the craftsmen at Makumbusho are talented artists and it is a privilege to watch them work. Traditional dance performances are held on weekends.
The village is five miles (8km) from the city centre, next to the New Bagamoyo Road (Makumbusho bus stop). There is a café on site for refreshments.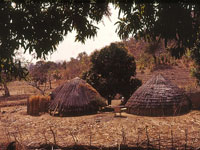 Huts gbaku
Dar es Salaam is situated on the equator and therefore experiences a tropical climate with hot humid weather all year round. It is marginally hotter between December and March, the hottest month being January when average temperatures range between 77°F (25°C) and 88°F (31°C). The city experiences its highest rainfall between April and May, with a milder rainy season in November and December. The best time to visit Dar es Salaam is from June to September, when the temperatures are milder and the humidity is low.
Julius Nyerere International Airport
Location:
The airport is situated eight miles (13km) southwest of Dar es Salaam.
Time:
Local time is GMT +3.
Transfer Between Terminals:
Transferring between the terminals is not usually required but can be done on foot or by taxi.
Getting to the city:
Most large hotels offer airport pick-up services and it is a good idea to arrange these when possible. Taxis are almost always available. It is also possible to rent a car.
Car Rental:
Car hire companies operate at the airport.
Airport Taxis:
Taxis can be easily hailed from outside the terminal building but few of these have meters so it is best to negotiate a price first. The journey to the city can take anywhere from 20 minutes to an hour, depending on traffic.
Fascilities:
The airport has a post office, ATMs, a bureau de change, restaurants, bars, duty free shops, a business lounge, and a tourist help desk. Facilities are available for disabled travellers.
Parking
There is a car park at the airport.
Getting around in Dar es Salaam can be confusing for visitors. Walking is a pleasant way to see the city, but pedestrians should be mindful of aggressive drivers as the city has no sidewalks.
Minibus taxis (called dala-dala) and buses operate on a flat-fare basis, but travellers should be aware that these do not operate on regular schedules and are often dangerously overcrowded and are popular with pickpockets.
Taxis can be hailed from outside most hotels in Dar es Salaam, at a fixed fare, but in most other places it is customary to negotiate the fare in advance. Travellers wishing to hire a car should make sure they have a valid international driver's license, which must be endorsed by the police on arrival in the country. Travellers opting to drive themselves outside of the city should look into hiring a 4x4 or SUV and be aware that cattle and other pedestrians tend to ignore the rules of the road.
With a vast and turbulent history, Dar es Salaam is not a renowned sightseeing destination, but it does offer many attractions for holidaymakers and the city's down-to-earth atmosphere makes it pleasant to explore.
The main attractions in and around Dar es Salaam are actually natural, including the Dar es Salaam Marine Reserve, the Pugu Hills Forest Reserve, and Bongoyo Island, which can be reached by a short boat ride. Visitors may also enjoy a trip to the Zoological Gardens, or a quiet afternoon at the Dar es Salaam Botanical Gardens, a lush sanctuary in the urban jungle.
For beach lovers, Kigamboni (South Beach) is situated just beyond central Dar es Salaam. An affluent area almost entirely filled with beach resorts, some of the best beaches in Dar es Salaam are to be found in Kigamboni. Many hotels charge an entry fee, however a portion of this is returned in the form of food vouchers.
For those wanting a taste of the local culture and history there are a number of good museums in Dar es Salaam, the most popular of which for travellers are the National Museum and the Makumbusho Village Museum.
Bongoyo Island
Located one and a half miles (2.5km) north of Dar es Salaam, Bongoyo Island is an uninhabited island that makes up part of the Dar es Salaam Marine Reserve. Popular with tourists and other travellers seeking leisure activities, this island offers some fantastic snorkelling opportunities as well as beautiful sandy beaches and great hikes. For those who tire of enjoying the beach, there are two well-maintained hiking trails through the interior. A small hut serves beer and grills fresh fish for lunch, or bring your own picnic. The island can only be reached by means of a private boat but it is easy to find somebody eager to make the journey. The trip takes only about 30 minutes, making Bongoyo the easiest island to visit from Dar es Salaam and a great favourite with travellers.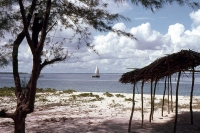 Bongoyo Island, Tanzania Sherwood