Synonymous with the Serengeti and the tropical island of Zanzibar, Tanzania is an eco-tourist's dream, a bucket-list destination for wildlife safaris, and an idyllic beach getaway all in one. Wonderful game-viewing opportunities abound in Tanzania and the most popular parks include the Mount Kilimanjaro Game Park and the Serengeti National Park.
The former is most commonly visited by travellers keen to summit the famous Kilimanjaro, a magnificent hike which is surprisingly easy considering the height of the mountain, but should certainly not be attempted without training and planning. The Serengeti National Park, on the other hand, is a prime safari destination, its crowing jewel the annual wildebeest migration which qualifies as one of the natural wonders of the world.
Off the shore of mainland Africa, Zanzibar is known for crystalline turquoise waters and sandy white beaches on its north shore. Apart from the glorious beaches, resort attractions, and water sports, the mysterious Stone Town intrigues visitors on Zanzibar with its UNESCO-listed melange of 19th-century Swahili, Arab, Indian, and European influences.
The quickest and most comfortable way to travel round this magical country is to fly between cities, but for the more rural areas and game parks it's advisable to hire a car (preferably a 4x4) or join a tour. For those on a budget, taking the bus is the cheapest and easiest way to travel, but the accident rate is high due to bad roads and overloaded vehicles so caution should be exercised.
Serengeti National Park
Meaning 'endless plains' in the Masai language, the Serengeti is Tanzania's oldest park and one of the world's best wildlife refuges, continuous with Kenya's Masai Mara Game Reserve to the north. The open plains are home to an estimated three million large mammals involved in seasonal migration, and together with the birds and smaller animals it has the largest concentration of wildlife in the world. The Serengeti is famous for the Great Migration, possibly the most astounding occurrence in the animal kingdom that is known to humankind. During this time, millions of hoofed animals, predominantly wildebeest, form one massive herd and leave the dry plains of Tanzania in search of greener grazing and water to the north. Bringing up the rear of the procession are the weak, the young, and the crippled, followed closely by large numbers of vigilant predators, including lions, cheetahs, hyenas, and wild dogs. The season varies according to the rains, but the best time to witness the northward migration is usually from the beginning of June and again on their return in mid-November. If not coming for the migration, the best time to visit this famous national park is between January and March, when the grazers are calving and the weather is dry and sunny.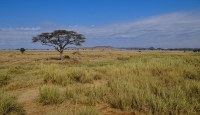 Serengeti National Park, Tanzania Bjørn Christian Tørrissen
Ngorongoro Conservation Area
Rising above the plains of the Serengeti, the Ngorongoro Conservation Area is a vast, UNESCO-listed protected area that includes the important archaeological site of Olduvai Gorge and its main attraction, the Ngorongoro Crater. Once the site of an active volcano, the crater was formed about two million years ago when its cone collapsed on itself. Today the crater floor, supplied with permanent water and ringed with towering forested sides, serves as a natural cradle for an astounding abundance of wildlife. With an incredible width of 12 miles (20km) and a depth of 2,001ft (610m), the crater is the largest caldera in the world and is home to tens of thousands of animals, including rhino, buffalo, and large herds of zebra and wildebeest. There are also dense concentrations of predators attracted by the large variety of grazers, and prides of lion with magnificent black-maned males are one of the highlights. The lakes attract a rich variety of birdlife, including flamingos, and wallowing hippos, while some animals can be found surrounding the crater rim or on the forested slopes, such as giraffe and elephant. The views from the crater rim are spectacular and all the lodges are situated along its edge affording superb vistas over and into the crater. Access onto the crater floor is by four-wheel drive only and a game ranger must accompany all vehicles.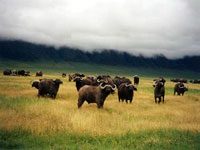 Ngorongoro Crater Judith Duk
Mount Kilimanjaro National Park
Rising 19,341ft (5,895m) above the African plains, the magnificent solitary peak of Mount Kilimanjaro is the dominant feature of this national park. The lush rainforest on its lower slopes is home to a number of animals including elephant, buffalo, rhino, monkey, and leopard. Its dormant volcano is remarkable in many ways, not only for its snow-covered peaks and glaciers rising out of a humid equatorial jungle, but also because it is the highest freestanding mountain in the world, a huge cone unattached to a mountain range, and Africa's highest peak. Its magnetism has attracted researchers, mountaineers, and adventurers for years. It is the only mountain of its size that can be scaled by inexperienced hikers, although altitude sickness is common and can be fatal. There are six different routes with varying degrees of difficulty, and a wide range of organised treks and experienced guides. But the easiest and most popular way to reach the summit is on the Marangu Trail, which takes about five days, with nights spent in huts along the way. Views from the top are breath-taking, especially at dawn, with the best time to climb the mountain between August and November.
Address:
The Kilimanjaro National Park headquarters is situated at Marangu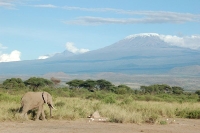 Mt Kilimanjaro National Park, Tanzania Charles Asik
Peace Memorial Museum
Home to a wealth of Zanzibar's memorabilia, the Peace Memorial Museum is a great place to discover the intriguing history and culture of the islands. With exhibits including traditional carvings and local wildlife displays covering reptiles and birds, visitors can also view relics from the age of the Sultans and early explorers such as Chinese porcelain, an old palm oil-powered bicycle lamp, and David Livingstone's medical chest. Built as a peace memorial by British architect J.H. Sinclair, the beautiful spherical design of the museum acknowledges Zanzibar's Arab influence and is reminiscent of the eastern architecture of Istanbul and India. Look out for the cumbersome land tortoises that inhabit the Museum's lush garden. Those looking for a touch of education on their tropical beach holiday should find a visit to this museum informative.
Address:
Benjamin Mkapa Rd, Zanzibar Town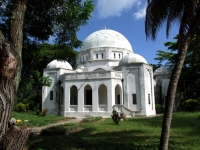 Peace Memorial Museum, Zanzibar Jonathan Stonehouse
Northern Beaches of Zanzibar
There are many superb beaches and picturesque villages around Zanzibar ideal for those wanting to get away from the bustling town life, particularly along the northeast coast. Modestly veiled women make bright splashes of colour along stretches of white sandy beach, dhows with curved sails drift along close to shore, and fishermen offer their fresh catches of the day to the simple seaside restaurants. Miles of pristine beaches are dotted with pockets of guesthouses, particularly around Kendwa and the fishing village of Nungwi, renowned for its tradition of boat building and one of the most popular locations, particularly with the younger crowd. There is excellent diving and deep-sea fishing off this coast. One of the most beautiful and isolated beaches is at Matemwe, and the small offshore island of Mnemba has a fine coral reef offering some of Zanzibar's best diving.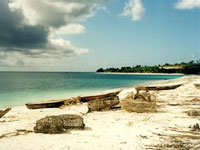 Northern Beach Judith Duk
Old Fort
The Old Fort was built at the turn of the 17th century on the remains of a Portuguese church and crumbling Arab garrison. It was constructed to protect the lucrative Spice Islands from invading Portuguese seafarers and Mazrui Arabs of Mombassa. The thick walls and castellated battlements later acted as a place of incarceration, detaining local criminals and slaves. In later, years the fort functioned as the depot for the Bububu Railway, Zanzibar's first railway, which once wound from Zanzibar Town to Bububu. Nowadays, the Old Fort houses shops and henna painting stores and the Cultural Centre where visitors can marvel at the fine artistry of local craftsmen at work. In the evening, local music and dancing at the open-air theatre brightens up the night and occasional film screenings are shown.
Address:
Mizingani Street, Stone Town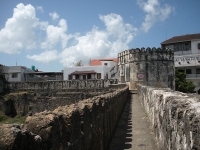 Old Fort, Stone Town, Zanzibar Chen Hualin
Palace Museum
Illuminating the lifestyle of the Sultans of Zanzibar, the Palace Museum became the official residence of the Al Busid dynasty in 1911. Built in the 1890s, the extensive white building is situated on a harbour road with breath-taking sea views. It is the most recent of the Sultans' palaces and was occupied till the revolution in 1964. The Palace Museum houses an impressive collection of the Sultans' elaborate furniture and possessions, as well as a room dedicated to the life of Sultan Sayyid Said's daughter, Princess Salme. Renowned for her manuscript, Memoirs of an Arabian Princess, this significant autobiography is the only known written account of what life was like for Arab women of the Royal court in the 1800s. Excerpts from the book, family photographs, and samples of Princess Salme's wardrobe are also on display. Outside the museum is the Makusurani graveyard where some of the sultans are buried. For those interested in the opulent lives of Zanzibar's Sultans, this is a fascinating attraction.
Address:
Mizingani Road, Stone Town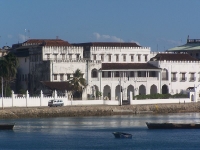 Palace Museum, Stone Town Xlandfair
Anglican Cathedral and Slave Market
The colossal Anglican Cathedral in Stone Town is located on the grounds of the island's largest former slave market. The cathedral's altar stands on the exact location of the former whipping post, a tree where slaves were brutalised to show their strength and resilience to potential slave owners. Building began in 1873 to commemorate the end of the slave trade and was conducted by Edward Steere, third bishop of Zanzibar and a fervent abolitionist. The cathedral has a combination of Gothic and Arabic styles and is noted for its Basilica shape and barrel vault roof, which the populace believed would never hold. Taking ten years to build, Edward Steere died of a heart attack during construction and was buried behind the altar. Look out for the stark memorial outside the cathedral, a sculpture of a slave family bound round the neck by a chain.
Address:
Near the junction of New Mkunazini Road and Creek Road, Stone Town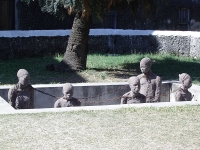 Slave Memorial, Stone Town, Zanzibar Vito Cirielli
House of Wonders (Beit el-Ajaib)
The first building in Zanzibar to have electricity and the first building in East Africa to have an elevator, Beit el-Ajaib (which translates into the House of Wonders) was the former ceremonial palace of Sultan Barghash and was built in 1883 on the site of the 16th-century Queen Fatuma's residence. A striking white building, the House of Wonders has housed many influential tenants, used by the British as their local offices and as the headquarters of Tanzania's political party CCM. While the building is now in disrepair and not open to the public, one can still admire the architecture. The multiple verandas, Arabic arches, heavy wooden door, and embossed cannons are all a fascinating.
Address:
Mizingani Road, Stone Town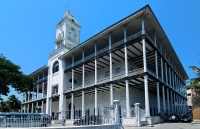 House of Wonders, Zanzibar Moongateclimber
Central Market
A vibrant array of colours and spicy scents lures visitors to the vibrant Central Market in Stone Town. Opened in 1904, the numerous stalls run over with tropical fruits, exotic spices, brightly coloured khangas (worn by local women), and rare provisions such as pomegranates and red bananas. Locals come daily from the surrounding areas to display their subsistence wares, and fishermen display their catch of the day with a pungent array of fresh fish from huge marlins to salty sardines. The market is chaotic and can prove a bit overwhelming for some people, but it is an exciting, colourful cultural experience and worth a quick stroll at least. Foodies will enjoy sampling the rare fruits and local specialities. Speaking of food, the best place for a sampling of traditional street food is the night market by the waterfront of the Forodhani Gardens.
Address:
Benjamin Mkapa Road (Creek Road), Stone Town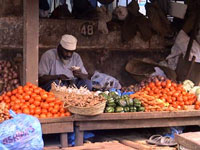 Stone Town market Tom Pitman
Jozani Chwaka Bay Conservation Area
The largest conservation area in Zanzibar and the only remaining natural mangrove forest on the island, the Jozani Chwaka Bay Conservation Area is renowned for its hairy ape residents, the Red Colobus Monkeys. Endemic to Zanzibar, these entertaining creatures attract visitors from far and wide. The species is highly endangered, now numbering only about 1,500. Due to large-scale cultivation, firewood collection, harvesting building materials and charcoal and lime making, Zanzibar's forests have been largely depleted, making the Jozani Chwaka Bay conservation area a significant natural landscape and well worth protecting. Nature lovers can walk through the 100 different towering tree species and marvel at the rich variety of birds and other small wildlife that inhabits the cool woodland area. Exploring the mangrove forest is a refreshing break from the sunny beaches.
Address:
23 miles (37km) south of Stone Town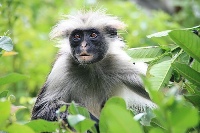 Colobo Red Monkey marcveraart
Mtoni Palace Ruins
If you are looking for a place to escape the bustle of Stone Town for a few hours, head north to the peaceful Maruhubi and Mtoni Palace ruins. Sultan Said bin Sultan first built Mtoni between 1828 and 1834 after he left Muscat and made Zanzibar his throne. It was also the childhood home of Princess Salme. The decadent Maruhubi Palace was built later in the 1880s by Sultan Barghash as a harem for his 99 concubines and wife. The structure was mainly wooden and one of the most beautiful of its time, but was gutted by a fire in 1889 and left in ruins. The rolling lawns, bathhouses, and water lily ponds are reminiscent of the affluent lives enjoyed by the palace residents over a century ago. To view a well-preserved Hammam from the 1850s continue north to the Kidichi Persian Baths, constructed by Sultan Seyyid Said for his Persian wife. Local buses stop near the palace ruins and there is no cover charge to explore, unless there is an event underway. The site is used for concerts and lectures and travellers should find out if anything interesting is happening during their stay in the area.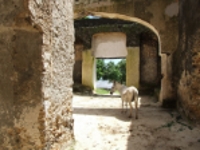 Mtoni Palace Ruins, Zanzibar Jonathan Stonehouse
Old Dispensary
An architectural symbol of Zanzibar's diverse cultures and histories, the elaborate Old Dispensary was so named because it once housed a pharmacy, dispensary, and doctor. An affluent Ismaili Indian merchant, Tharia Topan, who financed the building project, laid the first brick 1887 and the building was completed in 1894. One of the most decorative buildings of the time, the Old Dispensary is adorned with ornate carved balconies, stuccowork, and stained glass windows. Restored in the early 1990s, it had a small museum which displayed old photographs of Stone Town's waterfront, but the upper floors are now mostly empty. For a stunning view of the harbour, visit the upper veranda, which is open for visitors. There are also some curio shops on the ground floor. The Old Dispensary is a beautiful building and worth passing by and photographing at the very least.
Address:
Malindi Road, Stone Town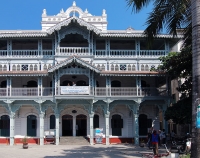 Old Dispensary, Zanzibar Moongateclimber
National Museum and House of Culture
Located next to the Botanical Gardens, the National Museum and House of Culture was opened in 1940 in the King George V Memorial Museum. A new wing was built in 1963 and King George V's car can be viewed here. Visitors can see archaeological finds such as rock paintings and a 3.6-million-year-old hominid footprint. The museum presents an overview of Tanzania's history, including displays on the Kilwa period (9th-15th century), the English and German colonial occupation, the slave trade, local rebellions, and the struggle for independence. Although by no means a state of the art museum, this simple institution has some fascinating artefacts and is a good one-stop attraction for those wanting to come to grips with the history of the country.
Address:
Shaaban Robert St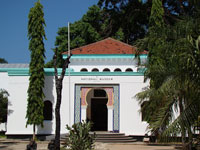 National Museum Digr
Makumbusho Village Museum
A popular tourist attraction, the Makumbusho Village Museum displays traditional Tanzanian homes and lifestyles, representing about 18 ethnic tribes from different parts of the country. Marketed as a way to experience the whole of Tanzania in a day, the village is an interesting living museum. Visitors are taken on a tour through the homes, which include furnished huts, meeting places, and cattle pens, and can view artists and craftsmen weaving, carving, and painting. Some of the craftsmen at Makumbusho are talented artists and it is a privilege to watch them work. Traditional dance performances are held on weekends. The village is five miles (8km) from the city centre, next to the New Bagamoyo Road (Makumbusho bus stop). There is a cafe on site for refreshments.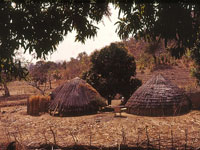 Huts gbaku
Mafia Island
Mafia Island, along with Pemba and Zanzibar, form the famous Spice Islands off the coast of Tanzania. While the name conjures images of shady criminals and glamorous heists, the real riches of Mafia Island lie underwater in its magnificent coral reef system. Mafia Island is a top diving destination for those in the know. Limited accommodation means it's a great place to hide from the tourist crowds on Zanzibar, and provides additional opportunities for fishing and swimming with whale sharks. There are also land-based activities, including trips to the bustling village on tiny Chole Island and the ruined one on Juani Island.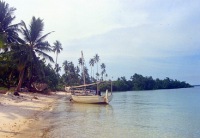 Mafia Island Gill Penney
Udzungwa Mountains National Park
Said to be the most biodiverse national park in Tanzania, Udzungwa Mountains National Park is less a magnet for game viewing than for hiking. A network of forest trails criss-crosses the peaks and offers treks to hidden waterfalls and majestic vistas. A popular hike is the half-day trip to Sanje Waterfall, while the two-day hike along Mwanihana Trail provides panoramic views of the surrounding valleys. Other spots to hike to include cultural and historical sites like the Mwanaruvele and Magombereka Caves. While Udzungwa Mountains National Park isn't known for its game, there are still plenty of exotic animals to spot, including birds, mammals, reptiles, amphibians, butterfly, and other creatures. The Iringa Red Colobus Monkey, and the Sanje-Crested Mangebay, both found only in Tanzania, can be spotted in the park. The best time to visit Udzungwa Mountains National Park is between June and October, which is the dry season (although rain is possible any time of year).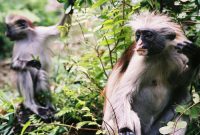 Udzungwa Mountains National Park, Tanzania Rachel Zack
Pemba Island
The small and unspoilt Tanzanian island of Pemba is becoming a popular alternative for visitors seeking a quieter and less developed alternative to Zanzibar, located approximately 31 miles (50km) to the north. Pemba is known as the 'Green Island' in Arabic and is one of several islands that make up the Zanzibar Archipelago. The island trio consisting of Pemba, Zanzibar, and Mafia is traditionally referred to as the Spice Islands. This undulating, fertile island hosts a number of small and large scale farming enterprises. This backdrop of cultivated countryside makes for some interesting and fragrant sightseeing. Pemba offers some great dive sites with abundant marine life, untouched corals, and dizzying vertical drop-offs. The towns of Chake-Chake (the capital), Mkoani, and Wete have some interesting cultural and archaeological attractions influenced by the local Arab and Waswahili peoples; the island is recognised as a national centre for traditional medicine and witchcraft. There are also bullfighting events to watch, a throw-back of the island's 16th century Portuguese colonisation. Getting to Pemba Island isn't too much of a problem - there are regular domestic flights from Zanzibar and Dar es Salaam to Pemba Airport (also referred to as Wawi or Karume Airport), located 4 miles (7km) from Chake-Chake on the east coast of the island. There are also ferries to Pemba from Zanzibar.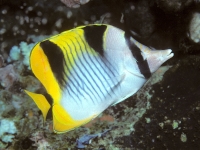 Pemba's Underwater World Bernard E. Picton
Money:
The official currency is the Tanzanian Shilling (TZS), divided into 100 cents. The tourism industry prices everything in US Dollars and this is the preferred unit of currency. Money can be exchanged in larger towns; foreign exchange bureaux may offer a better rate of exchange than banks. ATMs are available in major towns and cities. Major lodges, some hotels and travel agents in urban areas accept credit cards, but these should not be relied on and can incur a surcharge.
Language:
Swahili and English are the official languages. Several indigenous languages are also spoken.
Electricity:
230 volts, 50Hz. Rectangular or round three-pin plugs are used.
Entry Requirements:
A visa is issued on arrival, and a passport valid for six months from date of entry is required. Visitors must hold return/onward tickets and all documents required for their next destination.
A visa is issued on arrival, and a passport valid for six months from date of entry is required. Visitors must hold return/onward tickets and all documents required for their next destination. Those with British passports with endorsements other than 'British Citizen' should confirm official requirements. Visitors with 'British Overseas Territories Citizen' shown on the biodata page are visa exempt for 90 days.
A visa is issued on arrival, and a passport valid for six months from date of entry is required. Visitors must hold return/onward tickets and all documents required for their next destination.
A visa is issued on arrival, and a passport valid for six months from date of entry is required. Visitors must hold return/onward tickets and all documents required for their next destination.
South Africans do not require a visa if intending to stay for a maximum of up to 90 days, provided that the passport is valid for six months from date of entry. Otherwise, a visa is required for longer stays. Visitors must hold return/onward tickets and all documents required for their next destination. Business travellers will be required to pay a fee of $200 on arrival.
A visa is issued on arrival, and a passport valid for six months from date of entry is required. Visitors must hold return/onward tickets and all documents required for their next destination.
A visa is issued on arrival, and a passport valid for six months from date of entry is required. Visitors must hold return/onward tickets and all documents required for their next destination.
A visa is issued on arrival, and a passport valid for six months from date of entry is required. Visitors must hold return/onward tickets and all documents required for their next destination.
Passport/Visa Note:Visa:
Most visitors entering Tanzania require a visa. Passports must contain one unused visa page. Visitors may obtain a visa on arrival at Dar-es-Salaam or Zanzibar airports, costing between US$ 50 and US$ 200 depending on nationality, payable in cash. Visa must be paid with notes of US $50 or US $100.
All visitors also require proof of sufficient funds and should hold documentation for their return or onward journey. Passports should be valid for at least six months from date of entry. Those arriving from an infected country must hold a yellow fever vaccination certificate. It is highly recommended that passports have at least six months validity remaining after your intended date of departure from your travel destination. Immigration officials often apply different rules to those stated by travel agents and official sources.
Travel Health:
Travellers are advised to see a doctor or visit a travel clinic at least three weeks before leaving for Tanzania. Visitors should consider vaccinations for hepatitis A, typhoid, yellow fever, and polio. There is a risk of malaria all year and outbreaks of Rift Valley Fever occur; travellers should take precautions to avoid mosquito bites and take malaria medication.
Food prepared by unlicensed vendors should be avoided, as meat and milk products from animals may not have been cooked thoroughly. Sleeping sickness is a risk in the game parks, including the Serengeti, and visitors should take precautions against bites by tsetse flies.
There is a high prevalence of HIV/Aids. Cholera outbreaks are common throughout the country and visitors are advised to drink bottled or sterilised water only. Travellers climbing Mount Kilimanjaro are at risk for altitude sickness.
Medical services are available in Dar-es-Salaam and other main towns, but facilities and supplies are limited even in cities and often non-existent in rural areas. Visitors with particular requirements should take their own medicines. Comprehensive travel insurance is advised.
Tipping:
Waiters in the better restaurants should be tipped around 10 percent. Guides, porters and cooks in the wildlife parks and on safari trips expect tips. The amount is discretionary according to standard of service and the number in your party.
Safety Information:
As in other East African countries, the threat from terrorism is quite high in Tanzania and visitors should be cautious in public places, tourist sites, and hotels, particularly in Zanzibar's Stone Town. The area bordering Burundi should also be avoided.
Street crime is a problem in Tanzania, especially in Dar es Salaam, and tourists should be alert and cautious. Lonely beaches and footpaths are often targeted, and women are particularly vulnerable to attacks. Visitors should leave valuables in their hotel safe and not carry too much cash on them at any time.
Armed crime is on the increase and there have been serious attacks on foreigners in Arusha and on Pemba Island. There have also been reports of robberies and kidnapping on Zanzibar, and piracy in the Indian Ocean and Gulf of Aden is a serious concern with commercial and tourist vessels being fired upon and several British tourists taken hostage.
Road accidents are common in Tanzania due to poor road and vehicle conditions, violation of traffic regulations and exhaustion among long-distance drivers. There have also been a number of ferry accidents in Tanzania in recent years. Caution should be exercised: if a bus or ferry seems overloaded or in poor condition, don't get on.
Local Customs:
Tanzanians are known to be friendly and generally welcoming, but travellers should be sensitive to local cultural mores. Drunkenness is frowned upon and Tanzanians feel strongly about showing respect for their elders.
Visitors to Zanzibar should be aware that it is a predominantly Muslim region and visitors should dress modestly and respectfully. Beachwear is fine on the beach or around a hotel pool, but not acceptable elsewhere. Topless sunbathing is a criminal offence. Some tourists buys a local sarong, called a kanga, which can be used to cover shoulders when needed, or otherwise be used as a scalf or towel.
Smoking in public places is illegal. Tourists should be especially careful during Ramadan when public drinking, smoking and even eating should be avoided.
Homosexuality is illegal in Tanzania.
Business:
Although Tanzanians come across as relaxed and friendly, it is important to observe certain formalities, especially with greetings. It is advisable to learn a few Swahili phrases when greeting, followed by a handshake.
Women and men rarely shake hands in Swahili culture; however, if the woman extends her hand, the man is obliged to take it. Tanzanians are to be addressed as Mr, Mrs, and Ms, followed by the family name.
Business dress is seldom very formal but lightweight suits are recommended for formal occasions. Business hours are similar to Western countries, but a longer lunch break is taken during the hotter months, and business continues later in the evening from Monday to Friday.
Communications:
The international country dialling code for Tanzania, as well as Zanzibar, is +255. There is good mobile phone coverage in main cities and towns, while rural areas may have limited coverage. There are international roaming agreements with most international operators. Avoid making telephone calls from hotels; they can be very expensive. Internet cafes are available in the main towns and resorts.
Duty Free:
Travellers to Tanzania do not have to pay duty on 250g tobacco or 200 cigarettes or 50 cigars and 500ml of alcoholic beverages. Restrictions apply to firearms, plants, plant products, and fruits.