Taipei 101
Taipei 101 is the city's financial centre and was once the world's tallest building. Designed to resemble a gigantic bamboo stalk, it is Taipei's major landmark. There are observation decks on the 88th and 89h floors.
The building's lift takes a thrilling 40 seconds to get from ground level to the 89-th floor, where a spectacular view awaits visitors. Decent restaurants and some of the city's swankiest malls make up the lower levels.
Address:
No. 7, Section 5, Xinyi Road, Xinyi District,Taipei City
Transport:
MRT Red Line (Xin-Yi Line) TAIPEI 101 Station, Exit No.4. About a 10-minute walk from the MRT Blue Line (Nangang Line).
Opening time:
Daily from 9am-10pm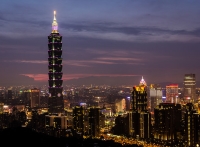 Taipei 101 sese_87
Shilin Night Market
Taipei's biggest and best night market is not just for shopping. Instead, it is a cultural experience that every visitor should enjoy. The action begins when the sun sets and thousands of stalls and stores open for business. They sell everything from clothing to pets, souvenirs and DIY tools. It's wise to visit with an empty stomach, given the array of tempting treats on offer.
Address:
The neighbourhood of Dadong Rd., Danan Rd., Wenlin Rd. and Jihe Rd., Shilin Dist., Taipei City 111.
Transport:
MRT Jiantan Station, or any one of numerous buses
Opening time:
Late afternoon to early morning hours daily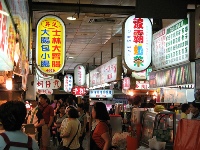 Shilin Night Market Arun
National Palace Museum
Taipei's National Palace Museum houses an astonishing collection of Ancient Chinese artefacts and artwork. Representing over 5000 years of Chinese history, it is the largest and perhaps finest collection of Chinese art in the world.
Once displayed in the Forbidden City, Beijing, the collection was moved to Taipei as a result of the Chinese Civil War. Visitors can view world-famous exhibits such as the 'Jade Cabbage' (a piece of jade carved to resemble a cabbage head), and a valuable copy of the Qingming Scroll.
Address:
221 Zhi Shan Road, Sec. 2, Shilin
Transport:
MRT Tamsui-Xinyi Line to Shilin Station and then bus R30 (Red 30). Other routes that will take you to or near the Museum plaza are buses 255, 304, Minibus 18 and Minibus 19.
Opening time:
Daily from 8.30am-6.30pm. Free guided tours in English at 10am-3pm daily.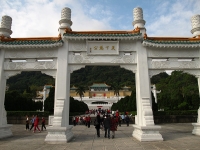 National Palace Museum eazytraveler
Longshan Temple
Longshan is one of the most popular temples in Taipei. Dedicated to Guanyin the Goddess of Mercy, it is an excellent example of the architecture commonly seen in Taiwan's older buildings.
Built in 1738 to be a place of worship for Chinese settlers, its troubled history has seen it destroyed several times. To date, it has suffered damage by earthquakes, fires and even American bombers during World War II. Undaunted, Taipei residents have rebuilt it each time, and it remains very much in use.
Address:
211 Guanghzhou Street
Opening time:
Daily from 6am-10pm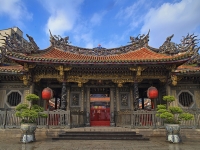 Longshan Temple Tomas Fano
Taipei Zoo
Taipei Zoo is home to hundreds of animals, including local Taiwanese species such as the flying fox, Formosan black bear and Chinese pangolin. Arranged into different habitat sections that contain their native species, the zoo lets visitors see African savannah wildlife, tropical rainforest creatures and more in context. Visitors should set aside at least three hours to take everything in.
Address:
No. 30, Sec.2, Xinguang Rd., Wenshan Dist., Taipei City
Transport:
MRT Wenshan-Neihu Line: Get off at Taipei Zoo Station. MRT Nangang/Banqiao/Tucheng Line: Get off at Taipei City Hall Station, and then take bus route G1, BR18 or BR21 to Taipei Zoo.
Opening time:
Daily from 9am-5pm (closed on Chinese New Year)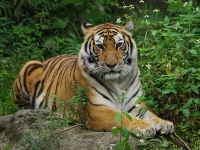 Tiger at Taipei Zoo pelican
Chiang Kai-shek Memorial Park
Chiang Kai-shek Memorial Park is the pride of Taipei. Built in memory of the former Taiwanese President, the walled complex contains an impressive, pyramid-shaped monument to Chiang Kai-shek. It's also home to the National Concert Hall and National Theatre.
Everything stands inside a lovely park, which is fronted by a vast plaza where folk performances or other events often take place. The Memorial is also the main venue for Taipei's famed Lantern Festival, Shangyuan. It draws thousands of lantern-carrying revellers to mark the Chinese New Year.
Address:
Zhongzheng District, Taipei City
Transport:
MRT lines Danshui-Xindian, or Beitou-Nanshi, alighting at the CKS Memorial Hall Station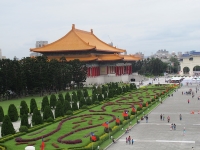 Chiang Kai-shek Memorial Park Gavin Anderson
Taipei has a humid subtropical climate. Summers are warm, sunny and humid, with average daytime highs reaching 90°F (32°C). Winters are cool and mild, with temperatures of around 61°F (16°C). Due to Taipei's location, it is affected by the Pacific typhoon season, which occurs between June and October.
Taiwan Taoyuan International Airport
Location:
The airport is situated about 24 miles (38km) southwest of Taipei city centre.
Time:
Local time is GMT +8.
Transfer Between Terminals:
The Skytrain provides free transport between Terminal 1 and Terminal 2, and a shuttle bus also connects the two terminals. There are regular buses to Taipei's other international airport, Songshan.
Getting to the city:
Several bus companies provide services to Taipei and other destinations around Taiwan. The journey to Taipei takes about 55 minutes. Travellers can buy tickets at counters in the arrivals section, and the bus platforms are located outside the terminals.
Buses depart from the airport roughly every 20 minutes. Metered taxis are available 24 hours a day, but are more expensive. Also, there's a shuttle bus to the high-speed rail service that connects travellers to various stations in the city.
Travellers can find English-speaking assistance at a Visitor's Desk in the Arrivals hall.
Car Rental:
Car rental service counters are located in the Arrivals lobby of both terminals.
Airport Taxis:
Taxis from the airport to downtown Taipei are available all day and night, but fares vary substantially depending on traffic, distance and route. Taxis are metered.
Fascilities:
The airport's banks have bureaux de change and ATMs. Travellers will also find a post office, wifi, information desks, and a tourist-services desk.
Both terminals have Asian and Western-food outlets, as well as bars and restaurants. There is ample duty-free shopping, with several boutiques stocking a wide range of goods. A business lounge offers VIP service, and there are good facilities for the disabled.
Parking
Plentiful parking is available. It is free for the first half hour, thereafter rates start at TWD 30 for 60 minutes and TWD 20 per half hour thereafter. The daily rate is TWD 490.
Public transport in Taipei relies on the MRT (subway), and the city's vast bus network.
The MRT covers most tourist spots and is generally the best option for transport. All MRT stations have ticket machines, with prices ranging from about TWD 20 to TWD 65, depending on the distance. Travellers can purchase day passes, while the rechargeable EasyCard is a good option for those spending more than a few days in the city.
The bus network is a bit confusing for foreigners and most get by without using it. Metered taxis are available, though drivers rarely understand English. Travellers should have destinations written down in Chinese if they plan on using taxis.
The soaring Taipei 101 Tower is the capital's greatest engineering feat, and one of its best-loved sights. It's also the city's international financial centre.
Another popular attraction is the National Palace Museum. Through its collection of ancient artefacts and artwork, it showcases some fascinating aspects of Chinese culture. For travellers interested in Taiwanese spirituality and religion, a visit to the Longshan Temple is a must.
As the sun goes down the night markets open up. They're usually packed with tourists and bargain-hunters, who throng the alleyways in the heavy, humid night air. Taipei also has many bars and nightclubs.
If the city becomes too stifling, visitors can relax at one of the spas in the northwest. They utilise the Beitou area's hot springs. Hikers can enjoy the Yang Ming Shan National Park.