Fraumünster Church
Of the church spires that characterise Zurich's skyline, the thin blue spire of Fraumünster is the most graceful. Overlooking the historic old square of Münsterhof, the former pig market, the church was founded in 853 and its convent inhabited by German noblewomen until the 13th century. Important architectural features include the Romanesque choir and the enormous elaborate organ, but its chief attractions are the five beautiful stained-glass windows designed by Marc Chagall in 1970.
Opening time:
10am-5pm (November to February) and 10am-6pm (March to October).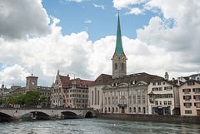 Fraumunster Oiva Eskola
Swiss National Museum
A fascinating exploration of Swiss national history, the Swiss National Museum has an impressive and varied collection of ancient artefacts, providing visitors with a richer understanding of Swiss life and consciousness through the centuries. Housed in an exquisite castle-like building, with a distinctive tower, the permanent collection contains a comprehensive anthology of artefacts from the Stone Age to modern times. First stop is the archaeology exhibit where tools and articles dating back to before 800BC are on display. Highlights at the museum include the Celestial globe of Jost Bürg (1594), a groundbreaking symbol of European thought, religious reliquaries from the 13th to 16th centuries and ancient wheels, considered to be among the earliest ever found. Another major drawcard is the Armoury, where historic Swiss weaponry used in combat between 800 and 1800BC can be found. Visitors can expect to see crossbows, swords and suits of armour.
Opening time:
Tuesday to Sunday 10am–5pm, Thursday 10am–7pm. Closed Mondays.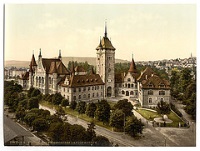 National Museum Ashley Van Haeften
Kunsthaus Zurich (Fine Arts Museum)
Devoted for the most part to 19th and 20th century artwork, the Kunsthaus Zurich (Zurich Fine Arts Museum) is a cultural drawcard for any art lover. Holding one of the largest collections of works by Edvard Munch outside Norway, as well as works by renowned modern artists such as Chagall, Picasso, Monet, Rothko and the Expressionists, Kokoschka, Beckmann and Corinth to name a few, there is a whole host of quality artwork at which the visitor can marvel. Visitors can also view the creative talents of cutting edge Swiss artists such as the sculptor and painter Alberto Giacometti, and well-known Swiss duo Fischli/Weiss. Situated in a sophisticated building with contemporary exhibitions, a trip to the Kunsthaus Zurich makes for a very rewarding cultural day out.
Opening time:
Tuesday, Friday to Sunday 10am-6pm; Wednesday and Thursday 10am-8pm.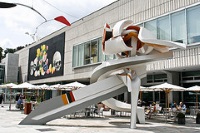 Kunsthaus annaspies
Polybahn and Rigiblick Funiculars
Trains, buses, trams and bikes are common ways of getting around Zurich. To get above the bustling streets and cobbled walkways, travellers should hop onto either the Polybahn or Rigiblick Funicular for panoramic views of the city and Lake Zurich. The traditional Polybahn was first opened in 1889 to solve the transport problem of students travelling from central Zurich to the University of Technology, which is situated on the towering Zürichberg hill. The Polybahn has maintained its classic Swiss appearance and continues to haul students and tourists to the Polyterasse viewpoint. Serving an attractive neighbourhood north of Zurich, the Rigiblick Funicular rewards travellers with a sweeping panoramic view of the city and the unmistakable Mount Rigi (1797m).
Address:
Polybahn: Central station (Hauptbahnhof). Rigiblick: Seilbahn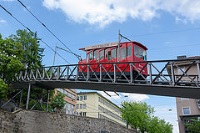 Polybahn Simon
Museum of Design Zurich
Known for sophisticated designs such as the internationally recognised symbol of the Red Cross, it is no wonder that Switzerland has a museum dedicated solely to design. With four separate collections, visitors can indulge in the designs of the Poster Collection, Design Collection, Graphic Collection and Decorative Arts Collection, spanning the past century or visit one of the temporary exhibits where works of acclaimed industrial designers, photographers, graphic artists and architects are regularly shown. Designed by the progressive Swiss architects Adolf Steger and Karl Egender as a Functionalist manifesto, the Museum of Design Zurich is a great example of modern architecture in Switzerland and is a gallery not to be missed.
Address:
Toni-Areal, Pfingstweidstrasse 96
Transport:
Tram 4, stop Toni-Areal.
Opening time:
Tuesday to Sunday 10am–5pm, Wednesday 10am–8pm. Closed Monday.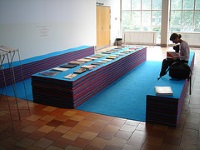 Museum of Design laughingmonk
Niederdorf
Situated in the old town, across from central station, the narrow lanes of Niederdorf wind through towering 14th century buildings revealing small plazas where restaurants spill onto cobbled streets and buskers entertain diners and passers-by with miscellaneous music. This charming district has an interesting array of fashion stores, bookshops and antique dealers as well as superb independent cheese, wine and pastry shops. In the evening the area transforms into one of Zurich's buzzing nightlife venues with a wide selection of bars, restaurants and clubs to be explored.
Address:
Niederdorfstrasse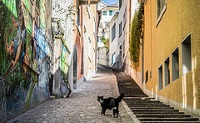 Niederdorf Alex Gage
Zurich Zoo
Unlike the dubious reputation of zoos worldwide, the Zurich Zoo is refreshingly dedicated to nature conservation, maintaining ecosystems and protecting animal species, with many projects of reintroduction into the wild. Offering guided tours and in depth information tools, the Zurich Zoo does its best to educate the public. With over 340 different species and 4000 animals, visitors will get the unique chance to view endangered animal species such as snow leopards and red pandas. Recreating ecosystems from exotic Madagascar to the rugged Ethiopian Highlands and housing the various animals in spacious enclosures, a visit to the diverse Zurich Zoo is a pleasurable and invigorating excursion. Travellers should visit the website to see feeding times and which new pups have been born.
Address:
Zurichbergstrasse 221
Transport:
By tram and bus.
Opening time:
9am-6pm (March to October) and 9am-5pm (November to February)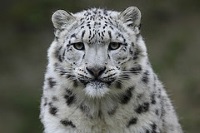 Pavillon Le Corbusier
The final work of the renowned Swiss architect who pioneered modernism and laid the foundation for Bauhaus, the Pavillon Le Corbusier in Zurichhorn Park is the epitome of modern design. A conglomeration of his life's work, the former Centre Le Corbusier and Heidi Weber Museum unify Le Corbusier's architecture, paintings, furniture, sculpture and writings, all in one space. Created in the 1960s, the contemporary building has strong references to Mondrian and is a jumble of cubic structures made of coloured panels, glass and steel, protected by a detached angular roof. Initially designed as a private house, the many spaces of the Centre Le Corbusier have fared well as an exhibition and learning centre. While travelling to this illuminating masterpiece, tourists can take a stroll alongside the Limmat River in picturesque Zurichhorn Park and should look out for the sculptures of Jean Tinguely and Henry Moore.
Opening time:
Tuesday to Sunday 12pm-6pm; Thursday 12pm-8pm.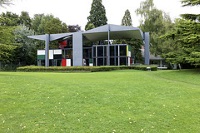 Centre Le Corbusier n e o g e j o
Swiss Alps
The Alps contain some of Switzerland's most dramatic landscapes, in a country already well endowed with spectacular scenery and fabulous alpine vistas. Situated at the heart of the Alps, Switzerland shares the mountain range with France, Italy and Austria and provides winter and summer time enjoyment for skiers, snowboarders, walkers and climbers. Switzerland boasts the first ever ski resort, and since then over 200 first-class resorts have attracted thousands of Swiss and international downhill and cross-country skiers as well as snowboarders.
The tradition of skiing goes back two centuries. Today, with more than 1,700 mountain railways and ski lifts, renowned ski schools and instructors, the best ski equipment in the world, and outstanding slopes and facilities catering for all levels of ability, it deserves to be called 'Europe's winter playground'. The ideal resort for beginners or families is Grindelwald in the Jungfrau region, while intermediates and snowboarders head for the twin resorts of Davos and Klosters, with miles of excellent ski terrain and acclaimed to be one of the top snowboarding destinations worldwide.
Expert skiers can enjoy the challenge of 7,200 ft (2,700m) vertical drops on the Klein Matterhorn at Zermatt, and the ski valley of Verbier is ideal for shoulder-season skiing as its location provides early snow that lingers late into the spring. The stylish resort of St Moritz offers the most energetic and varied nightlife out of all the Swiss resorts. The ideal ski season runs from January to late March, but is most crowded during the Christmas holidays and the month of February. Climbers and walkers head to the Alps between June and September when the weather is warmer and more settled. There are more than 40,390 miles (65,000km) of well-marked and maintained hiking trails as well as longer treks across the country that will reveal miles and miles of unspoiled beauty.
Grindelwald has long been the capital of summer hiking in the Bernese Alps, and more recently added a network of groomed trails for winter hikers. Climbers have long been lured by the challenges of the Matterhorn and there are some memorable hikes up to the cliffs below the summit. The Swiss Alpine Club (SAC) is the best source of information on mountaineering. The most accessible and visited alpine area is the magnificent Bernese Oberland region in the centre of the country with classic Swiss scenery - picturesque peaks, quaint wooden chalets and charming mountain villages, green pastures, lakes and the tinkle of cow bells. This is a fabulous area for walking and provides exceptional winter sports.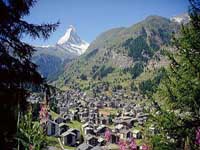 Zermatt village Swiss Tourist Board
The climate of Zurich is continental, and temperatures are modified by winds off the Atlantic Ocean. Winters are cold, while summers tend to be hot and sunny. In January, generally the coldest month, temperatures range between 14°F (-10°C) and 41°F (5°C), and in July, mid-summer, temperatures range between 59°F (15°C) and 86°F (30°C). The wettest time of year is the summer, between June and August.
Zurich boasts a plethora of eateries catering to just about every nationality under the sun, including, of course, restaurants with strong French, German and Italian influences.
Visitors should try the delicious traditional Christmas snack, Tirggel, which are hard, thin and very sweet biscuits made from flour and honey - popular in other countries too and bound to well up oodles of nostalgia in anyone who has ever tasted one. Zürcher Geschnetzeltes, a veal stew made with mushrooms, white wine and cream is a must while in Zurich, and visitors will notice potato Rösti is a popular local dish. Other famous exports not to be missed are, of course, the decadent and delicious Swiss chocolates as well as Swiss cheeses like Emmental, Gruyère, Vacherin, and Appenzeller. Other famous Swiss culinary inventions include fondue and muesli.
The left bank and right bank areas are where all the best restaurants can be found and it is customary to make reservations in advance. For special occasions, the restaurants at the top of the Uetliberg have fantastic views. A service charge of 15 percent is usually included in restaurant bills and further tipping is unnecessary but leftover change is always appreciated.
Rico's Kunststuben
Widely considered to be one of the finest restaurants in Switzerland, perhaps even the whole of Europe, maestro chef Rico Zandonella's award-winning reputation attracts the wealthy gourmets of Zurich and boasts a celebrity list that includes the Swiss president, singer Tina Turner (who lives nearby) and the emperor of Japan. The restaurant is in the lakeside town of Kusnacht, about 15 minutes from the city, housed in an elegantly decorated building that was once an art gallery. The menu changes regularly, and can include outstanding speciality lobster dishes or a number of other inventive dishes such as Tuscan dove, scampi lasagne in lemongrass sauce or stuffed squid with a fennel confit. All entrées, desserts and cheeses are of exceptional quality, as is the wine cellar. Open for lunch and dinner Tuesday to Saturday. Advance booking essential.
Address:
Seestrasse 160, Küsnacht
Kronenhalle
One of Zurich's most famous restaurants, Kronenhalle is the place to see and be seen, and over the years has attracted celebrity greats such as James Joyce, Pablo Picasso, Richard Strauss and Yves Saint-Laurent. The interior is decorated with original works of famous 20th-century artists including Picasso, Matisse and Miró. The fare is traditional Swiss and includes huge portions of rösti, a delicious herring in double cream, veal steak and duck liver. Reservations are essential.
Address:
Rämistrasse 4 (Right Bank)
Zunfthaus Zur Zimmerleuten
Originally the carpenter's guildhall, Zunfthaus Zur Zimmerleuten is one of the architectural showpieces of Zurich. Up a flight of Baroque stairs, the elegant dining room serves up dishes that combine Zurich specialities with chef innovations, including the Lake Zurich fish soup with garlic rouille or the triple fillet accompanied with rösti and cream sauce. Reservations recommended. Open daily.
Address:
Limmatquai 40 (Right Bank)
Zeughauskeller
The huge dining hall built in 1487, with thick stone pillars, wooden beams and a decorative ceiling, was originally the city's armoury, and the medieval character of the restaurant is highlighted by the décor, with weapons and paintings from the Middle Ages, and waitresses in old-fashioned costume. Known for its tasty traditional Swiss meals, the portions are hearty and served with local beer. Classic speciality dishes include the Zurich-style sliced veal and mushrooms and rösti potatoes. Zeughauskeller also offers a wide variety of different types of sausage. Open daily from 11.30am. Reservations recommended.
Address:
Bahnhofstrasse 28a, Paradeplatz (Left Bank)
Blaue Ente
Situated on the site of a 300-year old mill, this slick modern restaurant draws trendsetters from the advertising and arts scene who are attracted by the modern approach to fresh ingredients and light cuisine. Duck ('blaue ente' means 'blue duck') is the house speciality and comes in various forms. Other dishes include fish and crustaceans, loin of lamb, vegetarian curry and pastas. Reservations recommended.
Address:
Seefeldstrasse 223
Veltliner Keller
Established in 1325 as a wine cellar and a restaurant in 1551, Veltliner Keller evokes a sense of history and charm in its detailed wooden panelling. Originally used to store Italian-Swiss wines that were transported to Zurich over the Alps, this delightful restaurant offers wholesome, hearty cuisine that will not disappoint. The seasonal menu includes Swiss and Italian dishes as well as the traditional Zurich dish, kalbsgeschnetzeltes (sliced veal and mushrooms in a white wine sauce).
Address:
Schlüsselgasse 8
Hummerbar
Located in the St Gotthard Hotel, the Hummerbar (Lobster Bar) is one of Zurich's top dining spots. The rich scarlet décor and dark wood creates the perfect setting for a romantic dinner. Fresh caviar, oysters and shellfish are flown in daily from Iran, and woven into the menu of classical French cuisine with a Mediterranean flair. Open Monday to Saturday for lunch and dinner and on Sunday for dinner.
Address:
Hotel St Gotthard, Bahnhofstrasse 87
Café Bar Odéon
This trendy cafe and bar, formerly a coffeehouse where the pre-revolutionary Lenin met intellectuals, has been transformed into an art-nouveau eatery frequented by locals and tourists alike. Other celebrities to have dined here include the likes of Joyce, Einstein, Mata Hari and Mussolini. Nowadays it is the bourgeois-chic crowd who like to dine on fine pasta dishes and other delicious meals. This eatery remains open late so expect an eventful evening! Reservations recommended.
Chez Crettol
A trip to Switzerland would be incomplete without sampling traditional Swiss fare. A country famous for cheese, most notably the tasty Gruyere variety, communal dishes such as raclette and fondue are commonplace in both Swiss homes and upmarket restaurants. Ideal for a wintery treat, travellers should head to Chez Crettol, where these particular dishes are the speciality. With a selection of fondues to choose from, patrons can while away the time dipping, twirling and eating and finishing off with a zesty local white wine. Those who can't handle more than a few mouthfuls of bread can opt for raclette, a combination of boiled potatoes, pickled onions and gherkins, drizzled with melted cheese, which is scraped off a melting block. For a heart-warming Swiss evening, a warm crackling fireplace and an understated environment that looks characteristically similar to a Swiss dining room, Chez Crettol is the place. Open daily for dinner.
Address:
Florastrasse 22, Kusnacht
Seerose
With one of the best locations in Zurich, the Seerose offers a romantic element to Zurich dining. Situated on the vast lake, guests are surrounded by water, quaint boats, city lights and majestic snow-capped mountains. Whether travellers are looking for a sunny and crisp lunchtime venue or an evening out, with a European flair, the Seerose will fulfil their expectations. Reminiscent of a yacht on the Mediterranean with elegant beachhouse trimmings, the Seerose serves up fresh cuisine ranging from seafood to curry. Patrons can start with goat's cheese and honey on a salad bouquet or a Salade Noel, with chicory, nuts, fresh fruits and an Indian sauce. Popular mains include moule et frites and duck l'orange or for the more adventurous, a red beef curry. Open daily for breakfast, lunch and dinner, booking recommended.
Zurich Airport
Location:
The airport is situated eight miles (12km) north of Zurich.
Time:
GMT +1 (GMT +2 between the last Sunday in March and the last Sunday in October).
Transfer Between Terminals:
The three terminals are connected.
Getting to the city:
Swiss Rail (SBB) provides fast and efficient transport to the city centre. The station is located below the Airport Center in the Check-in 3 area and trains leave roughly every 10 minutes for Zurich and other destinations; travel time is ten minutes and fares are determined on the type of pass and the number of city zones crossed. The Glattalbahn tram line services other nearby cities and the outskirts of Zurich. Hotel shuttle buses and a variety of public bus services extend across various routes. The airport is very well serviced by public transport.
Car Rental:
Car rental companies include Alamo, Avis, Budget, Europcar, Sixt and Hertz.
Airport Taxis:
Metered taxis are available outside Arrivals 1 and 2. The 15-minute taxi journey to Zurich costs around CHF 70.
Fascilities:
Facilities include banks, bureaux de change, bars and restaurants, postal services, shops including duty-free, business facilities and a crèche. Facilities for disabled passengers are excellent.
Parking
There are extensive parking facilities at Zurich International Airport, with more distant parking lots (which tend to be cheaper) connected to the terminal building by free shuttles. Prices range depending on the parking lot. Pick-up and drop-off zones are situated along the access road in front of the arrivals and departures sections, but there is a small charge for using even these areas. Parking can be reserved in advance online.
Zurich Festival
Zurich's Festspiele (or Zurich Festival) is an annual celebration of classical music, art, theatre, opera, and dance that presents local and international artists of world renown status in venues around the Swiss capital. Special concerts, exhibitions and performances are held throughout the city in venues such as the famous Opernhaus Zurich, Kunsthaus Zurich, Theater am Neumarkt and some stunning open-air venues.
Be sure to grab a programme so as not to miss some of the cultural highlights of the year.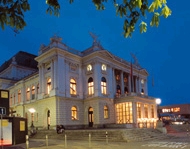 Opera At The Opernhaus Zurich adert
Street Parade
Every August in Zurich, the most colourful house and techno music parade in the world fascinates hundreds of thousands of dance fans from every continent around the world. Around 30 Love Mobiles, brightly decorated trucks packed with giant music systems, DJs and party people, drive at walking pace through the crowd of people around Lake Zurich.
In addition to these 30 mobile platforms, seven large stages along the route round off the contemporary electronic music selection with top DJs, live acts, multimedia and dance animations. Visitors should be sure to dress the part, in all kinds of colourful attire, to make the best out of their Street Parade experience.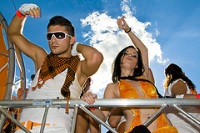 Street Parade Beat Küng
Warmer Mai
Zurich's gay and lesbian event of the year, Warmer Mai is one of the city's first summer festivals and hosts an action-packed month of festivities. Aimed to showcase the cultural products of the gay and lesbian community, the festival showcases many entertaining theatre pieces, art exhibitions, film nights, talent competitions and sporting events over a 30-day period.
Enthralling themed parties hosted at various bars and clubs throughout the city keep the spirit of the Warmer Mai festival alive, as visitors dance and celebrate into the early hours of the morning.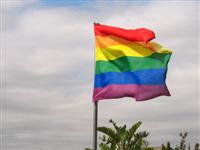 Zurich Gay Pride lebe
Not the conservative city it used to be, the nightlife and entertainment scene in Zurich has come into its own, though visitors shouldn't expect it to be rip-roaring wild either. With most clubs closing relatively early, it's best to get a head start with a few early evening cocktails at a watering hole of the traveller's choice.
A good place to start is at one of the open-air bars for a relaxing drink before heading out to the trendy Zurich-West area, home to some of the city's hottest underground bars and nightclubs. The Old Town is also worth checking out, where Paradeplatz features a range of upmarket lounge and hotel bars.
The former red-light district of Langstrasse is the place to go for an edgier night of biker bars alongside strip clubs - just about anything goes in the area. Being more culturally oriented, concerts, theatre, ballet and opera dominate the scene here.
It's worth picking up a copy of the ZueriTipp, the weekly supplement to the Tages Anzeiger newspaper to see what's on when travellers are in the city.
Zurich is easy to navigate, and a modern, user-friendly network of trams and buses covers the city daily from 5.30am to midnight, with a more limited night service on weekends. Transport works on a zone system, and tickets are valid for an hour. Tickets are transferable but must be bought before boarding; they are also valid on some boats and local city trains. The most useful travel pass is the Tageskarte (one day ticket) that allows travel on all buses and trams for 24 hours; however, tourists should use the ZurichCARD which entitles the holder to unlimited free use of public transport. Travelling by taxi is expensive even by Swiss standards, but they are safe and convenient and can be hailed on the street, found at taxi ranks or ordered by phone. Getting around by car is not recommended due to congestion and expensive or scarce parking. From mid-April to mid-October, bicycles can be hired free from various stations. Walking is also a good option in the city centre.
Brimming with attractions and sightseeing opportunities to suit every kind of traveller, Zurich has wonderful monuments, museums and churches to explore.
Visitors can wander through the cobblestone streets of Niederhof and enjoy a light meal or cup of coffee while being entertained by the street performers and buskers. Culture vultures will love the Swiss National Museum, the Fine Arts Museum and the Museum of Design Zurich and children of all ages will love the Zurich Zoo, where endangered species such as snow leopards and red pandas can be seen.
Visitors keen on doing a lot of sightseeing in Zurich should purchase the Zurich Tourist Card, which includes access to transport services of Zurich Public Transport and offers free admission to over 40 museums, reduced admission to the zoo, a complimentary welcome drink in over 20 restaurants and a number of other benefits. The card can be bought for CHF 27 for 24 hours or CHF 53 for 72 hours.