Royal Djurgarden
Stockholm's main attractions are conveniently packaged close to the heart of the city on the island of Djurgarden, crammed with entertainment options, museums, restaurants, and wooded green space. Once upon a time the island was a royal hunting ground. Now visitors can hunt for souvenirs at the Handarbetets Vanner (handicraft centre), browse the art galleries, enjoy the exciting Grona Lund amusement park, explore Sweden's past at the Skansen open-air museum, meet Nordic wildlife at the zoo, and watch folk dancing. Also on the island, accessed by a pleasant stroll along the waterfront, is the Junibacken fairytale fun centre, the National Museum of Cultural History, and the fascinating Vasa Museum featuring a fully rigged, fully restored 17th-century galleon raised from Stockholm harbour. Top off the day with a meal at one of the many excellent restaurants, some of which are situated on boats and provide excellent views over the water. Djurgarden is one of Sweden's most loved recreational areas for locals and foreigners and the island attracts more than 10 million touristic visitors a year. Just a stroll around the island, on the many walking paths, nature trails, and waterfront promenades, is a joy.
Address:
A 10-minute walk from the city centre across the Djurgarden bridge.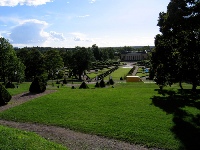 Royal Djurgarden hildgrim
Royal Palace and Gamla Stan
The official Swedish royal residence is one of the largest and grandest palaces in Europe, dating back to 1754 (although it was built on the remains of an earlier medieval castle). The Baroque edifice is in the heart of Gamla Stan, the old city, and many of its 608 state rooms are open to the public all year round. Visitors can admire the Hall of State, the Royal Treasury, the Apartment of the Orders of Chivalry, the Gustav III Museum of Antiquities, the Kronor Museum, and the Royal Chapel. In front of the palace the changing of the guard ceremony takes place (Wednesday and Saturday 12:15pm; Sunday 1:15pm) with splendid pomp and ceremony that rivals the similar tradition played out at Britain's Buckingham Palace. Visitors should note that the palace is used for most of the Swedish monarchy's official ceremonies and receptions and closes to the public during these events - check the calendar on the official website to avoid disappointment.
Gamla Stan itself is a treasure trove of Swedish architecture, much of which dates from the 17th century. Today tourists throng the alleyways once notorious for brothels, but now lined with shops and restaurants, peddling up cutting edge designs and traditional swedish fika. Other attractions in Gamla Stan include: The Nobel Museum, which offers a moving account of one of the world's most coveted prize in literature, economics, chemistry, physics, and medicine; the Royal Coin Cabinet, a museum dedicated to the history of money which contains some fascinating ancient artefacts; and Stortorget, the oldest square in Stockholm, from which the current city grew, where visitors can marvel at street performers and the iconic, multi-coloured building facades for which the square is famous.
Address:
Slottsbacken 1, Gamla Stan.
Transport:
Metro stop Gamla Stan, or bus 2, 43, 55, 71 or 76 to Slottsbacken station
Opening time:
Open daily 10am-5pm (14 May to 25 September), Tuesday to Sunday 10-4pm (26 September to 13 May). Royal Apartments may close fully or partly in conjunction with official receptions of His Majesty The King.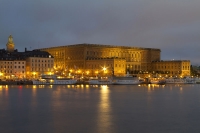 Royal Palace, Stockholm Brorsson
Stockholm City Hall
Stockholm's main landmark, the distinctive red brick City Hall (Stadshuset) building has stood on Kungsholmen (King's Island) since 1923 and has become world-renowned as the venue for the annual Nobel Prize Banquet. A visit to Stockholm's City Hall is a must for architecture lovers: the rather practical and austere façade, dominated by three golden crowns atop a tower, hides an extraordinary interior. The plush council chamber itself has a vaulted ceiling resembling an inverted Viking longboat, echoing the Viking tradition of using overturned vessels as shelter in winter. Most impressive, though, is the magnificent Golden Hall, its walls covered with handmade mosaics, while the view of Stockholm from the tower is unsurpassed. The Stockholm City Hall can only be visited on a guided tour, which can be done by joining one of the public tours that depart every day, or by arranging a private tour. Accredited guides can also bring groups into the City Hall for tours. The public tours last about 45 minutes; private tours can explore at their own pace.
Address:
Hantverkargatan 1, Stockholm, Sweden.
Transport:
Underground station T-Centralen/T-Rådhuset, or bus 48 and 62
Opening time:
Tours are available every day.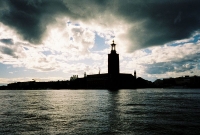 Stockholm City Hall, Sweden Christopher J. Martin
Museum of National Antiquities
Sweden's history from prehistoric times to the present day is fascinatingly laid out in the Museum of National Antiquities in Stockholm, often just called the Swedish History Museum. It contains a hoard of archaeological artefacts and treasures, including an impressive collection of gold objects recovered from the tombs and treasure caches of the Vikings (in the basement Gold Room), going back all the way to the Stone Age. The museum's most prized possession dates from the Middle Ages: the splendid gold reliquary, set with precious stones, which contained the skull of Saint Elisabeth of Thuringia. The museum has a gift shop and cafe with plenty of seating. Photography is allowed in the permanent exhibitions but tripods are not permitted. Free audio guides in English, German, French, Spanish, and a number of other languages can be downloaded on your phone or borrowed from the front desk. Guided tours are also available. The displays are well laid out and there is sufficient information for English speakers, but the audio guide greatly enriches the experience. This world-class museum can occupy visitors for a few hours at least, and even kids enjoy the experience.
Address:
Narvavagen 13–17, Stockholm.
Transport:
Metro station Karlaplan; bus 44 and 56
Opening time:
Open daily 10am to 6pm (June to August); open Tuesday to Sunday 11am to 5pm, Wednesday 11am to 8pm, and closed Mondays (September to May).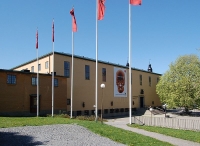 Museum of National Antiquities, Stockholm FriskoKry
Skansen
Visitors can explore Sweden's past at Skansen, the oldest open-air museum in the world. Historical buildings dating mainly from the 18th and 19th centuries have been relocated here from around the country. Visitors move through five centuries of Swedish history, gaining a real sense of the nation's character and past. The exhibits include a full replica of a 19th-century town complete with craftsmen in period dress who demonstrate the arts of tanning, shoemaking, baking, and glass-blowing. Many shops are available to visitors, selling everything from blown glass to cinnamon buns, making Skansen a good place to shop for souvenirs. On summer evenings there is often folk dancing and other cultural displays to enjoy. Skansen is also home to an aquarium and the World of Monkeys within the Skansen Zoo, which focuses on Scandinavian animals such as reindeer, wolverines, elk, lynx, and brown bears. Every December the central square hosts a Christmas market that attracts thousands of visitors every weekend. The various restaurants and shops have their own opening hours, which can be confirmed on the website; the many special events held at Skansen also make it worthwhile to check the website before planning your visit.
Transport:
Bus 47 from Central Station, vintage tram 7, or ferry from Gamla stan.
Opening time:
Daily 10am-10pm (20 June to August), 10am-8pm (May to 19 June and September), 10am-4pm (March, April and October); the rest of the year 10am-3pm (until 4pm on weekends). Market days 11am-5pm on weekends. Opening times are likely to vary frequently - check website for details.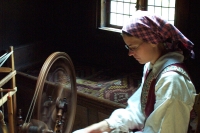 Skansen, Sweden Hal O'Brien
Grona Lund
Grona Lund is Sweden's oldest amusement park and an amazing attraction for families. Built in 1883, the park features a number of rides including classics like bumper cars, carousels, and Ferris wheels of varying thrill levels. There are also several fast-paced roller coasters and high-adrenaline rides to keep adults entertained. Height charts for the rides are available on the park's website so parents can see what is available to their children before going. There is also a crèche available. A great selection of restaurants and eateries, ranging from fine dining to buffet and fast food options, ensures nobody will go hungry in the park. Grona Lund hosts plenty of live music concerts during summer evenings, with some serious performers attracting big crowds. The amusement park only opens seasonally, with a calendar detailing opening days and times can be found on the official website listed below. Those likely to be enjoying lots of the rides should buy the ride pass which allows access to all rides all day, because buying the coupon booklets as required usually works out to be much more expensive.
Address:
Lilla Allmänna Gränd 9, Stockholm, Sweden.
Transport:
Ferry boats operate off Södermalm in the summer, while buses operate regularly from T-Centralen.
Opening time:
Open between June and August and for part of May and September. Opening times vary according to season, but in peak summer the park is often open from 10am to 10pm. Confirm opening dates and times on the official website to avoid disappointment.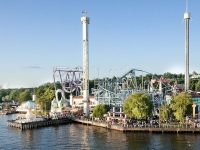 Grona Lund Grona Lund
Vasa Museum
One of the most popular attractions in Sweden, the 17th-century warship Vasa sank on its maiden voyage in 1628 and was salvaged in 1961, with thousands of artefacts, including coins, tools, clothing, and other historical items. The ship has been carefully restored, including the upper gun deck, the admiral's cabin, and the steering compartment. Exhibitions detail the hardships of life at sea, and showcase the primitive supplies and medical equipment sailors had to contend with. There is even a museum garden where the vegetables, herbs, and flowers once used by the crew for food and medicine are grown in season. Guided tours are included in the entrance fee. They are conducted in English and Swedish several times a day and take about 25 minutes, but the schedule varies according to season and day so travellers should check the website before visiting. Groups of more than nine people will need to book guided tours in advance for a fee. There is a restaurant and a shop at the museum for refreshments and souvenirs. The Vasa Museum is consistently one of the top rated tourist attractions in Stockholm and is an intriguing place to visit for people of all ages.
Address:
Galärvarvsvägen 14, Stockholm, Sweden.
Opening time:
Open daily 10am to 5pm, and Wednesdays 10am to 8pm (September to May); open daily 8:30am to 6pm (June to August).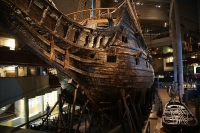 Royal Warship Vasa JavierKohen
Stockholm is an extremely child-friendly city, with many activities and attractions for children of all ages. Amusement parks like Gröna Lund and Junibacken are a great treat for children in Stockholm after a day or two of museums and galleries.
A rainy afternoon can happily be spent at the child-friendly Babybio movie theatre. A bit further out, the open-air museum, Skansen, has a children's area featuring a petting zoo and miniature train.
There are a number of parks and open spaces in Stockholm where children can run around and expend some energy. Gärdet is a large open space ideal for playing games, while several stables near the city offer horse and pony rides.
In the coldest winter months, between December and February, average temperatures range from about 14°F (−10°C) to 30°F (−1°C), although temperatures do sometimes drop to below −4°F (−20°C). Average temperatures in summer, between June and August, range between 55°F (13°C) and 77°F (25°C), but temperatures can reach 86°F (30°C). Snowfall usually occurs from January to March. Rainfall can occur throughout the year, though the summer months of July and August tend to be the wettest. Stockholm receives about 18 hours of daylight in midsummer, and only six hours in midwinter.
Stockholm is a delight for foodies, with superb traditional Swedish fare as well as trendy international restaurants. Stockholm's Old Town, Gamla Stan, is a great place to start when eating your way around the city.
But it is a good idea to explore the little side streets for gastro pubs frequented by locals, as these are both more authentic and less expensive than the touristy eateries on the main drag. Most of Stockholm's main islands have a restaurant scene to investigate. For restaurants with character, the Södermalm district is a wonderful option. It's a trendy, young neighbourhood with a selection of artistic eateries.
Unsurprisingly for a city comprised of islands, Stockholm is known for its exceptional seafood. Classic Swedish cuisine commonly includes seafood like herring, salmon, and shellfish, but for lovers of red meat, the Swedish meatballs and venison are also renowned. Desserts often incorporate blueberries and cloudberries, which are great favourites with the locals.
Although eating out in Stockholm is notoriously expensive, those on a budget can save money by filling up on the generous lunch specials offered by many restaurants, especially in Gamla Stan. Of course, there are plenty of fast food options in the city as well. But travellers should opt instead for the reasonably priced markets dotted around the city where fresh and organic produce can be tasted in both local and international flavours.
Sturehof
Sturehof is the perfect mix of elegance and relaxation, decked out with multiple bars, a streetside cafe, and stylish interior dining rooms. The contemporary, brasserie-style restaurant is famous for its seafood, serving only the freshest marine delights like Grebbestad oysters, succulent Norwegian salmon, and Swedish classics such as skagen (prawns, mayonnaise, and dill served on toast). There's also more to Sturehof than just good food. Sturehof was established on Stureplan in 1897, and played host to the first meeting that established the Volvo automotive company. Fit for foodies and history buffs alike, Sturehof is open daily for lunch and dinner. Visitors can find the restaurant on Stureplan, the entertainment and nightlife centre of Stockholm, just near the well-heeled district of Östermalm.
Address:
Stureplan 2, Stockholm, Sweden.
Operakallaren
Operakallaren is the epitome of high-society and old-world grandeur. Occupying a magnificent, high-ceilinged room within the old opera house, many of the original furnishings are still in place with frescoes and elaborate gilt-panelling. A dinner jacket and evening dress are recommended at Operakallaren, which has high prices to match its excellent reputation for the food and service that earned its Michelin star. In the main dining room guests can choose from a seven-course tasting menu, a five-course chef's menu, or three courses a la carte (all with or without wine tasting). The food itself is a delightful combination of classic French cooking and seasonal Scandinavian ingredients, which means the food is meticulously prepared using only the freshest flavours. As an epicurean partner to the food, the huge wine list at Operakallaren is extensive and particularly interesting. The main dining room is open Tuesday to Saturday from 6pm and offers beautiful views of Gamla Stan. Diners can also find The Opera Bar in the same complex, which mixes Art Nouveau with a refined atmosphere, as well as Bakficken, which caters to a younger crowd with countertop dining at reasonable prices.
Address:
Operahuset, Karl XII's Torg, Stockholm, Sweden.
Lilla Ego
For the two owners of Lilla Ego, a relative newcomer to Stockholm's culinary scene, fine-dining is a thing of the past. Instead this popular, no-frill bistro focuses on plying patrons with delicious, quality food that is both seasonal and carefully prepared. Think smoked veal with celeriac and chorizo, or fresh cod with cabbage and grape. Lilla Ego asks diners to forego the niceties and instead tuck into some seriously good food. Lilla Ego can be found in Vasastan, a previously-residential neighbourhood to the north of central Stockholm which is firmly establishing itself as a place where food dreams come true.
Address:
Vastmannagatan 69, Stockholm, Sweden.
Erik's Gondolen
This well-known waterfront restaurant is an institution in Stockholm, with celebrity chef Erik Lallerstedt serving up neo-Swedish cuisine and French specialities in a dining room that hangs beneath a 100-foot (30m) high walkway, much like the gondola of an airship. The unusual setting allows for dining with a spectacular view over Gamla Stan, Lake Malaren, and the Baltic Sea. Erik's opens for lunch on Saturdays and lunch and dinner during the week. Examples from the menu are shellfish casserole, fillet of venison, and Kahlua cheesecake.
Address:
Stadsgarden 6, Stockholm, Sweden.
Meatballs for the People
The Swedish meatball is a traditional dish which has gained special prominence in the country's pantheon of traditional foods. There is really only one place to grab them in Stockholm, and that place is Meatballs for the People. Here, healthy chunks of meat are cut from hand selected game and poultry, all of which are ethically sourced and full of local flavour. Meatballs for the People can be found in Sodermalm, a trendy neighbourhood with a focus on grungy-chic and student-friendly prices. They are open every day from 11am to 10pm.
Address:
Nytorgsgatan 30, Stockholm, Sweden.
Stockholm-Arlanda International Airport
Location:
The airport is situated 28 miles (45km) north of Stockholm.
Time:
GMT +1 (GMT +2 from the last Sunday in March to the last Sunday in October).
Transfer Between Terminals:
Complimentary shuttles operate between the terminals.
Getting to the city:
For those travelling to and from the airport there are many alternative modes of transport including high-speed trains (Arlanda Express) and airport coaches/buses (Flygbussarna), as well as commuter and long-distance trains. Long-distance SJ trains leave from Arlanda Central Station, where the SJ railway company offers long-distance train tickets and schedule information. The Arlanda Express train from the airport to Stockholm Central Station takes 20 minutes. Buses go to the city roughly every 10 minutes, taking about 40 minutes to make the journey. Taxis and rental cars are also available.
Car Rental:
Car rental companies represented at the airport include Avis, Europcar and Hertz.
Airport Taxis:
Taxis are available directly outside all terminals at the airport. Most taxi companies offer a fixed rate for the trip to the city centre, which should take about half an hour.
Fascilities:
The airport is well supplied with banks, bureaux de change, ATMs, restaurants, bars and shops. The SkyCity centre inside the airport complex provides every conceivable amenity for travellers, including a luxury hotel and health club. All the terminals have lounge areas with power points for recharging mobile phones and laptop computers.
Parking
Parking is accessible from all four terminals. There are discounts for booking online in advance and, as prices range dramatically depending on the parking lot, it is advised to visit the website to find out which parking best suits your needs.
Stockholm has a vibrant nightlife with a multitude of bars, clubs, and jazz venues to enjoy. Admission and drinks prices are quite high in Stockholm but the opening hours are long (many nightclubs stay open until 3am or 4am, and big clubs stay open as late as 5am), ensuring a good night out. Stockholm has a busy theatre calendar that runs from mid-August to mid-June, with a few special summer performances in between.
The most popular nightlife venues in Stockholm are in Stureplan and surrounds, while many of the most popular indoor and outdoor events are held in Djurgården. Adventurous (and warmly-dressed) visitors will want to have a drink at Stockholm's permanent Ice Bar, located near the Central Station.
There is also a thriving gay nightlife in Stockholm, with many nightclubs and bars concentrated on the island of Södermalm. Stockholm Pride attracts tens of thousands of people to Stockholm in August every year, for the massive party and parade centred on Pride Park in Södermalm.
There is a busy jazz scene in Stockholm, and there is plenty of live music of all types to enjoy, with a number of popular festivals. There is something happening seven days a week, so make sure to check out online listings to plan your trip.
Stockholm is easy to navigate, with an excellent public transport system made up of buses, metro lines, trams, and ferries. The metro is generally the most convenient way of getting around the city. Tickets are valid for all types of transport and can be purchased from stations and newsagent kiosks. One and three-day passes are good deals for those planning to travel a lot. Driving in Stockholm is easy compared to most large cities, and drivers need to be aware of toll passages and an overall scarcity of parking. Walking or cycling are often the best options for sightseeing in the city centre.
The city of Stockholm has a vast selection of attractions to offer visitors. During summer there are extensive hours of daylight for sightseeing outdoors, and on winter days there are plenty of museums and galleries to visit.
Popular sightseeing attractions in Stockholm include the Royal Palace and the distinctive City Hall (Stadshuset), both of which can only be visited on a guided tour, and are well worth exploring. Skansen open-air museum is an original concept with some great historical value, and the Vasa Museum, housing the 17th-century battleship of the same name, is a favourite with visitors.
Both museums can be found on Djurgården, an island which is a hub of activity for travellers, with numerous museums, galleries, and other attractions to explore. These include the endlessly popular Gröna Lund, the oldest amusement park in Sweden.
If the weather turns, the Museum of National Antiquities is another interesting Stockholm attraction where the ancient finds can enthral visitors for hours. However, if the outdoors call, an excursion to any of the 24,000 archipelago islets will not be forgotten.
The Stockholm Card is a great investment for tourists planning to do plenty of sightseeing, allowing free admission to more than 80 museums and attractions, free travel on public transport, and much more. The card can be purchased online or bought from numerous outlets in Stockholm. However, without the card certain museums, like the Nobel Museum, are free to the public on certain days of the week.
Stockholm Archipelago
Stockholm stretches across 14 islands. But the archipelago consists of more than 24,000 islets famed for natural beauty, wildlife, fjords, and spectacular channels and straits. A highlight of any visit to Stockholm is exploring this unique natural wonderland, whether independently or on one of the many organised boat tours on offer. The standard tour is the 'Thousand Island Cruise', lasting about 11 hours, which takes you to the outer islands and allows passengers to spend time on some of the larger islands, like Namdo, renowned for its handicrafts. Those with less time to spend can opt for a shorter cruise from between two to six hours, or travel on the high speed 'Cinderella' waterjet boats that service many of the islands. DIY travellers can make use of the regular Waxholmsbolaget ferries that service the inhabited islands. B&Bs are available for those seeking a longer getaway and perhaps wanting to stay a few days to experience island life. Although most visitors opt to cruise the archipelago in the summer, there are winter cruises available that showcase the area's nature in a unique way.
Address:
Archipelago tour information is available from the Tourist Centre, Sweden House, Hamnagatan 27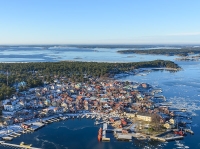 Stockholm Archipelago, Sweden Arild Vågen
Gotland
Sweden's largest island, Gotland was once an independent kingdom taken over by Denmark in the 14th century and ceded to Sweden in the 17th century. Located in the middle of the Baltic Sea, Gotland is a popular holiday destination for Swedish tourists. The medieval atmosphere of farmlands and churches and the old walled city of Visby (a UNESCO World Heritage Site) draw foreign tourists, while locals holiday at the beaches along the coast. Boat tours around the island are available to interesting locations like the karst limestone formations of Lummelunda Grottan and the dwarf forests and moors of northern Gotland and Faro. For visitors to Visby interested in the ancient history of the island, the Gotlands Museum is a must. It's a fairly small museum but boasts some fascinating picture stones and Viking relics, as well as some interactive sections geared towards children. The beautiful national park island of Stora Karlso, a 30-minute ferry ride from Klintehamn, just south of Visby, is definitely worth a visit for nature lovers; a night or two can even be spent in the lighthouse on this unspoilt gem of an island. Daytrips are easy to arrange between early May and the end of August.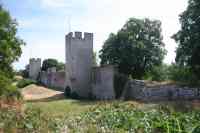 Visby, Sweden Benranton
Sala Silver Mine
Formerly a working silver mine in Vastmanland County, Sala stopped major production in 1908, and has since been transformed into something of a tourist attraction. Guided tours are conducted down the mine, which also hosts concerts and other events. There is even an unusual hotel room located several hundred metres below ground, said to be the world's deepest. There are a number of different mine tours to choose from, descending to different depths and ranging between one and three hours. Tours should be booked in advance via phone or email. It gets very cold down in the mine, with ice formations in some areas, so visitors should come prepared with warm clothes and good shoes. Some of the tours are suitable for people with limited mobility and are accessible to wheelchairs. Above ground, many buildings in Sala have been converted into shops, art galleries, and museums. The town hosts Christmas markets on weekends in December, while in July the Mine's Days are celebrated. As if mine tours weren't exciting enough, there are sometimes high wires, ropeways, hanging bridges, and other adventure activities set up at the mine, allowing visitors to have fun high in the air as well as deep underground.
Address:
Drottning Christinas väg, Sala, Sweden.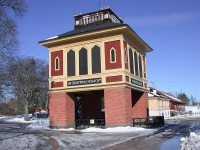 Sala Silver Mine, Sweden Riggwelter