Tourists flock each year to Sint Maarten and St Martin for onereason; the beaches. Long Bay offers peace and quiet, and perfectsunsets fromt eh abr at La Samanna's restaurant. Anse des Peres isa family friendly affair in the northwest, with legendary Full Moonparties at Kali's Beach Bar. Orient Bay, the 'Saint Tropez of theCaribbean' is the haunt of celebrities and jet-setters. GalionBeach is the domain of the surfers and windsurfers. Little Bay isbecoming a haven for bird life. Visitors can also watch the JumboJets fly low overhead as they come in to land over Maho Beach.
Marigot, the French capital, is a town of trendy restaurants andtraditional stalls, home to a lively market full of interestingcolours and smells. Philipsburg, on the Dutch side, is theduty-free shopping capital. Jewellrey and souvenir shops line themain street, and weary shoppers can recharge in the endlessrestaurants and bars. The village of Grand Case comes alive fromJanuary to April for the Harmony Nights Festival, a traditionalCaribbean celebration of gastronomy, music, arts and crafts.
Other attractions include tree-top tours in the Loterie Farm,and the colourful, soothing atmosphere of Butterfly Farm, the firstof its kind in the Caribbean. Young families will also enjoy theSint Maarten Park zoo, with over 80 species of wildlife anddedicated play area for children.
2 miles (4km) off the coast of St Martin lies Tintamere Island.This uninhabited island is wild and rocky, but has some greatswimming spots. Lucky snorkelers may even glimpse of turtles.Visitors are advised to take supplies for the day; there are noshops here.
Philipsburg Voorstraat
The Voorstraat (Front Street) faces south onto the ocean,running about half a mile (1km) east to west, and is the maindrawcard in Philipsburg for tourists. At its eastern end is WatheySquare, housing the tourist information kiosk, just a minute's walkfrom the semi-circular Great Bay Beach, and two casinos, the Rougeet Noir and the Coliseum Casino. On the north side of the square isone of the town's most impressive buildings, the white woodencourthouse topped with a cupola, built in 1793 and now serving as apost office. Just off the west of the square is the quaintMethodist church built in 1851. Farther along Voorstraat is a groupof elegant colonial houses, and at the far end is a small museumand two large marinas.
Voorstraat is also known as the best shopping area inPhilipsburg. A number of jewellery stores, perfume boutiques andelectronics shops take advantage of the island's duty-free statusto draw tourists in their droves.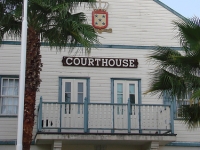 Front Street courthouse Photocapy
Historic Forts
The town of Philipsburg boasts the remains of two historic fortsthat bear witness to its one-time strategic importance for theDutch. Fort Amsterdam, the first Dutch military establishment inthe Caribbean, was built in 1631 on a peninsula between Great Bayand Little Bay, but it was captured almost immediately by theSpanish. The Spanish later abandoned it and the little fortreturned to Dutch hands, being kept in use right up to the 1950s asa signalling and communications station. Interestingly, FortAmsterdam has become an important breeding site for brownpelicans.
The other Dutch fortification, Fort Willem, lies to the west ofdowntown Philipsburg, topped with a television transmission tower.Both forts are worth the walk to visit, particularly for thepanoramic views afforded from their elevated positions.
Not to be outdone, the French have their own historic fort. FortSt Louis was built according to plans sent from France by Louis XVIin 1767 to guard the settlement from invaders. It is St Martin'slargest historical monument and looks out over Marigot. The ruinssit atop a hill, which is worth the steep 15 minute climb for thepanoramic view of the island afforded from the summit. Open 24hours a day, the area has many signs detailing important historicalevents.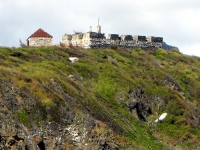 Fort Amsterdam MoToMo
St Maarten Beaches
Dutch St Maarten's prime popular beach resorts extend as aseries of sandy bays from Philipsburg along the southwest coast ofthe island, reaching a grand finale at the great spread of SimpsonBay, site of the international airport. From the headland at thewestern end of Great Bay stretches the secluded beach of Cay Bay,famed for being the spot where Dutchman Peter Stuyvesant wasinjured in battle against the Spanish. This quiet beach can only bereached by dirt road or horse trail. Further west, towards theairport, is Simpson Bay Lagoon, surrounded by resort developments.There is also a series of good beaches with fine white sand. MahoBay is St Maarten's largest beach resort, well developed withfacilities, a casino and its popular Sunset Bar. Mullet Bay, withits gentle surf and shady stretch of palm trees, is usually themost crowded beach. Cupecoy is favoured by nudists, and hasdramatic sandstone cliffs and caves.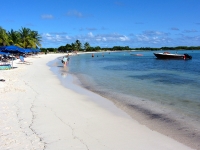 Le Galion Richie Diesterheft
Marigot Archaeological Museum
Next to the Marina Port la Royale, on the southern end ofMarigot, is a worthwhile archaeological museum, dedicated topreserving St Martin's history and culture. It houses numerousexhibits, including a variety of pre-Colombian treasures excavatedby the Hope Estate Archaeological Society and several interestingexhibitions on Arawak culture. There is also a reproduction of a1,500-year-old burial mound and ceramics dating from 550 BC. Theisland's more recent history, before tourism took hold, isencapsulated in evocative black and white photographs of quietstreets populated by a handful of children and donkeys, and oflabourers toiling in the salt industry. The museum has a small giftshop for souvenirs and is rewarding for those seeking insight intothe island's history as well as a really good tan.
Address:
Rue de la Liberté, Marigot
Archaeological Artefacts Mersey Viking
Grand Case
Fronted by a sweeping curve of beach, the little fishing villageof Grand Case, at the northern tip of St Martin, is famed for itsfine foods and distinctive style of architecture. The small woodenhouses are decorated in gingerbread style and painted pastelcolours. Numerous good restaurateurs have chosen to congregate inthe town's main street, which has become one of the finest diningcentres in the region, earning Grand Case the epithet 'GourmetCapital of the Caribbean'. Tuesdays are dubbed Harmony Nights, withlive music and entertainment spilling out into the streets. Thebeaches are also lovely, with calm, protected waters that make forsafe swimming for the whole family.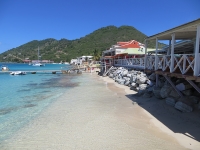 Grand Case alljengi
Paradise Peak
Paradise Peak, St Martin's highest point, rises from the centreof the island to a height of 1,390 feet (424m), and is crowned witha communications tower. Visitors can climb through thick woodstwisted with vines and full of colourful birds to reach the summit,where there are two observation decks providing spectacular viewsof the island and surrounding region (on a clear day you can seeall the way to Anguilla). Paradise Peak is a great place to stopfor a photo opportunity in St Martin, even if just for a fewminutes.
The Loterie Farm Nature Reserve is nestled on the slope ofParadise Peak, and is set on the site of a 135-acre former sugarplantation, established in 1721. The reserve has many miles ofgroomed hiking trails through the beautiful forest, where visitorscan spot local flora and fauna. 90-minute guided tours are offered,and are worth it for the fascinating historical, cultural andscientific facts given about the area. The most popular attractionat Loterie Farm is the zipline, which is divided into three zonesfor children, adults, and thrill-seekers. Visitors glide along thecanopy between centuries-old mango and mahogany trees, via a seriesof cables, ropes and suspended bridges.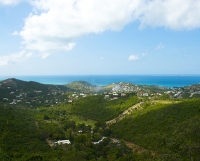 Paradise Peak Mike Roberts
St Martin Beaches
There are a number of good beaches on the French side of theisland that are very popular with tourists. Orient Beach, thelargest and most popular beach in St Martin, is known forwatersports, and borders a number of shops, restaurants and beachbars. The southern end of the beach has been reserved as a nudistresort. Prune Beach (or Plum Bay) is frequented by surfers whileRouge Beach offers great snorkelling and is regarded as theisland's most beautiful beach. Long Beach is on the border withDutch St Maarten and has little shade and generally no breeze, soit is known as a hot spot. Le Galion Beach is the island's bestwindsurfing beach and has shallow, calm waters. Anse Marcel in thenorth is usually quiet and favoured by French tourists. Friars Bay,just north of Marigot, is backed by a lagoon containing variouswaterfowl, and just north of Friars is Happy Bay, beautiful andpeaceful because of its inaccessibility. Reaching Happy Bayrequires a 10-minute uphill walk from Friars.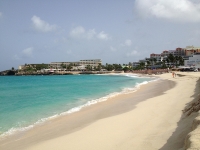 Marigot Tommy Miles
The Butterfly Farm
A popular family attraction in St Maarten, The Butterfly Farm isa large greenhouse housing more than 40 different varieties ofbutterflies and moths. Guests can take a 20-minute guided tour thatexplains the lifecycle of the butterfly and its place in theecosystem (guides are also helpful in advising which plants willattract butterflies to your garden). Guests are free to handle andinteract with the butterflies, and morning is the best time tovisit the Butterfly Farm to see brand-new butterflies emerging fromtheir cocoons. The farm is wheelchair accessible, and there aresnacks and drinks available for sale.
Address:
Le Galion Beach Road, Quartier dOrleans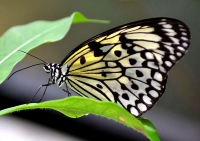 Butterfly Farm Robert Pittman
The island is sunny and warm all year round, with averagemonthly temperatures varying little throughout the year.Temperatures in coastal areas range from 72ºF (22ºC) to 86ºF (30ºC)and inland areas range between 66ºF (19ºC) and 81ºF (27ºC). Coolingwinds buffet the island throughout the year. Showers can beexpected at any time of year but rainstorms generally pass quickly.Hurricane season in the Caribbean lasts from June to November, withthe most storms occurring in September. December to May isconsidered the dry season (though rain can occur at any time ofyear), and is considered the best time to visit St Maarten and StMartin. Winter and the Christmas/New Year holidays aretraditionally the most popular time to visit the island, but summercan also be a good time to visit because lodging rates are muchlower and the beaches, roads and restaurants are not crowded.
Princess Juliana International Airport
Location:
The airport is located nine miles (15km) west ofPhilipsburg in St Maarten.
Getting to the city:
There is no public transport to and from the airport, but taxisare available and some hotels will arrange transfers.
Car Rental:
Car hire desks can be found in the arrivals area. Among thoserepresented are Avis, Hertz and Alamo.
Airport Taxis:
Taxis, regulated by the Airport Taxi Association, are availableoutside arrivals, where there is a taxi desk. Tipping isexpected.
Fascilities:
Airport facilities at Princess Juliana include a bank, ATM,restaurant, refreshments, Business Class Lounge and duty-freeshopping.
Parking
There are pick-up/drop-off areas outside the terminal, andparking is located within walking distance of the entrance. Parkingis charged at US$1 per half hour for the first eight hours, andUS$1 every two hours after that. Daily parking is US$24 and weeklyrates are US$120.
Money:
On the Dutch side the currency is the Netherlands AntillesGuilder (ANG), where one guilder is divided into 100 cents, but USDollars are also widely accepted and prices are usually quoted inDollars as well as Guilders. On the French side of the island theEuro (EUR) is the local currency, although establishments will alsoaccept US Dollars. There are numerous bureaux de change and banksthroughout the island and ATMs in the main towns in both nationalsectors. Major credit cards are widely accepted.
Language:
Dutch and English are the official languages. Localscommonly use a language known as Papiamento, a mixture ofPortuguese, African languages, Spanish, Dutch andEnglish.
Electricity:
110/220 volts, 50/60Hz. Standard, flat, two- andthree-pronged plugs, as found in the United States, areused.
Entry Requirements:
United States citizens require a valid passport. No visa isneeded for a stay of up to 90 days.
British citizens require a valid passport, but do not require avisa for a stay of up to 90 days.
Canadians must have a valid passport. No visa is needed for astay of up to 90 days.
Australians must have a valid passport. No visa is needed for astay of up to 90 days.
South Africans must have a passport valid for the period ofintended stay, and a visa for entry.
Irish nationals must have a valid passport. No visa isneeded.
United States citizens require a valid passport. No visa isneeded for a stay of up to 90 days.
New Zealand citizens must have a valid passport. No visa isneeded for a stay of up to 90 days.
Passport/Visa Note:Visa:
Travellers should note that for some nationalities visa andpassport requirements might vary between St Maarten and St Martin -specific requirements should be checked for the desireddestination. All tourists, regardless of which side of the islandis being visited, must have return or onward tickets, all documentsneeded for next destination and proof of sufficient funds.Passports must be valid for at least the length of intended stay,but six months of passport validity is recommended. As part of theWestern Hemisphere Travel Initiative (WHTI), all travellerstravelling between the United States and Canada, Mexico, Bermuda,and the Caribbean region are required to present a passport orother valid travel document to enter or re-enter the United States.If departing from the USA a valid passport will be required byimmigration authorities. It is highly recommended that passportshave at least six months validity remaining after your intendeddate of departure from your travel destination. Immigrationofficials often apply different rules to those stated by travelagents and official sources.
Travel Health:
No vaccination certificates are required for entry into eitherSt Maarten or St Martin. However, a yellow fever certificate isrequired for travellers arriving within six days from infectedareas. A vaccination for hepatitis A may be recommended by yourdoctor. The Manchionneel tree that grows all over the island,mainly along the beaches, is extremely poisonous. The sap andfruit, which look like small green apples are caustic and burn theskin. The water is safe to drink. Medical care on the island isgood, but patients are likely to be transferred to the US foranything serious. Comprehensive medical insurance is stronglyadvised.
Tipping:
On the Dutch side of the island hotel bills include a tax offive percent, and often a service charge of 15 percent. Waiters andbar staff should be tipped 10-15 percent if a gratuity is notincluded in the bill. On French St Martin hotels usually add fivepercent occupancy tax per person, but a small gratuity isappreciated for good service. Restaurants and hotels usually add aservice charge of 10-15 percent to the bill, and it is always bestto check for this before adding a tip. Taxi drivers and portersexpect to be tipped, particularly if they have handled luggage.
Safety Information:
Most visits to the island are trouble-free, however petty crimehas been increasing in recent years and visitors should refrainfrom leaving valuables unattended on beaches, in cars, or in hotellobbies. Care should be taken to keep rooms and cars locked, andvisitors should refrain from carrying large amounts of cash onthem. Burglaries and break-ins occur sometimes at resorts, beachhouses and hotels, and there have been incidents of armed robbery.Precautions should also be taken against car theft and insurancecover is advisable.
Local Customs:
Island culture on St Maarten and St Martin is very relaxed, andthere are few dress codes aside from high-end restaurants andclubs. Dressing provocatively may attract unwanted attention,however, and wearing beachwear off the beach is considereddisrespectful by some. Though many residents speak English,visitors should not assume this and a little effort to speak Frenchor Dutch is greatly appreciated.
Business:
On St Maarten/St Martin things are fairly informal, but jacketsand ties should be worn by men for meetings. English is spokenwidely throughout both the French and Dutch parts of the island andis often the language used in meetings. Business hours aregenerally 9am to 6pm Monday to Friday, with a break from12pm-1.30pm.
Communications:
The country code for St Maarten is +1 721. The code for FrenchSt Martin is +590. Phoning from one side of the island to the otheris considered to be an international call. The outgoing code forboth sectors is 00 followed by the relevant country code (e.g. 0044for the United Kingdom). City/area codes are not in use. Mobilenetwork coverage extends across both parts of the island. Internetaccess is available at internet cafes. Note, there is not wificoverage of the whole island. There are wifi hotspots in bars andcafes on the boardwalk of Philipsburg, at Oyster Pond, at Orientbeach, and in the Maho area.
Duty Free:
Arrivals in St Maarten/St Martin don't have to pay duty on anygoods. Products like tobacco, alcohol, cameras and perfume shouldbe limited to an amount needed for personal use.