The pristine beaches and emerald waters of St Lucia draw in hordes of visitors every year. The island has earned the title of world's leading honeymoon destination no fewer than eight times, and with good reason.
Most guests arrive on cruise liners at the island's main port, Castries, where they can go hunting for souvenirs at the Castries Central Market. Many then head for the white sands of Sugar Beach and enjoy snorkeling in the crystal clear waters.
More adventurous souls can enjoy a mountain bike ride beneath the dense rainforest, or brave a zip-line tour through the tree canopies. A visit to the fascinating Soufriere Volcano with its bubbling sulphur springs is not to be missed. Likewise the UNESCO-listed twin peaks of the Pitons, which await the daring hiker. Diamond Falls Botanical Gardens offers a stunning retreat from the world, with its astonishing variety of tropical fauna and flora, hot mineral springs, and rainbow coloured waterfall. The Pigeon Island National Park is also popular among tourists for its pristine beaches. For the best panoramic views of the island, visitors can head up to the old town of Vieux Fort.
Not just the domain of the newly weds, St Lucia has plenty for the whole family. Children can enjoy attractions such as the safe swimming beach of Anse Chastanet, and pirate-themed sea adventures.
Gros Islet
North of Castries lies the small, rather unremarkable fishing village of Gros Islet, a collection of dilapidated wooden homes lining narrow streets and a rather grubby beach. But come Friday night this unprepossessing town is the place to be for everyone on St Lucia, local or visitor.
The renowned Friday night 'jump-up' starts at around 10pm when the streets are blocked off, scores of vendors arrive with delicious snacks and cold beers, bars open their doors and speakers are set up on street corners. The party goes on most of the night.
Gros Islet also offers daytime activities for families. Children as young as two years old can enjoy riding at the International Riding Stables with trained guides, while older children can enjoy riding ahead, depending on their level of experience.
Children will also love the riding tour with a beach picnic at Cas en Bas, a scenic ride through the countryside and a stop on the beach for swimming and cantering through the lapping waves.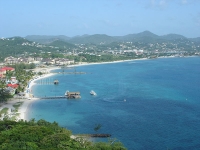 Gros Islet Lii
Pigeon Island
Pigeon Island, north of Castries, is St Lucia's first national park, reached from the mainland across a causeway. The islet has a romantic past, having been the hide-out of Jambe de Bois, the much-feared peg-leg pirate who preyed on Spanish galleons. It was also from here that Admiral Rodney set sail in 1782 to destroy the French fleet in one of the most decisive sea battles in European history.
Pigeon Island features two white sand beaches and an interpretation centre, where a multimedia display explains the local history. The centre includes the Captain's Cellar Olde English Pub, a re-creation of an 18th century English pub. The island is ideal for nature walks and has numerous marked trails which bypass historical sites, like the remains of an 18th century British fort.
Address:
Located in Gros Islet, in the northern region of Saint Lucia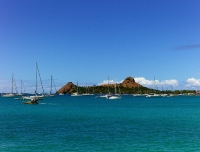 Pigeon Island Jon Callas
Soufriere
Soufriere in the south is the oldest settlement on the island, having served as the French capital in the 18th century. The deep-water port stands at the base of St Lucia's main landmarks, the two towering extinct volcanoes known as the Pitons, rising to 2,619 feet (798m) above sea level. The town itself is pretty, with a cluster of colourfully-painted arcaded buildings against the backdrop of dense jungle.
Most visitors, however, are drawn by the nearby attraction of the 'drive-in' volcano, Mount Soufriere, where it is possible to enter by car into an ancient volcanic crater filled with sulphur springs and steam geysers. Also at Soufriere are the Diamond Mineral Baths, the Diamond Waterfall and the Diamond Botanical Gardens.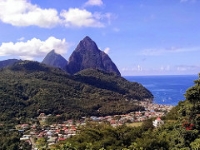 View of Soufriere Stefan Krasowski
Vieux Fort
St Lucia's second largest town is on the south coast, adjacent to the island's busy Hewanorra International Airport on the southernmost tip of the island. At St Lucia's most southerly point just outside the town is the Cape Moule, a Chique Lighthouse, which offers one of the best panoramic views of the island. The town has a beach called Anse de Sables which is popular for windsurfers. Near the beach is the Maria Islands Interpretive Centre, which contains a small natural history museum and an office where visitors can book trips to the Maria Islands about half a mile offshore.
Address:
Located in the southern part of St. Lucia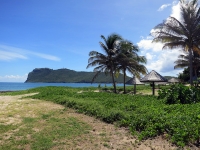 Sandy Beach, Vieux Fort Stefan Krasowski
Beaches
St Lucia may not have coral reefs, but it does have perfectly clear emerald waters and brightly coloured tropical fish, perfect for snorkelling and other aquatic activities. All of St Lucia's beaches are public and travellers can pop onto any of the island's most famous stretches of sand. Some of St Lucia's best beaches include Anse Cochon or the solitary beaches on Anse Comerette. Anse Louvet is one of the best beaches for snorkelling, while the sheltered bay at Anse Chastanet is great for younger and more inexperienced swimmers.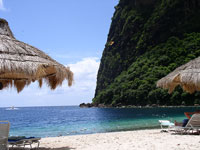 Jalousie Beach Michael Gleave
Jungle Biking
Although St Lucia's mountain bike trails may not be the easiest in the world, they are definitely some of the most beautiful. An attraction geared more towards older children and adults, jungle biking is a great way to see the island and get outdoors with the family for a fun-filled day.
Bikers will ride past the ruins of an 18th-century French-colonial sugar mill, an old church, and a reservoir. There are plenty of great locations to stop for a picnic, and seasoned bikers can take the Tinker's Trail for a thrilling ride. Children's bikes and helmets are available to rent.
Address:
Anse Chastanet Resort, Anse Mamin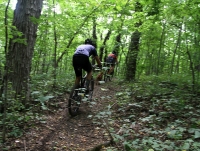 On the trail soozed
Pirates Day Adventure
Children will go mad for this exciting tour aboard the Brig Unicorn, the actual boat from the Disney movies. The 140-foot (42-metre) replica of a 19th-century tall ship takes passengers from St Vigie Cove sailing south towards Soufriere into the open waters to explore the mystical Caribbean Sea. Lucky sailors will even get to experience the ship's cannon being fired, walk the plank or swing into the sea from the ship's ropes. The ship drops anchor at Pigeon Island, where old ruins can be explored. Lunch and drinks are served on the cruise back to St Lucia. Booking is essential.
Address:
Rodney Bay Marina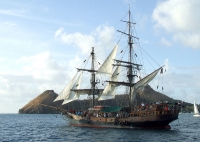 The Brig Unicorn size4riggerboots
Diamond Waterfall
Located in the Diamond Botanical Gardens, the Diamond Waterfall is a popular attraction and a great walk for the whole family. This waterfall is created by the water from the bubbling sulphur springs of the Diamond Mineral Baths and changes colours a few times a day, from yellow to black, then green and finally grey.
Address:
Diamond Botanical Gardens, Soufriere Estate, Soufriere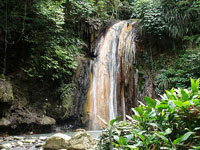 Diamond Waterfall Mary-Lynn
Castries Central Market
For cruise passengers to St Lucia, the Castries Central Market will be the first port of call for those looking to stretch their legs, do some shopping and take in some local culture. This wonderful fresh goods and produce market provides a great introduction to the vibrancy and colour of St Lucia, as well as a tasty introduction to its incredible range of fresh fruits and vegetables. There are also numerous food stalls in the Castries Market, selling local favourites such as freshly-prepared curries and jerk dishes. Across the road from the Central Market is the Vendor's Arcade, which is probably the best place to shop on the island for crafts, curios and souvenirs. Visitors looking to take advantage of duty-free deals should head to Pointe Seraphine (located on the northern end of Castries' harbour), where a modern mall offers discounted prices on items such as liquor (especially local rum), perfumes and jewellery.
Address:
John Compton Hwy, Castries City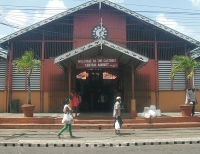 Castries Market Gene93k
Sulphur Springs
Known as the 'world's only drive-in volcano', Sulphur Springs - located near the gorgeous town of Soufriere - is a popular tourist attraction for visitors to St Lucia. Sulphur Springs is a dormant volcano (some scientists say that it is due to erupt within the next 100 years), and the on-going physical and chemical processes at the site are at once thrilling and deeply interesting to experience.
The first thing you'll notice as you approach Sulphur Springs is the overwhelming smell of sulphur in the air - in fact, the presence of sulphur is so strong in the area that you shouldn't wear any silver jewellery in case it gets discoloured. Once inside, from the safe confines of a boardwalk tourists can gawk at seething, bubbling mud pots and their 50-foot steam vents rising from the volcanic crater, and admire the strange orange, purple and green streaks left on the surrounding rock by mineral deposits.
The highlight of the visit is the chance to take a hot bath in the sulphur-enriched mud - which supposedly does wonders for your sinuses. A unique and exciting attraction, budget at least two hours to take it all in.
Address:
Sulphur Springs Access Rd, Soufriere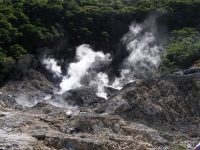 Sulphur Springs WikiEK
The Pitons
The Pitons - two volcanic plugs that stand like sentinels on the headland outside the St Lucian town of Soufriere - are not only UNESCO World Heritage Sites, but provide active visitors with a glorious opportunity to do some hiking in what are uniquely picturesque surrounds.
Gros Piton, with an elevation of about 2,500 feet (770m), is the more popular to climb, as it is not as steep at Petit Piton, and boasts a richer variety of plant and animal life as well as superior views from its summit. The trail that leads up Gros Piton begins at an elevation of about 600 feet (180m), and ascends quite sharply through dense tropical vegetation, broken here and there by cool caves and rocky outcrops that provide outstanding views of Petit Piton rising from the expanse of the Caribbean Sea below.
The climb takes about four or five hours in all, and can be undertaken by fit visitors with little or no mountaineering experience. Local guides, trained in emergency medical procedures, are available for hire and will enrich your hike by pointing out interesting flora and fauna along the way.
Address:
The Pitons are linked by the Piton Mitan ridge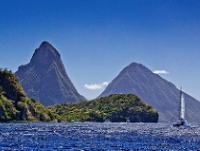 The Pitons cjuneau
The climate in Castries is tropical, featuring hot and humid weather year-round, which is sometimes cooled slightly by trade winds. June to November sees the highest rainfall in Castries. The best months to travel there are from December to May, when temperatures average around 27°C (80°F).
Like all Caribbean islands, St Lucia enjoys a hot, tropical climate throughout the year. The average daily temperatures of 80°F (27°C) tend to be tempered by trade winds. The driest time on the island is between January and March but showers can occur throughout the year, however they are usually over quickly. Hurricane season is generally from June to November.
Hewanorra International Airport
Location:
The airport is located 34 miles (56km) from Castries, on the southeastern tip of the island.
Getting to the city:
The airport is situated on the main highway running north to south on the island, and is served by all taxi companies on the island. The trip to Castries takes about an hour. Local buses are also available but services are infrequent.
Car Rental:
Car hire companies represented at the airport include Avis, Hertz and Alto.
Fascilities:
The airport has a few shops and bars, an ATM and currency exchange services. There are good facilities for disabled passengers.
Parking
The airport has parking spaces for up to 250 cars.
Money:
The unit of currency in Saint Lucia is the East Caribbean Dollar (XCD), which is tied to the US Dollar. The EC$ is divided into 100 cents. US dollars are also accepted at most tourist establishments and ensure a better exchange rate. ATMs are available in Castries, Rodney Bay, Soufriere and Vieux Fort. Banks are open Monday to Friday from 8am to 2pm, some are open till 5pm. Major credit cards are accepted at all large hotels, shops and restaurants. Most hotels will exchange foreign currency, and there are change bureaux in Castries.
Language:
English is the official language, but St Lucian Creole is widely spoken.
Electricity:
240 volts, 50Hz. Three square-pin plugs are standard.
Entry Requirements:
US citizens require a passport valid for the period of intended stay in St Lucia. US citizens don't require a visa for stays of up to six weeks.
UK citizens must hold a passport valid for the period of intended stay. UK citizens don't require a visa for stays of up to six weeks.
Canadian citizens require a passport valid for the period of intended stay in St Lucia. Canadian citizens don't require a visa for stays of up to six weeks. Stays can be extended for up to a maximum of one year.
Australian citizens must hold a passport valid for the period of intended stay. Australian citizens don't require a visa for stays of up to six weeks.
South African citizens must hold a passport valid for the period of intended stay. South African citizens don't require a visa for stays of up to six weeks.
Irish citizens must hold a passport valid for the period of intended stay. Irish citizens don't require a visa for stays of up to six weeks.
US citizens require a passport valid for the period of intended stay in St Lucia. US citizens don't require a visa for stays of up to six weeks.
New Zealand citizens must hold a passport valid for the period of intended stay. New Zealand citizens (except those with a passport issued by the Cook Islands) don't require a visa for stays of up to six weeks.
Passport/Visa Note:Visa:
Visitors must hold documents for the next destination, return or onward tickets and sufficient funds. As part of the Western Hemisphere Travel Initiative (WHTI), all travellers travelling between the United States and Canada, Mexico, Bermuda, and the Caribbean region are required to present a passport or other valid travel document to enter or re-enter the United States. It is highly recommended that passports have at least six months validity remaining after the intended date of departure from St. Lucia. Immigration officials often apply different rules to those stated by travel agents and official sources.
Travel Health:
There are few health risks associated with travel to St Lucia, although the mosquito-carried dengue fever is a risk throughout the island. HIV/AIDS is prevalent and precautions are always advised. Bilharzia is endemic. No vaccinations are required, however a yellow fever certificate is necessary for travellers arriving from infected areas. Health care costs are high on the island and health insurance is recommended, which should cover medical evacuation. EHIC card holders are entitled to emergency medical treatment in the case of evacuation to Martinique, on the same terms as Martinique nationals, of which 70 percent of the costs can be reclaimed.
Tipping:
A service charge is not automatically added to bills and about 10 percent of the bill is expected. Taxi drivers, porters and chambermaids also expect small tips.
Safety Information:
Most visits to St Lucia are trouble-free, but visitors should take common-sense precautions against robbery and theft. Isolated areas, such as beaches, should be avoided after dark. Hurricane season is generally from June to November.
Local Customs:
It is an offence for anyone to dress in camouflage clothing. Homosexuality is illegal.
Business:
Due to its popularity as an offshore banking location, business dress in St Lucia requires a level of formality. Handshakes for both men and women are the common form of greeting at the beginning and end of meetings, and business cards are usually exchanged. Business hours are generally 8am to 4.30pm throughout the week and 8.30am to 12.30pm on Saturdays.
Communications:
The international access code for St Lucia is +1 758. The outgoing code is 011 followed by the relevant country code (e.g. 01144 for the United Kingdom); the outgoing code is not needed for calls to Canada and the US. City/area codes are not in use. There is wifi access in St Lucia, but the connection speeds can sometimes vary. Most accomodations and restaurants have wifi access. Network providers such as Digicell offer sim cards with local calling plans or calling/data plans, which are a good, inexpensive option if you cannot connect to wifi.
Duty Free:
Travellers to St Lucia, over the age of 18, may bring in 200 cigarettes, 50 cigars or 225g tobacco, 1.2 litre wine or spirits, and other gifts or souvenirs to the value of $250 without paying customs duty.