Saint Kitts and Nevis makes provision for both beachgoers and outdoor enthusiasts. The beaches are the main drawcards, with visitors enjoying the dual pleasures of both the Caribbean and Atlantic Oceans.
Favourites include Frigate Bay South, where the Strip operates as the island's prime nightlife and entertainment hub. There's also the seldom crowded Frigate Bay North, while Majors Bay is a pristine golden shore with calm waters. Visitors are also enticed by Pinney's Beach on Nevis, widely acknowledged as one of the best beaches in the Caribbean.
Oualie Beach on Nevis is a magnet for celebrities, while also being ideal for scuba diving and other water sports. Pump Bay and Belle Tete Beach offer something different, sought after for their black and grey sand.
Mount Liamuiga and Mount Nevis are ideal for those looking for outdoor adventure, while the Royal St. Kitts Golf Club offers a getaway for avid golfers. Those who are only in the country for a day should consider doing a circuit on the Scenic Railway, which takes in a lot of the island scenery. Finally, history buffs may be interested in the UNESCO-listed Brimstone Hill Fortress and Alexander Hamilton House.
Basseterre
The capital of Saint Kitts and Nevis, Basseterre is one of the oldest towns in the eastern Caribbean. Founded in 1627, it retains a certain architectural charm from its period of British and French colonisation. Basseterre is located on the southwestern coast of St Kitts island and is still one of the chief commercial depots of the Leeward Islands. Basseterre is the most common entry point to Saint Kitts and Nevis for travellers arriving by both air and sea. The town has a rather tragic history, punctuated by colonialism, battles, fires, earthquakes, and hurricanes. Historic buildings are spread throughout, with many of the old structures surviving these perils to the present day.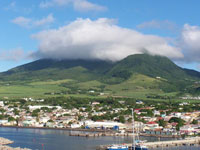 Bassaterre J. Stephen Conn
Brimstone Hill Fortress
Nicknamed the 'Gibraltar of the West Indies', the striking Brimstone Hill Fortress sits atop an 800-foot (244m) rise and is protected by 49 guns and immense walls. Built largely by African slaves, it took nearly ten decades to complete since construction first began in 1690. The scale and grandeur of this UNESCO World Heritage Site is representative of the historic importance of Saint Kitts during the 17th and 18th centuries. Today, the complex affords incredible views from its commanding position and houses a small museum.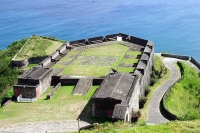 Brimstone Hill Fortress Ukexpat
Frigate Bay Peninsula
If Saint Kitts can be described as a tennis racquet-shaped island, the Frigate Bay Peninsula is the narrow handle stretching down towards Nevis. It connects the racquet head to the widened end of the handle to the southeast. The peninsula is unique in that it offers beaches on both the Atlantic and Caribbean coasts. South Frigate Bay on the leeward side offers calm waters ideal for swimming, snorkelling, and a variety of water sports activities. Alternatively, North Frigate Bay on the Atlantic Coast is battered by waves perfect for bodysurfing and is one of the most scenic beaches on the island. As a result, it has also attracted most of the resort and hotel development along the coast.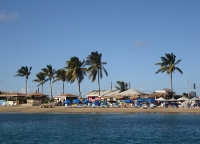 Frigate Bay maggiejp
Pinney's Beach
Pinney's Beach is one of the best beaches in the Caribbean. The epitome of paradise, its fine white sands are backed by palm trees and lapped by calm Caribbean waters. Lying within convenient distance of Charlestown, Pinney's Beach has a few casual restaurants and beach bars, and is the closest thing Nevis has to a party beach, although the length of the beach ensures that a secluded spot can always be found. The four-mile (6km) stretch of sand is never crowded and entertains a beautiful lagoon, with ideal conditions for swimming. However, Pinney's Beach is not ideal for scuba diving and snorkelling as the water can be quite murky.
Address:
Near Charlestown, half a kilometer from The Narrows strait.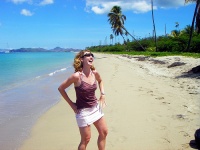 Fun on Pinney's Beach ToddonFlickr
Mount Liamuiga
The highest point on Saint Kitts, Mount Liamuiga is a dormant volcano topped by a 0.6-mile (1km) wide crater lake. Formerly called Mount Misery, the name Liamuiga means 'fertile land' in the native Kalinago language. The slopes of the mountain are covered in farmland and lush tropical rainforest, and are popular places for hiking in Saint Kitts. Guided hikes usually start from Belmont Estate in the village of St Paul's and go up to the summit, which has panoramic views of the Caribbean, including the islands of St Barths, St Martin, Antigua, and Nevis.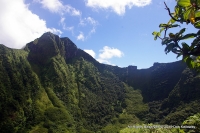 Mount Liamuiga Don Kelloway
Sandy Point
Sandy Point Town is the second-largest on Saint Kitts, with a population of just more than 3,000 people in the surrounding area. Thought to be the original landing point for English explorer Sir Thomas Warner in 1623, Sandy Point was the commercial centre of the island until the 18th century when most business was moved to Basseterre. These days, Sandy Point is an industrial centre and tourist attraction, located at the entrance to Brimstone Hill National Park. There are some excellent beaches around Sandy Bay, including the shiny black sand beach of Pump Bay, offering good scuba diving and snorkelling opportunities, and Belle Tete, which is near the La Valle estate.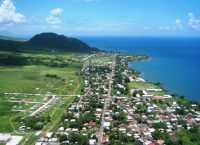 Sandy Point Jensonmorton
Oualie Beach
Oualie (pronounced wah-lee), meaning 'beautiful waters', was the original name of the island of Nevis, and the pretty stretch of sand known as Oualie Beach lives up to its name. Located on the northern shore of the island, Oualie Beach boasts fine yellow sand and sheltered waters that are ideal for swimming. The area also makes a good base for a holiday on the island of Nevis, with the excellent Oualie Beach Resort providing top-class accommodation in the picturesque bay. Oualie Beach is home to fun activities, with water taxis, scuba diving, snorkelling, fishing, mountain biking, and windsurfing easily organised from its pleasant dock area.
Address:
Located on the northwest tip of Nevis.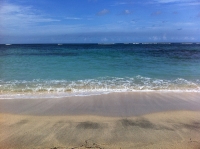 Beach, Nevis Meghan E. Patterson
Scenic Railway
One of the most popular tourist activities on the island, the St Kitts Scenic Railway is a must for first-time visitors to the Caribbean. It is a fantastic way to experience the beautiful scenery of the island, as well as its history of a major sugar producer in the 17th and 18th centuries. The St Kitts Scenic Railway takes visitors on a three-hour tour of the island, following a 30-mile (48km) circular track. The narrow-gauge train is unique in that it has two levels: an open-air observation deck on the top offering panoramic views, and an air-conditioned parlour below, where complimentary beverages are served throughout the trip. As the train rolls by sugar cane fields, traditional villages, and great sights such as Brimstone Hill Fortress, friendly tour guides contribute to your understanding of St Kitts by sharing anecdotes about the island and snippets of its colonial history. Cruise passengers should note that tickets for the Scenic Railway can be booked while on board most cruise ships.
Address:
The train departs from Needsmust Station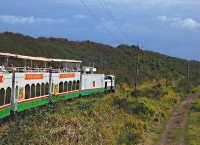 Scenic Railway Jeremy T. Hetzel
The Strip
The Strip is the area immediately surrounding Frigate Bay. It is the beating heart of the island when it comes to nightlife and entertainment options. However, visitors should not expect neon lights or chic buildings. Rather, a closer guess would be a series of unpretentious beach shacks located a mere stone's throw from the ocean. Visitors can rest assured that what the Strip lacks in glitz, it more than makes up for in spirit, with numerous bars and clubs offering live music, DJs, fire-eating performances, bonfires, and a steady supply of cold rum cocktails to fuel your dance moves. Although restaurants and bars can be found on some of the most popular beaches, the Strip is the natural entertainment hub for those in search of fun on St Kitts.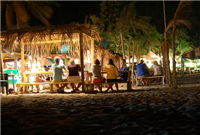 Beach Bar, Frigate Bay Jeremy T. Hetzel
Dive Sites
As with all Caribbean destinations, one of the most popular things to do on Saint Kitts and Nevis is to try your hand at some scuba diving or snorkelling. The calm, clear waters of the Caribbean Sea, not to mention its spectacular coral reef formations and its abundant marine life, make it a wonderful diving and snorkelling destination for beginners and experts alike. For those new to diving, Monkey Shoals and Friars Bay Reef provide a gentle introduction to the undersea wonders of Saint Kitts and Nevis, with plenty of reputable diving companies offering full training and guided excursions into the depths. For intermediate-level divers, Sandy Point on Saint Kitts is a National Marine Park known for its beautiful coral heads and colourful sea life. Those who prefer the excitement of wreck-diving can explore the remains of ships such as River Taw, M.V. Talata, and the recently sunk Corinthian. Experienced divers will enjoy the challenge of Nags Head's strong currents and Aquarium, famous for its range of tropical fish.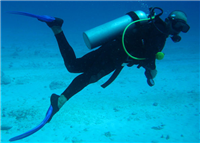 Scuba Diving Soljaguar
Money:
The official currency is the East Caribbean Dollar (XCD), which is divided into 100 cents. It is tied to the US dollar at a rate of US$1=EC$2.70. Most businesses accept US Dollar notes as payment, but change is given in EC$. Major credit cards are widely accepted, and major currencies can be exchanged at banks, with US Dollars the cheapest to exchange. Most banks are closed on weekends, but provide 24-hour ATM services.
Language:
English is the official language.
Electricity:
Electrical current is 230 volts, 60 Hz, but a 117-volt supply is available in most hotels. Round three-pin plugs and three-pin rectangular blade plugs (as in the UK) are in use.
Entry Requirements:
United States citizens must have a passport valid for at least six months beyond period of stay. A visa is not required for stays of up to six months.
UK nationals require a passport valid for at least six months beyond period of stay, but no visa is necessary for a stay of up to three months.
Canadians require a passport valid for at least six months beyond period of stay. A visa is not required for a stay of up to six months.
Australians require a passport valid for at least six months beyond period of stay, but no visa is necessary for a stay of up to 90 days.
South Africans require a passport valid for the intended period of stay, but no visa is required for visits of up to 90 days.
Irish nationals require a passport valid for the intended period of stay, but no visa is required for a stay of up to 90 days.
United States citizens must have a passport valid for at least six months beyond period of stay. A visa is not required for stays of up to six months.
New Zealand nationals require a passport valid for the intended period of stay, but no visa is required for a stay of up to 90 days.
Passport/Visa Note:Visa:
Although a maximum stay of either three or six months is indicated in official requirements, essentially immigration officials will decide how long visitors are legally allowed to stay in St Kitts and Nevis upon arrival. Visitors are recommended to hold confirmed return or onward tickets, all documents needed for next destination and sufficient funds to cover their stay. As part of the Western Hemisphere Travel Initiative (WHTI), all travellers travelling between the United States and Canada, Mexico, Bermuda, and the Caribbean region are required to present a passport or other valid travel document to enter or re-enter the United States. If departing from the USA a valid passport will be required by immigration authorities. It is highly recommended that passports have at least six months validity remaining after your intended date of departure from your travel destination. Immigration officials often apply different rules to those stated by travel agents and official sources.
Travel Health:
No vaccinations are required for travel to the islands, but a yellow fever certificate is required from visitors travelling from a yellow fever infected country. Medical facilities are adequate, but limited, and travel insurance is essential. This should include emergency air evacuation, with most travelling to Miami or Puerto Rico for more complex procedures.
Tipping:
A 10 percent service charge is usually included in hotel and restaurant bills, otherwise it is customary to leave 10 to 15 percent of the bill, depending on the service. Taxi drivers can receive a tip of around 10 to 15 percent.
Safety Information:
Although most visits to the islands are trouble-free, visitors should still guard against robbery and other crimes of opportunity. Valuables should be left in hotel safes where possible and remote places, particularly beaches, should be avoided, especially after dark. Hurricane season normally runs from June to November.
Local Customs:
Wearing camouflage clothing in Saint Kitts is illegal, as is nudity on beaches. Sadly, homosexuality is illegal, while the penalties for drug-related offenses are severe.
Business:
Business in Saint Kitts and Nevis is conducted in a relatively informal manner, but fairly formal dress is expected despite the heat. Handshakes for both men and women are the common form of greeting, and business cards should be exchanged immediately after being introduced. Business hours are generally 8am to 4pm Monday to Friday, with an hour taken at lunch.
Communications:
The international dialling code for St Kitts and Nevis is +1 869. The outgoing code is 1 for the Caribbean, USA and Canada, and 011 for all other international destinations followed by the relevant country code (e.g. 01127 for South Africa). City/area codes are not in use.
Duty Free:
Travellers over the age of 18 may import 200 cigarettes or 50 cigars or 250g tobacco, and 1.5 litres of wine or spirits without paying customs duty.