Tourist attractions in Sri Lanka have accumulated over a long and interesting history, leaving many things to see including seven UNESCO World Heritage Sites. Sri Lanka's history can be experienced at the fascinating ancient sites of Anuradhapura, Polonnaruwa, Sigiriya, Dambulla and Panduwasnuwara. The National Museum in Colombo is a good stop for those passing through the city as it houses a variety of artefacts illustrating Sri Lanka's complex culture and history. The complexity of this multi-cultural country is also apparent elsewhere in the capital city, like in the Pettah Bazzar district where exotic smells and goods are traded. Calmer attractions in Sri Lanka include the lovely seafront in Galle, a coastal town very popular with tourists, or the peaceful lake city of Kandy, which has many historical attractions.
For those keen to leave the cities and towns altogether, attractions include treks into Yala National Park and up Sigiriya or Adam's Peak. Of course, many prefer Sri Lanka's beautiful sandy beaches, which stretch hundreds of miles, to any amount of sightseeing. The best beach destinations in Sri Lanka include the picturesque fishing village of Marawila, on the northwest coast, the resort town of Negombo, on the west coast, and the gorgeous Weligama Bay, in the south.
Colombo National Museum
Sri Lanka's oldest museum was established in 1877 and today boasts a massive collection of antiques and objects d'art, encompassing the cultural heritage of the island. Exhibits include artefacts from archaeological sites all over Sri Lanka, and more than 4,000 ancient palm leaf manuscripts. Sri Lanka boasts some remarkable ancient sites and this historical wealth is reflected in the museum.
Among the exhibits is displayed the regalia of the Kandyan Kings dating back to the 17th century. Although the museum is not quite what you would call world-class, it does contain some genuine treasures and should fascinate visitors interested in the art and culture of Sri Lanka. The collection is housed in an imposing and attractive white building and set in lovely grounds. Alongside the archaeological museum is the Natural History Museum, which features the island's fauna and flora in dioramas.
The dual museums are a good introduction for visitors interested in discovering the culture and history of the island. Photographs are allowed in the National Museum, but only if visitors pay a small extra fee for a photography permit. There is a cafe and a craft shop in the museum grounds as well.
Address:
Sir Marcus Fernando Mawatha, Colombo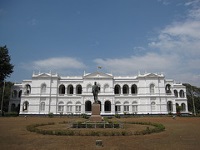 Museum Stefan Krasowski
Pettah
Colombo's bazaar district, Pettah, presents a real treat for shopaholics who can wander through the hustle and bustle of whole streets dedicated to selling a particular type of merchandise, from local handicrafts to fresh produce. The markets will not be to everybody's taste; Pettah is a sensory overload and the sheer quantity of merchandise, and crowds of people, make it difficult to find good quality items.
Bargaining is essential as foreigners tend to be overcharged. The quoted price will be at least double what locals would be expected to pay. The area was once an exclusive residential area filled with stately homes and large gardens in gas-lit streets. A relic of the colonial era, the Dutch House Museum, is open to the public on Prince Street. The mansion house dates from the 17th century and was the residence of Count August Carl Van Ranzow. It has now been restored and stands among the traders and boutiques as a museum displaying the life and times of the Dutch occupation, its exhibits including furniture, ceramics, coins and all the trappings of daily life at the time. Another landmark is the Jami Ul Alfar Mosque, one of the oldest mosques in Colombo.
Note: Beware of pickpockets!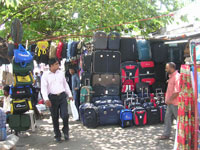 Pettah mikecogh
Dehiwala Zoological Garden
Colombo's zoo has a fine collection of animals, birds, reptiles and fish from all over the world, but in particular showcases the fauna of the island. The complex includes an aquarium, displaying more than 500 varieties of aquatic life. There is also a walk-through aviary, reptile enclosure and butterfly park. One of the most popular attractions at the zoo is the daily elephant show, which takes place at about 5.15pm.
Another favourite feature is the sea lion show, which is great fun for kids. Animals in the park include hippos, flamingos, kangaroos, lemurs, monkeys, orangutans, leopards, lions, otters, raccoons, rhinos, giraffes and tigers. The zoo has a good selection of animals and receives great reviews from some visitors, but those animal lovers accustomed to spacious European and American zoos may be disconcerted by the size of the animal enclosures. The zoo is undergoing improvements and renovations currently which may make a difference.
Nevertheless, families travelling with children should enjoy the zoo if they have a few hours to kill in Colombo. The zoo is extremely popular with locals and it is a good idea to get there early in the morning to avoid the crowds and to see the zoo at its cleanest and best.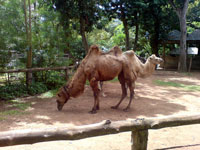 Camels at Colombo Zoo Duminda Jayasena
Anuradhapura
The remains of the ancient city of Anuradhapura are situated about 130 miles (205km) north of Colombo, standing majestically in the jungle that for generations hid away the palaces, monasteries and monuments, which have been there since the third century BC. The ancient city was capital of the island for more than 10 centuries, until an invasion in the year 993; the city is said to have been founded around a fig tree grown from a cutting of Buddha's 'tree of enlightenment'.
The remains visible today consist of several magnificent dagobas (domes built to enshrine sacred relics), sculptures, carvings, ruined palaces and monasteries, bathing ponds and irrigation tanks. The city once had one of the most complex irrigation systems of the ancient world and the reservoir tanks still visible today are some of the oldest surviving in the world. Since the rediscovery of the ancient, ruined city by the British in the 19th century, Anuradhapura has been a Buddhist pilgrimage site as well as an attraction for travellers.
Thought to be the one of the oldest surviving historical trees in the world, the Jaya Sri Maha Bodhi is said to be a sapling from the tree under which Buddha attained enlightenment. The tree was planted in 288 BC, on a high terrace roughly 21 feet (6.5m) above the ground, and is surrounded by a prayer flag-festooned wall built by King Kirthi Sri Rajasingha to protect it from wild elephants. Located in Anuradhapura, the Sri Maha Bodhi is a pilgrimage site for thousands of Buddhist devotees who come to make offerings during the full moon. Visitors must remove shoes and hats before entering the site.
Tourist facilities and hotels are available in the nearby 'new town' of Anuradhapura. A recommended way to view the many scattered archaeological treasures is to hire a bicycle, or travel between sights on a tuk-tuk.
Opening time:
Daily 8am-5pm.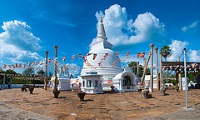 Anuradhapura Aitor Garcia Viñas
Kandy
The relaxed and peaceful atmosphere of Kandy, in the heart of Sri Lanka's hill country, is probably the result of being beautifully situated around a tranquil lake in a bowl of hills. It is a colourful, unique city, which resisted Portuguese and Dutch colonisation for three centuries before finally succumbing to the British. The town is the bastion of the island's pervasive Buddhist faith, and plays host to the country's most venerated religious relic, the sacred tooth of Buddha.
The octagonal Dalada Maligawa, or Temple of the Tooth, attracts hundreds of pilgrims to daily ceremonies honouring the relic, and each year in July and August the tooth is carried in procession on an elephant during the ancient Esala Perahera parade. According to legend, the tooth was taken from Buddha as he lay on his funeral pyre and was smuggled to Sri Lanka hidden in the hair of a princess in the 4th century. Visitors can't actually see the tooth as it's in a casket, but the temple is an interesting place all the same. The ancient city also sports a good museum, the lovely Peradeniya Botanical Gardens, a bird sanctuary and an auditorium where folk dances are performed and local crafts are on display. Kandy has a cooler, milder climate than much of Sri Lanka due to its altitude.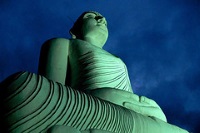 Kandy john t
Wewurukannala Temple
Not all Buddhist temples are ancient, nor are they all conservative affairs. The colourful and modern Wewurukannala Temple at Dikwella village near Matara is quite an eyeful, featuring hundreds of brightly painted and gilded models depicting scenes from the life of Buddha and numerous murals. There is also a Buddha effigy that is one of the world's tallest, equalling the height of a five-storey building, which visitors can ascend to enjoy the view from the top.
The Buddha statue is the biggest in Sri Lanka, and other attractions at the temple include a resident elephant, a colourful Image House containing statues of gods and royalty, and the frightening Hall of Sin, which illustrates what is in store for the less-than-righteous in the Buddhist version of hell. Although it is an active temple and tourists should be respectful of worshippers, the temple complex is also full of various touts and salesmen trying to sell things and services to visitors. Those wanting to avoid the crowds should visit early in the morning.
The temple is a short drive from both Dikwella and Matara and can be reached by tuk-tuk - travellers should be sure to negotiate a price before setting off!
Address:
Dikwella, Sri Lanka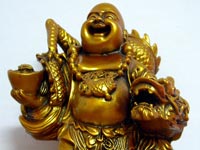 Laughing Buddha Sudarshan V
Yala National Park
Elephants are the most frequently spotted inhabitants of the vast Yala National Park (also known as Ruhunu), in the southeast of Sri Lanka, east of Matara, but they share the reserve with 130 different species of birds and other creatures like sambhur, spotted deer, sloths, crocodiles, monkeys, wild boar and porcupines. There is also a large concentration of leopards in this, the country's oldest protected area.
Most of the reserve is open parkland, but it also contains jungle, beaches, lakes and rivers. The park is somewhat remote, the nearest town being Tissa, and is situated about 120 miles (193km) from Colombo. Yala is also dotted with a number of fascinating archaeological sites, like the Magul Maha Vihara ruins, dating from the 1st century BC.
Yala National Park was closed for several years due to political conflict in Sri Lanka, but two of the five sections of the part have now re-opened to the public. It is the most visited and the second largest park in the country and is very popular with foreign visitors. The park is almost always explored as part of a safari (a 4x4 vehicle is required to traverse the roads) and the entrance fee includes the services of an animal tracker.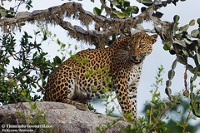 Leopard at Yala Thimindu Goonatillake
Galle
The port town of Galle, about 60 miles (100km) south of Colombo and a short distance west of Matara, is steeped in the heritage of the Dutch presence in Sri Lanka, and is dominated by the 36-hectare (89-acre) Dutch Fort, originally built by the Portuguese in 1588, with its massive ramparts on a promontory. Galle is a delightful and unexpected mixture of dilapidated colonial history and exotic, tropical beauty.
Inside the walls of the fort, which has been declared a UNESCO World Heritage Site, is the oldest part of Galle, with Dutch homesteads, museums and churches, as well as Amangalla (formerly known as the New Oriental Hotel), originally the home of the Dutch governors. Galle is home to a creative community and has attracted many foreign artists, writers and poets.
Inside the fort there are many galleries, boutiques and craft shops to investigate, and many travellers choose to spend a few nights in the fort, which is at once an interesting historical monument and a thriving modern centre. Galle has a small beach, but most sun-lovers find better beaches a little out of town along the coast road.
Getting to Galle from Colombo is a treat, because both the train and bus routes wind along the coast, offering gorgeous views. It takes between two and four hours to get to Galle from the capital by bus or train.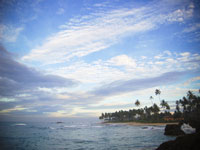 Galle Hash Milhan
Beaches
The southern beaches of Sri Lanka are the most popular for tourists, with the main season extending from October to April when the monsoon has moved on and the sea is calm and tranquil under bright blue skies. Bentota is one of the loveliest resorts on the coastal road, featuring good hotels, water sports and a picturesque beach at the river mouth.
Scuba divers enjoy Hikkaduwa, where there is a marine sanctuary abundant with coral and tropical fish, and the Kirinda Beach, just south of the town of Tissa, which also offers spectacular underwater sights. Close to the popular tourist resort town of Galle is Unawatuna, with its beautiful stretch of safe sandy beach. At Kudawella a novel feature is a blowhole that throws huge columns of water into the air whenever waves break on the rocks. For those who prefer small guesthouses and empty beaches over resorts, Koggala, Mirissa, Dikwella and Tangalle all remain relatively undiscovered beach areas.
The southern coastline of Sri Lanka was seriously damaged in the 2004 tsunami and it took many years for certain areas to be rebuilt, but the tourist resorts have all fully recovered and there is no longer much evidence of the catastrophe which marked the region for so long.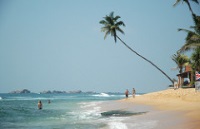 Hikkaduwa imagebang@gmail.com
Sigiriya
Sigiriya is an important Buddhist site in central Sri Lanka, about 100 miles (161km) northeast of Colombo. The remains of an ancient royal fortress and city dating from 477 AD stand on a vast rock, which rises 600ft (180m) above the surrounding plain. King Kasyapa built it to safeguard against attack from his brother, Mogallana from whom he had stolen the throne after having killed their father.
The only way into the city is through the massive carved jaws of a lion - the name Sigiriya is taken from 'giriya', meaning 'jaws and throat' and 'sinha' meaning 'lion'. The site is one of the best-preserved first-millennium city centres in Asia and is also renowned for its 5th-century rock paintings and its magnificent, symmetrical water gardens. Visitors should note that getting to the flat summit and fortress requires climbing about a thousand steps, and it is a good idea to bring plenty of water and to avoid doing the climb at the hottest time of day.
There is a museum, outside the main entrance, housing some artefacts from the site, reproductions of some of the art, and photos of the excavation process. Sigiriya is an expensive attraction by Sri Lankan standards, but it is a remarkable and fascinating place and undoubtedly one of the country's greatest historical treasures.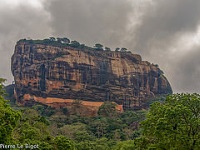 Sigiriya Pierre Le Bigot
Dambulla Cave Temples
Sri Lanka's Buddhist heritage is nowhere as evident as in the Golden Temple of Dambulla, a UNESCO World Heritage Site. A sacred pilgrimage site for 22 centuries, this cave-temple is the best preserved of its kind in Sri Lanka. The temple encompasses five separate caves, each housing ancient statues and artwork of the Buddha. The statues vary in size up to 50 feet (15m) tall and there are also incredible painted murals on the walls.
The largest cave, the Cave of the Great Kings, holds 56 statues, and others dedicated to Hindu gods such as Vishnu and Saman dating back to the 12th century. Another cave has more than 1,500 paintings covering the ceiling. The temples and caves are one of Sri Lanka's most spectacular tourist attractions, and are attached to a functional monastery dating back to the third century BC.
The site also includes evidence of human occupation going back to the prehistoric period. Lots of monkeys frequent the temple complex and they can be cute and entertaining, but tourists should treat the animals with respect as they can and will bite if they feel threatened. The climb to the caves can be tiring, especially in the heat, and may not be manageable for people with mobility issues.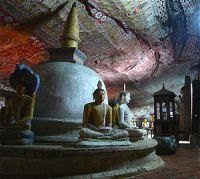 Dambulla Cave Temples Lankapic
Sri Lanka has a tropical climate, characterised by distinct wet and dry seasons, but virtually no distinction between the seasons as far as temperature is concerned: Sri Lanka is always hot and humid. The island's weather is a little complicated, however, since it has two monsoon seasons. In the southwestern half of Sri Lanka, the Yala Monsoon brings heavy rain from May to August, with the dry season lasting from December to March; the Maha Monsoon, on the other hand, brings rain to the northern and eastern parts of the island from October to January, with the dry season lasting from May to September. Note that the southwest receives a lot more annual rainfall than the north and east, and that an intercontinental monsoon period can also see rain fall across the island in October and November. The average temperature in Colombo and other coastal regions is 81°F (27°C).
Generally, the best time to visit Sri Lanka is from December to March for the west and south coasts and the Hill Country; and from April to September for the ancient cities region and the east coast. Peak tourist season is from December to March, when many visitors head to Sri Lanka to escape the European winter.
Bandaranaike International Airport
Location:
The airport is situated 20 miles (32km) from the city of Colombo.
Getting to the city:
Most hotels and tour operators offer transport from the airport; if possible travellers should confirm in advance. Buses and taxis are available, and there is a train station close to the airport, but visitors are advised to arrange their own transportation.
Car Rental:
Cars can be hired with a driver through most tour operators, otherwise car rental agencies such as Sixt and Europcar are available.
Fascilities:
Facilities at the airport include a bank, post office, business lounge, restaurants, snack bars, a bar and a duty-free shop.
Parking
There are two main parking lots at Colombo Bandaranaike Airport: the terminal lot is more expensive, while the remote lot, located 300 metres from the terminal, charges substantially less. There are additional charges for vans, double cabs and jeeps.
Money:
The unit of currency is the Sri Lanka Rupee (LKR), which is divided into 100 cents. Major credit cards are widely accepted in major cities. ATMs are becoming more common, but outside the main cities they are unlikely to accept international cards. Credit cards should be used with caution due to the potential for fraud. Foreign currency can be exchanged at bureaux de change, banks and hotels. Banks are closed on Sundays.
Language:
Most people speak Sinhala, which is the national and official language. Tamil is also spoken, and English is spoken at most tourist establishments.
Electricity:
Electrical current is 230 volts, 50Hz. Round, three-pin plugs are used.
Entry Requirements:
US nationals require passports valid for at least six months on arrival. A visa is required and can be purchased by tourists on arrival for a stay of 30 days. Extensions for an additional 150 days are possible.
UK nationals require passports valid for at least six months on arrival. A visa is required and can be purchased by tourists on arrival for a stay of 30 days. Extensions for an additional 150 days are possible.
Canadian nationals require passports valid for at least six months on arrival. A visa is required and can be purchased by tourists on arrival for a stay of 30 days. Extensions for an additional 150 days are possible.
Australian nationals require passports valid for at least six months on arrival. A visa is required and can be purchased by tourists on arrival for a stay of 30 days. Extensions for an additional 150 days are possible.
South African nationals require passports valid for at least six months on arrival. A visa is required and can be purchased by tourists on arrival for a stay of 30 days. Extensions for an additional 150 days are possible.
Irish nationals require passports valid for at least six months on arrival. A visa is required and can be purchased by tourists on arrival for a stay of 30 days. Extensions for an additional 150 days are possible.
US nationals require passports valid for at least six months on arrival. A visa is required and can be purchased by tourists on arrival for a stay of 30 days. Extensions for an additional 150 days are possible.
New Zealand nationals require passports valid for at least six months on arrival. A visa is required and can be purchased by tourists on arrival for a stay of 30 days. Extensions for an additional 150 days are possible.
Passport/Visa Note:Visa:
Most travellers can purchase visas on arrival. These must be paid for in USD but the amount varies. Visitors should be able to show the immigration officials proof of sufficient funds for their stay in Sri Lanka. Passengers must also hold return or onward tickets and all documents needed for the next destination. Those who prefer to arrange visas in advance can do so online or at a Sri Lankan embassy. An ETA (Electronic Travel Authorization) can be issued on arrival but can also be filled in prior to travel to Sri Lanka - this can be done online at www.eta.gov.lk. It is highly recommended that travellers' passports have at least six months' validity remaining after the intended date of departure from their travel destination. Immigration officials often apply different rules to those stated by travel agents and official sources.
Travel Health:
Food and water borne diseases are the primary cause for ill health in Sri Lanka. Visitors should only drink bottled water, avoid ice in drinks, and take care to eat well-cooked food. Hepatitis A and hepatitis B vaccinations are recommended for all travellers to Sri Lanka. Typhoid is only really a problem in rural areas, but travellers should consider a vaccination depending on their itinerary. Yellow fever vaccination certificates are required by travellers coming from infected areas. Malaria, Chikungunya fever, Japanese encephalitis and dengue fever are a risk and protection against mosquito bites is essential. Prophylactics for malaria are also strongly recommended for all regions, except the districts of Colombo, Kalutara, Galle and Nuwara Eliya.
Travellers are strongly advised to take out good travel insurance, and seek medical advice at least three weeks before leaving for Sri Lanka. Quality medical attention may be difficult to find outside of Colombo and other big cities and medications are often in short supply in Sri Lanka. Travellers should bring any medication they may require with them.
Tipping:
A 10 percent service charge is added to most restaurant and hotel bills. Tipping is a customary way to show appreciation for almost all services and small amounts are sufficient, otherwise 10 percent of the amount due is standard. There is no need to tip taxi drivers.
Safety Information:
The vast majority of trips to Sri Lanka are trouble free. However, recent bombings in 2019 means there is now a potential risk of terrorism threatening the country. Visitors should keep themselves informed of developments and remain vigilant.
Since the Sri Lankan Civil War ended in 2009, the north and east of the country have seen a growth in tourism. Violent crime against foreigners is very rare, but there have been cases of sexual assault and robbery in rural areas and women are advised to take care when travelling alone. Credit card fraud is the most common form of crime against tourists in Sri Lanka.
Local Customs:
Photography near government or military buildings is prohibited in Sri Lanka. Homosexuality is illegal. Topless sunbathing is not allowed, and visitors, particularly women, should cover up when entering Buddhist sites. It is considered offensive to pose for photographs in front of a Buddha statue. Smoking and drinking in public are forbidden. Honour, or personal dignity, is extremely important to Sri Lankans and causing an individual to 'lose face' by public criticism or anger should be avoided.
Business:
In Sri Lanka, due to the warm climate, the dress etiquette may vary according to various sectors of business. In the more formal sectors, men will be expected to wear lightweight suits, but a more casual approach is acceptable during the warmer months depending on regulation. Appointments are to be made in advance and business cards to be swapped upon first meeting. It is considered rude to be late for meetings. Business hours are generally 9am to 5pm Monday to Friday with an hour taken at lunch.
Communications:
The international country dialling code for Sri Lanka is +94. The outgoing code is 00, followed by the relevant country code (e.g. 0044 for the United Kingdom). City or area codes are in use, e.g. (0)11 for Central Colombo. International direct dial facilities are available in Colombo and other major cities. Mobile phone operators provide GSM 900/1800 frequency networks with coverage across all the main parts of the island. Mobile data is reasonably quick (at least 3G speeds) in all cities and larger towns, and wifi is standard in hotels and guesthouses.
Duty Free:
Travellers to Sri Lanka over 18 years do not have to pay duty on the following items: 2 bottles wine and 1.5 litres spirits; perfume up to 59ml and 250ml eau de toilette; and souvenirs to the value of US$250; 200 cigarettes or 50 cigars and 340g of tobacco. For family members travelling together free import applies for two members. Passengers must declare personal effects to ensure free export when they arrive in Sri Lanka. Restricted items include firearms, ammunitions, explosives and weapons, plants, fruits, birds and by-products, medication (unless it is for personal use), and goods for commercial purposes. Prohibited items include drugs or narcotics, pornographic material, and material that ridicules religious belief systems.