Mahon
Most visitors head straight for the string of restaurants and cafes lining the harbour of Mahon, Minorca's capital town. The town itself is sedate and conservative, featuring classic Georgian townhouses (bearing testimony to the British occupation of bygone days) and tall apartment blocks. Mahon does have some worthwhile attractions for those interested in making more of their holiday than dashing off to the beach. The mansion house of Golden Farm overlooks the harbour, and was once occupied by Admiral Lord Nelson. Also on the sightseeing list is the Xoriguer Gin Distillery, where famed Minorcan gin is produced in an age-old process. The celebrated organ (with more than 3,000 pipes) in the church of Esglesia de Santa Maria la Major is also a draw for some visitors. The Swiss-made organ was brought to Mahon during the Napoleonic wars and is used during an annual music festival held in July and August. The historic centre of Mahon has been steadily renovated in recent years, and the old part of town is picturesque. The city has one of the deepest natural harbours in the world, and the waterfront is a worthy tourist hub with lots to see and do.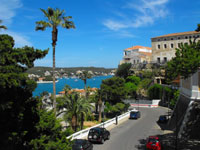 Mahon Claire Allison
Ciutadella de Menorca
Minorca's former capital city, the compact port of Ciutadella de Menorca is west of the modern capital and linked to it by the main island road. Usually just called Ciutadella, it's very different in character to Mahon, sporting a distinct Moorish and Spanish influence in its Gothic and Baroque grand mansions and palaces. It is an ancient town, reputedly founded by the Carthaginians by the 4th century. During its long history, Ciutadella changed hands multiple times, once having all 3,000 or so surviving residents taken as slaves by invading Turks in 1558 after a siege of the city. Ciutadella remains the island's religious centre and is still the home of the bishop. The Cathedral of Menorca, located in the old quarter, was built in 1287 on the site of an even older mosque, while the town hall is another gorgeous building. Although the city boasts few specific sightseeing attractions, it does offer excellent restaurants, interesting shops, and arcades as well as a relaxed ambience that is just perfect for wandering around. There are also some coves nearby inviting exploration.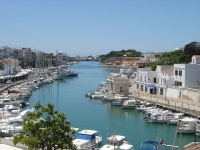 Ciutadella Prichardson
Minorca Beaches
Minorca is blessed with a beautiful coastline and offers visitors a variety of beaches and resorts. Fornells, an attractive fishing village on the north coast, is on a spectacular bay ideal for windsurfing and watersports. Close by is the beach Cala Tirant. Cala Galdana is one of the most popular beaches, set in a horseshoe bay, and complete with all desired amenities; while Santo Tomas, with its stretch of golden sand, is a small resort favoured by families and honeymoon couples. Son Bou is one of the longest beaches on the island, with a few shops, bars, restaurants, and a club. Binebeca and Binisafua were Minorca's first resort centres, but are now mainly residential areas filled with villas fronting numerous sandy bays. There are some interesting caves and rugged little coves between Mahon and picturesque Calan Porter, making the area fun for nature walks and snorkelling along the rocky shore. Those looking for something a little less commercialised may enjoy Cala Mitjana, south of Ferreries. It's a small, idyllic cove surrounded by pine forests, offering no facilities but beautifully situated and usually not crowded.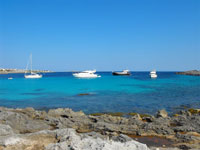 Binibequer Bay Claire Allison
Fornells
Also known as Fournella, Fornells is a sleepy resort and fishing town. It's located in the north of Minorca, which is known for its unspoilt and very often deserted beaches. Originally founded to serve the 16th-century castle as a defence against the Barbary pirates, all that remains of the military is the watchtower perched upon a hill which visitors can stroll to and climb for gorgeous views over the town and harbour. Fornells' quaint waterfront area, lined with shops and restaurants, bustles during the summer months, but remains quiet the rest of the year. The town is only home to about 1,000 permanent residents and although it is popular with tourists it has retained its charm and authentic character. Travellers can enjoy water sports here, especially windsurfing, and scuba divers can enjoy an excursion to the marine park off the north shores and marvel at the magnificent aquatic life. It is also possible to charter boats from the harbour. Fornells is small enough to explore on foot, but if you want a lovely sandy beach it is best to make the short drive (10 minutes) to Son Parc.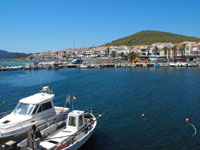 Fornells Claire Allison
Ferreries
Surrounded by rolling green hills, the 13th-century town of Ferreries lies nestled in the centre of Minorca next to the island's second highest mountain. Travellers are attracted to the area by the Castell de Santa Agueda, the ruin of a Moorish castle built atop an ancient Roman stronghold. It exists as the last site of resistance for Arab inhabitants when the island was conquered by King Alfonso III of Aragon. The ruined fortress is accessed via an ancient Roman road and there is a chapel dedicated to Saint Agatha next to the castle. Ferreries itself is a sleepy little place, with a character typical of the island. With orange tiled roofs and narrow streets, this little town may not be an obvious attraction. However, a farmer's market is held in the town every Tuesday and Friday, attracting locals from all over Minorca. It's a great place to buy local produce as the region is particularly celebrated for its cheeses. Ferreries is only a short, 30-minute drive from the airport and is a good starting point for walking tours of the island.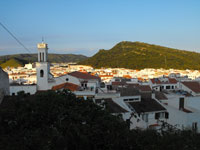 Ferreries Claire Allison
Calan Porter
Also known as Cala'n Porter and Cala En Porter, Calan Porter is one of the largest coastal developments along the central south coast of Minorca. Calan Porter is a picturesque cove with a beautiful beach, with tourists flocking to its shores throughout the summer. Famed for its Cova d'en Xoroi, Calan Porter is located on the edge of sheer cliffs, boasting spectacular views over the Mediterranean and creating the perfect vantage point for watching the mind-blowing sunsets. Calan Porter was one of the earliest developed beach resorts on the island and is less than 20 minutes-drive from the airport. By Minorcan standards this resort is lively, but visitors should not expect to find pumping clubs and bars like on Baleariac Islands Mallorca or Ibiza. Having said that, the bar and nightclub called Cova de en Xoroi - usually simply called 'The Caves' - is a dreamy drinking and socialising venue, which tunnels through the steep cliffs above the cove and offers incredible views. There is a selection of other restaurants, bars, and shops clumped together in the centre of town, near the road down to the beach. There is a good range of accommodation to suit all budgets.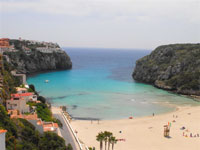 Cala \'n Porter Claire Allison
Minorca enjoys a Mediterranean climate, with mild winters and hot, dry summers. Experiencing about 315 days of sunshine a year, Minorca has a gorgeous climate for holidaymakers. July and August are by far the hottest months with temperatures reaching over 86°F (30°C). Winter, between December and February, is mild and often sunny.
The wettest months are October, November, and December. The north wind known as the blows regularly in Minorca, bringing with it changeable weather. The island's climate can be rather unpredictable but the summer season, between June and September is consistently dry and hot.
The peak summer months, between June and August, are the most popular time to visit Minorca, but many argue that the best time to visit the island is spring, in April and May, when the wild flowers and blossoms ensure the landscapes are at their best and the weather is pleasantly warm. It is also less crowded and the prices tend to be lower (except over Easter). Many restaurants and some hotels close over the winter months when the island empties out.
Menorca Airport
Location:
The airport is located 3 miles (about 4.5km) southwest of Mahon.
Time:
Local time is GMT +1 (GMT +2 from the last Sunday in March to the Saturday before the last Sunday in October).
Getting to the city:
A bus runs every half-hour to Mahón's bus station for a fare of about €3. The bus station is the hub of services across the island.
Car Rental:
Car rental companies include Avis, Budget, Hertz, Hiper Rent-a-Car and Solmar.
Airport Taxis:
Taxis available outside the arrivals area.
Fascilities:
Facilities include ATMs, bureaux de change, restaurants and cafés, Internet access, and a pharmacy.
Parking
There is one car park for up to 195 vehicles. Parking at Menorca Airport is free for the first 30 minutes.
Unlike its Balearic neighbor, Ibiza, Minorca doesn't offer wild parties, hectic nightlife, and nightclubs where party people can dance the night away. The nightlife in Minorca is laid back and centred round hotels, quiet bars, restaurants and the occasional nightclub.
In the capital, Mahon, there are a few live music bars, pubs, and tavernas where soaking up the views and atmosphere while sipping on a cocktail is rewarding, but even here the party scene is chilled and relaxed.
Resort towns, such as Cala En Porter, offer visitors themed bars, but most of them close before midnight. Known for its live bands and cocktails, Akalarre Bar on the waterfront in Mahon is a popular haunt, while the Caves of Xoroi in Cala En Porter is a must for drinks or to enjoy the cave disco and breathtaking views.
Minorca is ideal for holidaymakers wanting to combine a beach holiday with excursions to picturesque historic towns and outings into the charming rural interior. Minorca is the least likely to impress young party animals. The island is well-equipped with venues for the enjoyment of cocktails, local live music, and the occasional dance floor, but it is not considered a great nightlife destination.
Minorca offers a few historic sightseeing opportunities, but the most noteworthy places worth visiting are the exquisite, unspoilt beaches with soft, white sand and crystalline waters, and the fantastic old villages, which are attractions in themselves.
In Mahon, explore the waterfront, take a tour of the 3.5 mile-long (5.6km) natural harbour on a glass-bottom boat, visit the Xoriguer Gin Distillery and admire the beautiful architecture. Head out to Fornells on the north coast for the day to enjoy a lazy lunch and spot of shopping in this sleepy fishing village, and organise a scuba dive in the marine reserve while you're there.
Other places of interest include Arenal D'en Castell, a peaceful, pretty beach resort on the north coast, with a lovely beach in a protected bay; Calan Porter (also called Cala'n Porter), one of the most popular and picturesque towns on Minorca, set in a rugged cove; the 13th-century town of Ferreries, set in lush hills, which is the highest town on the island and is close to some historical remains, including a ruined Moorish castle; and Ciutadella, a charming port city with a rich history. The Naveta des Tudons, found on Minorca, are remarkable, prehistoric archaeological sites which are thought to be ancient burial sites and are definitely worth seeing.