Arrecife Museum of Contemporary Art
A collection of modern artworks sit on permanent display in the Castle of San Jose, a fortress in built in 1779 to defend against pirate attacks in Arrecife. The castle was in military use till 1890 and then stood vacant till 1974 when it was converted into a modern art gallery and restaurant by architect and artist Cesar Manrique. The Museo International de Arte Contemporaneo is small but fascinating. The main attraction is actually the building itself and the contrast between the old fortress and modern art. Some of the artists featured are Bacon, Picasso, Miro, Botero, Damaso, and Luis Feito. The restaurant, which serves superb food and has a funky decor, is a big drawcard and has fantastic views over the docks and ocean. It is worth visiting for drinks at the bar at least. Sunset is the best time to enjoy the views and a meal, as the view changes dramatically between day and night. Although there are usually tables available, it is recommended that you book in advance to get the best views.
Opening time:
Art galleries: Monday to Sunday from 11am to 9pm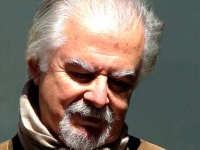 Fernando Botero Roel Wijnants
Timanfaya National Park
Timanfaya National Park, in the southwestern part of the island of Lanzarote, is unique because it is the only national park in the world to have been developed by local residents. Also unique is what the park offers, including a volcanic field filled with a variety of geological and geothermic phenomena. In fact, the reserve is almost entirely made up of volcanic soil, and volcanic activity continues beneath the surface, although there is only one active volcano. Attractions include some geysers by the restaurant. Although the landscape is strange and stark, 180 different plant species do survive in the park. The whole of Lanzarote is a UNESCO Biosphere Reserve, and Timanfaya is one of the core protected areas. Access to the park is strictly regulated to protect the delicate ecosystem and visitors must stick to designated routes. A journey through this landscape is hugely enriched by having a guide so don't shy away from organised tours. Some tours offer camel rides as part of the package. In the restaurant, which has spectacular views, visitors can end their guided tour of these wonders by enjoying a meal cooked on geothermal heat emanating from natural steam vents and geysers.
Opening time:
Daily from 9am to 5.45pm.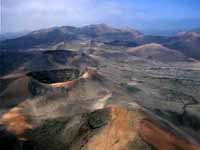 Timanfaya National Park, Lanzarote Spanish National Tourist Board
La Cueva de los Verdes
In the northern part of Lanzarote, close to the Monte de la Corona volcano, is a spectacular system of underground grottos known as La Cueva de los Verdes. This is one of the largest volcanic galleries in the world, at just over four miles (6km) long, formed approximately five thousand years ago in a prehistoric eruption when a massive stream of lava boiled down to the sea, hardening around the spaces inflated by gases. Where the tunnel enters the sea there is an underwater section called the Tunnel of Atlantis. More than a mile (2km) of these grottos is accessible to visitors, and lighting effects have been added to accentuate the contours and colours of the weird shapes resulting from the lava flows. Feeling like a journey into the mysterious bowels of the earth, exploring the tunnels is a thrilling experience. Tours take just under an hour and are conducted in Spanish and English. Those with mobility issues may struggle negotiating the uneven surfaces, but tour guides are generally accommodating and adjust their pace to suit the group as a whole. Evening concerts are sometimes held in the caverns, and it is incredible to hear the music reverberating off the ancient walls.
Opening time:
Daily from 10am to 6pm. Last tour at 5pm.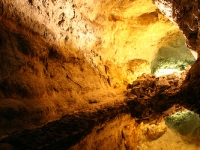 La Cueva de los Verdes tete_ct
The Cactus Garden
Situated between Guatiza and Mala is an unusual sightseeing attraction that combines art with nature. Artist Cesar Manrique created a work of art in the form of a cactus plantation in an old quarry. The Cactus Garden was Manrique's final piece of work in Lanzarote. More than 7,000 cactuses from well over 1,000 different species from all over the world are represented in the garden, with many coming from Madagascar, Mexico, Chile, Morocco, the US, and the Canary Islands. The plants come in all shapes and sizes and have been arranged beautifully in a landscaped garden with many water features. The site also features a restored windmill, which visitors can climb. It is a weird and wonderful collection which makes you feel like you're on another planet, and most people need at least two to three hours to explore. The old quarry is a sun trap and gets really hot, so it is best not to visit on a sweltering day, or at least to avoid the hottest time of day. There is a cafe at the site which sells light meals and provides welcome shade.
Opening time:
Daily from 10am to 6pm.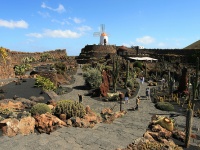 The Cactus Garden DanTheBeastMan
Lanzarote has a great climate throughout the year, despite the fact it is technically a desert climate. The average temperature is comfortable all year round, rarely dropping below 60°F (16°C) and seldom rising above 82°F (28°C) during the day.
During the winter it gets cool in the evenings and the sea temperature drops, but it is never really cold. January is the coldest month with temperatures averaging between 57°F (14°C) and 68°F (20°C), and August is the hottest month, when temperatures rarely drop below 70°F (21°C) and peak around 84°F (29°C).
Rainfall in the summer months is almost non-existent, but showers are likely between October and April. Typically, rain showers don't last long and quickly give way to sunshine. Trade winds blow sporadically throughout the year but the windiest month is July, when the cool sea breeze can be refreshing in the summer heat.
The Canary Islands are considered the best winter destination in Spain because it is often still warm enough between December and February to enjoy the beach, but summer, between June and August, remains the most popular time to visit Lanzarote.
Lanzarote Airport
Location:
The airport is located about three miles (5km) southwest of Arrecife.
Time:
GMT (GMT +1 between the last Sunday in March and the last Sunday in October).
Transfer Between Terminals:
Terminal 1 (international flights) and Terminal 2 (local flights) are within walking distance of each other.
Getting to the city:
There is a public bus into Arrecife; the trip takes 10 minutes and costs about €1.40. Buses also run from the airport to Playa Honda, Puerto del Carmen and Playa Blanca.
Car Rental:
There are several car rental companies at the airport, including Avis, Auto Reisen, Cabrera Medina, Cicar, Goldcar, Hertz and Europcar, all located in the arrivals area.
Airport Taxis:
There are metered taxis outside the arrivals hall at both terminals. Minimum charges are in effect.
Fascilities:
Facilities at Lanzarote Airport include ATMs, police services, a first aid station, lost and found, as well as shops, restaurants, and cafes.
Parking
Parking is available at Lanzarote Airport, at car parks outside each terminal.
Puerto del Carmen is the main nightspot on the island and its population swells most evenings as tourists from the other holiday resorts of Lanzarote come to enjoy its bars and clubs. There are loads of good English, Irish, and Scottish bars in the New Town along The Strip.
The Centre Atlantico has a number of cocktail bars and can be a good spot to start the evening. The Hippodrome is also here but more serious clubbers may prefer Caesars. There are also several live music venues and karaoke bars.
The nightlife in Playa Blanca is fairly limited, with entertainment mostly restricted to the shows organised by hotels. There is a kids disco but those after something more hardcore will need to head to Costa Teguise or Puerto del Carmen, half an hour away by car. Similarly, holidaymakers will find that although Matagorda is not lacking in waterfront pubs and bars, most offering some lively evening entertainment, generally nightlife in Matagorda is rather low key.
Younger visitors looking for a taste of nightlife in Spain or a more vibrant night out opt to travel the short distance to the rollicking clubs and bars of Puerto del Carmen. The nightlife in Costa Teguise is also not legendary, though it is probably the second most popular choice for those seeking fun after dark. Costa Teguise's Mo Vita Disco Bar is its best-known party venue and there are nice bars around the marketplace to start the evening off. There is also a casino in the Hotel Oasis at Costa Teguise.
Holidaymakers can take full advantage of the fact that Lanzarote, like the rest of the Canary Islands, enjoy a special duty-free tax status. Cigarettes, alcohol, perfumes, and petrol are much cheaper than in mainland Spain and the rest of the EU. Duty-free prices are far better in the individual resorts than at the airport or on-board flights.
Puerto del Carmen is the best shopping destination on the island and is stuffed with shops of all kinds, from duty-free electrical stores and stalls along The Strip targeting holidaymakers, to the excellent clothes shops and boutiques in the Old Town.
The Sunday Market in Teguise is worth a visit for travellers seeking out a variety of locally produced goods from pottery to tablecloths. Costa Teguise itself has a variety of shops around the resort and in the La Cucharas Shopping Complex, selling all the usual tourist fare for holidaymakers, as well as a few electrical duty-free stores.
Matagorda has a two-storey shopping centre containing a supermarket and souvenir stores, but the shopping is far better at neighbouring Puerto del Carmen. There are good supermarkets in Playa Blanca that sell all the well-known brands and holidaymakers will find that, although the choice is not as good as in Puerto del Carmen, there are a fair number of electrical duty-free stores and other shops geared at tourists near the harbour.
For couture shopping, most tourists in Playa Blanca head to the stylish Marina Rubicon. It is possible to get good bargains in the electrical duty-free stores, but shoppers should remember that they can't take purchases back to the shop once they've left the island. They should check everything works and that all batteries, cables and plugs are included; that there is a European guarantee, not an Asian one; and that all electrical items have a CE stamp.
Lanzarote is a very small island, so getting around is fairly easy. Travel between resorts and towns on the coast can be done by bus. The bus service is efficient and reasonably priced, but holidaymakers need to keep in mind that the service is not frequent and the journey times are slow.
With well-serviced roads, dedicated cycle paths, and light traffic, Lanzarote has a large number of cyclists. Bicycles can be hired on the island. Travellers should be warned that there are large hills in town that are tricky to get up for inexperienced cyclists.
Holidaymakers who would like to go island hopping can take a ferry from Orzola Harbour. A trip to the neighbouring island of Fuerteventura takes only 25 minutes. Hiring a car is one of the most comfortable and convenient ways to explore the island quickly and comfortably, with major car hire companies represented at the airport.
Lanzarote's chief attractions are its resort towns, which offer crystalline waters and fine beaches, plus some of the most reliably balmy weather in the world. Although the flattest of the Canary Islands, Lanzarote is also of volcanic origin and so has a dramatic landscape, punctuated with many caves and lagoons.
Those travelling with kids in Lanzerote should visit the Aquapark on the outskirts of Costa Teguise for fun water slides and rides, or enjoy the Submarine Safari near Puerto Calero which takes passengers on an underwater expedition for an hour, allowing everybody to observe the wonderful marine life. Closer to Arrecife there is a fun go-karting facility with really good tracks and cars for kids and adults to race around in.
Guinate Tropical Park, at the northern tip of the island near the village of Maguez, has incredible bird life and water features, and Rancho Texas, a wild west theme park doubling up as an excellent zoo, near Puerto del Carmen, is one of the most exciting kids' attractions on the island.
Lanzarote is small and easy to navigate; most of the major resorts and attractions are within ten miles (16km) of each other. Efficient bus services (known as guagua) travel around and between the main resorts and operate until quite late. Taxis are also easily available and fairly good value. Those going off the beaten track may wish to hire a car for a day or two; car rental companies have offices in all the main resorts.