Ibiza Old Town
The old medieval district of Ciudad de Ibiza (Ibiza Town), the capital of the island, sports narrow cobblestone streets, picturesque whitewashed houses and Gothic buildings around courtyards bright with blooming geraniums and bougainvillea. Ibiza'a Old Town is a UNESCO World Heritage Site, with architecture spanning 2,500 years of history. The Old Town, enclosed by historic walls, is best entered through the Puerta de las Tablas, which sees visitors passing across a drawbridge flanked by ancient statues; there is another entrance, Portal Nou, behind the Plaza del Parque, which is somewhat less dramatic. The district is best explored on foot, and contains some interesting sights, most noteworthy of which is the Archaeological Museum. The museum, situated in Cathedral Square, contains artefacts from prehistoric sites on the Balearic Islands, dating as far back as the Punic period between the 5th and 7th centuries BC. Interestingly, the museum is said to be constructed on a Carthagean burial site of about 4,000 graves. Also in the Old Town is the cathedral with its 10th-century Gothic tower and 18th-century Baroque nave. From the battlements by the cathedral spectacular views can be enjoyed. There are plenty of gift shops, art galleries, pavement cafes and good restaurants in the area to keep tourists happy. The Old Town is delightful at night, and a candlelit dinner at one of the restaurants spilling out into the narrow cobbled streets is a must.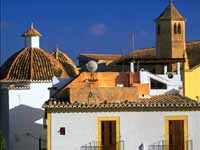 Ibiza Town Spanish National Tourist Board
Santa Eulalia del Rio
Santa Eulalia is a pretty, atmospheric little town about nine miles (14km) north of the island's capital, much favoured by tourists because of its proximity to some of the best beaches and for its scenic setting. The town is situated on the estuary of the only river in the Balearic Islands, overlooked by the Puig de Missa, a 16th-century fortified church situated on a hilltop. There are also a number of small museums and the remains of a Roman necropolis. Another attraction in Santa Eulalia is the Sant Carles settlement a few kilometres to the north: the last true hippie commune on Ibiza remaining from the 1960s, when hippie cultists flocked here. The famous northern beaches of Ibiza, like Aigues Blanques and Cala Llonga, can be reached by bus or boat from the town. Santa Eulalia has its own beaches though: the Santa Eulalia beach has Blue Flag status and is very popular; the Es Calo de S'Alga beach, which can be reached on foot from the town, is a gorgeous little beach with calm, shallow water and good facilities; and the nearby Es Canar beach is perfect for water sports like jet-skiing.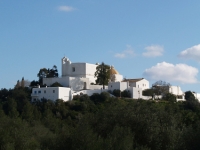 Puig de Missa pioggia
Cova de Can Marca
The tourist attraction cave complex of Cova de Can Marca sits a few miles north of Sant Miquel, a village with an attractive hilltop church and good tapas bars. The caves have been commercialised and fitted with some spectacular sound and lighting effects, providing for an entertaining guided tour. The caves are situated atop a rocky inlet, with spectacular views over the bay and of the islands Murada and Feriradura. The cave is said to be more than 100,000 years old and features underground lakes, stalactites, and stalagmites. There was once a natural waterfall in the cave system but the waterfall featured on the tour today is a replica, as the waterbeds of the cave system are now fossilized. The caves were once used by smugglers to hide their cargo and it is still possible to see the marks they made on the walls to guide them through the cave system. Tours are held in various languages and take about 40 minutes. The tours are suitable for people of all ages and fitness levels and are very popular with tourists. It is not necessary to book in advance.
Opening time:
10.30am to 1.30pm and 2.30pm to 8pm (May to October); 11am to 5.30pm (November to April).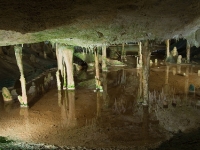 Cova de Can Marca simpologist
La Salinas
The salt flats of Las Salinas are some of Ibiza's most famous landmarks, close to the airport on the southernmost tip of the island. They've been used for more than 2,000 years since the Carthaginians traded with the salt left in the pans after the waters evaporated in summer. The sparkling lakes provide one of the world's most beautiful sunset photograph opportunities. The fashionable Las Salinas beach on the southern tip of Ibiza attracts a glittering crowd of sun worshippers and party animals, including many celebrities, the wealthy, and the beautiful. There are numerous beach bars to try out. The salt flats can be found in the nature reserve that surrounds this gorgeous beach, along with pine forests, sand dunes, and a general abundance of natural beauty. The saltpans are also a wonderful destination for bird watchers. It is possible to just stroll into the woods from the beach, but there are also many tours to and from various towns on Ibiza.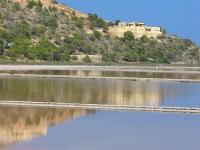 Ibiza salt flats photoaf
Formentera
The tiny island of Formentera covers 35 square miles (90 sq km) and is home to just over 5,000 people. It can be reached by ferry from Ibiza Town, with a regular service running every two hours. Ferry services to Formentera from the mainland have also been established, due to the island's increasing popularity. It's relatively unspoilt by tourism development, although not as empty of crowds as it once was. Accommodation options are very limited. The main attractions are some pretty villages and marvellous beaches flanked by palms and pines, many frequented by nudists. The best way to explore is on a rented moped or bicycle, as there are well-maintained cycling tracks traversing the island. The main port is La Sabina, and other villages include beautiful Las Salinas, San Francisco Javier, and San Fernando, all featuring quaint white-washed houses. Recommended beaches are Es Pujols in the north, Mitjorn in the south, and Cala Saona in the west. Other beaches of note are En Boster, Ca'n Xico Mateu, and the natural port of Es Calo. The highest point on the island is in the southeast corner at El Mirador.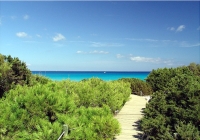 Formentera sanferan
The Ibiza Express
This mini train departs from Platja d'Es Canar along a variety of routes around the island. The gentle pace and open sides are ideal for watching the scenery roll by. The train stops off at scenic places for the kids to stretch their legs and sunbathe or swim. The Sant Carlos and Beaches route takes three hours and stops at some of the more remote beaches on the island. The highlight of this tour is the village of Sant Carlos with its picturesque 18th-century church. The Santa Eulalia evening tour takes about two hours and gives passengers the opportunity to see the quaint village of Santa Eulalia, where visitors can stroll along the promenade or engage in some souvenir shopping. The three-hour Environment and Culture tour allows visitors to explore the spectacular Ibiza landscapes before stopping for snacks at a 17th-century farmhouse. Photo enthusiasts should take the train along its Prtinatx - Puerto San Miguel - Cala San Vicente route. Passengers on this route get the opportunity to explore many of Ibiza's beaches, wonderful shopping opportunities, and the scenic white churches of Sant Llorenc, Sant Vicente, and San Joan, as well as the oldest church-fortress on the island, the 13th-century Sant Miquel.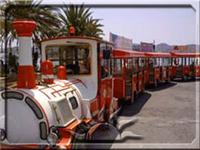 Train ibizaholidays
Ibiza is a great destination for children, with plenty of gorgeous beaches and healthy natural attractions to keep the little ones occupied. The Aguamar Water Park is great for a family day of fun. Karting San Antonio has a range of go-karting options to keep kids of all ages entertained. Another worthwhile excursion is to catch a boat ride or yacht across to the island of Formentera. If visiting Ibiza with kids, remember to select your accommodation carefully: you want to be far away from any nightclubs or concentrations of nocturnal clubbers.
Ibiza has a typical Mediterranean climate, with long, dry summers and mild winters. Between May and September the days are warm, with temperatures usually averaging comfortably between 69°F (21°C) and 82°F (28°C).
August is the hottest summer month, with lows of 71°F (22°C) and highs of 86°F (30°C). Ibiza empties out in winter, between December and February, but the island never gets really cold by European standards. The coldest month is January, when temperatures average between 46°F (8°C) and 59°F (15°C).
Ibiza doesn't get much rain and even in the wettest months the rain is sporadic and not overly disruptive. October is the wettest month, but rain is possible any time between September and April, leaving the summer months blessedly dry.
The Ibiza party season begins in late May and ends in September, making all the months in between extremely popular with young revellers. The peak summer months, between June and August, are the peak tourist season and considered by many to be the best time to visit. However, April, May, and September, just outside of the most popular season, are also pleasant months to visit Ibiza, especially for those wanting to avoid the crowds.
Ibiza Airport
Location:
The airport is situated about five miles (8km) south of Ibiza Town.
Time:
GMT +1 (GMT +2 from the last Sunday in March to the last Sunday in October).
Getting to the city:
Bus route 10 runs between the airport, Ibiza Town, the ferry port of Formentera and San Jorge. The bus departs every 15 minutes in July and August, every 20 minutes from April 2nd to October 31st, and every 30 minutes during the rest of the year and costs €3.50 for an Ibiza-Airport journey. Additional bus routes run to San Antonio, Sant Eularia and Cala Nova between May 23rd and October 15th, costing €4. Taxis and rental cars are also available.
Car Rental:
Car rental companies represented at the airport include Avis, Enterprise, Hertz, and Europcar.
Airport Taxis:
Taxis are available outside the terminal. The minimum charge is €3.65, and just over €1 is charged per kilometre on weekdays. Surcharges may apply for extra persons or luggage, and for travel after hours and on weekends.
Fascilities:
Facilities at Ibiza Airport include duty-free shops, restaurants, bars, fast food outlets, post boxes, a bureau de change and ATMs. Disabled facilities are good; those with special needs should contact their airline in advance.
Parking
Parking at Ibiza Airport is available a short walk from the terminal building.
Ibiza's nightlife offers one of the best clubbing experiences in Europe with unrivalled mega-venues, featuring the world's top DJs and countless cafés, pubs, and bars. The main venues are clustered around San Antonio on the east coast of the island and Ibiza Town on the west, linked by a half-hour drive along a good road. There are very few nightlife venues on the rest of the island, which is quiet and rural.
An ideal foundation for a big night out is the place that gave birth to the Ibiza legend in the first place: Café del Mar in San Antonio. The trademark ambient music and chilled-out atmosphere is still in place, making this an essential visit. Innumerable other bars have sprung up around Café del Mar, so there is no shortage of vantage points to enjoy the justly famous sunsets.
The top clubs open around midnight, with long queues forming by 2am. In Ibiza Town one can find Pacha which is the only super club to stay open all year round, and Space which opens for afterhours clubbing between dawn and dusk.
Toward the middle of the island, near San Rafael, is Privilege, which is said to be one of the largest nightclubs in the world, hosting up to 10,000 revellers and including circus acts, indoor gardens and a mega swimming pool.
Nearby Amnesia has legendary lasers and theme nights. Continuing to San Antonio, Es Paradis is a top rated superclub with nine bars inside its enormous pyramid-shaped structure, while Eden is famous for its foam parties.
Clubbing in Ibiza is certainly expensive. Entry fees get hefty and drinks are pricey. Many clubs will only have hot water available in the bathrooms to prevent you drinking cold water for free, forcing patrons to pay for bottled water.
Cash-strapped young clubbers will hand out flyers and promos in the early evening with details of special offers, happy hours, and discounts. They are earning a commission for getting people through the door but the information can be very useful if you want to get maximum value for your night out.
As for getting around, use the disco buses which transport clubbers along the road linking San Antonio, San Rafael and Ibiza Town. Additionally, taxis are cheap, especially if there is a group of you.
The clubbing season runs from late May to September, although there are big parties around New Year's, Christmas, and Easter. Dress codes are non-existent. In fact, the more outlandish and extroverted your appearance, the better your chance of gaining free admission.
Renting a car is easy and popular on Ibiza, but in the summer months, between June and August, high demand for rental vehicles means that it is best to book in advance. Those hiring cars should note that between the notorious local drivers, drunken tourists, and poorly signposted roads, driving can be a hair-raising experience on the island and should only be attempted by confident drivers. Taxis and buses can be used to travel between towns and many resorts and tour operators provide transport for their guests. The towns and resorts of Ibiza are almost always small and best explored on foot.
There is much more to Ibiza than its famous nightlife, and plenty to attract those with no interest in dancing and partying. The most obvious Ibiza attraction is the glorious coastline, which boasts many truly beautiful beaches, dotted along over 120 miles (200km) of coastline, also affording abundant scuba diving opportunities.
Ibiza offers visitors more than 80 beaches to choose from, the most popular beaches include Cala Jondal, S'Aigua Blanca, Cala Benirras, Cala Xarraca, Ses Salinas, Playa de Ses Figueretes, and Playa des Cavallet (Ibiza's official nudist beach). Water sports on offer apart from scuba diving, include waterskiing, sailing, windsurfing, kayaking, and much more. Many of the beaches are lined with bars and restaurants and have a festive, party atmosphere during the summer season.
Away from the beach, Ibiza's Old Town is lined with picturesque cobbled lanes leading to ancient courtyards with some buildings dating from the 10th century. Further up the coast is the charming village of Santa Eulalia with excellent beaches, and the nearby caves of Can Marca.
Another special natural feature of Ibiza is the salt flats, La Salinas, which are worth a visit. The Ibiza Express mini-train, which departs from Platja d´Es Canar along various routes, is a fun way to explore the island.