Museo Canario
The Museo Canario boasts mummies and the world's largest collection of Cro-Magnon skulls. The permanent exhibition is devoted solely to the aboriginal population of Gran Canaria, who inhabited the islands from the second half of the first millennium BC up until the 15th century. It covers things like religion and mythology, funerary practices, economic activity, and the organisation of society. The award-winning museum in Las Palmas houses the most complete and comprehensive archaeological collection in the Canary Islands and should be of great interest to anybody keen on archaeology, anthropology, and the ancient history of the Canary Islands. There is a room full of the skeletal remains of the ancients, which is spooky but fascinating. The information provided in the exhibitions is invariably only in Spanish, but at the entrance you should be given a booklet explaining the displays in your own language. The museum is popular with tourists and is one of the top-rated attractions in Las Palmas.
Opening time:
Monday to Friday from 10am to 8pm, weekends from 10am to 2pm.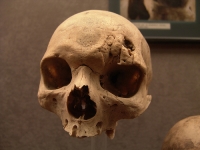 Museo Canario skull Xosé Castro
Casa de Colon
Christopher Columbus is believed to have stayed for different periods in the Casa de Colon, in the historical quarter of Vegueta in Las Palmas. The house now serves as a museum displaying relics of early transatlantic voyages and pre-Columbian cultures, as well as acting as a cultural centre for the study of the Canary Island's relationship with the Americas. The building is a famous example of the architecture of the Canary Islands, with heavy wooden balconies, patios, fountains, and some unusual ornamental features. It was once the residence of Las Palmas's early governors. There are now 13 permanent exhibition halls, a library, and a research centre, containing fascinating artefacts and even some colourful parrots among the palm trees in the courtyards. Although competition is not steep in the city, Casa de Colon is probably the most popular museum in Las Palmas and generally receives rave reviews from visitors. The museum is situated next to the cathedral and is worth an hour or two of sightseeing time in the city.
Address:
Columbus Street, Las Palmas
Opening time:
Monday to Friday from 9am to 7pm; weekends from 9am to 3pm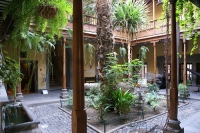 Casa de Colon pano_pilou
Pueblo Canario
The whitewashed Pueblo Canario was the pet project of Canarian artist Nestor Martin-Fernandez de la Torre, who conceived and oversaw the creation of this idealised representation of a typical island village next to Dorames Park, Las Palmas. Buildings surround a square where performances of folk music and dance take place every Sunday morning. The dancers and musicians dress up in full traditional garb and use traditional instruments. Those who just want to enjoy the free music and show can sip on a beer or a coffee in the pleasant square, or have a meal at the restaurant. The village also contains the Museo Nestor, in which is housed a collection of the artist's modernist paintings, a playground for children, and some handicraft shops where visitors can pick up some souvenirs. The entertainment is simple and old-fashioned and the village is picturesque and worth strolling around, especially in combination with the park that borders it. Pueblo Canario gives travellers a taste of rural Canarian culture and charm in the middle of the city. The best time to visit by far is on Sunday mornings.
Opening time:
Tuesday to Friday from 10am to 8pm, Sundays from 10.30am to 2.30pm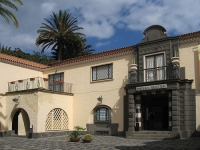 Pueblo Canario Museo Nestor Mataparda
Arucas
The delightful town of Arucas sits beneath a dormant volcano on the northern coast of Gran Canaria, and is one of the most popular places for tourists to visit. The neat town is dominated by the majestic Church of San Juan Bautista, carved in stone by local workers. It is possible to take a short walk out of the town to the Montana de Arucas viewpoint for a panoramic look at the northern coastline. The town is scenically situated, surrounded by fields of corn and potatoes and banana plantations, and the Palmitos ravine provides some beautiful vistas. The stunning, UNESCO-listed Gran Canaria Biosphere Reserve is also easily accessible from Arucas. The town is very close to the city of Las Palmas de Gran Canaria. The city has numerous historical attractions as well as the pleasures of sun, sea, and watersports, and is one of the main travel hubs in the region. Arucas is therefore a great excursion from the city, providing a bit of rural charm as a break from the urban glories of Las Palmas.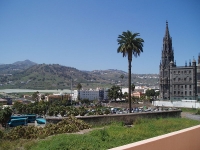 Arucas Bheatcoker
Palmitos Park
A colourful and entertaining look at nature is presented at Palmitos Park, a botanical garden, zoo, and aquarium situated four miles (6km) inland from Arguineguin on the south coast. The park is a subtropical oasis containing thousands of birds, fish, animals, trees, plants, and particularly orchids. The orchid house is the largest in the Canary Islands and the range is astonishing. There is a cactus garden too, a huge butterfly house, and an aquarium featuring a recreated riverbed. Attractions include dolphin shows and a number of bird shows including displays by birds of prey, parrots, and exotic birds. The park also houses a selection of reptiles and other animals including aardvarks, wallabies, and meerkats. Another highlight is Primate Island, which is inhabited by entertaining gibbons and orangutans. There are numerous picnic spots and view points in the park, which is blessed with some ruggedly beautiful scenery. There are also cafes selling refreshments for those who don't bring their own food. All displays and shows are included in the entrance fee. Check the official website listed below to see what time all the different animals perform. There is a substantial reduction for online booking via the website.
Opening time:
Daily from 10am to 6pm (last admission at 5pm).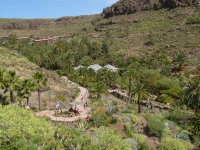 Palmitos Park Wouterhagens
Parque de los Cocodrilo
This crocodile park is home to more than 300 crocodiles and alligators from all over the world. Visitors shouldn't miss the crocodiles' feeding times, which occur daily at about 12pm, 2pm, and 4.15pm, during which the animals are at their most active. The other half of the park is a zoo, which houses other reptiles, various birds, monkeys, chimpanzees, tigers, jaguars, camels, and more. There is a restaurant in the centre of the park where visitors can see a show where parrots perform various tricks, while the educational crocodile show is the main attraction. The park is near the town of Aguímes, a few miles southwest of the airport. Those with a soft spot for reptiles should also consider visiting Reptilandia, situated a little off the beaten track near Agaete, in the northwest of the island. This park houses a collection of snakes, tortoises, turtles, spiders, monkeys, and lizards. The Komodo Dragon here is believed to be the largest lizard in the world. Kids are bound to love both attractions, and they are good options for families wanting a short break from the beach.
Address:
Villa de Aguímes.
Transport:
Hourly bus between 9am and 3pm from near the fun fair in Maspalomas. Alternatively, the park operates a service from Puerto Rico, picking up outside the Jamaica Supermarket, at 10.30am on Thursdays and Sundays
Opening time:
Sunday to Friday from 10am to 6pm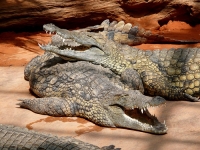 Crocodiles http2007
Gran Canaria Golf
There are a number of world-class golf courses on Gran Canaria, including Meloneras Golf Course, and golf is a popular activity in the Canary Islands. El Cortijo was home to the Spanish Open in 2002 and is just outside Las Palmas. The Real Club de Golf is nearby in Bandama and is Spain's oldest golf club, founded in 1891; it is closed to non-members at weekends. The Maspalomas Club de Golf is located close to the sand dunes within a nature reserve, while the newest club, Salobre, is just 10 minutes drive east of Puerto Rico. Other notable golf courses on Gran Canaria include Las Palmeras Golf, Oasis Golf, Anfi Tuaro Golf, and Meloneras Golf. Las Palmeras Golf Course is located in the city centre and boasts views over the Atlantic Ocean and the picturesque Canteras beach. The Oasis Golf Course in Autopista del Sur is a quirky miniature copy of famous American courses and many consider it to be one of the best replicas in the world. It also has floodlights. The Anfi Tuaro Course in Mogan features both a pitch-and-putt course of 9 holes and a par-72 18-hole course complete with lakes, flowers, and spectacular mountain views.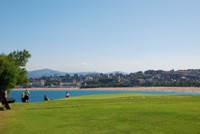 Golf in the Canary Islands Yellow Cat
Aqualand Gran Canaria
Aqualand is a must for all families visiting Gran Canaria, especially those with children. The wide range of slides, pools, and rides will keep the young and the young at heart happily entertained for hours. Those looking for an injection of adrenalin should try the wide array of thrill rides, while young children have their own water playground with fun mini slides and swings. There is a surf beach and a lazy river which families can enjoy together, while there are plenty of benches and beach areas for relaxing and picnicking. Lockers and sun loungers cost a little extra, but visitors do get free bags to keep their towels and other belongings in. The park is clean and well-maintained, generally receiving rave reviews from tourists. It is open all year, but does close if the weather is very bad. Queues are usually not too long, but it is worth arriving early in the day in peak season to get a jump on the crowds.
Address:
Ctra. Palmitos Park, Km 3
Opening time:
10am to 5pm (September to June); 10am to 6pm (July to August).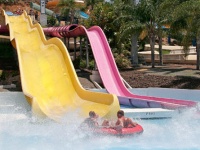 Aqualand Maspalomas aqualand
Holiday World
Featuring a wide variety of activities, Holiday World is a fun park which caters specifically to families on holiday in Gran Canaria. Kids of all ages can enjoy rides such as bumper cars, a Ferris wheel, roller coasters, and a pirate ship, as well as games such as ten-pin bowling and things like pony rides and a parrot show. There is a playground area for children too young to enjoy the rides. A range of restaurants and fast-food outlets are available and after dark there are some nighttime entertainment options, with frequent live shows and music concerts, an Irish pub, and some other drinking and dancing venues. Adults who don't want to partake in the funfair attractions can luxuriate in the wellness centre, which offers gym facilities and spa treatments. On Tuesdays there is a craft fair, with stalls showcasing the local handicrafts and cuisine of Gran Canaria, as well as traditional dance, music, and folklore performances, making this the best day of the week to visit.
Address:
Avda. Touroperador Tui, Maspalomas.
Transport:
Holiday World is easily reached by car, or else there is a bus service to Holiday World from each of the major towns and resort areas in Gran Canaria. Global bus lines 25, 30, 32, 36, 45, 52, 66 and 70.
Opening time:
The Funfair is open in autumn and winter from 5pm to 11pm, and open until midnight on weekends. During spring and summer, the Funfair is open every day from 6pm to midnight.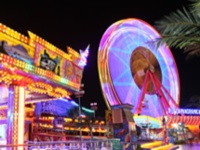 Holiday World Holiday World Funpark
Las Palmas
The capital of Gran Canaria and a bustling holiday resort, Las Palmas is situated on the northeastern tip of the island, between two long and lovely stretches of beach. The city was founded in 1478 and was the spot where Christopher Columbus began each of his voyages to the Americas. Much of the historic Vegueta district remains charmingly intact behind the modern apartment blocks which line the seafront, and there are many interesting ancient sights and museums to visit. Interesting cultural offerings, fun festivals, and highly renowned cuisine attracts thousands of holidaymakers to Las Palmas every year. Of course, the surrounding stretches of beach are also a big draw card, as is the fact that the city is the gateway to the whole island. The warm waters surrounding Las Palmas provide perfect conditions for all kinds of watersports for holidaymakers, including sailing and boating. Many of the resorts also have their own tennis courts, golf courses, and other sporting facilities. Whale watching is a popular activity and tickets can be bought from companies taking tourists out on boats for the day. Las Palmas promises some good holiday shopping and the city also lures travellers with an energetic nightlife.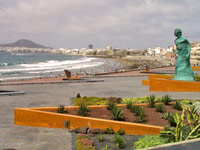 Playa de las Canteras, Las Palmas
Gran Canaria definitely caters to children on holiday. With many fantastic family attractions, kids will have a great time exploring this island. There are a number of good beaches for kids, although families may prefer to seek out the sandy stretches instead of the dramatically beautiful black beaches, which can be a bit pebbly.
Take a day trip to Palmitos Park for an interesting day out with birds and orchids, or for thrills, Parque de los Cocodrilo is great for those with a love of predators, while the zoo on the other side is perfect for younger kids to explore. Playa del Ingles is brimming with kid's activities, with everything from amusement arcades and mini-golf to water parks and go-karting, children will find something to keep them entertained.
Another fun day out in Gran Canaria is a visit to Sioux City, which was built originally as a stage set for an American western film in 1972, but developed into a Wild West theme park complete with cowboys, Native Americans, Mexicans, and, of course, a sheriff. There are shows throughout the day, featuring bank robberies, saloon fights, cattle stampedes, rodeos, and gunfights at the OK Corral. Between shows visitors can enjoy a barbeque or taste the culinary delights of the Three Star Saloon.
While Gran Canaria has a wonderful climate throughout the year, the south of the island (where the major resorts are located) enjoys its own micro climate with generally better weather than other parts of the island, although the sea breeze can be quite bracing.
The mountainous regions inland are a bit colder and can experience frost or even snow. The average temperature is comfortable all year round, rarely dropping below 63°F (17°C) and often reaching 82°F (28°C) during the day. The peak summer months are June to August, but May and September are almost as hot.
The warmest month is August, when average temperatures range between 70°F and 80.8°F (21°C and 27°C). Winters are very mild along the coast, especially in the south. During the coldest month, January, average temperatures range between 58.5°F and 69.1°F (14.7°C and 20.6°C).
Rainfall in the summer months is almost non-existent, but showers are possible between October and April. Rainfall is unevenly distributed throughout the island, but the south is generally the driest and most sunny. The best time to travel to Gran Canaria is between May and September, but the island is a wonderful destination year round.
Gran Canaria Airport
Location:
The airport is situated 13 miles (21km) south of Las Palmas.
Time:
GMT (GMT +1 from last Sunday in March to the last Sunday in October).
Getting to the city:
Bus routes 5, 11, and 60 connect the island's capital and the airport and cost between €2.30 and €2.95. Routes also run to Puerto de Mogan, Faro de Maspalomas, Aguimes, Telda, and Playa del Cura. There is a taxi rank at the airport with taxis readily available.
Car Rental:
Avis, Cicar, Europcar, Goldcar, Hertz, and Top Car AutoReisen are all represented at the airport.
Airport Taxis:
Taxis are available at the airport, outside on the ground floor of Arrivals.
Fascilities:
Facilities at the airport include bureaux de change, ATMs, a post office, a children's play area and a wide variety of shops, bars, and restaurants. Disabled facilities are good; those with special needs are advised to contact their airline in advance.
Parking
Parking at the airport is conveniently located a few metres from the terminal.
Santa Cruz La Palma Airport
Location:
The airport is located five miles (8km) south of Santa Cruz La Palma.
Getting to the city:
There is a regular bus service to the airport from La Palma.
Car Rental:
Avis, Cicar, Europcar and Hertz operate car hire facilities at La Palma Airport.
Airport Taxis:
Taxis are available outside the terminal.
Fascilities:
The terminal contains duty-free shopping, restaurants, banks, tour operators, meeting rooms, police station, children's play area, first aid station and information desk.
Parking
There is short and long-term parking available at the airport.
The nightlife in Gran Canaria is energetic and fun, with nightclubs, foam parties, karaoke, casinos, and cabarets dominating the party scene. Most of the nightlife on the island is centred round Playa del Ingles, and the Kasbah Centre here is brimming with pubs and clubs, such as the Hippodrome, Havana, and the iconic Pascha nightclubs which are open until the early hours.
If you're looking for a gay party scene, head to the Yumbo centre. Entrance to most nightclubs is free but drinks and cocktails can be expensive. The capital city also has a great nightlife: Las Palmas' Plaza de España, in the Mesa y Lopez district, has pulsating clubs and bars that are open until very late, as well as live bands, jazz bars, pubs, discos, and a casino.
The Maspalomas Plaza is great if you're looking for a couple of relaxing pints in a bar, and Puerto Rico is one of Gran Canaria's hottest resorts after dark, with all-night clubbing and pubbing at places such as Disco Joker and Snoopy's Bar.
Playa del Cura is a fantastic location for a mellower evening out and although there is a club in Puerto Morgan, most of the evening entertainment is distinctly low-key in comparison to its neighbouring resorts.
Gran Canaria has a plethora of fantastic attractions that will appeal to all kinds of travellers. Tourists travel to Gran Canaria mainly to enjoy the resorts and beautiful beaches, but there is a lot to enjoy besides sun, sand, and sea.
Animal lovers should head to Palmitos Park, Reptilandia, and Parue de los Cocodrilo to engage with all sorts of creatures, while culture vultures should head to the Museo Canario in Las Palmas to admire the world's largest collection of Cro-Magnon skulls, or the Casa de Colon, a historic old house that is now a sort of maritime museum. For something completely different, head to Sioux City in San Agustín for a wild-west day out, while the town of Arucas remains a popular tourist attraction.
Getting around Gran Canaria to explore the varied landscapes and various towns and resorts is easy. There are plenty of cheap, metered taxis available in the resorts and towns. Grand Canaria also has reliable and efficient bus services which operate around the resorts and to all the main towns on the island; there is nowhere on the island that takes much longer than an hour to get to by bus. Local car rental companies have offices in all the main resorts for those who prefer to explore independently.