Centuries of relative isolation has allowed SouthKorea to develop and maintain a distinct and unique culture. Thepast few decades have seen the country transform into a globalpowerhouse, with a combination of ancient history and cutting-edgemodernity proving a huge pull for travellers.
Despite being a small country, South Korea is home to11 UNESCO-listed sites. 10 of these are cultural and one isnatural. The sites include the Changdeokgung Palace Complex; theancient dolmen structures found at various sites; the GyeongjuHistoric Areas; the Haeinsa Temple; the historic villages of Hahoeand Yangdong; Hwaseong Fortress; Jeju Island; the Jongmyo Shrine;Namhansanseong; the Royal Tombs of the Joseon Dynasty; and theBulguksa Temple.
The Korean Wave has seen a massive appreciationgrowing internationally for Korean pop culture, with K-pop andfashion hitting the mainstream. The biggest urban attractions arethus often booming entertainment, buzzing nightlife, andrestaurants.
Visitors exploring South Korea should considerpurchasing passes tailored to their experience or location. Theseexclusive tourist cards can be used for transport, accommodation,entrance fees, and even shopping.
Gyeongbokgung
The jewel of Seoul's five historic palaces, Gyeongbokgung wasbuilt in 1395 by Lee Seong-Gye. Founder of the Joseon Dynasty, heestablished the city as the capital of Korea. The magnificentrectangular palace now contains the National Museum of Korea andNational Folk Museum of Korea, featuring royal apartments andstaterooms, gardens, and elegant lotus ponds.
The pavilion features on the 10,000 South Korean won note. Thepalace is in a process of continual restoration as newarchaeological treasures are uncovered and restored to their formerglory. This historic palace complex consistently ranks as one ofthe best loved tourist attractions in Seoul.
Address:
1 Sejong-no, Jongno-gu
Transport:
Five-minute walk from exit 5 of Gyeongbokgung station(Seoul Subway Line 3)
Opening time:
The palace's operating hours are generally 9am to 6pmbut these times can change depending on the season. Check websitefor details.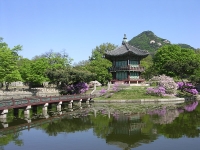 Gyeongbokgung Joon-Young, Kim
Jeju Island
Jeju Island is one of the most popular holidaydestinations in South Korea and can be reached by ferry from Busan.Found off the southern tip of the Korean Peninsula, it enjoysrelatively warm weather throughout the year. Visitors generallyflock to its beaches, as well as the volcanic Mount Hallasan.
The island is home to a number of interestingmuseums, including the Folklore and History Museum, theIndependence Museum, and the fascinating Haenyeo Museum whichprovides valuable insight into the tradition of the Haenyeo womendivers of the island.
Jeju Island has many fascinating natural wonders,including the Gimyeong Maze, the Manjanggul lava tube cave, thehexagonal-shaped Jusangjeolli cliff, and Cheonjiyeon Waterfall. IhoBeach is made up of both yellow and dark grey volcanic sand,creating beautiful patterns in the tidal waters.
Visitors to Jeju Island can go on numerous tours ofthe island or they can relax on the beaches or at hot springresorts. There are many hiking trails and going scuba diving isdefinitely one of the top things to do on Jeju Island.
The island has a broad range of hotels andaccommodation options and there are many small restaurants servingup regional delicacies ranging from live squid to mandarin oranges,mushrooms, abalone, and wild boar.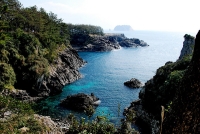 Jeju Island Martin Chen
Lotte World
Fun and thrills are the order of the day at Seoul's main themepark, drawing about six million annual visitors. According to theGuinness Book of World Records, Lotte World is the largest indoortheme park in the world.
The park is divided into an indoor and outdoor section. Inside,Adventure Land covers acres of streets representing differentcountries filled with hundreds of activities, entertainmentactivities, shops, restaurants, and ongoing parades.
Outdoors, Magic Island offers thrilling high-altitude rides,laser shows, and pleasant walking trails around a lake, all set inthe shadow of a fairytale castle. There is also an indoor ice rinkand a fascinating Folk Museum, complete with miniaturevillages.
Address:
240 Olympic-ro, Songpa-gu
Transport:
Jamsil Subway Station (Line 2 and 8). Take exit 4directly to Lotte World
Opening time:
Operating hours are 9.30am to 10pm.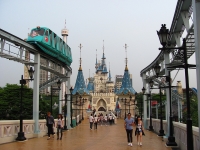 Lotte World Jeremy Thompson
Insadong
No visit to Seoul is complete without exploring the capital'sheart and artistic soul. Known colloquially as Mary's Alley, thealleyways of the Insa-dong District contain antique shops andcountless art galleries that delight collectors and casual browsersalike.
From ancient Chinese pottery to yellowed books and delicatejewellery, most visitors manage to find a treasured souvenir orspecial gift among the quaint stores. There are plenty ofrestaurants, taverns, and traditional teahouses in the area too,ensuring shoppers stay refreshed while seeking out treasures.
Address:
Insadong Junction, Jongro-gu
Transport:
Subway to Anguk Station (Seoul Subway LineNo.3)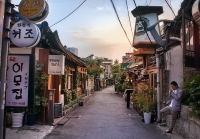 Insadong Katie Haugland
Namsan Park
Namsan is the mountain that stands as a sentinel in the centreof Seoul, proving to be a popular recreational feature in the city.The route through to the top is not extremely high and hikingthrough the park isn't too challenging.
A cable car and stairway take visitors to the summit, wherethere are several attractions such as the Maritime Aquarium,botanical gardens, and fountains. Seoul Tower, at 1,575ft (480m),offers a fantastic view of the city and surrounds, as does itsrevolving restaurant.
Also set within the park, the Namsangol Hanok Village centres onfive restored historical Korean homes. Depicting the environmentsof various social classes from the Joseon Dynasty, the village is atime capsule with a peaceful pond and pavilion set in the midst ofthe city.
Visitors can not only explore the houses, but also enjoytraditional tea, shop for souvenirs, browse traditional crafts, ortry their hand at ancient games like neolttwigi (jumping on asee-saw) or arrow throwing. On weekends in summer, traditionalwedding ceremonies are held at midday.
Address:
100-177 Hoehyeon-dong 1-ga Jung-gu
Transport:
A 10-minute walk in the direction of Lila ElementarySchool from Myeong-dong Station on Seoul Subway Line 4 (Exit 2 or3)
Opening time:
The park's operating hours are generally 10am to 11pmbut these times can change depending on the season and weatherconditions. Check website for details.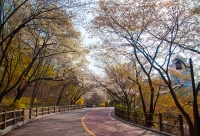 Namsan Park Jordi Sanchez Teruel
Changdeokgung
One of the Five Grand Palaces built by the kings of the JoseonDynasty, Changdeokgung is set within a large park in Jongno-gu andthe whole complex has been included on the UNESCO World Heritagelist. Located east of Gyeongbok, Changdeokgung is also referred toas the East Palace.
It was the favoured palace of many kings of the Joseon Dynastyand in accordance with the Three Kingdoms of Korea period, itsbuildings blend harmoniously with the natural landscape. At least600-years-old, this historic site is one of Seoul's touristic gems.The colourful and intricate architecture is set in expansivegardens, a peaceful green place which is ideal for a meditativestroll.
Transport:
Subway line 3, Anguk Station, Exit 3. Subway lines 1, 3or 5, Jongno 3-ga Station, Exit 6.
Opening time:
The Palace's operating hours are generally 9am to 6pmbut these times can change depending on the season. Check websitefor details.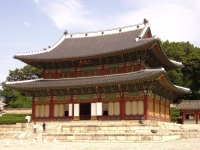 Changdeokgung Daderot
Jogyesa
Jogyesa serves as the primary temple of the Jogye Order ofKorean Buddhism. First established in 1395, Jogyesa is located inthe district of Jongno-gu in central Seoul. In 1998, Jogyesa madeinternational news when several monks occupied the temple for morethan 40 days in a power struggle between factions of the JogyeOrder.
A highlight of this attraction is a lacebark pine, an ancientwhite tree within its grounds said to be around 500 years old. Theprinciples of Buddhism have been taught at this temple for morethan a century and visitors keen to interact with the monks andlearn something about their faith can join one of the temple'steaching programmes.
Address:
Gyeonji-dong, Jongno-gu.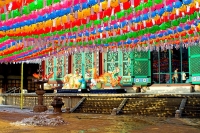 Jogyesa parhessiastes
Jongmyo Shrine
Jongmyo Shrine is a UNESCO World Heritage Site and celebrated asone of Korea's foremost cultural treasures. Built in 1394, it's theoldest Confucian shine in the world and often holds ceremonies,rituals, and traditional dance performances. Jongmyo is theofficial shrine of Korea's Joseon Dynasty, with it serving as thechief place of worship for the royalty of this line.
The shrine is made up of a number of halls as well as a smallcloister, with its interior, roofs, and ceilings exquisitelypainted and decorated. Jongmyo is the term used for a place wherememorial services are performed and it's therefore unsurprisingthat the shrine is home to more than 40 memorial tablets of pastkings and queens of Korea. Tourists visiting Seoul will find thatJongmyo is situated within walking distance of the ChangdoekgangPalace and the two attractions can be conveniently combined whilesightseeing.
Address:
157 Jong-ro, Jongno-gu
Transport:
Take subway lines 1, 3 or 5 to Jongno-3-ga subwaystation.
Opening time:
The Shrine's operating hours are generally 9am to 6pmbut these times can change depending on the season. Check websitefor details.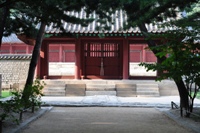 Jongmyo Shrine Oskar Alexanderson
Seoraksan National Park
The mountain of Seoraksan in Gangwan Province is one of the mostscenic settings in South Korea and is a UNESCO Biosphere Reserve.Seoraksan National Park is home to the country's third highestpeak, reached by means of a variety of trails up the mountain. Forthe less physically inclined, there is a cable car that runs someof the way up the mountain.
The most popular time to visit Seoraksan is during autumn, whenthe surrounding foliage creates a visual feast with the leaveschanging from green to the colours of auburn, red, yellow, brown,and gold before dropping. Seoraksan is best accessed from the smallseaside city of Sokcho on Korea's east coast.
Aside from the gorgeous flora, there is also a host of wildfauna to spot in the reserve. Together with rare plants such asEdelweiss and diamond bluebell, endangered animals like the Amurgoral, Korean musk deer, and Tristram's woodpecker are also foundwithin its borders. A total of around 2,000 animal species exist inthe park.
Address:
Gangwan-do, Sokcho-si, Seorak-dong San 16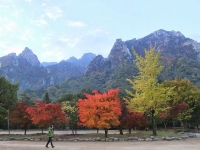 Fall in Seoraksan National Park Phil Venditti
Beaches in Busan
Busan is home to a number of excellent tourist sites.Yet its standout attractions must be its beaches, which are famousthroughout Korea and draw tens of thousands of vacationers annuallyto the busy port city.
Busan's beaches are best experienced in spring,autumn, and winter, as between mid-June and the end of August(Korea's official beach season) they can become unpleasantlyovercrowded. Busan's main beach is Haeundae, which sports a goodamount of fine golden sand and good swimming conditions.
The area surrounding Haeundae Beach is also full oftrendy bars and restaurants, a wealth of shopping opportunities,and lots of accommodation options, making it the perfect base for aweekend getaway in Busan. The next beach down the pecking order isGwangalli, which has a great view of the Gwangan Grand Bridge, andon any given day will play host to a number of informal volleyballgames.
Slightly more remote beaches, which might not suffertoo much from overcrowding, include Songjeong with its cleanerwaters and bigger waves (ideal for surfing) and Dadaepo, located ina river estuary about five miles (8km) from downtown Busan whichfeatures shallow waters and outstanding natural scenery.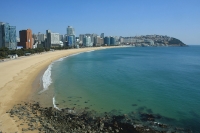 Haeundae Beach TravelingOtter
Busan Aquarium
Korea's largest aquarium and one of its most talked abouttourist attractions, the Busan Aquarium is a sure-fire winnerguaranteed to delight visitors of all ages. The aquarium is a majoroperation and spread over three levels, with its main tankcontaining an astounding three million litres of water.
The Busan Aquarium is home to roughly 35,000 marine animals frommore than 250 species, and features special exhibitions to showcaserare and exotic creatures such as jackass penguins, clawed otters,electric eels, sharks, piranhas, giant turtles, and an assortmentof colourful sea jellies.
Visitors largely view the sea life from the confines of animpressive 260-foot (80m) underground tunnel, through enormousacrylic windows that allow for photography. Of particular interestto younger visitors is the aquarium's 3D simulator located on thefirst floor, a cutting-edge piece of technology that gives you ataste of what it must be like to explore the ocean floor onfoot.
One of the best things to see in Busan and a must for familyvacationers, the Busan Aquarium is a delightful way to spend a fewhours marvelling at the ocean's riches before heading upstairs andout onto Haeundae Beach to catch some sun.
Address:
Haeundae Station, Busan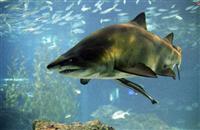 Busan Aquarium Kaede
Galbi Restaurants
A quintessential Korean pastime and a good everyday option forbudget-conscious travellers, galbi restaurants are immenselypopular places which are full every night of the week with locals,expatriate workers in Korea, and tourists.
The basic concept of galbi is simple: patrons sit around aprivate barbecue grill and order portions of raw, succulent pork,which they then cook themselves at their own leisure. Of course,over the course of the evening, the waiter will bring a seeminglyunending selection of complimentary side dishes (banchan) to thetable, including the ubiquitous national dish kimchi (spicyfermented cabbage), a variety of jjigaes (soups), pajeon(pancakes), bean sprout salad (kongnamul), spicy soy bean paste(doenjang) and more.
Over and above the culinary experience of eating in a galbirestaurant, tourists will love the laidback atmosphere and uniquesocial dynamic of cooking food with friends in a restaurantsetting. Alternatively, solo travellers or newly-arrived expatswill find that galbi restaurants are the perfect places to meetpeople and establish new friendships. Alcohol (usually consistingof soju or maekju, a type of beer) is always served at theseestablishments and is generally quite cheap.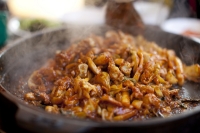 Dak Galbi tomcensani
Itaewon
Without doubt the most popular area of Seoul for foreignvisitors, the gritty neighbourhood of Itaewon is one of Korea'scoolest and most cosmopolitan urban enclaves. Located near the USarmy base in Seoul, Itaewon is full of great bars, restaurants,clubs, and shops.
Shopping in Itaewon is a unique experience, selling anythingfrom fine tailored suits to cheap plastic jewellery and extremelyrare vintage records to American football jerseys. The area is alsocelebrated for its wide range of restaurants. Aside from fast foodjoints and galbi restaurants, people can tuck into French cuisine,fine Indian and Pakistani curries, and thick steaks and racks ofbarbecue ribs.
As wonderful as Itaewon is during the day, it comes alive atnight. Travellers will find an inexhaustible selection of clubs,bars, discos, karaoke rooms, and live music venues. Some of theseare very upmarket and feature international DJs, while others arepretty seedy. An exciting and edgy neighbourhood, Itaewon is theperfect base for young visitors looking for an unforgettable bigcity experience in Seoul.
Address:
Yongsan-gu, Seoul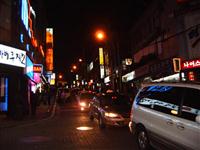 Itaewon at night S/Sgt Stull
The climate in Korea is temperate, with four very distinctseasons. South Korea has a continental climate characterised byvery cold, dry winters and very hot, humid summers. Spring andautumn are relatively short and temperatures are mild and generallyquite pleasant, making these the most comfortable seasons to visitSouth Korea.
Spring is generally quite short and occurs in late March andearly April. South Korean summers arrive suddenly in late April andare warmed by moist prevailing winds from the Pacific Ocean.Typhoon season is from June to September, and while South Koreadoesn't experience typhoons like those in Southeast Asia, thesouthern parts of the peninsula do experience a lot of rain. Infact, most of the rain falls in summer during a monsoon seasonknown as jangma.
Autumn passes through the peninsula from late September throughOctober, with winter setting in sooner in northern areas such asSeoul, and autumn lasting longer for the southern cities, such asBusan.
South Korean winters are harsh with temperatures dropping belowfreezing and icy winds blowing in from Siberia. Mountainous areasas well as the northern areas of the country experience somesnowfall but the southern parts and coastal regions experiencelittle to no winter snowfall.
Money:
The official currency is the South Korean Won (KRW). Currencycan be exchanged at most banks and at casinos. Most merchants inthe cities accept major credit cards but Koreans traditionallyprefer cash.
ATMs at banks are usually accessible only during banking hoursand instructions on the machines are generally only in Korean. Mostpublic ATMs at convenience stores and subway stations are available24 hours. Dollars are accepted in a limited number of majorlocations and hotels.
Language:
The official language is Korean.
Electricity:
Electric current is 220 volts, 60Hz. Two-pin, roundplugs are standard.
Entry Requirements:
A valid passport is required for entry. A visa is not requiredfor stays of up to 90 days.
A valid passport is required for entry. A visa is not requiredfor stays of up to 90 days.
A valid passport is required for entry. A visa is not requiredfor stays of up to six months.
A valid passport is required. A visa is not required for staysof up to 90 days.
A valid passport is required. A visa is not required for staysof up to 30 days.
A valid passport is required. A visa is not required for staysof up to 90 days.
A valid passport is required for entry. A visa is not requiredfor stays of up to 90 days.
A valid passport is required. A visa is not required for staysof up to 90 days.
Passport/Visa Note:Visa:
All visitors require a valid passport, a return or onwardticket, sufficient funds, all documents for the next destinationand a contact address in South Korea. Those requiring a visa shouldobtain one from a Korean Embassy or Consulate before entering thecountry or, if they qualify, apply for an e-visa and carry theirElectronic Visa Issuance Confirmation. Visas are not required forpassengers holding APEC Business Travel Cards, provided the back ofthe card states validity for travel to South Korea. It is highlyrecommended that passports have at least six months validityremaining after your intended date of departure from your traveldestination. Immigration officials often apply different rules tothose stated by travel agents and official sources.
Travel Health:
There are no required vaccinations for entry to South Korea andstandards of medical care are high. Payment for treatment isusually expected in advance. Travel insurance with provision forrepatriation is recommended.
Typhoid inoculations are recommended for those who plan to spendprolonged periods in rural areas. There is a small risk of malariais rural areas. Tap water is chlorinated but may cause stomachupsets, therefore it is preferable to drink bottled water.
Tipping:
Tipping is not customary in Korea. Sometimes, expensiverestaurants and luxury hotels may add a service charge of 10percent. Taxi drivers are usually tipped small amounts if theyassist with baggage.
Safety Information:
Most visits to South Korea are trouble-free. The crime rateagainst foreigners is low, but it is still advisable to usesensible precautions, particularly in safeguarding passports, moneyand credit cards in crowded areas, and travellers should becautious, particularly at night, travelling only in legitimatetaxis or public transport. The political situation is generallystable but since the Korean peninsula was divided by ademilitarised zone in 1953, tensions have risen and fallen onoccasion. It is wise to be informed about current conditions. Youshould carry some form of identification at all times.
Local Customs:
English is not widely spoken or understood, so if you plan touse taxis or other local services it is wise to have instructionswritten down in Korean. It is advisable to carry some form ofidentification at all times. Social harmony is crucial, and publicanger or criticism that causes an individual to 'lose face' ordignity is a serious breach of etiquette. Koreans will go out oftheir way to maintain a comfortable situation.
Business:
The increase in trade with Western countries has meant thatKoreans do not expect visitors to understand all the nuances oftheir culture; however, attempts to respect traditions areappreciated. Koreans dress conservatively and formally and it isimportant to do the same. Koreans like to do business with peoplewhom they know and often introductions via a third known party arenecessary. Greetings often consist of a bow, followed by ahandshake. Introductions are very important and ascertain thehierarchy, often according to age, which is to be observed andrespected. Usually the most important person will be introducedfirst. Greetings and pleasantries in Korean will be appreciated,including 'an-yong-ha-say-yo' (hello), and 'kam-sa-ham-ni-da'(thank you). Business card etiquette is vital: cards should begiven and received with both hands, with the details translatedfrom English into Korean or Chinese on the alternate side, and mustbe treated with the utmost respect. Each one is to be readcarefully and the name acknowledged. It is important, when issuingcards, not to stack them or keep them in one's wallet or purse.Koreans are referred to by their surnames or family names first andthen their given names second and it is best to ask in advance howto address the person. The giving of gifts is appreciated and oftenreciprocated. Business hours are generally 9am to 6pm Monday toFriday.
Communications:
The international dialling code for South Korea is +82.Telecommunications are well developed.
Duty Free:
Travellers (over the age of 19) arriving in South Korea maybring in the following items free of customs duty: 200 cigarettesor 50 cigars or 250g tobacco products; 57g perfume; 1 litre ofalcohol (only those over 20 years old); and gifts valued at notmore than 400,000 won. Products from communist countries areprohibited, as are fruit, seeds and any published or recordedmaterial deemed to be subversive or obscene.