Union Buildings
Designed by renowned South African architect, Sir Herbert Baker, the Union Buildings are located on Meintjieskop hill: a sentinel overlooking the city of Pretoria. They are the official seat of the country's government and houses the offices of the South African President and other government officials. The Union Buildings are a South African Monument and have seen such icons as former South African president, Nelson Mandela, inaugurated. The main semi-circular building is considered an architectural masterpiece and is an easily recognisable South African landmark. It is worth seeing and photographing for tourists in the area. With spectacular terraced gardens full of indigenous flora, the Union Buildings are not only historically important, but also rather beautiful. The spacious gardens are a popular venue for picnics and wedding photos and visitors are welcome every day.
However, the buildings themselves are never open to the public. There are various monuments to see in the gardens, including the South African Police Memorial and a monument to General Louis Botha, the first prime minister of the Union of South Africa.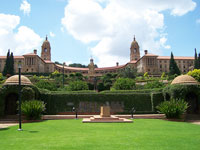 Union Buildings Hühnerauge
National Zoological Gardens of South Africa
Commonly known as the Pretoria Zoo, the National Zoological Gardens of South Africa is often described as one of the leading zoos in the world. It is the largest zoo in South Africa and the only one with national status. Tickets include a visit to the zoo, an aquarium, and a reptile park. The Pretoria Zoo cares for more than 200 mammal species, more than 200 bird species, around 190 fish species, and more than 90 reptile species. The zoo is known for its large enclosures and animals which include cheetahs, chimps, lemurs, leopards, rhinos, hippos, elephants, red pandas, koala bears, lions, and tigers. Golf carts and children's pushcarts are available for rent and there is even a Zoo Choo-Choo Tractor Train for the kids to enjoy. The cable car, which runs up a hill and offers great views over the city, is one of the highlights. Visitors will also find a restaurant, a cafeteria with a wide variety of take-away options, a few snack kiosks, and numerous pretty picnic sites where they can relax in the shade. Some picnic sites even have barbeque facilities.
There are a variety of tour options at the zoo and those who want to take something away with them can try the curio shop for souvenirs.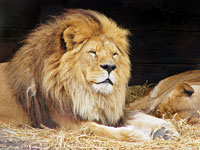 Lion Tambako the Jaguar
Loftus Versfeld Stadium
A shrine for many of Pretoria's rugby fanatics, the Loftus Versfeld Stadium seats over 50,000 people and was one of the stadiums that hosted matches in the 2010 FIFA World Cup. The land on which the stadium was built was first used for sporting events in 1903 and is named after Robert Owen Loftus Versfeld, who is attributed with establishing organised sport in Pretoria. Loftus Versfeld stadium is home to the Blue Bulls: the local rugby team. Passionately supported by Pretorians, the team has been very successful locally and internationally. The stadium has hosted numerous big sporting events, such as the 1995 Rugby World Cup and the 1996 CAF Africa Cup of Nations. Enthusiastic sports fans may want to add the stadium to their sightseeing itinerary, and rugby supporters travelling to Pretoria should try and take in a game at this famous South African venue. Those who are indifferent to rugby and sport in general may want to check for other events showing at this superb venue during their stay.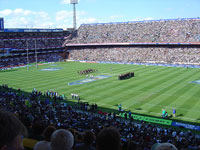 Loftus Versfeld legio09
Kruger House Museum
The former residence of Boer leader and President of the Republic of South Africa, Paul Kruger, is now the Kruger House Museum. Built in 1884, the house was the last one in which President Kruger would live before leaving South Africa to go into exile in Europe. Exhibitions in the museum detail Kruger's leading role in the South African War, formerly known as the Anglo-Boer War, against Britain. It also provides information regarding his presidency at a formative and tumultuous period in South African history, and his exile to Europe. Adjacent to Kruger House is the former Bantu Commissioner's Office. Erected in 1932, it was also used as the Native Pass Office. Kruger's government used the same site as police headquarters. The house contains some original furnishings from Kruger's residency and some other items from that historical period. Present too are many gifts that were presented to Kruger, such as the lion statues on the veranda, as well as other memorabilia. The museum mainly aims to recreate the living conditions of the time, but also gives some insight into the life of this South African character.
Although the museum may not be entertaining for all tourists, those interested in the historical period should find it worthwhile.
Address:
60 Church Street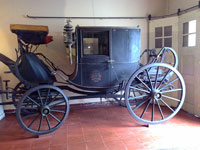 Coach at Kruger House Museum retnev
Pretoria National Botanical Garden
Featuring indigenous plants and flowers from all over South Africa, the Pretoria National Botanical Garden bridges the gap between scientific research and recreational garden pleasures. The garden is home to over 198 bird species, a few reptiles and even small mammals like the adorable duiker. A high quartzite outcrop divides the grounds into two sections: a colder, south-facing section, and a warmer, north-facing section, presenting slightly different natural moods. A paved nature trail provides access to the ridge, which boasts a wonderful diversity of indigenous flora and fauna. More than half of the total area is dedicated to landscaped garden, using almost exclusively South African vegetation, including 50 percent of the country's tree species. The garden includes several distinct biomes, with savanna and forest sections. A great place for a relaxing walk or picnic, the gardens also feature Mokha Restaurant, which overlooks a small wetland. No pets are allowed in the garden, except guide dogs. Picnics are encouraged, though no fires or braais (barbeques) are permitted anywhere in the grounds. Neither bicycles nor skateboards are allowed.
Address:
2 Cussonia Avenue, Brummeria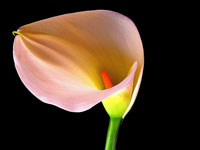 Arum Lilly Lollie-Pop
Pretoria enjoys a very favourable climate, with dry and sunny weather most of the year. The city has a dry subtropical climate, with long, hot, and rainy summers and short, cool, and dry winters. Pretoria is situated in a valley, which ensures that the weather is generally hotter than one might expect considering the high altitude.
In summer, between November and February, the average temperatures in Pretoria range between 64°F (18°C) and 84°F (29°C), and in winter, between June and August, the average temperatures range between 41°F (5°C) and 66°F (19°C).
Like Johannesburg, between the months of October and April, Pretoria experiences frequent heavy afternoon thunderstorms with downpours of rain that disappear as quickly as they arrive. These storms come as a relief from the heat and are generally not much of a hindrance to travel.
Winter days are only slightly cooler than the pleasant summer average temperatures, but it can become frosty on winter nights. There is virtually no rain during the winter months and snow is extremely rare. The best time to visit Pretoria is in the shoulder months of spring and autumn, but the hot, rainy summer is also pleasant.
Pretoria is a bustling city with limited safe and convenient public transport, to the detriment of its visitors. City transport consists of an unreliable bus network and a series of minibus taxi routes, neither of which operate much after dark.
The quickest and cheapest way to get around is on a minibus taxi, an informal bus service that goes everywhere but has no schedule or formal stops and can be picked up at taxi ranks or hailed anywhere along its route.
Dangerous driving, overcrowding and high crime rates at taxi ranks have deterred many from using them as a means of transport. If necessary, visitors should use them for short hops only and never with baggage.
Safer but far more expensive are metered taxis or Uber services, which need to be booked in advance. The best way to get around is by private car and there is an excellent network of highways and well-maintained roads.
There are a number of car rental agencies, most require drivers to be over 23 years old and hold a full driving license. A passport and credit card are also necessary. However, some may have additional stipulations applied to younger drivers.
Drivers should keep their windows up and doors locked at all times, never leave anything visible in a parked car, and never stop for hitchhikers. They should be aware that there is a risk of car hijacking and remain alert, especially when leaving or returning to the car, and seek out secure parking.
The high-speed rail link called the Gautrain connects Pretoria, Johannesburg, and OR Tambo International Airport, and provides the perfect means of transport between the two cities.
The best sightseeing opportunities in Pretoria involve its historical attractions. As the South African seat of government and the administrative capital of the country, the city has some famous landmarks.
These landmarks include the Union Buildings, where visitors can picnic in the lovely grounds and admire numerous monuments and memorials, the imposing Voortrekker Monument, which has been the topic of some controversy in South Africa, Melrose House, a restored Victorian mansion, and Kruger House, which serious history buffs will enjoy.
For those travelling with children, Pretoria is a surprisingly fun city full of family activities. The zoo is a must, and a picnic in the Pretoria National Botanical Garden is a fun excursion. Parents could also start by taking the older kids paintballing. This is a high adrenaline game that involves a fair degree of pain when shot and is not suitable for kids younger than 12.
Another option outside of the city is quad biking, which involves visitors renting mini quad bikes for riding around a large dirt track. It's a fun experience, closely supervised, but is also not suitable for kids under 10. A better bet for younger kids is skating at the Grove Ice Rink.
Of course, the many attractions of Johannesburg are very close by. Another fun excursion from Pretoria is a trip to Cullinan. Travellers should look out for Friends of the Rail, a heritage company that runs steam train trips from Pretoria to Cullinan and back.