Slovenia's attractions are many and varied, withenough historical sites, cultural curiosities, and outdooractivities to excite any traveller. Appreciate the peacefulcountry's natural beauty and diversity as you sunbathe on theAdriatic coast, go skiing in the Alps, or wander through ancientforests and fertile valleys.
Adventurous visitors should explore the wonders ofsubterranean Slovenia in the Postojna and Skocjan Caves, and canenjoy numerous outdoor pursuits, such as rafting, canyoning,horseback riding, and kayaking, while Triglav National Park isideal for hiking and mountaineering.
Soak up Slovenia's rich heritage in lively Ljubljana,the country's capital, or in one of the smaller towns, likewell-preserved Piran on the coast, or one of the oldest towns inSlovenia, Ptuj. Travellers can learn about the country's historyand culture in various museums and admire the mix of architecturalstyles evident in the old town centres, majestic palaces, andmagnificent castles, such as the Bled, Ljubljana, and Predjamastrongholds.
Visitors can also explore the verdant Vipava Valley,where they will find delectable but underappreciated wines toaccompany excellent traditional cuisine. Hosting a wealth of eventsand festivals each year, Slovenia is full of character and culture,and travellers should have no problem finding locals willing toshare it with them.
National Museum of Slovenia
The impressive National Museum of Slovenia ishoused in a lovely neo-Renaissance style palace, the mostinteresting and popular of Ljubljana's many museums. Alongsidefascinating temporary exhibits, the permanent exhibition consistsof various artworks, alongside archaeological artefacts anddisplays, such as a 60,000-year-old "Neanderthal flute", ancientPalaeolithic artefacts discovered in karst cave sites, and the onlyEgyptian mummy in Slovenia.
The National Museum is made up of three museums:the historic Presernova, the newer Metelkova, and the NaturalHistory Museum. Visitors can explore just one or all threedepending on their schedule, and combination tickets areavailable.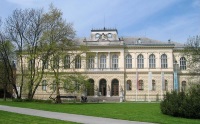 National Museum of Slovenia Ziga
Plečnik House
Architect Joze Plecnik is largely responsible for the city ofLjubljana being as neat and well planned as it is, with hisinsistence on classical lines and uniform dimensions. The renownedarchitect's home and studio is open to the public a few days aweek, furnished and equipped as he left it. However, his influenceis everywhere in the city and can be admired at sites like the wideShoemaker's Bridge and the colonnaded market beside the river.
Address:
Karunova ulica 4, Trnovo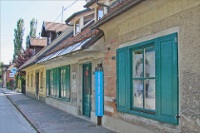 Plecnik House Jean-Pierre Dalbera
Ljubljana Castle
The imposing Ljubljana Castle towers over the city, offeringspectacular views of the Ljubljanica River and old town skylinewith the distant Alps providing a stunning backdrop. A steepcobbled street winds its way from the old town to the medievalfortress, which originally dates back to the 11th century.
The castle complex includes a museum, restaurant, and chapel,and access to the castle is provided by a scenic funicular ride.Visitors can admire the view from the castle's impressive tower,stroll through the tranquil grounds, learn about Slovenian historyat one of the museum exhibitions, or attend one of the manycultural events hosted at the fortress.
Address:
Grajska Planota 1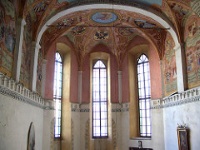 Ljubljana Castle interior Martin Belam
Cathedral of St Nicholas
The magnificent Cathedral of St Nicholas, dedicated to thepatron saint of sailors and built in the Baroque style, dates fromthe early 18th century but was renovated and had beautiful carvedbronze doors added for the Pope's visit in 1996. The doors depictthe development of Christianity in Slovenia and give way to arichly ornate interior below the impressive cupola and stunningGiulio Quaglio frescoes.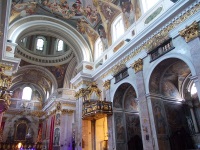 Cathedral of St Nicholas Janez Drilc
Ljubljana Zoo
The quaint Ljubljana Zoo is situated in a forested area a shortwalk from the city centre. The small size of the zoo gives visitorsa more intimate experience, with opportunities to handle some ofthe animals, particularly the scary ones such as snakes andscorpions. Other animals at the zoo include wild cats, lions, sealions, giraffes, elephants, and over 100 other species.
Feeding times and training exhibitions are staged throughout theday, a schedule for which is available on the website. The zoooffers a welcome break from all the cultural and historicalattractions of Ljubljana, providing family vacationers with awonderful way to entertain the children.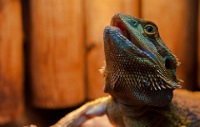 Ljubljana Zoo Bragi Thor
Tivoli Park
Tivoli Park is a massive wooded area in Ljubljana and covers animpressive five square kilometres. The park is the perfect placefor a picnic or evening stroll, boasting a number of ponds,playgrounds, sporting facilities, flowerbeds, grassy patches, andfountains.
Tivoli Park is a popular spot in Ljubljana, allowing visitors torelax and really take in the beauty of this wonderful Sloveniancity. Tivoli Park is also a wonderful place to take the kids,allowing them to run around and let off some steam.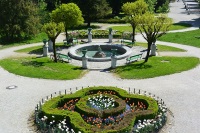 Tivoli Park Alois Staudacher
Ljubljana has a humid subtropical climate influenced by itslocation in a large basin, surrounded by sub-Alpine and karstmountain regions. Balmy breezes blow in from the Mediterranean,adding extra warmth in the summer (June to August) when averagehigh temperatures peak at about 81°F (27°C). During winter(December to February), temperature inversions cause the foggy airto hang heavy over the city, bringing cold, moist conditions.Winter temperatures average between 27°F (-3°C) and 39°F (4°C).
Slovenia has a Mediterranean climate on the coast, and acontinental climate with mild to hot summers and cold winters inthe plateaus and valleys to the east. Most of Slovenia's annualrainfall occurs during spring in the interior regions away from thecoast. Winters are cold, particularly along the eastern part of thecountry and in the Slovenian Alps, which are often covered in snowduring the winter period. The Slovenian coastline has asub-Mediterranean climate while the interior regions have acontinental climate with chilly winters and hot summers.
Ljubljana Joze Pucnik Airport
Location:
The airport is situated 16 miles (26km) north ofLjubljana centre.
Time:
GMT +1 (GMT +2 from the last Sunday in March tothe last Sunday in October).
Getting to the city:
There are frequent bus connections between the airport and city,the journey taking about an hour. Taxis are available in front ofthe terminal building. A taxi into central Ljubljana generallytakes between 25 and 35 minutes.
Car Rental:
Car rental companies represented at the airport include Atet,Avis, Budget, Dollar & Thrifty, Europcar, Hertz, Avant Car,Sixt, Agio, ABC, and Enterprise.
Airport Taxis:
Taxis are available outside the terminal building.
Fascilities:
Facilities at the airport include a bank, a bureau de change,restaurants and bars, shops (including duty-free), a touristagency, a business lounge and a post office.
Parking
Open-air parking starts at €2 for the first hour and goes up to€12 per day (€6 per day after four days). Undercover parking in themulti-level car park starts at €2.50 for the first hour and goes upto €14 per day (€8 per day after four days).
Money:
The Euro (EUR) is the official currency, which is divided into100 cents. Banks offer the best exchange rates for cash. Bankinghours are generally 9am to 5pm during the week, with some banksclosing for a lunch hour at midday. Numerous bureaux de change areopen outside banking hours throughout the country. Major ATMs arereadily available in major cities. Credit cards are widely acceptedby hotels, restaurants, and shops.
Language:
The official language of Slovenia is Slovene. Italian andHungarian are also spoken in some communities.
Electricity:
Electrical current is 230 volts, 50Hz. Round two-pinattachment plugs are most common.
Entry Requirements:
US nationals require a passport valid for at least three monthsbeyond the period of intended stay. No visa is required for staysof up to 90 days within a 180 day period.
A visa is not required for passports endorsed 'British Citizen','British Subject' (containing a Certificate of Entitlement to theRight of Abode issued by the United Kingdom), and 'British OverseasTerritories Citizen' issued by Gibraltar. No visa is required forstays of up to 90 days within a 180 day period for holders ofpassports with any other endorsement. Holders of identity cardsissued by Gibraltar authories, and endorsed 'Validated for EUtravel purposes under the authority of the United Kingdom', do notrequire a visa to visit Slovenia. Passports must be valid for aminimum of three months beyond the period of intended stay.
Canadian nationals require a passport valid for at least threemonths beyond the period of intended stay. No visa is required forstays of up to 90 days within a 180 day period.
Australian nationals require a passport valid for at least threemonths beyond the period of intended stay. No visa is required forstays of up to 90 days within a 180 day period.
South African nationals require a passport valid for at leastthree months beyond the period of intended stay. A visa isrequired.
Irish nationals require a passport valid upon arrival, but novisa is required.
US nationals require a passport valid for at least three monthsbeyond the period of intended stay. No visa is required for staysof up to 90 days within a 180 day period.
New Zealand nationals require a passport valid for at leastthree months beyond the period of intended stay. No visa isrequired for stays of up to 90 days within a 180 day period.
Passport/Visa Note:Visa:
The borderless region known as the Schengen area includes thefollowing countries: Austria, Belgium, Czech Republic, Denmark,Estonia, Finland, France, Germany, Greece, Hungary, Iceland, Italy,Latvia, Lithuania, Luxembourg, Malta, The Netherlands, Norway,Poland, Portugal, Slovakia, Slovenia, Spain, and Sweden. All thesecountries issue a standard Schengen visa that has a multiple entryoption that allows the holder to travel freely within the bordersof all. It is highly recommended that passports have at least sixmonths validity remaining after your intended date of departurefrom your travel destination. Immigration officials often applydifferent rules to those stated by travel agents and officialsources.
Travel Health:
Typhoid and hepatitis A vaccinations are recommended. Inforested areas, hikers should guard against tick bites astick-borne encephalitis and Lyme disease are a risk. Water is safeto drink, milk is pasteurised, and local meat and produce is safeto consume. Free emergency treatment is available from hospitalsand some private doctors. Slovenia has a reciprocal healthagreement with most EU countries, including the UK, providingemergency healthcare on the same terms as Slovenian nationals. EUtravellers should take a European Health Insurance Card (EHIC).
Tipping:
A 10 percent tip is expected in restaurants, hotels and by taxidrivers.
Safety Information:
There are extremely few risks involved in travel to Slovenia.The threat of terrorism is low, as is the crime rate; however,sensible precautions are advised. Travellers should guard theirvaluables from pickpockets and petty thieves, lock their cars, andshould always avoid protests, strikes, and other publicdemonstrations. A copy of your passport or some other form ofidentification should be carried at all times.
Local Customs:
The majority of the population is Roman Catholic and visitorsshould respect religious customs. Penalties for drug offences canbe severe in Slovenia. A copy of one's passport or other form ofidentification should be carried at all times.
Business:
Business etiquette in Slovenia is similar to the rest of WesternEurope. Men and women should dress conservatively in formalbusiness suits. Shaking hands with both men and women is the normand it's considered polite to greet women first. Business cards areoften exchanged after introductions, with Slovenians usuallyreferred to by their title and surname. Business hours are 9am to5pm, Monday to Friday.
Communications:
The international dialling code for Slovenia is +386. Theoutgoing code is 00 followed by the relevant country code (e.g.0044 for the United Kingdom). City or area codes are in use, e.g.(0)1 for Ljubljana. Wifi is prolific in Ljubljana and the largertowns, and free international calls can be made via theinternet.
Duty Free:
Travellers to Slovenia from within the European Union may importthe following goods duty-free: 800 cigarettes, 400 cigarillos, 200cigars, and one kilogram tobacco; 10 litres spirits, 20 litresfortified wine or liqueur, 90 litres wine (no more than 60 litressparkling wine), 110 litres beer.
Visitors from non-EU countries who are 17 and older may importup to 200 cigarettes, 100 cigarillos, 50 cigars or 250g tobacco. Inaddition, one litre spirits, or two litres fortified wine, liqueuror sparkling wine, as well as four litres wine and 16 litres beerwill not be taxed. Visitors are also restricted to 50ml of perfumeor 250ml of eau de toilette, and medicinal products for personaluse. Other goods up to the value of €430 (€150 for those under 15years old) will not be taxed.
Ljubljana is a small, compact city that is easy to explore onfoot, especially for those intent on appreciating the architecture.The next best option is the inexpensive and efficient bus service.To ride the bus, passengers first need to purchase an Urbana cardfrom self-service stations near the larger bus stops and load itwith credit.
Cars are a liability in the city, which is largelypedestrianised, and parking is at a premium. Bicycles provide a funand convenient way of getting around, available to rent for anominal fee and small deposit. Taxis are available and a goodoption after dark, when the bus service is radically reduced.
Whether you're after relaxation or adventure,Slovenia's charming capital is the perfect destination. Enjoy aleisurely holiday in Ljubljana, soaking up the country's historyand culture, sampling the unique cuisine, or relaxing at anopen-air café on a balmy summer evening.
Visitors can take a stroll through the historicalcentre, admiring the Renaissance and Art Nouveau facades, whileenjoying the Baroque architecture of the Cathedral of St Nicholasor the medieval Ljubljana Castle which watches over the city. TheNational Museum is home to Slovenia's only Egyptian mummy, whilePleÄnik House shares information on the renowned architect whohelped shape the identity of Ljubljana.
Visitors can make the most of the outdoors in2016's Green Capital of Europe by cycling alongside the LjubljanicaRiver or strolling through one of the city's many peaceful parks orforests. Kids will love interacting with the animals at theLjubljana Zoo and running around as you picnic in the beautifulTivoli Park.
Get active and enjoy the natural beauty ofLjubljana's surrounding areas with a trip to Lake Bled, just 45minutes away, where visitors can go fishing and horse riding, orexplore the Triglav National Park's fantastic walking and hikingtrails.
Lake Bled
Slovenia's most popular destination, the charmingtown of Bled is located just 45 minutes' drive from the capitalLjubljana and is the base for many tourists holidaying in Slovenia.A town with gorgeous surrounds and an ancient history, Bled'sforemost attraction is the glacial Lake Bled: a cobalt-blue expanseof water with a forested island in the middle, it's accessible bytraditional rowboats known as pletnas.
Overlooking the lake is the photogenic Bled Castlewhile the island itself is home to the spired Pilgrimage Church ofthe Assumption of Mary, one of Slovenia's most impressive sights.Bled offers tourists a range of great outdoor sporting activities,such as golfing, fishing, and horse riding, while the nearbyTriglav National Park has fantastic walking and hiking trails.Those looking for a cost-effective and richly rewarding Europeanvacation should check out Bled, Slovenia's undisputed touristjewel.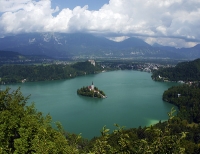 Lake Bled James Southorn
Postojna Cave
Slovenia's Postojna Cave is the most-visited cavecomplex in Europe and has welcomed nearly 200 million visitors togape at its incredible karst formations, cavernous chambers, andinteresting collection of cave animals.
Stretching for 13 miles (20km), one of the bestthings about visiting the astounding Postojna Cave Complex is itstop-class infrastructure: the cave is well-lit and visitors accessthe underground walkway by train.
Guided tours of the cave last about 90 minutes,during which time visitors are treated to a wealth of glitteringcalcite formations, stalactites, and stalagmites, as well as anunderground aquarium where an array of troglodyte creatures aredisplayed.
The Postpojna Cave is also home to a subterraneanconcert hall with celebrated acoustics and classical musicperformances are common (especially in the summer). One of the verybest things to see in Slovenia and in the whole of central Europe,a trip to the Postojna Cave Complex is highly recommended.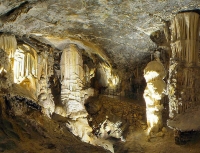 Postojna Cave Bostjan Burger
Triglav National Park
The only national park in Slovenia, Triglav NationalPark is named after the highest peak in the country and the JulianAlps: Mount Triglav. Appearing on the Slovenian flag, the mountainis a symbol of national identity.
Its craggy, snow-covered summit provides a wonderfulbackdrop to a holiday spent exploring quiet forests and hiking outto pristine waterfalls. The trail that leads out to the 240-foot(78m) Slap Savica Waterfall is particularly popular, attractingoutdoor enthusiasts from all over the continent each year.
Triglav National Park is also perfectly set up formountain bikers and keen mountaineers who wish to get to grips withthe rocky slopes. The park offers affordable camping, and its closeproximity to Italy and Austria, makes it an attractive option forbudget-conscious travellers wishing to experience the Alps withouthaving to shell out more than they can afford.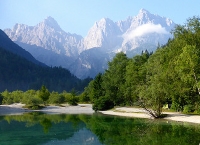 Triglav National Park Michael R Perry