Singapore's sightseeing attractions reflect the diverse population which calls the country home. In downtown Singapore, the communities of Little India and the Arab District give an exotic cultural spice to a country ultimately known more for urban planning and a high-tech economy than its history. Similarly, Chinatown stands out with its traditions and vibrant decorations in contrast to a very modern city. The creative achievements of this modernity can be viewed at the Red Dot Design Museum, the many shopping malls and the Gardens by the Bay, a fascinating marriage of technology and nature.
To escape the urban rat race, tourists can enjoy numerous stunning gardens and parks, including the Singapore Botanic Gardens, the Chinese and Japanese Gardens, the Jurong Bird Park and the Singapore Zoo. Probably the best way to experience nature within the city limits is a visit to Bukit Timah Nature Reserve, where swathes of tropical rainforest have been preserved. For others, ferrying between islands can be the best escape. Sentosa Island is a fun theme park with myriad attractions, including beaches, aquariums and amusement parks like Universal Studios Singapore. The more relaxing Palau Ubin Island is interesting for its Malay culture and is an ideal spot to go cycling or hiking along unspoiled beaches and through the forested interior.
Visitors planning a lot of travel around Singapore should consider purchasing the Singapore Tourist Pass, which allows unlimited transport on the bus and train systems.
Raffles Hotel
The Raffles Hotel is a grand Victorian edifice rising from the pavements of the colonial district. Its elegant charm has enticed writers and entertainers such as Somerset Maugham, Rudyard Kipling, Joseph Conrad, Alfred Hitchcock, Ernest Hemingway and Charlie Chaplin. Singapore Slings have become the hallmark of the Long Bar and they may not be cheap or as original as they once were but they certainly are tasty. Here ceiling fans whirr above the heads of expatriates and tourists as they sip smart cocktails in superb colonial comfort. The Tiffin Room is best known for its afternoon teas and sumptuous Saturday night buffets. Gin and tonics alongside the odd game of snooker can be enjoyed at the Bar & Billiard. There are about 15 restaurants and bars at the Raffles Hotel and reserving a table for a meal is the best way to experience the place if you are not a resident. Other distractions include an upper-level museum containing vignettes and photographs on the lives of Charlie Chaplin, Elizabeth Taylor, Richard Burton and Noel Coward, as well as a Victorian-style playhouse and numerous specialty shops and restaurants. One of the world's most famous hotels, the Raffles offers luxury, history and impeccable service.
Transport:
The hotel is located on Beach Road and can be reached by MRT from City Hall Station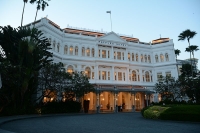 Raffles Hotel, Singapore C1815
Chinatown
Chinatown is set against the backdrop of Singapore's modern infrastructure and the prosperous financial district. It is a crowded and colourful network of streets and alleyways contained by Upper Pickering Street, Cantonment Road, New Bridge and South Bridge Road. The area is a receptacle of traditional Chinese customs that were carried to Singapore by immigrants in Chinese Junks from the provinces of Guangdong and Fujian in the early 19th century. Temples, terraces, markets and shops still provide a glimpse of the old ways but much of its original character has been lost in the redevelopment of the past 30 years. Yixing Xuan Teahouse provides a fascinating insight into the ancient, ritualistic art of tea-making, while a visit to the Thian Hock Keng Temple leaves one in awe of Chinese traditions of worship and symbolism. Many medicinal shops in the district sell traditional healing paraphernalia. Here snake skins are blended with herbs and spices to produce powerful potions for various ailments.
The streets are a delight for bargain hunters looking to buy kimonos, jewellery, t-shirts, pottery and traditional crafts. Tanjong Pagar is the area best known for its traditional crafts such as painted masks, paper umbrellas, clogs and kites. Electronic goods, luggage, textiles and other more conventional products can be found in Chinatown's modern section located at the intersection of Cross, New Bridge Road and Eu Tong Street.
Transport:
To reach China Town by MRT, the nearest station is Outram Park (EW16) or Chinatown (NE4)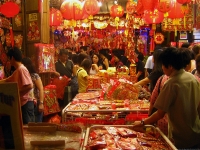 Chinatown, Singapore Calvin Teo
Little India
The first Indian settlers in Singapore arrived with Sir Stamford Raffles in the early 19th century, bringing with them colourful silks, aromatic spices, incense and other accoutrements of Indian culture. They worked on the roads and helped build the infrastructure of the city, settling within the ethnic enclave that has become known as Little India. The area is delineated by the north-south Serangoon Road, which runs parallel to Race Course Road. Its eastern end stretches to Jalan Besar. Temples, busy restaurants, curry spices, jasmine garlands and the exotic hues of silk saris fill the vibrant streets to create a colourful and pungent atmosphere. The colourful buildings make for wonderful photo opportunities and it is fun to do things like get henna tattoos and have your fortune told, or simply shop around for bargains in the many shops. Most people come to Little India for the food, however, which tends to be remarkably cheap and invariably comes in huge portions. Little India is at its best during traditional festivals, particularly the Hindu Festival of Lights, when the area is festooned with decorative lighting displays.
Transport:
Little India is a 15-minute walk from the Colonial District, Bencoolen Street or Beach Road. From Orchard Road, bus 65 or 111 to Serangoon Road. By MRT travel to Dhoby Ghaut, and from there on foot or Bus 65 or 111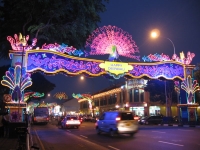 Little India, Singapore Sengkang
Kampong Gelam and Arab Street
Kampong Gelam is said to have taken its name from the Gelam tribe of sea gypsies who lived in the original Malay village southwest of the Rochor River. Sir Stamford Raffles allotted the area as an ethnic enclave to the Muslim population and it became the focal point for Arab trade and traditional Malay culture in Singapore. Baghdad Street, Muscat Street and Haji Lane resonate with tradition as cane, straw, rattan and pandan leaf goods spill out onto the streets. The variety of fabrics flowing onto the pavements of Arab Street include chiffon, silk, cotton georgette and the batiks of Indonesia and Malaysia. Located between Kandahar and Aliwal streets is the Istana Kampong Gelam. The royal palace was commissioned by Sultan Ali Iskandar Shah, the son of Sultan Hussein, who negotiated the handover of Singapore to Britain. The government gazetted the palace as a national monument in 2015, and has since turned it into the Malay Heritage Centre. Another significant building in the area is the Sultan Mosque. The glistening necks of the domes are decorated with the bases of thousands of glass bottles. It is a wonderful district to stroll through, especially in the morning or the evening.
Transport:
The Arab Quarter is a 10-minute walk from Bencoolen Street. Take bus 7 from Orchard Road to Victoria Street, if commuting by MRT, stop at Bugis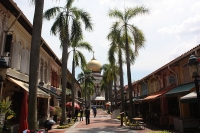 Kampong Gelam, Singapore WolfgangSladkowski
Singapore Zoological Gardens
The Singapore Zoo has been thoughtfully created to simulate the natural habitats of its resident animals. Eight zones recreate the geographic regions of the animals indigenous to them, including the South East Asian rainforest, African savannah, Nepalese river valley, Burmese jungle, and South American pampas. These vistas can also be explored after daytime during the famous Night Safari, billed as the first of its kind. Conceived of as a way to allow visitors to observe nocturnal animals 'acting naturally', the Night Safari is one of Singapore's most popular touristic activities. The method in which this has been achieved is typically ingenious: the zoo is closed during the day so the animals' sleep isn't disturbed, and at night it is lit by soft lighting that resembles natural moonlight. The zoo can be explored along its meandering walking trails or from the comfort of a tram that winds its way along a circular route. It is home to more than 2,000 animals representing over 300 species, the highlights of which include the Komodo dragons, polar bears and the many primates.
Animal shows are held daily, and children can enjoy camel rides or share food with an orangutan in the zoo's Children's World section. A Guide to the Zoo is available on arrival with details of feeding times and other activities. It includes a map and suggested itineraries incorporating the major shows and attractions.
Address:
80 Mandai Lake Road
Transport:
Bus 171 from the city to Mandai Road and transfer to 927 at the first bus stop. Or take MRT to Ang Mo Kio to connect with bus 138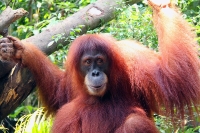 Jurong Birdpark
The park is contained within a 20-hectare (49-acre) stretch of land in the Jurong Lake area. It is one of the world's most extensive bird collections and the largest in South East Asia. Five thousand birds of about 400 different species inhabit the park, ranging from Antarctic penguins to New Zealand kiwis. Walking trails meander through the tropical landscape, allowing visitors to feel as though they are exploring in the wild. Incredible sights to look out for include the Waterfall Aviary, which at 115ft (35m) is one of the world's highest manmade waterfalls. The Penguin Parade has a large pool set against a landscape of rocks, cliffs, nesting alcoves and burrows; it has a viewing gallery where visitors can see penguins 'flying' underwater through a 98ft (30m) wide window. The South East Asian Bird Aviary is a breathtaking spectacle that includes the experience of a simulated thunderstorm. Other bird shows feature flamingos, macaws, hornbills and cockatoos. The park also includes facilities for young children to enjoy, including the fun Splash 'n Slide Station. The birds are at their most active and entertaining at feeding times and it is a good idea to time your visit to coincide with these - check the official website listed below for the feeding schedule.
Transport:
Take the MRT to Boon Lay Station and take SBS bus 194 or 251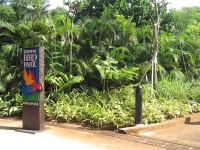 Jurong Birdpark, Singapore Terence Ong
Orchard Road
Singapore certainly is a vibrant place, and in many ways Orchard Road is the city-state's beating heart. The retail and entertainment centre of Singapore, 'Orchard' (as the surrounding area is commonly known) is as popular with locals as it is with foreign visitors, and for many years has been Singapore's prime tourist hotspot. At the southern end of Orchard Road you will find The Istana (the official residence of the Singaporean president), and at the northern end the immensely popular Botanic Gardens; while in between there is a pulsing street lined with pedestrian malls and department stores, offering some of the best shopping opportunities in Asia. Must-see places include Tangs, the first upmarket department store in Singapore, and the Tanglin Mall, which features an enormous food court that is incredibly popular with tourists and expatriate workers in Singapore. There is an almost inexhaustible range of stores and boutiques in Orchard Road, and plenty of upmarket cafes and restaurants serving international cuisine of the highest order. Make sure to leave some room in your suitcase, as shopping in Orchard Road is an irresistible tourist activity in Singapore.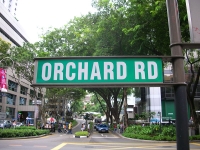 Orchard Road, Singapore Gabriel Ehrnst Grundin
Singapore Art Museum
The Singapore Art Museum (SAM) is housed in a beautifully restored building (formerly St Joseph's School for Boys) which stands serenely on Bras Basah Road. The old colonial building contrasts pleasantly with the wide selection of contemporary and pop art. The museum showcases the national art collection and plays host to a range of special exhibitions and outreach programmes. More than 7,000 artworks represent the largest collection of 20th-century Southeast Asian art in the world, but most of the exhibitions at SAM are temporary and the museum changes drastically every few months which makes it supremely revisitable. Tours with knowledgeable volunteers are available in English, Japanese and Mandarin. The Singapore Art Museum is actually a very good rainy-day attraction for those travelling with kids in Singapore as the museum has a large interactive section dedicated to children. There is also a pleasant cafe at the museum for refreshments, and a fantastic museum shop selling all sorts of merchandise that will excite lovers of design.
Note: SAM is closed for renovations until 2021. Art lovers can check the museum's website for details about offsite exhibitions.
Address:
71 Bras Basah Road
Transport:
Take the MRT to Dhoby Ghaut (N1) or City Hall Station (C2). SBS bus 7, 14, 16, 36, 97, 131 or 162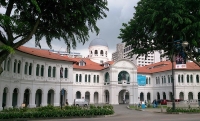 Singapore Art Museum ProjectManhattan.
Singapore Botanic Gardens
Singapore's Botanic Gardens sweep across an area of 52 hectares (128 acres) constituted by primary forest and specialty gardens in close proximity to the city centre. The National Orchid Garden is the world's largest orchid garden, featuring thousands of varieties set among water features and an exotic bromeliad collection from South and Central America. The park also contains many rare plant specimens in addition to the specialty gardens decorated with frangipanis, roses, ferns and desert plants. Outdoor concerts in the gardens can be enjoyed on the Symphony Lake or French cuisine can be savoured at the Au Jardin restaurant. Because the gates open so early the gardens are the perfect place for some morning exercise in Singapore and in the morning the grounds are full of dog-walkers, runners and yoga and tai-chi practitioners, creating a stimulating, active environment. The Jacob Ballas Children's Garden is located at the quieter northern end of the gardens and has its own visitor centre and cafe - here those travelling with kids will find a playground, some tree-houses and a maze, as well as some educational, interactive exhibits. The gardens are consistently one of the most popular attractions in Singapore, loved by both locals and tourists.
Transport:
SBS bus 7, 105, 123 and 174 or SMRT 75, 77 and 106 from Holland Road; SBS bus 66, 151, 153 and 154, or SMRT 67 and 171 from Bukit Timah Road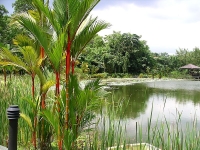 Singapore Botanic Gardens Velela
Bukit Timah Nature Reserve
Singapore and Rio de Janeiro are the world's only two cities to contain primary rainforest within their boundaries. Bukit Timah is located seven miles (12km) from Singapore's centre and provides a wonderful opportunity to experience the region's tropical rainforest without travelling into rural areas. It is a 164-hectare (405-acre) reserve preserving a variety of tree and animal species including flying lemurs, long-tailed macaque monkeys and anteaters. Designated walking and cycle trails undulate through the dense jungle and its highest point is marked by Bukit Timah at 538ft (164m). Visitors should resist the natural urge to just automatically take the main route to the summit, as the side routes and detours often traverse the best scenery. The trails are very well-maintained and visitors can choose to go for a gentle stroll or a high intensity hike depending on fitness levels. Those hoping to climb Bukit Timah should note that the ascent is steep with many steps. It is best to start exploring early in the morning to avoid the midday heat, but the forest is usually pleasantly cool compared to the city. Park authorities warn travellers not to explore the park when it is stormy as falling trees and branches can be very dangerous.
Transport:
SBS bus 170, or TIBs 67, 75, 171, 173, 184, 852 and 961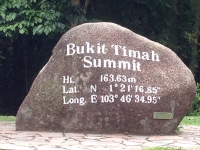 Bukit Timah Nature Reserve, Singapore Leonard Reback
Chinese and Japanese Gardens
Traditional Chinese and Japanese landscape design is gorgeously represented in these neighbouring gardens, which provide a tranquil retreat from the city and take hours to explore thoroughly. The grounds are huge and immaculately well-maintained and will delight gardening enthusiasts. The Imperial Sung Dynasty style is clipped to perfection within the 13-hectare (33-acre) Chinese Garden. It boasts the world's largest Suzhou-style Bonsai garden outside of China, containing more than 1,000 plants. There is also a seven-storey pagoda which affords views of the city and a number of graceful bridges spanning the water. The symmetry and simplicity of Zen aesthetics is the motif of the Japanese Garden with its peaceful rock gardens and summerhouses. It is interesting to compare the landscaping traditions of the two cultures, and the difference is so striking that you are immediately aware when you move from one to the other. There is a wealth of bird life in the gardens and visitors will likely see animals like monitor lizards, squirrels and fish. There is also a Live Turtle and Tortoise Museum which is a great stop for those travelling with kids in Singapore. You can buy drinks in the gardens but no food is available so pack your own if you want to make a day of it.
Address:
1 Chinese Garden Road
Transport:
Take the MRT to the Chinese Garden stop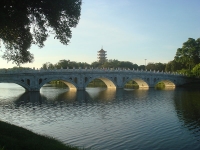 The Chinese and Japanese Gardens, Singapore DaronDierkes
Sentosa Island
This theme park island is a popular weekend excursion and one of the most visited attractions in Singapore, receiving millions of visitors a year. A day's fun could easily turn into an overnight stay in any one of the hotels or camping sites. The island is enveloped by a high-speed monorail and linked to downtown Singapore by a causeway and cable car system. Entertainment ranges from soaking up the sun on the imported-sand beaches to visiting a variety of entertainment areas. From a moving walkway one can experience the sea life of The Underwater World and Dolphin Lagoon. The images on display in the Singapore Exhibition explore Singapore's history in life-size dioramas. On the furthest western point of the island lies Fort Siloso, from which Singapore guarded its territory against invading Japanese forces. Other attractions include the Merlion, the Musical Fountain and the Sentosa Luge.
Transport:
The orange Sentosa bus leaves from the HarbourFront Bus interchange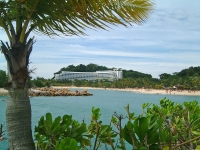 Sentosa Island, Singapore Calvin Teo
Changi Museum
It was here, during World War II, that Allied Prisoners Of War soldiers (POWs) were subjected to harsh treatment at the hands of their Japanese captors. Changi Prison is still in use as a correctional facility and it is now the place of execution for convicted drug offenders. Half a mile (1km) from the old site, next to the prison, is the new Changi Chapel and Museum. The complex is dedicated to all those who suffered and died in Singapore during the war and the war graves are a sombre and moving reminder of the sacrifice made by many. The display of photographs, letters, drawings and other personal artefacts in the museum are a profound tribute to the tragic legacy of the Japanese occupation. During the occupation, which spanned three and a half years, more than 50,000 civilians and soldiers were captured and imprisoned. Visitors have access to a variety of videos and literature relating to the war years. A British POW returned to the museum to faithfully recreate the chapel murals which gave the prisoners hope and comfort during their incarceration and seeing them is one of the highlights of the trip. To peruse the artefacts properly you will need at least two hours.
Address:
1000 Upper Changi Road North
Transport:
SBS bus 2 from Tanah Merah MRT Station or SBS bus 29 from Tampines MRT Station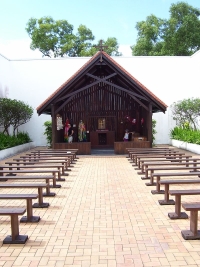 The Chapel, Changi Prison, Singapore Whoosises
Pulau Ubin
The island of Ubin is Singapore's second largest offshore island and provides a peaceful interlude to the city's bustle. The island can be reached by traditional bumboat from the Changi Point Ferry Terminal and the boat ride is fun in itself. The boat docks at Ubin village, a Malay settlement where houses perch serenely on stilts above the beach sand and mangrove. Beyond this point one can explore the island by mountain bike and enjoy its pristine beaches fringed with coconut palms, its variety of seafood restaurants and restful Buddhist temples scattered here and there. There are numerous hiking and biking trails to enjoy. The island was once used for mining granite, which went into the construction of the main causeway between Malaysia and Singapore, among other things, but today the mines have been submerged by lakes and overgrown by jungle and the island feels as though it has been reclaimed by nature. Ubin gives visitors a taste of what the main island of Singapore must have looked like before it became a sparkling urban playground, with the coastal and rainforest ecosystems intact and traditional village life preserved to some extent.
Transport:
Boats transport passengers from Changi Point throughout the day.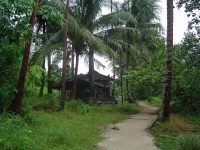 Pulau Ubin, Singapore BertholdD
Haw Par Villa
Haw Par Villa is a theme park containing more than a thousand statues and 150 giant dioramas depicting scenes and characters from Chinese mythology and folklore. Located along Pasir Panjang Road, Haw Par Villa was previously known as Tiger Balm Gardens and subsequently renamed after its original owners. The Aw brothers, Boon Haw and Boon Par (who made their fortune from the well-known Tiger Balm ointment) opened the park in 1937. This is an odd tourist attraction which will appeal to those who enjoy the weird and unique. Some of the statues are grotesque and all are gaudy. The coup de grâce of the park is the Ten Courts of Hell exhibit, which features gruesome depictions of torture, pain, suffering and all sorts of physical degradations in accordance with the descriptions of hell in Chinese legend. There are also milder attractions like mythical creatures, sumo wrestlers and the animals of the zodiac. It is a bit rundown but provides laughs and some wonderful photo opportunities and children love the bright colours and magical stories - although if you are visiting with kids you may want to keep them out of the Ten Courts of Hell, which is enclosed in its own area and can be easily avoided.
Address:
262 Pasir Panjang Road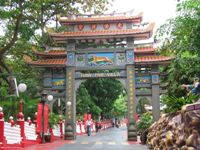 Haw Par Villa Sengkang
Singapore Discovery Centre
The perfect place for active and enquiring young minds, the Singapore Discovery Centre is a great place to bring the kids for the day. Children will love the colourful exhibits which will teach them all about Singapore's past and present in fun and informative ways. With popular permanent exhibitions and constantly changing temporary attractions to keep things fresh and exciting, visitors will have a hard time deciding where to start, from 4D movies to exhibits you can touch and interact with, children will love the Singapore Discovery Centre. Many of the attractions are aimed at young teenagers and include not just interesting information on Singapore but fun activities that will get kids thinking about career choices: visitors can experiment with town planning, using Singapore as a model; try out being a TV reporter by reading the news on film; be a general on a battlefield for a day with an immersive game; learn traditional Singaporean dance moves in a digital dance studio; and play games designed to test entrepreneurial ability. There is even a theatre which explores what to do in emergency situations like a terrorist attack. Adults will also enjoy the Discovery Centre and will be delighted with the educational entertainment for their families.
Address:
510 Upper Jurong Road
Singapore Discovery Centre Glen Bowman
Thian Hock Keng Temple
The 'Temple of Heavenly Bliss', the Thian Hock Keng Temple is the oldest and most important of the Chinese Hokkien temples in Singapore. Construction was completed in 1842, in a traditional southern Chinese architectural style, with not a single nail used in its construction. The temple stands where Singapore's waterfront used to be before the land was reclaimed and the main temple is dedicated to Mazu, the Taoist goddess of the sea, to whom Chinese immigrants gave thanks for a safe journey to Singapore. The elaborate doors are guarded by tigers, lions and Door Gods and beyond this gateway there are two courtyards and a series of shrines and pagodas. Those who want to pray should ask for assistance in selecting the right altar or shrine for the kind of prayer they want to make. The temple contains many beautiful statues and altars, and a centre for the creative arts that hosts dance, acting, and music lessons. There is a pagoda behind the temple gate that makes a perfect spot for a cool drink in the shade. The temple is generally quiet and tranquil, unlike many others tourists might visit, and although it isn't a must-see for visitors any traveller interested in such things should find it fascinating.
Address:
158 Telok Ayer Street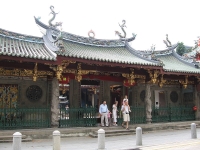 Thian Hock Keng Temple, Singapore Sengkang
Asian Civilisations Museum
The Asian Civilisations Museum is one of Singapore's finest, most comprehensive museums and one of the most popular tourist attractions in the city. Its permanent collection consists of furniture, jade, porcelain, fine arts, and other artefacts covering 5,000 years of the region's history, with exhibitions illustrating Chinese, Islamic, and South Indian culture. As the name suggests, the museum explores broader Asian cultures and histories, rather than just that of Singapore. Some of the artefacts are genuinely beautiful and the exhibitions provide great insight into trade and exploration in Asia, documenting the meeting points of various cultures. There are also regular temporary exhibitions which can be extremely impressive. English audio guides are available, with headphones provided, and free guided tours in English are available from Monday to Friday, usually at about 11am and 2pm, on Friday evenings at 7pm, and on Saturdays and Sundays at 11am, 2pm and 3pm. On Friday nights, during the extended opening hours, tickets are half price. There is a museum gift shop and a pleasant restaurant next door, perfect for a drink or a bite after your visit. The museum is at its most pleasant on mornings during the week, when it is not crowded.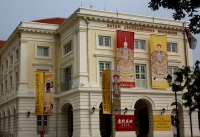 The Asian Civilisations Museum, Singapore WolfgangSladkowski
Singapore Flyer
Singapore's equivalent of the London Eye, the Singapore Flyer is an enormous Ferris wheel that doubles as an excellent urban observation point. The Flyer is an incredible 42 storeys, or 541 feet (165m) high, making it one of the largest Ferris wheels in the world, a full 98 feet (30m) taller than the London Eye. The chief reason to take a trip on the Flyer is the view of Singapore's sleek cityscape that it affords: views of Marina Bay and Singapore River are punctuated by notable landmarks such as Raffles Place, Merlion Park, the Empress Place and the Padang. Locals say that on clear days you can even see out as far as the Indonesian islands of Batam and Bintan; while a night-time trip on the Flyer turns the bustling city into a glittering light show. The Singapore Flyer is housed in a large terminal building that also includes bars, restaurants and shops, as well as fun kid's attractions like flight simulators and an indoor tropical forest. A sure bet for a great day out in Singapore for the whole family, the Singapore Flyer is a fantastic introduction to the city for first-time visitors. If the stunning views are not enough of a diversion for you, it is possible to enjoy cocktails or a luxurious four-course meal on the Flyer, or even to get married with the panorama of the city as a backdrop to your vows!
Address:
30 Raffles Avenue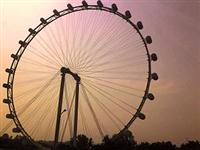 Singapore Flyer Waycool27
Gardens by the Bay
Singapore's Gardens by the Bay consists of three distinct waterfront gardens in the city's Marina Bay area. The initiative was started as a means to transform Singapore from a mere 'Garden City' into a 'City in a Garden' and is intended to provide a holistic and sustainable way to keep Singapore green, and to provide its inhabitants with outdoor areas where they can relax, exercise and picnic in communion with nature. The Gardens themselves have a couple of interesting features, not least of which are the space-age Supertrees - tree-like mechanical structures that reach up to 165 feet (50m) high, and which harness solar energy to perform a multitude of functions such as planting, shading, managing rainwater resources and even acting as the 'lungs' of the Gardens' immense cooling system. There are also horticultural-themed gardens featuring exotic ferns and orchids, which aim to educate the public about the preciousness of natural resources. A true 'Garden of the Future', visitors to Singapore should check out the Gardens by the Bay for their technological interest alone. The vast lawn area is often used for outdoor events like live music concerts and is a wonderful venue. The incredible Cloud Forest is another highlight, including the highest indoor waterfall in the world. There are about 10 restaurants in the grounds, many with breathtaking views.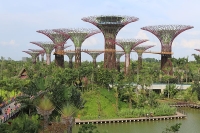 Gardens by the Bay, Singapore Shiny Things
Geylang
Singapore's neighbourhood of Geylang is strange in that although it looks and feels like a typically 'Asian' neighbourhood, it is actually quite different from the rest of Singapore, which has seen great gentrification and modernisation over the last 40 years or so. The rows of shop-houses bedecked in neon lights, the bustling streets, the curbside food stalls, and masses of karaoke bars present visitors with an urban environment quite distinct from the sleek lines of the concrete-and-glass inner city buildings, while the Geylang Serai Market is a classic Asian 'wet market', featuring hanging meat and buckets of flapping fish. This grit (and slight seediness) is even more obvious at night, when Geylang's other distinguishing feature becomes most apparent: that it is home to Singapore's only established red-light district. Geylang is a very popular neighbourhood for backpackers (accommodation is usually much cheaper in Geylang than in other areas) and for travellers who find the ultra-modern city centre a bit alienating, and who are craving a more authentic experience of Asian city life.
It is also a good place to go to if you're looking for a party, because although Singapore's nightlife mostly consists of expensive drinks in glamorous bars, Geylang is a riot of alcohol and fun and a good time can be had very cheaply in comparison to the rest of the city. To experience a side of Singapore which is not air-conditioned and shining with cleanliness head for Geylang.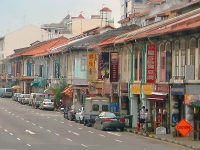 Geylang, Singapore Calvin Teo
Universal Studios Singapore
Drawing an astounding two million visitors in its first nine months open, the theme park and resort area of Universal Studios Singapore is proving to be as popular as its counterparts in the USA. Located on Sentosa Island, home to all of Singapore's most famous holiday resorts, Universal Studios Singapore is ideal for family vacationers looking to treat their children to a full day of exciting rides, delicious treats and non-stop excitement. The theme park is divided into seven distinct zones, each featuring their own themed rides and attractions: Hollywood, New York City, Ancient Egypt, Lost World, Madagascar, Far Far Away and, pick of the bunch, Sci-Fi City. There is also an Aquarium and a Marine Park on-site, numerous 3D theatres, a huge array of restaurants and cafes, and plenty of stalls and shops selling official Universal Studios merchandise. Singapore is in many ways a technological marvel of a city, and Universal Studios is a fitting place to experience its unique talent for high-tech entertainment. Exciting rides include the Battlestar Galactica suspended roller coaster, the Revenge of the Mummy roller coaster, and the Jurassic Park Rapids Adventure. There are also numerous rides designed for smaller children and tons of fun performances and themed restaurants.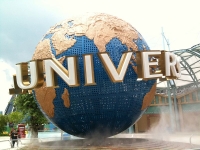 Universal Studios Singapore chinnian
Singapore is a great city for kids on holiday, compact and brimming with varied and exciting attractions, some uniquely Asian. In fact, some of the most popular tourist attractions in Singapore are family orientated.
Singapore is a city of gardens and this combined with the country's world-class animal attractions ensures that there is lots of fun to be had outdoors. For a great day with the family head to the Singapore Zoological Gardens where the kids can bond with animals such as Komodo dragons, polar bears and orangutans, or head to the Jurong Bird Park to marvel at hundreds of pink flamingos. For a more relaxed day, pack a picnic and visit the Singapore Botanical Gardens where kids will have plenty of room to stretch their legs and let off a bit of steam. The Bukit Timah Nature Reserve is a wonderful place to spend the day and children will be amazed by this verdant wonderland. The Singapore Crocodilarium is another exciting attraction, home to over 1,000 reptiles, including crocodiles and some of the world's rare and endangered species of reptile.
On rainy or cold days, when outdoor activities with kids are not an option, head to an indoor playground like eXplorerkid. Hugely popular Singapore tourist attractions, like Universal Studios Singapore, are other great options for rainy days.
Singapore has a tropical climate, meaning that it is hot and humid all year round with hardly any variation in temperature between seasons and plenty of rain, which is possible all year round, usually falling in heavy downpours. The wettest months are between November and January. There is generally more rain in the west of the island than in the east. Average temperatures range between 74°F (23°C) and 89°F (32°C) during the day with cooler temperatures at night. Humidity is constantly high, usually above 75 percent. April and May are the hottest months. The air-conditioning in most buildings provides a welcome escape from the heat and humidity, but is sometimes so cool that visitors will require light sweaters indoors. Between June and September, Singapore may suffer from air pollution due to forest fires in Indonesia. There isn't really an agreed upon best time to visit Singapore, although the weather is often at its most pleasant between June and August.
Situated only one degree north of the equator, it is not surprising that Singapore has a tropical climate, meaning that it is hot and humid all year round with hardly any variation in temperature between seasons; in fact, Singapore doesn't really have seasons. Travellers to Singapore would be wise to take an umbrella, because rain is abundant and possible all year round, usually falling in heavy downpours. The wettest months are between November and January, which is the monsoon period. There is generally more rain in the west of the island than in the east. Average temperatures range between 79°F (26°C) and 86°F (30°C) during the day, with cooler temperatures at night. April and May are the hottest months. Temperatures in Singapore can reach as high as 95°F (35°C) and the lowest recorded temperature in the country was 67°F (19°C) in 1934. The air-conditioning in most buildings provides a welcome escape from the heat and humidity, but is sometimes so cool that visitors will require light sweaters indoors. Between June and September Singapore may suffer from air pollution due to forest fires in Indonesia.
There is no concrete best time to visit Singapore weather-wise, and it is best to time holidays to coincide with festivals and events that are of interest.
With heavy influences from Malay, Chinese, Indonesian, Indian and British cuisines, the restaurant scene in Singapore is far from dull and fusion food is the order of the day. Street vendors are common in this bustling city for a tasty meal on the go, and most specialise in one dish with favourites including fish head curry or Mee Goreng (yellow egg noodles stir fried with ghee, tomato sauce, chilli, egg, vegetables and various meats or seafood). Seafood such as prawns, oysters, crabs and lobsters are also popular dishes on most Singaporean menus and traditional dishes such as laksa (soup), popiah (spring rolls), and satay (barbecued meat skewers) are worth trying. Those with a sweet tooth will enjoy the sugary desserts like kuih (steamed cakes), bubur cha-cha (coconut milk soup), and ice kachang (shaved ice with sweet red beans).
Hawker centres are the cheapest places to eat, and come with their own unique atmosphere, which is somewhere between a market and a food court. Prices are low and the food is generally very good, so it's a great way to try a lot of dishes. Find a table first, and many stalls will deliver your food to you. Popular hawker centres include Newton Circus, Glutton's Bay, and Lau Pa Sat, as well as several options in Chinatown.
Singapore has its share of international fast food chains, but local takeaway options worth trying include Bengawan Solo's Chinese pastries, Old Chang Lee's deep-fried curry puffs, and the traditional Singaporean breakfast at Ya Kun Kaya Toast.
Singapore's more upmarket restaurants have a lot to offer as well, with plenty of variety. A special focus is on Chinese cuisine and seafood, however. Head to the Orchard Road area and the historic district for eateries of every nationality, or for a trendy night out a trip to Boat Quay or Clarke Quay along the riverfront is a must.
Restaurants will often display the prices with plus signs ($19.99++) indicating that service charges and sales tax are not included and will be added to the bill. Tipping is not typically practiced in Singapore, and is officially discouraged by the government.
Raffles Grill
The 'Grand Dame' of Singapore's restaurants is an experience in elegant sophistication, fine dining and colonial charm. Impeccably dressed waiters with a daunting display of culinary knowledge, attentive yet discreet service, and courteous efficiency are backed by the majestic décor and spotless tableware. The food is similarly outstanding, and dishes like the signature smoked Atlantic salmon, the roasted rack of suckling pig, and various exquisite desserts are stylishly presented. Raffles has one of the best cellars in the country and the cellar master can select a wine to complement each course. Lunch Monday to Friday and dinner Monday to Saturday. The dress code is 'smart elegant' and booking is essential.
Address:
1 Beach Road (Historic District)
Song of India
One of Singapore's best restaurants and the ideal place for Indian cuisine, Song of India transports diners to old-world colonial elegance in several ornately decorated dining rooms and a lovely garden area. Both a la carte dishes and set menus are highly praised by the Singapore dining world. A great way to experience Indian cuisine is the Journey Through India set menu option which includes six courses from different regions in India. Reservations are recommended.
Iggys
The appeal of Iggy's is the warm ambiance of a very small venue, comfortable as a friend's living room, but with much better food! The internationally inspired meals are set according to seasonal ingredients so it important to check what they are serving for the night ahead of making reservations. Vegetarian replacement meals can be made if they are notified in advance. Reservations are essential.
Address:
581 Orchard Road, Level 3, Hilton Hotel
Alt. Pizza
For a quick, casual bite to eat, Alt. Pizza is a great option. This conveniently located pizzeria serves up crispy, thin-based pizza cooked in a wood oven, with a number of sides available. The Hangover Pizza is a great favourite! Open daily from 11am to 10pm. Reservations may prove convenient but aren't strictly necessary.
Li Bai
The understated décor of Li Bai is sleek and modern with a strong Chinese influence, with contemporary furnishings in red and black lacquer, jade table settings, and silver and ivory chopsticks. Large vases of elegant pussy willows add subtle opulence to the ambience. The Cantonese fare is traditional with a modern and innovative touch of class that includes creations such as the aromatic farm chicken smoked in jasmine tea leaves. The fresh seafood should not be missed; baked fillet of cod with honey, shark's fin sautéed with crabmeat, and Canadian cod sautéed with ginger and garlic, accompanied by the fabulous crab fried rice, are delicious. Reservations required. Open daily for lunch and dinner.
Address:
Sheraton Towers, 39 Scotts Road
Singapore Changi Airport
Location:
The airport is located 16 miles (26km) from the city.
Transfer Between Terminals:
A free Skytrain runs between the terminals.
Getting to the city:
The MRT train departs from Changi Airport MRT Station, located under Terminals 2 and 3. Trains depart from 5.30am to around midnight. A public bus service to the city has regular departures from 6am to midnight, and can be found in the lower levels of Terminals 1, 2 and 3. The one-hour journey costs about SGD 2.50. In addition, there is an airport shuttle service connecting the airport, the city centre and most hotels in Singapore; the buses leave every 15- 30 minutes. The cost is about SGD 9 per adult and SGD 6 per child.
Car Rental:
Avis, Budget and Hertz are all represented at the airport.
Airport Taxis:
Taxis to Singapore central are available from outside the arrivals halls of each terminal; the fare to the city centre is about SGD 20 to SGD 50 with a travel time of around 30 minutes.
Fascilities:
Changi Airport has a wide range of facilities, including ATMs, bureaux de change, business services, airline lounges/travel clubs, duty-free shops and childcare facilities. Other facilities include a mini-supermarket, snack bars and restaurants, gym, rooftop pool, hairdresser, laundry service, smoking room, prayer room and post office. Terminal 3 is a 'green' terminal with natural skylighting, a butterfly garden, koi ponds and over 200 species of foliage.
Parking
Standard parking rates at Changi Airport range from SGD 0.04 per minute at T1, T2 and Car Park 3A and 3B, to SGD 0.035 per minute at the South Car Park, with a daily rate capped at SGD 35 per day.
Money:
Singapore's currency is the Singapore Dollar (SGD), which is divided into 100 cents. The US and Australian Dollars, Yen, and British Pound are also accepted in the larger shopping centres. Major credit cards are accepted in hotels, shops, and restaurants. ATMs are widely distributed and banks advance cash against the major credit cards. Banks are open daily, but some do not do foreign exchange on Saturdays.
Language:
Singapores official languages are English, Mandarin, Malay and Tamil. A patois called Singlish, or Singaporean English is widely spoken. It is the by-product of mixing English, Chinese and Malay syntax and idiom.
Electricity:
Electrical current is 230 volts, 50Hz. Three-pin, square-shaped plugs are in use.
Entry Requirements:
United States passport holders do not require a visa for travel to Singapore for a stay of up to 90 days. A passport valid for six months after intended travel is required.
British passport holders endorsed British Citizen, British Overseas Territories Citizen with Right to Abode, or British Subject with Right to Abode do not require a visa for travel to Singapore for a stay of up to 90 days. British passport holders endorsed British Overseas Territories Citizen, or British Subject without Right to Abode do not require a visa for travel to Singapore for a stay of up to 30 days. Passports should be valid for six months beyond date of arrival.
Canadian passport holders do not require a visa for travel to Singapore for a stay of up to 30 days. Passports should be valid for six months beyond date of arrival.
Australian passport holders do not require a visa for travel to Singapore for a stay of up to 90 days. A passport valid for six months beyond arrival is required. Australian citizens with an APEC business travel card endorsed for travel in Singapore may stay up to 90 days.
South African passport holders do not require a visa for travel to Singapore for a stay of up to 30 days. Passports should be valid for six months beyond date of arrival.
Irish passport holders do not require a visa for travel to Singapore for a stay of up to 90 days. A passport valid for six months after intended travel is required.
United States passport holders do not require a visa for travel to Singapore for a stay of up to 90 days. A passport valid for six months after intended travel is required.
New Zealand passport holders do not require a visa for travel to Singapore for a stay of up to 30 days. A passport valid for six months after intended travel is required. Passport holders with an APEC business travel card endorsed for travel in Singapore may stay up to 60 days.
Passport/Visa Note:Visa:
Travellers should hold confirmed documents and tickets for onward or return travel and enough funds to cover their stay. Male travellers with long hair are advised to tie their hair back on arrival. Women who are six months pregnant or more may be refused entry. All nationals, regardless of visa requirements, may be issued with a Social Visitor's Pass on arrival allowing for a stay of 14 or 30 days provided their visit is for touristic or business purposes. Extensions are possible for S$40, but the initial Pass is free. Passports must be valid for at least six months from date of arrival. It is highly recommended that passports have at least six months validity remaining after your intended date of departure from your travel destination. Immigration officials often apply different rules to those stated by travel agents and official sources.
Travel Health:
Travellers from countries where yellow fever occurs need to present vaccination records on arrival in Singapore to prove they are not infected. No other vaccinations are required but vaccinations are recommended for hepatitis A and hepatitis B. A Japanese encephalitis vaccination is recommended for travellers spending a month or more in rural areas or for those spending substantial time outdoors in rural areas, but as the country is highly urbanised this is seldom necessary. There is a high risk of dengue fever and there have been outbreaks of chikungunya fever in recent years as well - both are mosquito-borne diseases and measures should be taken to avoid mosquito bites. Visitors should also avoid poorly cooked food, particularly seafood, and be cautious of certain types of fish that contain biotoxins even if cooked.
Health care is excellent in Singapore but also very expensive and comprehensive medical insurance is advised. Pharmacies are well stocked in Singapore but it is still advisable to take along all required medication, in its original packaging, accompanied by a signed and dated letter from a doctor detailing what it is and why it is needed.
Tipping:
Tipping is not encouraged as most hotels and restaurants in Singapore already levy a 10 percent service charge on customers' bills. Tipping is not a way of life in Singapore, but is appreciated for excellent service.
Safety Information:
Singapore is a very safe travel destination with crime generally limited to occasional petty theft. The Singaporean government has stepped up security measures due to an increased risk of terror attacks in the region and is committed to maintaining Singapore's reputation as a safe destination.
Local Customs:
Singapore is a fairly diverse society and has been moulded by its immigrant population, primarily Malay, Chinese and Indian, along with the large expat community. The city is incredibly efficient and the citizens very law-abiding - there are fines issued for just about any offence in Singapore, including smoking in public places, jaywalking, littering and for eating, drinking or chewing gum. There are even fines for not flushing public toilets so it goes without saying that getting involved in illegal drugs is not advisable; drug trafficking carries a maximum penalty of death. Chinese Singaporeans have three names, the first of which is their surname, or family name. As a result visitors should be prepared for hotels mistakenly reserving rooms under their first names. For clarity surnames may be underlined.
Business:
Business in Singapore is conducted formally. The adherence to a dress code is strict, with suits the preferred business attire. Punctuality is essential in all business meetings, unlike social engagements where a 'fashionably-late' policy is observed. Appointments should be made at least two weeks in advance. The exchange of business cards is vital upon introduction and the ceremony of this exchange is important for creating good relations. Business cards are to be treated with respect and not folded, written upon or vandalised in any way. Shaking hands is the common form of greeting for both men and women and may last up to 10 seconds. The person is to be addressed by their respective title followed by their surname. It is a good idea to ask beforehand how the person is correctly addressed as this may vary depending on the different cultures within Singapore. Business hours are generally 9am to 5pm, Monday to Friday, with an hour taken over lunch.
Communications:
The international access code for Singapore is +65. The outgoing code is either 001, 002, 008 or 018, depending on the service provider, followed by the relevant country code (e.g. 00144 for the United Kingdom). Calls made from hotels are free of any surcharges. There are several local mobile phone networks available, and wifi is easily available.
Duty Free:
Travellers to Singapore over 18 years do not have to pay duty on 1 litre of wine, spirits and beer unless they are arriving from Malaysia. Chewing gum and tobacco products must be declared on arrival. Strictly prohibited is the trafficking in illegal drugs, which carries the death sentence. Prohibited items include meat and meat products, and firearms and explosives without a permit.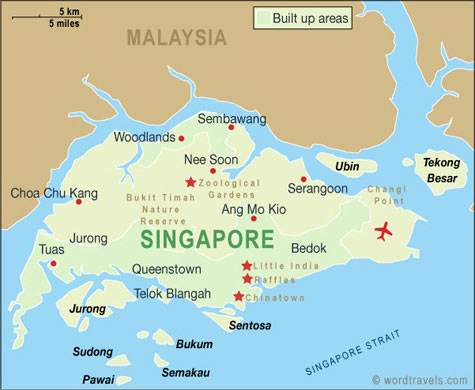 With so many choices on offer, it can be a difficult task deciding what to do for an evening out in Singapore, and hard to know how best to experience the city's nightlife. From cultural performances and traditional dancing and music venues to nightclubs, bars and upmarket lounges, Singapore is a city that never sleeps.
Start an evening out at one of the many international touring Broadway shows or head to one of the nightlife hubs of the city, such as Boat Quay, where a variety of bars, karaoke bars, clubs, discos and lounges can be found, as well as some of the city's glitterati, who can be seen hanging out and mingling with the who's who. Muhammad Sultan Road is another key area where clubs and bars are scattered. The Zouk complex is one of the best places to go if you're looking for gay and lesbian clubs and bars. One of the largest and longest-running clubs is the sprawling Zouk in Jiak Kim Street, which hosts visiting international artists and has a variety of floors ranging from house to hip hop, pop and even a dinner-dance area. Clarke Quay is the place for hardcore clubbers. There are other areas of the city that have become eclectic in their entertainment choices and live jazz, acid jazz, international guest DJs and live music is easy to come by. Sentosa has a number of cocktail bars on the beach, and the Central Business District has plenty of chic nightclubs.
Singapore is a relatively safe place at night, even for women alone. Many clubs stay open until very late, closing at about 2am on weekdays and 4am on weekends. Taxis can be found fairly easily, but be prepared for a rush of people, and an increase of fares after midnight when the clubs start to close. Drinking in Singapore is an expensive pastime as the country's heavy sin taxes push the price of drinks up.
Hiring a car is very expensive in Singapore. However, an extensive bus network and the reliable MRT train subway system are both cheap and user-friendly and service all parts of Singapore. Electronic EZ-Link passes cover trains and buses and prevent the need to carry loose change for fares as well as giving a slight discount on standard ticket prices. The city also has thousands of metered taxis, which are safe, air-conditioned and surprisingly affordable, driven by helpful and honest drivers. The only drawback is the long taxi queues during rush hour. Many of the tourist attractions are situated close together and walking is a safe and pleasant option if you can handle the heat.
Teeming with sightseeing opportunities, Singapore is a great city for any traveller to explore. With historical sites such as Kampong Gelam and Thian Hock Keng Temple; cultural enclaves like Chinatown and Little India; and beautiful gardens and animal parks like the Chinese and Japanese Gardens and the Jurong Birdpark, Singapore has a wide range of attractions on offer. Have a picnic in the Singapore Botanical Gardens and enjoy the peace and quiet, take the kids to the Singapore Zoological Gardens where animals from all over the world can be viewed, explore tropical rainforest within the city at the Bukit Timah Nature Reserve, or lounge on the beaches of the resort island of Sentosa. Those with an eye for art and design will love the red dot design museum, which showcases some of the most innovative and exciting designs, and art lovers should visit the Singapore Art Museum.
Visitors wanting to see the sights should buy a Singapore Tourist Pass, which is an all-day travel pass that allows unlimited travel on Singapore's public buses and MRT trains and can be bought for one, two or three-days.