Kingdom Centre
The place to see and be seen in Riyadh is at the remarkable Kingdom Centre, the fifth tallest building in Saudi Arabia, owned by a Saudi prince and built to an unusual elliptical award-winning design. The 99-storey colossus is the world's third largest building with a hole that visitors can walk across on the sky-bridge on the highest floor.
Besides containing modern offices, apartments, the Four Seasons Hotel and a fitness club, the Kingdom Centre also houses a state-of-the art three-level shopping mall with more than 160 stores, anchored by Saks Fifth Avenue and Debenhams department stores. The centre also boasts dozens of world-class international restaurants.
Address:
Al-Urubah Road, between King Fahd Road and Olaya Street, in the Olaya business district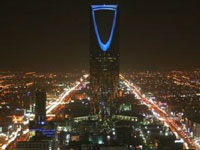 Kingdom Centre BroadArrow
The National Museum
This museum, chief among the numerous museums in Riyadh, is truly worth visiting. Incorporating local art, religion, and culture that explore the diverse and intriguing history of the Arabian kingdoms, the National Museum sees many visitors each year. Artefacts such as ancient documents, furniture, weapons and more, dating as far back as the Stone Age, are on display. Unlike most attractions in Riyadh, the museum charges a small entrance fee.
Other city museums worth visiting are the King Abdulaziz Military Museum and the Museum of Antiquities and Folklore.
Address:
King Abdul Aziz, Historical Center
Opening time:
Saturday to Thursday 8am-8pm, Friday 4pm-8pm.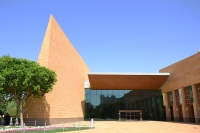 National Museum Sammy Six
Al Masmak Castle
The clay and mud brick fort of the Masmak Fort is an important landmark and heritage site in the centre of Riyadh. Built around 1865, the site is associated with the foundation of the Saudi Arabian kingdom as the original stronghold of King Mohammed bin Abdullah bin Rasheed. The castle was the setting of the Idn Saud's legendary raid in 1902, where a spear was hurled at the main entrance with such force that the head is still intact in the main arch. Visitors can explore its impressive rooms, pillared mosque, gate, watchtowers, and well.
Address:
3153 Al Thumairi St, Ad Dirah, 6937
Opening time:
Sunday to Thursday 8am-12pm, 4pm-9pm, Friday 4pm-7.30pm, Saturday 9am-12am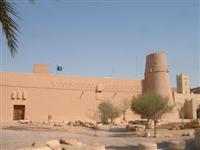 Al Musmak Castle Baptiste Marcel
Al Murabba'a Historical Palace
Just outside the original city walls, is the spectacular Al Murabba'a Historical Palace. Built in the early 1900s, the palace originally functioned as the private accommodation for the king of Saudi Arabia.
Now a principal component of the King Abdulaziz Darat, an institute and library devoted to preserving Arabian history, the palace has been preserved as a living example of Arabian royal life in days gone by and is a site history lovers enjoy year after year. On the ground floor are the guard's room and storerooms, while upstairs visitors can view the reception salons, political offices, and private apartments.
Opening time:
Weekly 8am-3pm, closed on weekends.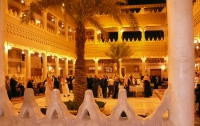 Al Murabba'a Historical Palace courtyard Des Runyan
City of old Diriyah
The ruins of the historically significant city of Diriyah, statuesque and silent in the desert about 12 miles (20km) northwest of Riyadh city centre, provide an interesting excursion. The city, originally the stronghold of the powerful Saud family, was the site of an important Islamic reform movement in around 1745, when two influential imams called for the people to return to the true faith and abandon heresy, polytheism, and superstition. In its heyday, the city was the biggest in the Arab Peninsula, but was overtaken by Riyadh after being destroyed by the Turks in the early 19th century. The ruins of many of the mud-brick buildings remain to be explored.
Opening time:
Saturday to Thursday 8am-6pm, 3am-6pm on Fridays.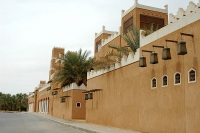 The mosque of Mohammad Bin Abdul Wahab at Old Diriyyah in Riyadh Mnowfal
Conditions in Riyadh are typically dry and hot, but the city does receive about four inches (102mm) of rain a year, most of it falling between January and April. In summer, hot winds can send temperatures soaring up to 113°F (45°C). In winter it can be surprisingly chilly, dropping down to 50°F (10°C), and at night temperatures can plunge below freezing. The best months in Riyadh, when days are pleasantly tolerable and nights are cool, are between October and April.
Middle Eastern fare might dominate the dining out scene in Riyadh, but there has been an increase in international eateries springing up in recent years, creating even more choice for avid foodies. Now, everything from spicy Indian food to good old American favourites like cheeseburgers and fries are on offer. Head to Tahlia Street for both fine dining and cheap eateries where the bright lights and catchy slogans of fast-food outlets like McDonald's and KFC line the street too. Many travellers will opt to dine at their hotel restaurant where many of the five-star eateries are owned by celebrity chefs and provide a one of a kind dining experience. Travellers should note that these hotel restaurants have done away with segregation between men and women, as well as the family section but they should not be alarmed if they come across this in other restaurants. A service charge is usually included in restaurant bill, but a tip of 10 percent is the norm.
King Khalid International Airport
Location:
The airport is situated 22 miles (35km) from Riyadh city centre.
Time:
Local time is GMT +3.
Transfer Between Terminals:
The terminals are linked by moving walkways.
Getting to the city:
Terminal 5 is connected to the Metro Yellow Line which runs to King Abdullah Financial District. Free shuttles ferry passengers to nearby hotels and prepaid airport taxis are available for transport to the city.
Car Rental:
Car rental counters are located in the lobby and include Hertz and several local companies. Women are allowed to drive but cannot travel with a man unless they are related.
Airport Taxis:
Taxis are available at the airport. Fares into downtown Riyadh will never be less than SAR 70. A trip from King Khalid Airport to downtown Riyadh takes 30 minutes. However, scammers and touts will try to charge tourists up to SAR 200, which is grossly overpriced. It is recommended that visitors have the address of their destination written in Arabic.
Fascilities:
Facilities include restaurants, bars, and cafeterias, banks and ATMs, a first aid clinic, various shopping opportunities, currency exchange, and visitor information. A mosque is located in the centre of the passenger terminal. Facilities for the disabled are good.
Parking
Two multi-level garages are located directly in front of the passenger terminals, on either side of the mosque, which are connected to the terminals by walkways.
Riyadh Motor Show
The Riyadh Motor Show is the oldest and most influential motor show in the region. The top manufacturers from around the world display their latest designs to the largest market in the Middle East. Exhibited are innovations in hybird, electrical, high-tech and fuel economy cars. It usually draws around 100,000 automotive consumers under one roof as the event runs concurrently with Saudi Autoshop.
Venue:
Riyadh Exhibition Centre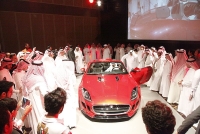 Motor Show Jaguar MENA
Hajj
Haj is considered the duty of every able Muslim: a pilgrimage to Mecca, the holiest city where the Prophet Mohammed was born. It is the fifth and final pillar of Islam, guided by the prophet, where each year roughly two million devout Muslims take the journey. The pilgrims, or hajjis, wear white as a symbol of their purity and equality throughout the occasion whereupon all gather around the Great Mosque in Mecca to walk seven times around the Kabah shrine before kissing it, in one of the most famous displays of religious duty in the entire world. It is almost impossible for non-Muslim's to partake in the event as they are not allowed in Mecca, although many have tried and succeeded over the years, including famous explorer Sir Richard Burton.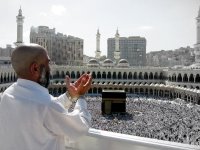 Supplicating Pilgrim at Masjid Al Haram Ali Mansuri
Taxis (white in colour) are the best option for travelling around the city and can be booked through hotels or hired directly off the street. Fares are reasonable and the taxis are metered. If the taxi is not metered, the fare can be negotiated and can often be cheaper than using the meter. Try to have your address in Arabic if possible as many taxi drivers do not understand English.
Car hire is also possible, but driving can be a little daunting, despite the deceptively easy-looking wide roads. Directional road signs tend to have English translations but street signs are in Arabic only. Some traffic rules differ from those in the West, and penalties for speeding or reckless driving are severe.
Public transport is available to a limited degree, consisting of minibuses which ply a few routes and usually operate for men only. Buses that do admit women have a screened off area, separating them from the men.
Riyadh is predominantly considered to be a business destination. However, the city is a fascinating blend of traditional Wahhabi culture and modern development, and as such there are plenty of interesting things to see and do in Saudi Arabia's capital.
Riyadh is home to a number of historical sites, including the Al Masmak Castle, the City of Old Diriyah, and the Al Murabba'a Historical Palace. No doubt history buffs will pay each of these a visit. Although Saudi Arabia is famous for its oppressive heat, there are opportunities for outdoor activity in Riyadh, including golf, 4x4 desert trips (also known as 'dune bashing'), and football.
These are must-sees on any trip to Riyadh, but visitors should be aware that most attractions keep hours vastly different to Western businesses; they open briefly in the morning, and then again from mid-afternoon to late evening, and are closed on Fridays or Saturdays. Women may only visit during designated 'family hours' so it is best to check ahead of visiting to avoid disappointment.