Kigali Genocide Memorial Centre
Opened on the tenth anniversary of the Rwandan Genocide of 1994, the Kigali Genocide Memorial Centre is a sobering museum dedicated to the nearly one million people who lost their lives in the conflict. More than 250,000 people are buried at the centre, which has become an educational site with museums and exhibits dedicated to preventing genocides around the world. The genocide which saw 800,000 men, women, and children killed receives a meaningful and tasteful tribute with three permanent exhibitions, including the Education Centre, Memorial Gardens, and National Documentation Centre of the Genocide.
Address:
KG 14 Ave, Kigali
Opening time:
Daily 8am-4pm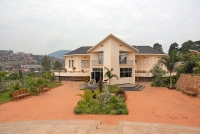 Kigali Genocide Memorial Centre Dave Proffer
Kigali experiences a pleasant, tropical highland climate with temperatures that vary depending on altitude, but vary little from month to month in the same location. There are two wet seasons and two dry seasons; a long and a short one. The wettest time of year is between March and May, while the driest months are July to September. There is also rain between October and November. Temperatures rarely go above 86°F (30°C) during the day or drop below 59°F (15°C).
Kigali International Airport
Location:
The airport is situated about three miles (5km) from central Kigali.
Transfer Between Terminals:
The terminals are small and within easy walking distance of one another.
Getting to the city:
There is no public transport to Kigali from the airport, but taxis are available.
Car Rental:
Car rentals are avaliable from the airport.
Airport Taxis:
Taxis are available from the airport.
Fascilities:
Facilities include currency exchange facilities, cafeterias, a business class lounge, duty-free shopping, a travel agency and a tourist help desk. Facilities for the disabled are available.
Parking
Parking is available at the airport.
Taxis are available in town. Motorcycle taxis are a cheaper option for direct travel, but the high speeds are not for the faint of heart. The cheapest way to get around Kigali is by matatus, the ubiquitous minibus taxis, which stop at any point along set routes. Rental vehicles are available, but not recommended for first time visitors as the roads around the country are in poor condition. Coach companies are available from Kigali for certain locations throughout Rwanda.