The Kremlin
The Kremlin is a fortress surrounded by a thick red wall interspersed with 20 towers that was built between 1482 and 1495. The complex consists of a number of glittering, golden-domed churches and palaces, museums, residences, offices, assembly halls and monuments. It was home to the royal regime during Tsarist rule and the seat of the Communist government from 1918 onward. Cathedral Square is the religious centre of Moscow and the historic heart of the Kremlin. The attractive Annunciation Cathedral was set aside for the private use of royalty and contains beautifully painted murals and icons on the interior walls. The throne of Ivan the Terrible can be found in the Cathedral of the Assumption, which was used for the coronation of tsars; most of the leaders of the Russian Orthodox Church are buried here and their tombs line the walls of the spacious, richly coloured interior.
The Belfry of Ivan the Great is the tallest structure within the walls and a visible city landmark. At its foot lies one of the world's biggest bells, broken in a fall from its bell tower in 1701, and nearby is one of the world's largest cannons, the Tsar Cannon. Also within the Kremlin is the Armoury Palace. It is the richest and oldest museum and houses a staggering collection of treasures gathered over the years by the church and Russian state. These include jewel-studded coronation capes, thrones encrusted with diamonds, royal coaches and sleighs and the renowned jewelled Fabergé Easter eggs, each containing an exquisitely detailed miniature object of precious metal inside. The Diamond Fund Exhibition in the same building contains the 180-carat diamond given to Catherine the Great by Count Orlov.
Transport:
Metro stop Biblioteka imeni Lenina or Aleksandrovsky Sad.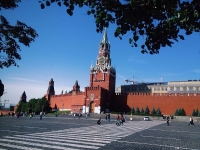 The Moscow Kremlin Angelina sq
Red Square
Red Square is a dramatic cobbled square in the centre of Moscow. Originally the city's marketplace, the square also served as a public gathering place to celebrate festivals, listen to government announcements or witness executions, especially common during the reign of Ivan the Terrible. The Soviet state turned it into a memorial cemetery, and constructed Lenin's Mausoleum to one side - a crystal casket containing the preserved body of the founder of the Soviet Union that is still open for public viewing today. The communist government destroyed several ancient buildings around Red Square, including the Resurrection Gate and chapel, to make space for and to allow easy tank access to the demonstrations and military parades that were often held in the area. The current Resurrection Gate and chapel are replicas that were built in the 1990s. Red Square's most impressive military parade involved the gathering of thousands of Russian soldiers ready to march to war against the Nazis in 1941; it was also the site of many parades during the Cold War.
The word 'red' doesn't apply to the colour of the brickwork, neither is it a reference to communism. The meaning of the word 'krasny' originally meant 'beautiful' in Old Russian, referring to St Basil's Cathedral at the southern end, but over the centuries the word changed to mean 'red' too, thus the square's present name. St Basil's Cathedral is the city's most well-known building and is crowned by the bulbous multi-coloured domes for which it is so famous.
Address:
Red Square, Moscow, Russia.
Transport:
Metro stop Ploshchad Revolutsii.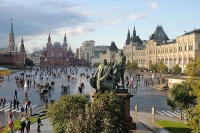 Red Square, Moscow Christophe Meneboeuf
St Basils Cathedral
St Basil's Cathedral stands on the edge of Moscow's Red Square, and is the most famous landmark in Russia. Its striking design was commissioned by Ivan the Terrible to commemorate his victorious military campaign against the Tartar Mongols at Kazan in 1552. Legend has it that Ivan was so overwhelmed by its beauty that he had the architect blinded to prevent him from creating anything to rival it. St Basil's Cathedral includes a central chapel surrounded by eight tower-like chapels, each crowned with a different coloured and uniquely patterned onion-shaped dome. The church escaped demolition many times during the city's turbulent history and with the beginning of the Soviet regime the cathedral was closed and later turned into a museum. The interior is a dimly lit maze of corridors and delicately decorated chapels. One of them houses a priceless, icon-decorated 16th century screen that shields the inner sanctuary. In comparison to the exquisite exterior, the interior can seem disappointing, but there is no question St Basil's is worth exploring.
Address:
Red Square, Moscow, Russia.
Transport:
Metro stop Kitai Gorod.
Opening time:
The museum is open 11am to 5pm in winter, and 10am to 7pm in summer.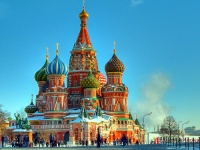 St Basil\'s Cathedral verygreen
Bolshoi Opera and Ballet Theatre
Moscow's oldest and most famous theatre, the Bolshoi, dates from 1824 and is home to world-renowned opera and ballet companies. Completely rebuilt after a fire in 1856, the grand building is a masterpiece of Russian neoclassicism, including an eight-columned entrance porch topped by the horse-drawn chariot of Apollo, patron of the arts. The glittering five-tiered interior is richly adorned with red velvet furnishings, ornate gold detailing and chandeliers, and the size of the auditorium makes it one of the largest theatres in the world. The Bolshoi Theatre has hosted some of the world's most celebrated premieres, including Swan Lake, Spartacus, and concerts by Richard Wagner. Attending an evening performance at the Bolshoi Opera and Ballet Theatre constitutes one of Moscow's best nights out.
Address:
Theatre Square, 1, Moskva, Russia.
Transport:
Metro stop Teatralnaya.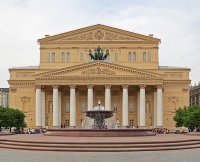 The Bolshoi Theatre, Moscow A.Savin
Tretyakov Gallery
The Tretyakov Gallery houses some of the great masterpieces of traditional Russian art from before the Revolution and has the world's finest collection of Russian icons from the 11th to the 17th-centuries. The gallery's collection of paintings, graphics and sculptures covers Russian art from the 18th to the 20th century. The gallery was named after its founder, Pavel Tretyakov, an art collector who donated about 2,000 works of art from his private collection to the city of Moscow, forming the basis of the collection to which state acquisitions were later added. He also donated his own house, which became the original site of the art gallery. Two separate buildings at different locations house the works selected for display.
Address:
Lavrushinsky Ln, 10, Moscow, Russia.
Transport:
Take to metro to the Tretyakovskaya metro stop, and walk for 317 yards (290m).
Opening time:
Tuesday, Wednesday, and Sunday: 10am to 6pm. Thursday, Friday, Saturday: 10am to 9pm.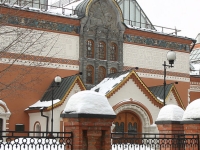 Tretyakov Gallery Vkostin
Poklonnaya Hill
Poklonnaya Hill means 'bow hill', and lies in the west part of Moscow. Historically, is was a spot for Western visitors to pay homage to the city before entering. Today it is a beacon to Russia's military strength, having withstood invasions by both Napoleon and Hitler. Atop the hill is Victory Park which provides a scenic walk and contains a memorial Mosque and Synagogue for victims of the war, and an open air museum dedicated to the victory over Napoleon. There are many tanks and other wartime vehicles on display in Victory Park, along with several impressive monuments and statues. History buffs will love exploring the many attractions of Poklonnaya Hill and Victory Park, and even those not interested in military history will enjoy the art and the views.
Transport:
Disembark from the Metro at Park Pobedy.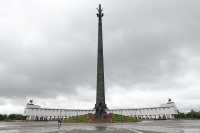 Victory Park, Poklonnaya Hill, Moscow Guenni88
Cathedral of Christ the Saviour
After Napoleon retreated from Russia, Tsar Alexander I declared that a cathedral be built in remembrance of the soldiers who had died defending Mother Russia. The original cathedral took more than 40 years to build. Decades later the cathedral was demolished by Stalin (who found the monument abhorrent) to make way for the colossal Palace of the Soviets, intended to be a symbol of Russian Communism, which was never actually built. The Cathedral of Christ the Saviour was rebuilt again, on the same site, between 1990 and 2000 as a faithful duplicate of the original. It is currently one of the largest and tallest Orthodox Churches in the world. The contemporary Russian artwork, statues and memorials to the Russian Tsars, as well as a small indoor museum, are well worth a look.
Address:
Ulitsa Volkhonka, 15, Moskva, Russia.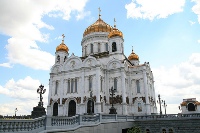 Cathedral of Christ the Saviour brostad
Borodino Panorama Museum
The battle of Borodino is regarded as the bloodiest of the Napoleonic battles, seeing over 70,000 casualties in a single day and leading Napoleon to brand the Russians as 'invincible'. The Borodino Panorama Museum was inaugurated in 1960 and serves as an exhibit of artefacts and displays from the Napoleonic wars, with a collection of wartime memorabilia on one level and the enormous panorama on another. The panorama referred to in the name is, incidentally, not an outdoor view but a 360º painting by Franz Roubaud depicting a crucial moment in the battle itself. The mural is 115 meters long and 15 meters high. The museum will delight military history buffs, but should also impress the uninitiated. Those with smartphones can download the museum's interesting audio guide, helped along by free wifi.
Address:
Kutuzovsky Prospect, 38, bld. 1, Moscow, Russia.
Transport:
The Museum can be walked to from Metros Park Pobedy and Kutuzovskaya, respectively.
Opening time:
Saturday to Wednesday: 10am-6pm. Thursday: 10am-9pm. Closed on Fridays.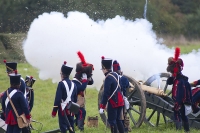 A reenactment of the Battle of Borodino, Moscow Rulexip
Moscow Metro
Taken together, Moscow's Metro stations amount to the most beautiful public transport facility in the world. Visitors to Moscow should not miss taking a ride on this glorious underground rail system, and exploring the stations. Each one has its own, distinct aesthetic, variously adorned with Realist artworks, chandeliers, ornate pillars and marble floors. Moscow's Metro caters to something like two and half billion passenger rides per year, making it one of the busiest underground metro systems in the world. Despite this, the stations are more akin to palaces or five-star hotel lobbies rather than functional spaces. The depth of the elevators is also astounding. Most travellers will encounter the Metro system for practical reasons, but many will find that they choose to spend more time than necessary underground! There are nearly 200 stations but some of the most beautiful and ornate are Kiyevskaya, Dostoyevskaya, Prospekt Mira, Mayakovskaya and Ploshchad Revolyutsii.
Address:
The Moscow Metro covers most of the city.
Opening time:
Daily 5:30am to 1am.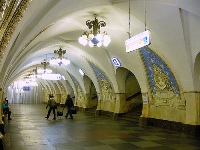 Moscow Metro yeowatzup
It might seem like a daunting task finding attractions and activities that kids on holiday in Moscow will enjoy, but a closer look at this fascinating city will reveal a few things that will spark interest for children.
The Obraztsov Puppet Theater features performances for children during the day, while animal lovers should head to the Moscow Cat Theater, where domestic cats perform an array of acrobatic tricks. The Moscow Dolphinarium will delight with dolphins, whales, seals, and sea lions performing tricks, balancing balls, and jumping through hoops. On the other hand, older children may take interest in the historical value of the Kremlin, or in the sheer size of the Tsar Cannon and Tsar Bell.
For something a little more soothing, enjoy a boat ride through the city.
Moscow has a continental climate, typified by exceedingly cold, long winters (November to March) and hot summers (June to August). In mid-summer, during July and August, temperatures are pleasantly warm, with occasional hot spells, and humidity tends to be high. Winters differ drastically, with only about six hours of daylight in the middle of the season and temperatures recorded at way below freezing point. In summer temperatures average between 53°F (12°C) and 79°F (26°C), and in winter temperatures average between 13°F (-11°C) and 25°F (-4°C). Winter snows start in October and the snow blanket persists well into spring. Moscow has little rainfall, with most of its precipitation falling as snow.
Eating out in Moscow is a warm and gratifying experience. There are ample restaurants serving traditional Russian cuisine such as caviar, beef stroganov and borscht, and blini as well as a many offering international or seafood menus.
Generally the best restaurants specialising in local fare can be found inside the Garden Ring and Kitai, or near Poklonnaya Hill. There are excellent seafood restaurants in both Red Square and Kiev Station Square, while international cuisine is available from restaurants in Pushkinskaya and Tverskaya, and on Teatralny Proezd (city centre). The Taganskaya area is also well-known for its wealth of restaurants.
While some restaurants actually stay open 24 hours a day, most establishments require reservations. Some restaurants add a service charge to the bill and if not, 10 percent gratuity is acceptable. Moscow is an expensive city with many impressive fine dining options that will set you back substantially, but it is possible to enjoy traditional Russian cuisine on a budget.
Burgers/Hot Dogs
Moscow's culinary scene has evolved exponentially in recent years and, as has been typical in other food revolutions, one of the pioneers was the burger. Some of the best burgers in Moscow are to be found in a little hole-in-the-wall at 27/2 Tverskaya Ulitsa, near Metro Mayakovskaya. It has no official name but a sign outside reads, "Burgery/Khotdogi" (Burgers and Hotdogs). Inside, visitors will find Moscow's take on the classic dive bar aesthetic, replete with local hipsters.
Each burger is made to order using high-quality ingredients, but they're also reasonably priced. Be sure to check out the classic burger for RUB 280 (it comes with a slice of orange): gone are the days of poor quality diner-style burgers in Moscow, and travellers are advised to ride the wave.
Address:
27/2 Tverskaya Ulitsa. Metro Mayakovskaya.
Filimonova & Yankel
A favourite seafood hot spot, Filimonova and Yankel serves up seafood cooked in a variety of styles. A large banquet style dining room makes for a festive atmosphere perfect for larger gatherings. A live but mellow jazz band sets the ambiance further with a classy yet casual atmosphere. The seafood is exceptionally fresh.
Address:
Bolshaya Tulskaya, 13
Mu-Mu Café
Mu-Mu operates a string of popular restaurants in Moscow all serving cheap traditional Russian food. Very popular with locals looking for quick eats and tourists wanting to try specialty Russian food without spending a fortune, the restaurants usually sport a pleasantly busy atmosphere. If you need fast food in Moscow on a budget Mu-Mu is a good option.
Address:
Myasnitskaya St. No. 14, metro Lubyanka, Kitai.
Cafe Pushkin
Café Pushkin is a wondrous example of Old Russian sophistication and elegance. Opened in 1999, Café Pushkin has been designed to resemble a 19th century aristocrat's apartment and is tastefully decked out with heavy gauge fabrics, wooden panels and plenty of antiques. The food is classic Russian cuisine and diners will not be disappointed whether they opt for a pancake breakfast, Tsar's Sturgeon, or the myriad desserts.
Café Pushkin is also open 24 hours a day.
Address:
26-A Tverskoy Boulevard, Moscow
Shinok
There's a strange paradox at work in this swanky, themed restaurant. While waitresses dress as milkmaids, goats and chickens (live ones) occupy cages near the restaurant centre and the decorative furniture consist of haystacks, the calibre of service and meals are up to the standards of the upper echelons of society. Indeed, most of the restaurant's clientele dress smartly for dinners here. It is a Ukrainian restaurant serving up Ukrainian and Russian specialities, open for breakfast, lunch and supper. Reservations are recommended but may not be necessary.
Address:
1905 year Street, 2, Moskva
Moscow Sheremetyevo International Airport
Location:
The airport is situated 19 miles (31km) from Moscow.
Time:
Local time is GMT +3.
Transfer Between Terminals
Most international flights will arrive at Terminals D, E and F. Terminals B and C, about 15 miles (24km) away, serve domestic and charter flights. Public and Express buses, taxis and free airline shuttles are available between all five terminals. There is a walkway between Terminals D, E and F.
Getting to the city:
There are several bus services, connecting each terminal to the nearby metro stations; from there, connections can be made to the city centre. Minibuses are also available.
Car Rental:
Car rental companies include Sixt and Hertz.
Airport Taxis:
A taxi ride to the city centre takes around 30 minutes (traffic dependent). Taxi touts operate in front of the terminals and are to be avoided. Book a taxi from one of the official taxi company booths. It is advisable to pre-book a taxi and be met on arrival.
Fascilities:
Once through check-in at Moscow Sheremetyevo airport, all terminals include business lounges, refreshment facilities, bureaux de change, restaurants, bars and duty-free shopping. For disabled passengers, wheelchair transfer from the aircraft to the terminal building should be arranged in advance.
Parking
Parking is available close to each of the terminals. Most offer free parking for the first five to 15 minutes.
Moscow Domodedovo International Airport
Location:
28 miles (45km) south of Moscow city centre
Time:
Local time is GMT +3 (GMT +4 from the last Sunday in March to the last Sunday in September).
Getting to the city:
A highway links Moscow city with the passenger terminal at the airport, making access by public transport, taxi or private car possible. There are trains linking the airport to Paveletsky Rail Terminal in Moscow city centre. The trains run every 30 to 60 minutes and the trip takes about 40 minutes. There are also express trains to Belorussky Rail Terminal via the Kursky and Kalanchevskaya stations. A coach service between the airport and the Domodedovskaya station on the Moscow Metro runs every 15 minutes and takes about 30 minutes.
Car Rental:
Car rental companies at the airport include Europcar, Hertz and Sixt.
Airport Taxis:
There are share taxis between the Metro station and the airport, and the fare is 100 rubles. The official taxi operators are MB-Motors, Gorodskoe Taxi (City Taxi) and Formula Taxi.
Fascilities:
There are shops, cafés and restaurants in the Trade Centre on the 2nd floor of Domodedovo, and more cafés, bars and shops located on the 1st floor. There are postal, phone and e-mail facilities available in the airport, as well as currency exchange and wire transfer facilities.
Parking
There is short- and long-term parking available at the airport. Airhotel customers can park in Lot 8 for a reduced rate per day, and take a shuttle to the terminal.
Moscow's nightlife features an amazing selection of bars, clubs, bowling alleys, billiards rooms, casinos and concert venues. The most popular party scenes can generally be found in and around Kitai Gorod, Arbat and Garden Ring, and a stroll along 1905 Goda Street is a must if you're on the lookout for the latest hot spot. Be aware that many Moscow bars and nightclubs operate on strict face and dress control systems, meaning that the bouncers will actively turn away people they don't find attractive or fashionable enough.
There are a handful of prime nightlife spots near Red Square, as one might expect, but travellers should be wary of tourist traps - often the clubs and bars frequented by locals are the best.
For those keen on a little gambling or gaming, Moscow's casinos include Carnival and Casino Desperado, and bowling alleys and billiard rooms are numerous. Luzhniki Stadium hosts massive international music concerts, while Hermitage Garden is good for open-air performances and contemporary electronic concerts, and also boasts the Novaya Opera Theatre and an ice-skating ring. Good live music is not hard to find in Moscow and the city is world-famous for its performing arts.
Russians are traditionally enthusiastic consumers of alcohol and drinking laws are seldom strictly enforced, but the legal age for purchasing alcohol is 18.
The easiest and most pleasant way to get around Moscow is on the underground metro. It is inexpensive, very efficient, and easy to use, even considering all signage is in Russian, but it's still a good idea to have the destination written in Cyrillic characters to help identify the correct station. The metro runs until 1am and fares are standard regardless of the distance travelled, allowing unlimited transfers. Overland transport is less efficient than the metro, but an extensive network of buses, trams and trolleybuses covers the areas not serviced by the metro until about 11pm. They can get unpleasantly crowded during rush hour. Alternatives to the bus are the passenger vans called marshrutka, which follow the bus routes and stop on request. There are also scores of official metered taxis and unofficial cars that can be flagged down on the street, but fares must be negotiated before entering the vehicle, especially as foreigners are likely to be overcharged. Although taxis are generally safe, tourists should be cautious and single women are advised to avoid them at night. Driving in the city is not recommended.
For the most part, Moscow's tourist attractions bear testament to the city's turbulent past, though there are also a number of more light-hearted cultural and religious venues to enjoy in the city. Sightseeing in Moscow is best from spring through summer (April until late August), when it is warmer and the days are longer.
The city's foremost attractions are the Kremlin, a UNESCO-listed medieval fortress dating back to the city's foundation in 1147, and the multi-coloured domes of St Basil's Cathedral, both iconic Russian landmarks. Red Square is another must when sightseeing in Moscow. The Bolshoi Opera and Ballet Theatre is home to Moscow's famed performance arts, while the Tretyakov Gallery exhibits traditional Russian masterpieces.
Historic Moscow attractions include Poklonnaya Hill, which highlights Russia's military strength against both Napoleon and Hitler, and the Borodino Panorama Museum which has interesting artefacts and displays from the Napoleonic wars. The Cathedral of Christ the Saviour commemorates the soldiers who died defending Russia in the early 19th century and can be added to the list of military memorials in the city.
Travellers planning a lot of sightseeing in Moscow should consider purchasing the Moscow Pass, which offers free entry to more than 30 attractions, among other things.
Yasnaya Polyana
Located 120 miles (193km) from Moscow, Yasnaya Polyana is the estate where Leo Tolstoy was born in 1828. In 1921, the property became a memorial to the celebrated author of War and Peace and Anna Karenina, and contains a museum with his personal effects, including an extensive library of nearly 22,000 volumes. Nearly a century later, the museum is still run by Tolstoy's descendants. Tolstoy spent 60 years living at Yasnaya Polyana with his family, and all of his 13 children were born there (although four died young). He founded a working farm and children's school on the estate, and is buried in an area called the Forest of the Old Order (so called because it was forbidden to cut down trees there).
Address:
Yasnaya Polyana, Tula Oblast, Russia.
Transport:
Buses are available from Moscow, stopping in the nearby town of Tula.
Opening time:
Tuesday to Sunday: 9am to 8pm.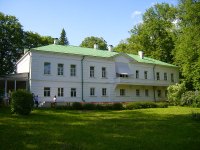 Yasnaya Polyana, near Moscow Celest.ru
Golden Ring
Consisting of a circuit of historic cities northeast of Moscow, the Golden Ring is a popular tourist route for travellers in Russia. The cities are popular for their distinctive architecture (recognizable for the uniquely-Russian onion-shaped domes and colourful ornamentation), and their tradition of handmade craftsmanship, offering tourists a good opportunity to buy beautiful Russian souvenirs. The official list of towns in the Golden Ring includes Ivanovo, Kostroma, Pereslavl-Zalessky, Rostov Veliky, Sergiev Posad, Suzdal, Vladimir, and Yaroslavl. They are all spaced close enough to each other (and to Moscow and St Petersburg) to reach on horseback within 24 hours, making them ideal for a driving tour. The cities are fairly similar, so it is not necessary to visit them all, and most travellers choose to see only four or five. One city that should not be missed, however, is Sergiev Posad, the centre of the Russian Orthodox Church and home to the impressive Sergiev Posad Monastery. Suzdal is another highlight on any Golden Ring tour, home of the St.Euthymius Monastery and the enormous Spaso-Evfimiev Monastery, which houses 10 museums and is nearly as impressive as St Basil's in Moscow.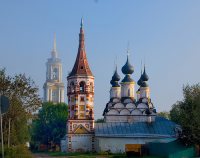 Suzdal, Russia Loris Silvio Zecchinato
Arkhangelskoye Palace
The Arkhangelskoye Estate, just outside Moscow, is an old aristocratic estate home that has been a museum since the fall of the Russian tsars in 1917. It was built in 1703, featuring classical and neo-classical design elements. The estate is composed of various buildings including the main palace, a smaller palace called Caprice, a church, and a theatre. Beautifully decorated interiors can be found throughout, augmented by a very impressive collection of art. Unlike many other old aristocratic Russian estates, Arkhangelskoye is in very good condition as special, dedicated efforts have been made in recent years to ensure its upkeep. The estate is easily reached by train, a 30-minute journey from the Yaroslavsky train station in the west of Moscow. In the summer and early autumn, all of the buildings are open for viewing. Visitors are welcome to explore the grounds and can bring picnics to enjoy in the gardens. There are also usually several music concerts hosted by the estate throughout the summer months.
While still beautiful and worth a visit during the winter, the gardens are obviously not much of a sight, and some of the buildings are occasionally closed in the winter.
Address:
Arkhangelskoye, Moscow Oblast, Russia, 143420.
Transport:
The estate is accessible by both bus and train out of Moscow.
Opening time:
Weekdays: 10am to 5pm. Weekends: 10am to 6pm.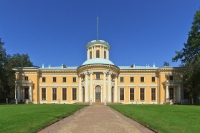 Arkhangelskoye Palace, near Moscow A.Savin