Russia holds a wealth of sightseeing opportunities across allnine of its time zones, incorporating the largest forestland andfreshwater supply in the world. It's little wonder that Russiansrefer to their country as the Motherland - it is, undeniably, abountiful place. Seeing Russia in all her glory would be a mighty,and time-consuming, feat.
In St Petersburg, the State Hermitage Museum captures ancient tomodern Russian history in the six buildings which make up theWinter Palace - the former residence of the tsars. The MoscowKremlin is a wonder to behold; alongside it is Red Square, Moscow'sbroad and bustling city square flanked by the famous BasilCathedral. The Bolshoi Ballet Theatre, in neighbouring TheatreSquare, is one of the most ornate theatres in the world and is hometo the world's oldest and most successful ballet company.
There is, however, more to see by way of both history andnatural splendour. Russia is jokingly referred to as the 'lungs ofEurope' due to the expansive forestland, which is said to absorbabout 15 percent of the world's carbon dioxide. As you progresseast, the forest becomes more dense and overwhelming. The best wayto take in the Russian countryside is by train, as theTrans-Siberian Railway winds southeast from Moscow on the sameroute that once transported prisoners of Stalin's purges to labour camps. Those in search of natural beautyshould also consider travelling down to Lake Baikal, the deepestand largest lake (by volume) in the world and a UNESCO WorldHeritage Site.
The Kremlin
The Kremlin is a fortress surrounded by a thick red wallinterspersed with 20 towers that was built between 1482 and 1495.The complex consists of a number of glittering, golden-domedchurches and palaces, museums, residences, offices, assembly hallsand monuments. It was home to the royal regime during Tsarist ruleand the seat of the Communist government from 1918 onward.Cathedral Square is the religious centre of Moscow and the historicheart of the Kremlin. The attractive Annunciation Cathedral was setaside for the private use of royalty and contains beautifullypainted murals and icons on the interior walls. The throne of Ivanthe Terrible can be found in the Cathedral of the Assumption, whichwas used for the coronation of tsars; most of the leaders of theRussian Orthodox Church are buried here and their tombs line thewalls of the spacious, richly coloured interior.
The Belfry of Ivan the Great is the tallest structure within thewalls and a visible city landmark. At its foot lies one of theworld's biggest bells, broken in a fall from its bell tower in1701, and nearby is one of the world's largest cannons, the TsarCannon. Also within the Kremlin is the Armoury Palace. It is therichest and oldest museum and houses a staggering collection oftreasures gathered over the years by the church and Russian state.These include jewel-studded coronation capes, thrones encrustedwith diamonds, royal coaches and sleighs and the renowned jewelledFabergé Easter eggs, each containing an exquisitely detailedminiature object of precious metal inside. The Diamond FundExhibition in the same building contains the 180-carat diamondgiven to Catherine the Great by Count Orlov.
Transport:
Metro stop Biblioteka imeni Lenina or AleksandrovskySad.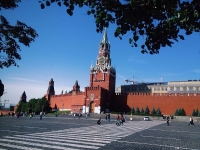 The Moscow Kremlin Angelina sq
Red Square
Red Square is a dramatic cobbled square in the centre of Moscow.Originally the city's marketplace, the square also served as apublic gathering place to celebrate festivals, listen to governmentannouncements or witness executions, especially common during thereign of Ivan the Terrible. The Soviet state turned it into amemorial cemetery, and constructed Lenin's Mausoleum to one side -a crystal casket containing the preserved body of the founder ofthe Soviet Union that is still open for public viewing today. Thecommunist government destroyed several ancient buildings around RedSquare, including the Resurrection Gate and chapel, to make spacefor and to allow easy tank access to the demonstrations andmilitary parades that were often held in the area. The currentResurrection Gate and chapel are replicas that were built in the1990s. Red Square's most impressive military parade involved thegathering of thousands of Russian soldiers ready to march to waragainst the Nazis in 1941; it was also the site of many paradesduring the Cold War.
The word 'red' doesn't apply to the colour of the brickwork,neither is it a reference to communism. The meaning of the word'krasny' originally meant 'beautiful' in Old Russian, referring toSt Basil's Cathedral at the southern end, but over the centuriesthe word changed to mean 'red' too, thus the square's present name.St Basil's Cathedral is the city's most well-known building and iscrowned by the bulbous multi-coloured domes for which it is sofamous.
Address:
Red Square, Moscow, Russia.
Transport:
Metro stop Ploshchad Revolutsii.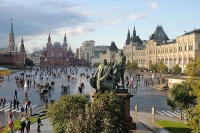 Red Square, Moscow Christophe Meneboeuf
St Basils Cathedral
St Basil's Cathedral stands on the edge of Moscow's Red Square,and is the most famous landmark in Russia. Its striking design wascommissioned by Ivan the Terrible to commemorate his victoriousmilitary campaign against the Tartar Mongols at Kazan in 1552.Legend has it that Ivan was so overwhelmed by its beauty that hehad the architect blinded to prevent him from creating anything torival it. St Basil's Cathedral includes a central chapel surroundedby eight tower-like chapels, each crowned with a different colouredand uniquely patterned onion-shaped dome. The church escapeddemolition many times during the city's turbulent history and withthe beginning of the Soviet regime the cathedral was closed andlater turned into a museum. The interior is a dimly lit maze ofcorridors and delicately decorated chapels. One of them houses apriceless, icon-decorated 16th century screen that shields theinner sanctuary. In comparison to the exquisite exterior, theinterior can seem disappointing, but there is no question StBasil's is worth exploring.
Address:
Red Square, Moscow, Russia.
Transport:
Metro stop Kitai Gorod.
Opening time:
The museum is open 11am to 5pm in winter, and 10am to7pm in summer.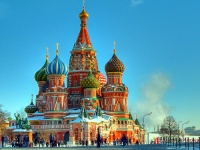 St Basil\'s Cathedral verygreen
Bolshoi Opera and Ballet Theatre
Moscow's oldest and most famous theatre, the Bolshoi, dates from1824 and is home to world-renowned opera and ballet companies.Completely rebuilt after a fire in 1856, the grand building is amasterpiece of Russian neoclassicism, including an eight-columnedentrance porch topped by the horse-drawn chariot of Apollo, patronof the arts. The glittering five-tiered interior is richly adornedwith red velvet furnishings, ornate gold detailing and chandeliers,and the size of the auditorium makes it one of the largest theatresin the world. The Bolshoi Theatre has hosted some of the world'smost celebrated premieres, including Swan Lake, Spartacus, andconcerts by Richard Wagner. Attending an evening performance at theBolshoi Opera and Ballet Theatre constitutes one of Moscow's bestnights out.
Address:
Theatre Square, 1, Moskva, Russia.
Transport:
Metro stop Teatralnaya.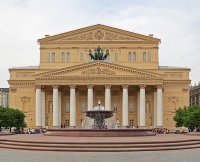 The Bolshoi Theatre, Moscow A.Savin
Tretyakov Gallery
The Tretyakov Gallery houses some of the great masterpieces oftraditional Russian art from before the Revolution and has theworld's finest collection of Russian icons from the 11th to the17th-centuries. The gallery's collection of paintings, graphics andsculptures covers Russian art from the 18th to the 20th century.The gallery was named after its founder, Pavel Tretyakov, an artcollector who donated about 2,000 works of art from his privatecollection to the city of Moscow, forming the basis of thecollection to which state acquisitions were later added. He alsodonated his own house, which became the original site of the artgallery. Two separate buildings at different locations house theworks selected for display.
Address:
Lavrushinsky Ln, 10, Moscow, Russia.
Transport:
Take to metro to the Tretyakovskaya metro stop, and walkfor 317 yards (290m).
Opening time:
Tuesday, Wednesday, and Sunday: 10am to 6pm.Thursday, Friday, Saturday: 10am to 9pm.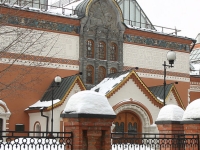 Tretyakov Gallery Vkostin
The Winter Palace and the Hermitage Museum
The magnificent green, white and gold Winter Palace is superblysituated on the banks of the Neva River. At 656 foot-long (200m),the Russian Baroque building is the biggest and most lavishlydecorated palace in the city. It was the official residence of thetsars, and Catherine the Great later added the Small and LargeHermitages onto the palace as a sanctuary for herself and herprivate art collection. The Hermitage Museum comprises a statelycomplex of buildings strung along the embankment, with the WinterPalace at its heart. The Hermitage Museum is one of the world'sgreatest art museums, with a collection that has grown from thepaintings of Catherine the Great in 1764 to a collection of morethan three million pieces. This vast collection is housed withinthe sumptuous splendour of one of the most luxurious palaces in theworld. The three floors cover a full range of world art fromancient times, to Russian works and 20th-century European examples,as well as a fabulous collection of Impressionist andPost-Impressionist paintings, set against the rich interior ofwhite marble staircases, golden ceilings, crystal chandeliers, andelaborate mosaics.
Address:
Palace Embankment, 32, Sankt-Peterburg, Russia.
Transport:
Take the metro to Admiralteyskaya Station.
Opening time:
Wednesday, Friday: 10.30am to 9pm. Tuesday, Thursday,Saturday, Sunday: 10.30am to 6pm.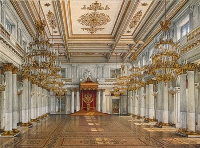 St George's Hall in the WinterPalace Painting by Constantine Ukhtomsky
Palace Square
Palace Square is the main square of St Petersburg and one of theworld's most magnificent plazas. It contains the picturesqueBaroque buildings of the Winter Palace and Hermitage Museum on oneside and the Classical yellow and white former General Staffbuildings of the Russian army on the other. The focal point of thesquare is the Alexander Column, a tall monolith of red granitetopped by the statue of an angel and a cross, dedicated to Russianmilitary victory in the Napoleonic wars. Palace Square has been thesite of numerous political protests, most notably thedemonstrations of Bloody Sunday in 1905 that started the firstRussian Revolution. Today the square, with its beautiful views ofthe Admiralty's golden spire and the dome of St Isaac's Cathedralacross the vast stone paving, is filled with markets, outdoor cafesand the sound of horse-drawn carriages.
Address:
Palace Square, Sankt-Peterburg, Russia.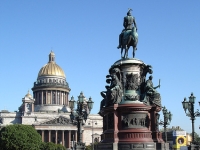 Palace Square jimg944
Nevsky Prospekt
Almost three miles (5km) long, Nevsky Prospekt is one of thebest-known streets in Russia and is the main thoroughfare of StPetersburg. The Nevsky Prospekt starts at the Admiralty buildingwhose gilded spire is a famous city landmark, passes the MoscowRailway Station and the Alexandr Nevsky Monastery, where some ofthe country's most celebrated artists are buried. Nevsky Prospekthas been the hub of St Petersburg for centuries and cuts throughthe most important segment of the city. Intersected by rivers andcanals, the most beautiful part of the avenue surrounds theGriboyedov Canal. Here the impressive colonnade of the grand KazanCathedral catches the eye, curving around a small grassy squareopposite the breathtaking, multi-coloured onion domes of the'Church of Our Saviour on the Spilled Blood' - which is officiallycalled the Resurrection of Christ Church. Modelled on St Basil'sCathedral in Moscow and adorned with exquisite mosaic panels, thechurch is one of St Petersburg's most striking landmarks. It wasbuilt on the site of the assassination of Emperor Alexander II in1881.
As well as many churches, the street boasts St Petersburg'sfinest shops and restaurants, old manors and impressive buildings,and a beautiful mixture of architectural styles from the differentperiods of its history. If you walk down only one road in StPetersburg make it the Nevsky Prospekt.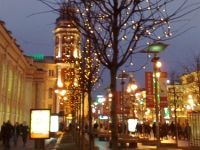 Nevsky Prospekt Pot Noodle
St Isaacs Cathedral
The golden dome of St Isaac's Cathedral dominates the skyline ofSt Petersburg, with the colonnade around the cupola offering superbpanoramic views over the city. It was commissioned by TsarAlexander I to be a magnificent imperial cathedral, and the ensuingmasterpiece was of grandiose proportions, taking more than 40 yearsto build. It was decorated in the most extravagant manner. TheRussian Classic exterior encloses a splendid interior adorned withred granite columns, exquisite mosaics, painted ceilings,sculptures, frescoes, and a beautiful stained-glass window,incorporating many different kinds of stone and marble work intothe massive structure. The cathedral can accommodate 14,000worshippers, but today services are held here only on specialoccasions. It is worth noting that no photography or filming isallowed in either the Cathedral or the Colonnade.
Address:
St Isaacs Square, 4, St Petersburg, Russia.
Transport:
Take a metro trip to Admiralteyskayastation.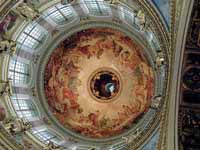 Dome inside St Isaac's Cathedral Sanne Smit
Peter and Paul Fortress
Situated across the river from The Hermitage Museum, and on asmall island on the Neva Delta, the Peter and Paul Fortress is theoldest surviving building in St Petersburg. Planned by Peter theGreat as a defence against possible attacks from the Swedes, thefortress never served its original purpose as the Swedish weredefeated before its completion, and the six bastions at its cornerswere turned into high security political prison cells. Thenotorious dungeons held many famous people, including Alexei (theson of Peter the Great), Trotsky, and Gorky, and is now a museum.Other buildings in the fortress house the City History Museum andthe Mint. The midday gun is fired every day from the roof, echoingaround the city from across the water. Also enclosed within theimposing walls is the Cathedral of St Peter and St Paul, itsdistinctive golden needle-like spire visible throughout the city.The first church in the city to be built from stone, it has arichly decorated interior containing the tombs of every RussianEmperor since Peter the Great.
Address:
St Petersburg, Russia.
Transport:
Gorkoskaya metro stop, and then a five to seven minutewalk.
Opening time:
10am to 4pm, Thursday to Tuesday.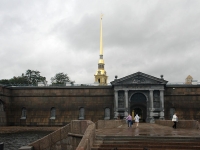 Peter and Paul Fortress George Shuklin
Poklonnaya Hill
Poklonnaya Hill means 'bow hill', and lies in the west part ofMoscow. Historically, is was a spot for Western visitors to payhomage to the city before entering. Today it is a beacon toRussia's military strength, having withstood invasions by bothNapoleon and Hitler. Atop the hill is Victory Park which provides ascenic walk and contains a memorial Mosque and Synagogue forvictims of the war, and an open air museum dedicated to the victoryover Napoleon. There are many tanks and other wartime vehicles ondisplay in Victory Park, along with several impressive monumentsand statues. History buffs will love exploring the many attractionsof Poklonnaya Hill and Victory Park, and even those not interestedin military history will enjoy the art and the views.
Transport:
Disembark from the Metro at Park Pobedy.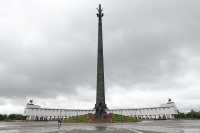 Victory Park, Poklonnaya Hill,Moscow Guenni88
Cathedral of Christ the Saviour
After Napoleon retreated from Russia, Tsar Alexander I declaredthat a cathedral be built in remembrance of the soldiers who haddied defending Mother Russia. The original cathedral took more than40 years to build. Decades later the cathedral was demolished byStalin (who found the monument abhorrent) to make way for thecolossal Palace of the Soviets, intended to be a symbol of RussianCommunism, which was never actually built. The Cathedral of Christthe Saviour was rebuilt again, on the same site, between 1990 and2000 as a faithful duplicate of the original. It is currently oneof the largest and tallest Orthodox Churches in the world. Thecontemporary Russian artwork, statues and memorials to the RussianTsars, as well as a small indoor museum, are well worth a look.
Address:
Ulitsa Volkhonka, 15, Moskva, Russia.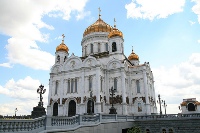 Cathedral of Christ the Saviour brostad
Borodino Panorama Museum
The battle of Borodino is regarded as the bloodiest of theNapoleonic battles, seeing over 70,000 casualties in a single dayand leading Napoleon to brand the Russians as 'invincible'. TheBorodino Panorama Museum was inaugurated in 1960 and serves as anexhibit of artefacts and displays from the Napoleonic wars, with acollection of wartime memorabilia on one level and the enormouspanorama on another. The panorama referred to in the name is,incidentally, not an outdoor view but a 360º painting by FranzRoubaud depicting a crucial moment in the battle itself. The muralis 115 meters long and 15 meters high. The museum will delightmilitary history buffs, but should also impress the uninitiated.Those with smartphones can download the museum's interesting audioguide, helped along by free wifi.
Address:
Kutuzovsky Prospect, 38, bld. 1, Moscow, Russia.
Transport:
The Museum can be walked to from Metros Park Pobedy andKutuzovskaya, respectively.
Opening time:
Saturday to Wednesday: 10am-6pm. Thursday: 10am-9pm.Closed on Fridays.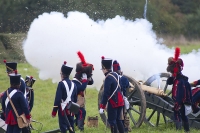 A reenactment of the Battle of Borodino,Moscow Rulexip
Moscow Metro
Taken together, Moscow's Metro stations amount to the mostbeautiful public transport facility in the world. Visitors toMoscow should not miss taking a ride on this glorious undergroundrail system, and exploring the stations. Each one has its own,distinct aesthetic, variously adorned with Realist artworks,chandeliers, ornate pillars and marble floors. Moscow's Metrocaters to something like two and half billion passenger rides peryear, making it one of the busiest underground metro systems in theworld. Despite this, the stations are more akin to palaces orfive-star hotel lobbies rather than functional spaces. The depth ofthe elevators is also astounding. Most travellers will encounterthe Metro system for practical reasons, but many will find thatthey choose to spend more time than necessary underground! Thereare nearly 200 stations but some of the most beautiful and ornateare Kiyevskaya, Dostoyevskaya, Prospekt Mira, Mayakovskaya andPloshchad Revolyutsii.
Address:
The Moscow Metro covers most of the city.
Opening time:
Daily 5:30am to 1am.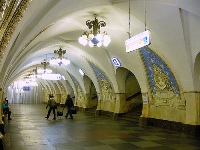 Moscow Metro yeowatzup
Agura Waterfalls
Also known as Agursky, the Agura Waterfalls are one of the mostfamous tourist attractions in Sochi. Located just outside the city,these majestic waterfalls cascade from a height of 98 feet (30m)and are a popular stop off along hiking trails that wind throughthe forest along the Agura Ravine in the Sochi National Park. Atthe Eagle's Rocks, hikers can enjoy the view of the crystal clearwaterfalls crashing down to the oval pool below and admire thepanoramic views over the city and Black Sea. Swimming is allowedand a very popular activity in the warmer months. It is possible toorganise tours to the waterfalls, but also easy to seek them outindependently.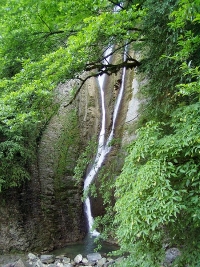 Agura Waterfalls, Sochi NationalPark Yufereff
Matsesta Spa
Matsesta is a micro-district in Sochi, on the Black Sea coast,primarily renowned as a health resort. Matsesta, meaning 'fierywater', has harnessed the powers of the hot sulphur springs thathave become synonymous with Sochi and become the city's mostrenowned health spa district. The water from the hot springsnaturally contains more than 27 types of minerals and is used totreat people with respiratory and cardiac problems, though it isalso perfect for simple relaxation. Featuring a number of differentspa facilities which all have bathing rooms, massage tables andinhalation cubicles, Matsesta Spa is a major tourist attraction anda big draw card for travellers to the region.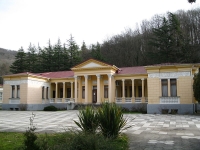 Matsesta, Sochi Alexander V. Solomin
Dagomys
Located just outside of Sochi, the small village of Dagomys is apopular holiday resort on the Black Sea. The former haunt ofRussian nobility in the 19th century, the holiday residence of TsarNicholas II is still standing and travellers can play royalty byspending a night there as it is now a large hotel. The scenicvillage boasts lovely pebble beaches, which are set against thedramatic backdrop of the Caucasus Mountains, and visitors can tourlocal tea plantations and the mineral springs of Matsesta. Dagomysis also a paradise for outdoor activities, including hiking andbird-watching in the Dendrarium Botanical Gardens. Summers inDagomys are noticeably cooler than in other coastal areas due tomountain air currents, earning the village its name, which means 'acool and shady place' in the Adyghe language. While Dagomys is notas lively as nearby Sochi, the resort's quiet and relaxingatmosphere makes for a great weekend getaway.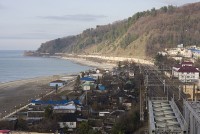 Dagomys, Russia Rdfr
Dombai
One of the more popular ski resorts in the Caucasus region,Dombai is a scenic mountain valley located at the confluence ofthree rivers, 37 miles (60km) from the Black Sea coast. Famous forits pure air, Dombai is frequented mostly by Russian holidaymakers,lending it a unique and lively atmosphere and preserving the town'sauthentic character. The facilities at Dombai are old and fairlyworn, but there is a tourist complex comprising hotels and arecreation and sports centre. Five lifts and three ski trackersoperate on a pay-as-you-go riding system serving varied pistes(tracks) that cater for all levels of skiers. The gentle slopesnear the top of the mountain are better suited to beginners, as theincline becomes very steep toward the bottom.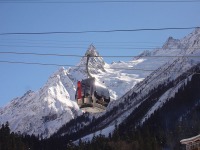 Dombai Ski Resort, Russia Webster
Gelendzhik
The laidback seaside resort of Gelendzhik has been around forseveral millennia, having been founded as a Greek outpost around 64BC. The town is set along a curving bay with calm pebble beachesthat are ideal for swimming and watersports, and land-basedactivities like horseback riding, quad biking and hiking.Gelendzhik is best known for its spa and waterparks, and there is acable car line specially built for tourists to take in the scenicviews from the top of the mountain. A new airport opened in 2010,making it easy to get to Gelendzhik from Moscow and StPetersburg.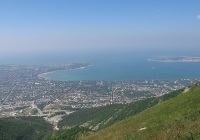 Gelendzhik, Russia Vihljun
Krasnaya Polyana
Set 1,968 feet (600m) above sea level, Krasnaya Polyana, ('redmeadow') is fast becoming the most popular ski resort in Russia.Skiers and snowboarders in Krasnaya Polyana can enjoy magnificentpanoramic views of the West Caucasus. Located just 25 miles (40km)from Sochi and the Black Sea coast, Krasnaya Polyana is sometimescalled the 'Russian Courchevel" for its well-groomed pistes(tracks), good après-ski nightlife, and high prices. The resortowes much of its popularity to its excellent heliskiingopportunities, but there are also good runs for beginners. Theresort underwent massive renovations ahead of the 2014 WinterOlympics in Sochi. Olympic facilities located in Krasnaya Polyanainclude the Russian National Sliding Centre (luge, bobsleigh, andskeleton), Psekhako Ridge (biathlon, cross-country skiing, andNordic combined), Roza Khutor Alpine Resort (Alpine skiing andsnowboarding), Alpika Service Mountain Resort (freestyle skiing),and Russian National Ski-jumping Centre (ski jumping and NordicCombined).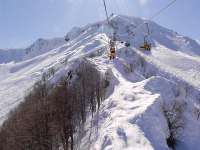 Krasnaya Polyana, Russia Lite
Pavlovsk Palace
The Pavlovsk Palace lies about 19 miles (31km) outside StPetersburg, and is one of the smaller and more restrained of thepalaces located in and around St Petersburg. It was built in 1780by Catherine II's son, Paul (the future Emperor Paul I) and wasdesigned by the Scottish architect Charles Cameron and hisassistant, Vincenzo Brenna, and included landscaped gardens in theBritish style. The palace was turned into a museum after Russia's1917 revolution, but was almost entirely destroyed during World WarII. Following the war, the palace's old furnishings and artworkwere tracked down and the palace was beautifully restored. Todaythe palace is once again a museum open to the public, displayingrooms furnished and decorated exactly as they were when occupied bythe Russian royalty. The extensive grounds are beautifully kept andare available to visitors for strolling and picnicking. Visitorscan reach the palace by train from St Petersburg, a short journeythat showcases a little of the lovely Russian countryside.
Address:
Sadovaya ul., 20, Pavlovsk, Sankt-Peterburg,Russia.
Opening time:
10am-6pm, Monday-Sunday.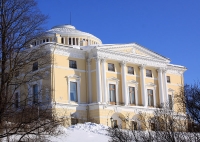 Pavlovsk Palace, St Petersburg MartinPutz
Tsarskoe Selo
Tsarskoe Selo ('Tsar's Village') is a former Romanov summerresidence located about 15 miles (25km) outside of St Petersburg.The estate was originally a gift from Peter the Great to his wifeCatherine I, and over the course of many years it was developed bydifferent emperors and empresses. The Baroque Catherine Palace andthe neoclassical Alexander Palace are the main buildings on theestate. The Catherine Palace has been kept in much better conditionthan the Alexander Palace, although both palaces are well worth avisit. The Catherine Palace houses the famous Amber Room, which ispanelled entirely with pieces of amber and filled with amberartwork. The palaces' grounds are extensive and contain manysurprising small buildings added purely for visual effect, notablythe so-called Chinese Village in the Alexander Palace's gardens.The Cameron Gallery, a small building designed by the Scottisharchitect James Cameron in the 1780's, houses widely variedtemporary exhibitions.
Tsarskoe Selo is an easy train-ride from St Petersburg's Vitebsktrain station followed by a short bus ride to the palace gates, allof which should take no more than 30 minutes if there is notraffic. It is an extremely popular spot in the summer months andqueues as well as traffic can get very bad, so it's a good idea toarrive early.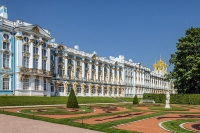 Catherine Palace in Tsarskoe Selo Florstein
Money:
The official currency is the Rouble (RUB), which is divided into100 kopeks. Most major international credit cards are accepted inlarger establishments. Currency can be changed at banks, bureaux dechange, and hotels. ATMs are widely available in major cities. Itis hard to get roubles outside Russia and travellers are advised totake good condition US Dollars or Euro notes to change oncethere.
Language:
Russian is the official language. Some people speakEnglish, French or German.
Electricity:
Electrical current is 220 volts, 50Hz. Round two-pinplugs are standard.
Entry Requirements:
United States citizens must have a passport valid on arrival. Avisa is required.
British citizens must have a passport valid on arrival. A visais required.
Canadian citizens must have a passport valid on arrival. A visais required.
Australian citizens must have a passport valid on arrival. Avisa is required. Those passengers with an APEC Business TravelCard valid for travel to 'RUS' if traveling on business do notrequire a visa.
South Africans must have a passport valid on arrival. No visa isrequired for a maximum of 90 days.
Irish nationals require a passport valid on arrival. A visa isrequired.
United States citizens must have a passport valid on arrival. Avisa is required.
New Zealand nationals require a passport valid on arrival. Avisa is required. Those passengers with APEC Business Travel Cardfor travel to 'RUS' if traveling on business do not require avisa.
Passport/Visa Note:Visa:
Valid visas in expired passports or other expired traveldocuments are not accepted. Visitors must carry ID at all timeswhilst in Russia. An Immigrant Card will be issued on board theaircraft or on arrival. All visitors staying for longer than sevenworking days must register with the Federal Migration Service uponarrival; if staying in a hotel, the hotel will arrange this,otherwise you can find the forms to fill out at a post office andpost the forms to the Federal Migration Service. Anyone travellingon a tourist visa must hold vouchers from the hotel or travelagency. Passengers are required to hold return/onward tickets anddocuments required for the next destination. Exit permits arerequired on departure. These are usually issued with the visa, orcan be obtained at hotels not less than two days before departure.Passports must be valid for period of intended stay. It is highlyrecommended that passports have at least six months validityremaining after your intended date of departure from your traveldestination. Immigration officials often apply different rules tothose stated by travel agents and official sources.
Travel Health:
Travellers to Russia are advised to get vaccinations forhepatitis A and hepatitis B, to be up to date on vaccinations fortetanus-diphtheria and MMR (measles, mumps, rubella), and toconsider vaccinations for typhoid, rabies and Japanese encephalitisif they are long-term travellers and/or spending time in ruralareas.
Drinking water should be treated; bottled water is readilyavailable. Local state medical facilities are of a low standard,however, and visitors are strongly advised to have full insurancefor medical treatment and accidents should they require privatecare. Blood transfusions should not be performed in Russia, due touncertainties concerning the blood supply. Essential medicationsand supplies may be limited.
Tipping:
Hotel bills in the large Russian cities usually include a 10 to15 percent service charge. If no service charge has been added atip of at least 10 percent is expected. City Guides and theirdrivers also expect a small tip and tipping in bars and nightclubsis common.
Safety Information:
Though Russia is generally a safe country in which to travel,visitors should be vigilant and watch out for pickpockets andstreet crime, and should be particularly cautious on the metro andbuses. Moreover, travellers must insist on seeing officialidentification from police officers. Political protests often endin violence and detention and visitors are advised to avoid allstreet demonstrations and political gatherings.
Local Customs:
Photography of anything to do with the military, strategicsites, or the airport, is prohibited. In Russian Orthodox churches,women are advised to wear skirts and cover their heads with ascarf. It is a legal requirement for visitors to carry passportsfor identification; copies are not sufficient. Russia has a poorLGBT rights record, and same-sex couples should exercisecaution.
Business:
Russian business is conducted in a fashion similar to Westerncountries but with some subtle differences. Russians arebusiness-minded so it is not generally necessary to form personalrelations with business colleagues; however, developing a goodnetwork of resident associates is a good idea. Dress is formal andconservative and on greeting a good firm handshake and direct eyecontact indicates strength. Business cards are exchanged and it isadvisable to print a Cyrillic translation of your details on thealternate side. Business hours are generally from 9am to 6pm fromMonday to Friday.
Communications:
The international access code for Russia is +7. Hotels, cafesand restaurants offering free wifi are widely available. Asinternational roaming costs can be high, purchasing a local prepaidSIM card can be a cheaper option.
Duty Free:
The following may be imported into Russia without customs duty:200 cigarettes, 100 cigarillos, 50 cigars or 250g of tobaccoproducts (over 18 years), 2 litres of alcohol (over 21 years),perfume for personal use, gifts up to the value of US$10,000.Tourists must complete a customs declaration form, to be retaineduntil departure, allowing for the import of articles intended forpersonal use (including currency and valuables) which must beregistered on the declaration form.
Additionally, 250g of caviar per person may be exported, with areceipt proving it was purchased at a store licensed to sell it toforeigners and a licence from the Ministry of Economic Development.Any items or artwork that might have historical value, like icons,maps, coins or paintings, have to be registered with the Ministryof Culture before departure, which usually involves a 100% customsduty fee.