Palace of Parliament
Built by former dictator Nicolae Ceausescu, the colossal Palace of Parliament is the largest civilian administrative building in the world. It is an immense structure that took 20,000 workers and 700 architects to build, and cost billions. It has 12 stories, 1,100 rooms, a 328 foot-long (100m) lobby, and four underground levels including an enormous nuclear bunker.
Started in 1984, the dictator intended it to be the headquarters of his Communist Government, but it was still unfinished when he was executed in 1989. Today it houses the seat of Romania's Parliament (which occupies only 30 percent of the building) and is an international conference centre. Widely viewed as a personification of his obsession with the grandiose and excessive, the construction entailed the demolition of a quarter of Bucharest's historic centre, including 26 churches, and the relocation of 40,000 inhabitants from their 19th century homes to new developments on the outskirts.
Built and furnished exclusively from Romanian materials, the building reflects the work of the country's best artisans. A guided tour takes visitors through a small section of dazzling rooms, huge halls and quarters used by the Senate (when not in session). The interior is a luxurious display of crystal chandeliers, mosaics, oak panelling, and marble, gold leaf and stained glass windows, and even the floors are covered in rich carpets. The largest room has a sliding roof wide enough for a helicopter to enter. Tour guides delight in recounting tales of the vast amounts of money that went to waste in decorating and re-decorating its rooms.
Address:
Strada Izvor 2-4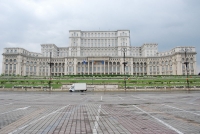 Palace of Parliament George Groutas
The Village Museum
One of Bucharest's finest sights is the Village Museum, situated within the Herastrau Park alongside a picturesque lake. It is a fascinating outdoor museum with a collection that spans more than 300 buildings representing the history and design of Romania's rural architecture, including peasant homes, barns, wooden churches, and Transylvanian houses from all regions of the country to recreate a village setting.
Traditionally dressed peasant workers portray life during the 16th and 17th centuries along with everyday tools and accessories. Traditional crafts are also for sale around the site.
Address:
28-30, Șoseaua Pavel Dimitrievici Kiseleff
Opening time:
Tuesday to Sunday 9am-7pm, closed Monday.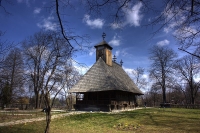 The Village Museum Klearchos Kapoutsis
Stavropoleos Church and Monastery
The tiny but remarkable Stavropoleos Church was built in 1724, designed by a Wallachian prince renowned for his religious architectural accomplishments, and is one of the oldest churches in Bucharest. Built using a combination of Romanian and Byzantine architecture, the beautiful façade and a delicately carved columned entrance, give but a taste of the beauty that lies within. Surrounded by a peaceful garden, it is an architectural jewel, with intricate frescoes and religious icons.
Attached to the church is Stravropoleos Monastery. The Monastery specialises in Byzantine music and has an impressive choir and Romania's largest collection of Byzantine music books. The monastery's library contains more than 8,000 books, including a significant number of old manuscripts and printed works.
Address:
Stavropoleos Street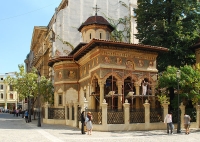 Stavropoleos Church and Monastery Andrei Stroe
National History Museum
Housed in the former 1900 Post Office building is one of Bucharest's most important museums, the National History Museum. Spread throughout 41 rooms, the exhibits recount the country's development from prehistoric times to the 1920s.
Located inside the former Postal Services Palace, the museum is housed next to a philatelic museum, housing hundreds of thousands of historic stamps. Interestingly, the museum had to be closed briefly for reconstruction in 2012 when a late-medieval archaeological site was discovered under the building.
The highlight is the basement National Treasury, which is crammed with a dazzling display of gold, jewellery, and valuable Neolithic curios. It is the biggest and best museum in the country and affords an excellent opportunity to get to grips with the exciting history of Romania.
Address:
Calea Victoriei 12
Opening time:
Wednesday to Sunday 10am-6pm, Monday and Tuesday closed.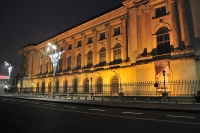 National History Museum Joe Mabel
A continental climate ensures that Bucharest experiences hot, dry summers and cold winters when temperatures often drop well below freezing. The city lies on the Romanian Plain, and this brings chilly winter winds. Summer is the best time to visit, as temperatures are usually pleasantly warm with occasional heat waves, and humidity is low, but there can be occasional rainstorms. In summer (June to August), temperatures average between 57°F (14°C) and 95°F (35°C), and in winter (December to February), temperatures average between 22°F (-6°C) and 39°F (4°C). The rainiest seasons in Bucharest are spring and autumn.
Henri Coanda International Airport
Location:
The airport is situated 10 miles (16.5km) north of Bucharest.
Time:
Local time is GMT +2 (GMT +3 from last Sunday in March to last Sunday in October).
Transfer Between Terminals:
The terminal buildings are connected by a corridor; it takes five minutes to walk between the terminals.
Getting to the city:
Express bus services, 783 or 780, leave frequently for the city centre and main railway station, respectively. This line runs both in daytime and at night, and buses arrive every 40 minutes. Taxis are also available 24 hours to take passengers anywhere in Bucharest or to any other region in the country. Taxi stations are located at the exit of the main terminal. Passengers should avoid cabs that do not display the price and have no meters.
Car Rental:
Car rental companies include Avis, Autonomous, Budget, Europcar, Hertz, Sixt, and Enterprise.
Airport Taxis:
Bucharest has two types of taxi. Smaller taxis cost about RON 1.5 per km and the larger taxis charge about RON 3.5 per km. The trip between the airport and Bucharest can take up to an hour in heavy traffic. Visitors are advised to only make use of official taxis with working meters and the prices displayed.
Fascilities:
There are banks, bars, and restaurants at the airport. Other facilities include a bureaux de change, left luggage, a hairdresser, duty-free shops, chapel, pharmacy, and a post office. Disabled facilities are good; those who need a wheelchair or have other special requirements should contact their airline in advance.
Parking
Long and short-term parking is available. Short-term parking is 3 lei for every 30 minutes. Long-term parking costs 40 lei per day, and 20 lei if parking is extended up to 3-4 days. The maximum use of this car park is 30 days.
Bucharest Street Music Festival
The Bucharest Street Music Festival takes place every year against the backdrop of the cobbled alleys and winding roads of the medieval old city. With more than 400 international artists, the event and the skilled artists involved evoke the music and traditions of the troubadours by performing Romanian folk music and medieval pieces.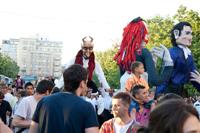 Street festivities, Bucharest
EuropaFest
Romania's main cultural event, EurpaFest is an international music festival held every spring, attracting performers and festival goers from over 50 countries. The main event is centered around concerts by top classical jazz, bluesm and rock musicians, held at some of Bucharest's finest venues. Over 300 artists are expected to perform live at EuropaFest and there are also competitions, master classes, and a prize-winners' gala on the final evening.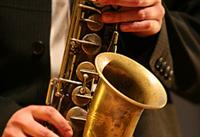 EuropaFest performer
Public transport in Bucharest is cheap and generally reliable. The metro is the best way to get around the centre as not many bus and tram routes go through the central zone, apart from some express buses on major thoroughfares; they are the quickest way to reach outlying areas, and cost about double the standard bus fare. The metro is fast, and despite some poorly signed stations, easier to navigate than the bus system. Tickets valid for two journeys cost 5 lei.
Buses, trolley buses and trams are well integrated and tickets are valid on all three networks, but they are usually crowded and pickpockets are a problem. To use any of these, visitors must first purchase an 'Activ' card. Trips cost 1.30 lei each. There are also private minibuses that travel along the major thoroughfares and can be hailed anywhere along their route.
Taxis in Bucharest are reasonable, but foreigners are more than likely to be overcharged. Hotels or restaurants should know the approximate fare, which can then be negotiated and a fixed price agreed before getting in. Car hire is targeted at business visitors and is quite expensive; drivers need to be 21 years of age and have a passport, international insurance policy, international driving permit, and valid driver's license. Driving in Bucharest can be harrowing as locals drive erratically, and roads are not well signposted.
Sightseeing in Bucharest offers visitors a wealth of attractions. Not only are the tree-lined boulevards and city parks incredibly picturesque, but visitors can choose from a number of sightseeing options for their time in Bucharest.
The Palace of Parliament is second only to the Pentagon as the largest state building in the world, where visitors can tour the astonishing communist-era colossus. The National History Museum is the best museum in Romania, with exhibits spanning from prehistoric times until the early twentieth century. The stunning Stavropoleos Church and Monastery houses an extensive collection of manuscripts and printed works, and if you're lucky, you may even get a chance hear the monastery choir.
Finally, the Village Museum is the perfect place to spend an afternoon, marvelling at the outdoor structures and traditionally dressed peasant workers. Once a beautiful and proud Eastern European city, Bucharest was left to ruin by the communist government and only recently has it started regaining its footing and regaining its lost lustre.