Puerto Rico is a paradise in many a tourist's mind,and for good reason. A tropical Caribbean destination with culturalinterests and lots of character thrown in, Puerto Rico certainlydelivers on all fronts.
For those with a penchant for the outdoors, PuertoRico will not disappoint. The country makes for a brilliant naturalplayground, offering beautiful islands, undeveloped beaches, caves,and a mountainous region to explore, as well as quaint villages andtowns. Surfing and scuba diving are popular choices in areas suchas Vieques's bioluminescent bay or on the western shores, whileadventuring through the caves in the Camuy Cave Park isthrilling.
Apart from the obvious sun-soaking at the likes ofIsla Verde or the Rincon shoreline, holidaymakers will also get thechance to indulge in Puerto Rico's interesting history. Thefortress of San Felipe del Morro, built in 1540, makes for a greatcultural excursion.
The historic San Juan, with its fascinating colonialarchitecture dating back to the 16th and 17th centuries, willdelight history lovers. For those looking for art and culture,sculptures are a common sight in San Juan and there are wonderfulmuseums such as Puerto Rico's showcase art gallery, Museo de Artede Puerto Rico.
Home to a diverse and vibrant nightlife scene, aswell as many fine restaurants offering memorable fusion cuisines, anight out in Puerto Rico's San Juan will offer tourists some goodfun and fantastic gastronomy. What's more, the tropicaltemperatures in Puerto Rico mean that visitors can enjoy itsofferings all year round.
Bioluminescent Bay
The water in Mosquito Bay sparkles like stars whendisturbed due to the hundreds of thousands of bioluminescentdinoflagellates resident there. Of the bioluminescent bays all overthe world, Vieques' Puerto Mosquito has been certified thebrightest by the Guinness Book of World Records.
A trip to Bio Bay, as it's locally known, is one ofthe best tourist attractions in Puerto Rico and well worth theexcursion from San Juan. Several tour companies offer kayaking andsnorkelling in the magical water, often ranked as one of the mostromantic places on earth. The bioluminescence is at its brightestduring the full or near-full moon, and this is considered the besttime to visit.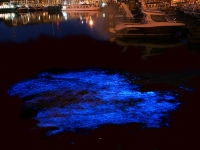 Bioluminescent dinoflagellates Hans Hillewaert
San Germán
A historic town with a colourful past, San Germán wasthe second city founded in Puerto Rico by the Spanish. Itsmountainous location made it an ideal escape for artists, poets,and revolutionaries, and present-day San Germán still carries thatlively spirit. It has a number of pretty buildings dating back tothe 16th century, including the Porta Coéli (Gate of Heaven) Churchand the San Germán de Auxerre Church.
Because of these, San Germán is listed in theNational Register of Historic Places. There are also a fewinteresting museums, including the Lola Rodríguez de Tió Museum andthe Ramírez de Arrellano y Rossell Museum. San Germán also hostsseveral religious and cultural festivals throughout the year.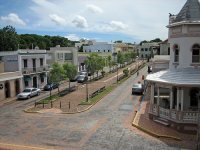 San German Oquendo
Old San Juan
Encompassing about seven blocks, this area dates back about 500years to the Spanish occupation when it served as a militarystronghold that even withstood Sir Francis Drake's armies. Theoriginal cobbles on the streets are blue-tinged and were originallyused as ballast on Spanish ships. The ancient stones set off themore than 400 restored 16th- and 17th-century Spanish colonialbuildings that fill Old San Juan and draw thousands of tourists towalk the narrow, steep streets every day. The old town is enclosedin amazingly thick, high walls, and features numerous attractiveplazas bearing sculptures and memorials.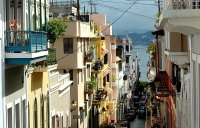 Old San Juan cogito ergo imago
Fort San Felipe del Morro
The mighty six-level fortress of San Felipe del Morro, built in1540, towers 140 feet (43m) above the sea on San Juan Bay, its18-foot thick (5m) walls having proved a worthy defence againstinvasion. One of the largest fortifications in the Caribbean, it isa maze of tunnels, dungeons, barracks, lookouts, and ramps,offering spectacular views from atop its ramparts. Also inNorzagaray Street, Old San Juan, is El Morro's partner in defendingthe city, Castillo San Cristobal, built in the 17th century to aconfusing and intricate modular design.
Fort San Felipe del Morro Farragutful
La Fortaleza
La Fortaleza was built in 1540 as a fortress to guard theentrance to the San Juan harbour, but later became the officialGovernor's residence. During succeeding centuries, the originalstructure has been remodelled and expanded, with a neoclassicalfaçade being added in 1846 to leave the building with its palatialaspect. It is listed as a UNESCO World Heritage Site and is theoldest administrative mansion still in use in the New World.
Address:
Fortaleza Street, Old San Juan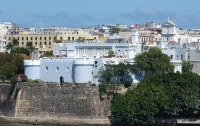 La Fortaleza Jerrye & Roy Klotz MD
Museo de Arte
Puerto Rico's showcase art gallery is housed in a former cityhospital in Santurce and offers a permanent and visitingexhibition. The aim is to highlight the island's heritage throughthe work of local artists, such as Francisco Oller, who studied inFrance with Cézanne, and Jose Campeche, a late-18th centuryclassical painter. The museum has been described as a 'livingtextbook of Puerto Rico', providing on overview of centuries of theisland's history through the medium of art. The museum also hostsevents like concerts and festivals throughout the year.
Address:
299 De Diego Avenue, Santurce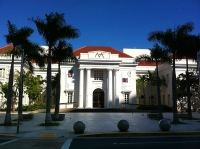 Museo de Arte Moebiusuibeom-en
Caribbean National Forest (El Yunque)
The Caribbean National Forest, 35 miles (56km) eastof San Juan, is the only tropical rainforest in the United StatesNational Park system and was named El Yunque by the Spanish. Its28,000 acres contain about 240 different species of tree andnumerous other plants, from tiny, delicate wild orchids to giganticferns.
Visitors can start their visit at the El PortalTropical Forest Centre where there are films, exhibits, andinteractive displays on the rainforest. Maps are available of thedozens of walking trails through the forest, graded according todifficulty. Nearby is Puerto Rico's best beach, Luquillo Beach,famous for its soft white sand and towering coconut palms.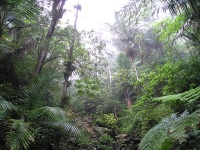 Caribbean National Forest (ElYunque) Alessandro Cai
Las Cabezas de San Juan Nature Reserve
Located on three promontories on the extreme northeast corner ofthe island, Las Cabezas reserve is one of the most beautiful andbio-diverse natural areas in Puerto Rico. The reserve is close toFajardo, a major marina and diving resort, located about an hour'sdrive from San Juan. The area offers pristine beaches ideal forsnorkelling.
The reserve contains seven different ecological systems,including coral reefs, sandy beaches, lagoons, mangroves, and dryforest. It is also home to several endangered species. Boardwalktrails provide easy access to the different natural sites. Arestored 19th-century lighthouse, El Faro, is situated on one ofthe headlands and offers an information centre and observationdeck.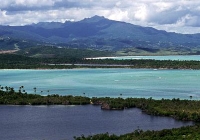 View from Las Cabezas de San Juan NatureReserve Coalición Pro CEN
Ponce Art Museum
The Museo de Arte de Ponce contains one of the largest artcollections in the Caribbean, housed in a building designed byEdward Durrell Stone, who designed the Museum of Modern Art in NewYork. The impressive building is comprised of seven interconnectedhexagons topped with glass cupolas.
Inside its walls are more than 1,000 paintings and 400sculptures covering classical, ancient, and contemporary works.Among the prizes of the collection are works by Velasquez, Rubens,and Rodin, as well as a celebrated collection of Pre-Raphaeliteworks. Puerto Rican art also features strongly.
Address:
2325 Avenue Las Americas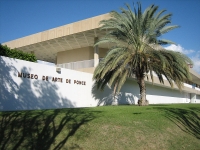 Ponce Art Museum Oquendo
Coffin Island
On weekends, a ferry carries visitors from the pierat La Guancha on the Ponce waterfront to Coffin Island, a tinyuninhabited island five miles south of the city. The island, alsoknown as Dead Man's Chest, is part of the Reserva Natural Caja deMuertos natural reserve. Its status as a sanctionary is due to itsnative turtle traffic.
There are five pristine beaches, including PlayaEnsenadita, Playa Larga, Playa Blanca, Playa Chica, and theblue-flag designated Playa Pelícano. Beaches on the east side ofthe island are roped off during turtle-nesting season.
There are hiking trails throughout the interior ofthe island and visitors can also explore the 19th-centurylighthouse Caja de Muerto Light that has been restored and nowhouses a museum. Coffin Island is a great excursion for visitors toPonce, and ranks as one of Puerto Rico's best tourist attractionsfor diving enthusiasts.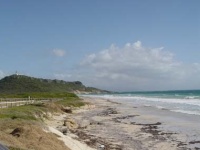 Coffin Island Schenko
Museum of Puerto Rico Music
The Museo de la Música Puertorriqueña is dedicated todocumenting the rich tapestry of the island's music history andpays tribute to Puerto Rican musicians. The museum explains thesignificance of the romantic danza music style, and theAfrican-inspired popular forms of bomba and plenza. The museumfeatures displays of Indian, Spanish, and African musicalinstruments, and memorabilia of local composers and performers, allhoused in the attractive former residence of the Serralles family,renowned rum producers. Displays are in both English andSpanish.
Address:
50 Isabel Street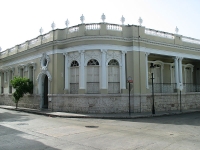 Museum of Puerto Rico Music Roca Ruiz
Museo Castillo Serralles
Perched above the city of Ponce on El Vigia Hill is the restoredresidence of the Serralles rum-producing family. The multilevelSpanish-revival hacienda, designed by Pedro de Castro and built in1930, is a beautiful example of the island's post-World War Iarchitecture.
The house surrounds an elegant courtyard featuring fountains,and is renowned for its splendidly carved dining-room ceiling. Themansion is set in magnificent terraced formal gardens withbreathtaking views, and makes for a wonderful day-trip destinationfrom Ponce.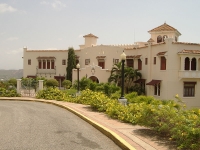 Museo Castillo Serralles Mtmelendez
Culebra and Vieques
Dubbed 'the enchanted isles', Vieques and her smallersister Culebra are located off Puerto Rico's east coast, accessiblefrom San Juan by air and from Fajardo by ferry. Both support a fewthousand friendly, laidback inhabitants who live life peacefullyand slowly, enriching rather than impacting on the natural beautyof their environment.
Vieques is 20-odd miles long and five miles wide, andconsists largely of the biggest wildlife sanctuary in theCaribbean, protected by the United States Fish & WildlifeService. Some of the world's most beautiful beaches, with azureclear waters and sugary white sand, are to be found in thesanctuary.
Visitors planning to see Vieques should considerstaying overnight to experience its premier attraction, Bio Bay. Ona moonless night, the bay glows with the bioluminescence radiatedby microscopic one-celled organisms called dinoflagellates,providing an unforgettable sight.
Smaller Culebra, just seven miles long and threemiles wide, is a few miles north of Vieques and is renowned for theclarity of the waters washing its shores. This is caused by thefact that the island has no rivers or streams causing run-off: thearid island has to have water piped from Puerto Rico viaVieques.
This quiet, unspoiled island offers unrivalledsnorkelling and scuba diving in its magnificent encircling reefs,as well as kayak expeditions and hiking trails for bird-watchersthrough the Culebra National Wildlife Refuge.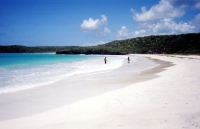 Corcho Beach in Vieques island Joelr31
Casa Bacardi Visitor Centre
Undoubtedly one of the top tourist attractions inPuerto Rico, a trip to the Casa Bacardi Visitor Centre is a mustfor travellers to San Juan. Following their exile from Cuba in the1950s, the Bacardi family moved to Puerto Rico and set up a smallrum distillery on the outskirts of San Juan.
Today, that small distillery has grown into thelargest in the world, producing a jaw-dropping 100,000 gallons ofrum per day and 21 million cases per year. Tours of the CasaBacardi Visitor Centre last about an hour, as visitors are shownaround a variety of exhibits and vintage rum stills. They will alsobe informed about the history of Bacardi rum (including a shortmovie).
The tour culminates in a visit to an on-site,classically-styled bar, where a bartender will show you the propermethods of preparing Cuba libres and mojitos. The best part? Allvisitors receive two complimentary drink tickets, which they cancash in on ice-cold Bacardi-based drinks. There is also a gift shoplocated on the premises, a perfect place to pick up some rum orBacardi apparel for friends back home.
Address:
Bay View Industrial Park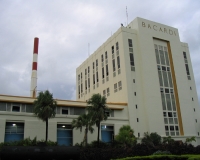 Casa Bacardi Visitor Centre Qz10
Isla Verde
Isla Verde ('Green Island') is San Juan's hippest area and hometo many of its best beach resorts and upmarket hotels. The area'sname is inspired by the colour of the water in its bay: a rich,green-turquoise shade that will prove irresistible to swimmers anddivers.
While the beautiful crescent-shaped beach, with its soft sandand tall palm trees, is a tourist attraction in its own right, mostvisitors to Puerto Rico will seek out Isla Verde for its excellentbeach resorts, plush hotels, international dining options,world-class spa treatment facilities, and vibrant nightlife. IslaVerde is home to two of the island's best casino hotels and a widerange of raucous night clubs and bars, where live local music isoften staged.
A natural base for well-heeled travellers to San Juan, IslaVerde makes for a luxurious home away from home during your holidayin Puerto Rico. A fantastic winter sun vacation destination, IslaVerde sees most of its tourist activity between December andJanuary, when days are warm and sunny and there is no threat ofhurricanes or storms.
Coral Beach, Isla Verde cogito ergo imago
Mayaguez Zoo
Although found rather off the beaten tourist track inMayaguez on the east coast of Puerto Rico, the Mayaguez Zoo (alsocalled the Dr Juan A. Rivero Zoo) is a world-class establishmentand well worth a visit for animal lovers and those passionate aboutwildlife conservation.
The island's only large-scale zoo, the Dr Juan A.Rivero Zoo has been growing a collection of rare and exotic animalssince its establishment in 1954, including lions, tigers, jaguars,hippos, giraffes and rhinos, as well as many species of tropicalbirds and large and varied collections of butterflies, amphibians,and snakes.
Central to the Zoo's growth has been a focus onconservation and several native species - including the Andeancondor and the Puerto Rican crested toad - have benefited greatlyfrom this approach.
Featuring several recreated habitat systems(including the tropical Spider Monkey Island), as well as numerousrecreation areas, the Mayaguez Zoo is a wonderful place to take thekids for the day. Budget at least two or three hours to take it allin.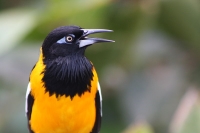 Puerto Rican Troupial at the MayaguezZoo Kati Fleming
Puerto Rico enjoys a warm, tropical climate with temperatures ofaround 82ºF (27ºC) throughout the year. The temperature in thesouth is usually a few degrees higher than the north andtemperatures in the central interior mountains are always coolerthan the rest of the island.
The dry season is usually from November to May but short showerscan be expected throughout the year. The hurricane season isbetween June and November, but generally there is plenty ofwarning.
Luis Muñoz Marín International Airport
Location:
The airport is situated seven miles (12km) east of SanJuan.
Time:
Local time is GMT -4.
Transfer Between Terminals:
The terminals are all connected and can be reached on foot.
Getting to the city:
Puerto Rico Metropolitan Bus Authority (AMA) bus stops arelocated on the departure level of Terminals A, D and E. The AMA busservice and the airport shuttle connect the city and airport. Taxisare located outside the baggage claim arrivals areas of TerminalsA, B and C.
Car Rental:
Car rental agencies Budget, Enterprise, Avis, Thrifty, National,Alamo, and Hertz are represented at the airport, amongstothers.
Airport Taxis:
Taxis are available.
Fascilities:
Facilities at the airport include a bank, ATMs, restaurants,bars, and shops (including duty-free). Disabled facilities aregood; those with special needs should contact their airline inadvance.
Parking
Parking is charged at $5 for the first hour, $7.50 for twohours, $9.75 for the third hour, up to $26.75 for the first day,and $18 per day thereafter. There is a separate cell phone lot thatallows up to 45 minutes of free parking for drivers who remain intheir vehicle.
Money:
The United States Dollar (USD) is the unit of currency, which isdivided into 100 cents. It is often referred to as the 'peso' inPuerto Rico. ATMs and bureaux de change are freely available andall major credit cards and travellers cheques are generallyaccepted. Banking hours are 9am to 3.30pm.
Language:
Spanish and English are the official languages of PuertoRico.
Electricity:
Electrical current is 120 volts, 60Hz. Two-pin flatattachment plugs are in use.
Entry Requirements:
Valid passport or passport replacing documents are required.Visa not required.
Those with UK passports endorsed 'British Citizen' require apassport valid for 6 months beyond the period of intended stay, butno visa is required for touristic stays of 90 days. Those with anyother endorsement should check official requirements.
Canadian citizens require a passport valid for period ofintended stay. No visa is required.
Australian citizens require a passport valid for period ofintended stay. A visa is not required for stays of up to 90days.
South Africans must hold a passport valid for period of intendedstay and a visa is also required, unless holding a valid USvisa.
Irish citizens require a passport valid for the period ofintended stay. No visa is required for stays of up to 90 days.
Valid passport or passport replacing documents are required.Visa not required.
New Zealand nationals require a passport valid for the period ofintended stay. A visa is not required for touristic stays up to 90days.
Passport/Visa Note:Visa:
All passport holders must have an onward or return ticket anddocuments necessary for further travel. Entry requirements forPuerto Rico are the same as for the United States of America. Whenarriving from mainland USA there is no immigration control. It ishighly recommended that passports have at least six months validityremaining after your intended date of departure from your traveldestination. Immigration officials often apply different rules tothose stated by travel agents and official sources.
Travel Health:
There are no vaccination certificates required for travel toPuerto Rico, but travellers are advised to be up to date withroutine vaccinations. Cases of dengue fever occur annually andmosquito protection measures are essential. Schistosomiasis isendemic and swimming in lakes, rivers and streams should beavoided. It is best to drink bottled water to avoid stomach upsets.Thoroughly wash or peel produce you buy in markets before eatingit. Medical services are good but can be expensive; medicalinsurance is advised.
Tipping:
Some restaurants and hotels automatically add a 10-17 percentservice charge to the bill. If not, a 15 percent tip is expected.Taxi drivers and bar staff also expect tips.
Safety Information:
Puerto Rico is still recovering from Hurricane Maria withregular power and communication outages and unstable buildings.
Visits to Puerto Rico are usually trouble-free but travellersshould take sensible precautions to avoid petty theft.
Many travel and health authorities classify Puerto Rico ashaving a high risk of Zika virus transmission. Visitors are advisedto seek advice from health professionals before travel.
Local Customs:
Social etiquette in Puerto Rico is typically Latin American,with some North American influences such as a stronger sense offemale independence, and a toning-down of the machismo ideal.Western visitors to the country should feel comfortable in mostsocial situations.
Hygiene, cleanliness, and personal appearance are viewed asmatters of self-respect, so travellers who've been on the road fora little while might consider neatening up their beards or trimmingtheir hair, especially if they want to make a good firstimpression.
A final, important aspect of Puerto Rican social life, is theconcept of relajo. Generally shy of direct confrontation and opencriticism, relajo refers to the gentle, joking manner in whichPuerto Ricans will bring up uncomfortable issues around eachanother. Visitors should be aware of this technique, as they may,on occasion, be required to read between the lines to discover whatlocals are really trying to express.
Business:
Puerto Rico is a U.S. territory although the resemblance iscloser to Latin America. English is understood by many on theisland, but Spanish may also be the language in which business isconducted. Dress codes will vary according to different sectors,but suits are favoured on very formal occasions. Shaking hands iscommon for both men and women. Business hours are generally 9am to5pm, Monday to Friday, with an hour taken at lunch.
Communications:
The international access code for Puerto Rico is +1 787 and +1939. The outgoing code is 011 followed by the relevant country code(e.g. 01144 for the United Kingdom). The outgoing code is notneeded for calling the US, Canada, and most of the Caribbean.Mobile phones work throughout the island and local operators useCDMA networks that are not compatible with GSM phones, as usedoutside North America. Internet cafes are available in most townsand resorts.
Duty Free:
Puerto Rico's customs regulations are the same as those for theUnited States. Visitors over 21 may bring in the following itemswithout paying duty: 200 cigarettes or 100 cigars or 2kg oftobacco; 1 litre of alcohol; and gifts valued up to US$100.
There is a long list of restricted and prohibited items whichmay not be imported or imported only under license, ranging fromfireworks and matches to pre-Columbian sculpture and Cuban cigars.If in doubt, consult your nearest US Embassy for advice. Anymerchandise from embargoed countries (Afghanistan, Cuba, Iran,Iraq, Libya, Serbia and Montenegro and the Sudan) may not bebrought onto US soil.