Intramuros
Intramuros is one of the oldest parts of Manila. Located on the southern bank of the Pasig River, the walled Spanish enclave is a feast of historic buildings and churches, many of which are being or have been restored. Tourists can enjoy several parks, restaurants, art galleries, and souvenir shops in the attractive area. They may also find the area's history interesting. For instance, political prisoners were held, tortured and sometimes executed at Fort Santiago. Today, it is a lush park full of homing pigeons and flowering trees, where visitors can ride along the promenade in a horse-drawn carriage. History lovers should stop at the beautifully restored colonial residences in the Barrio San Luis as well. The area has a festive atmosphere and is full of street artists and stalls selling food.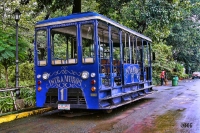 Intramuros bus Brian Evans
Rizal Park
Rizal Park is named for the Philippine writer, philosopher and anti-colonialist, Dr Jose Rizal, whose execution is 1896 sparked the Philippine Revolution. The country held its Declaration of Philippine Independence from American rule in the park in 1946, and has always favoured the venue for political rallies. In many ways, it remains a symbol of Filipino pride and independence. It's also one of the largest parks in Southeast Asia, and a favourite outdoor venue for Manila's residents. The area features a chess plaza, a skating rink, a children's playground, an aquarium, a planetarium and many ornamental gardens. Visitors will also find some museums and a miniature, recreated Philippine archipelago. A sound and light exhibit of Dr Jose Rizal's martyrdom is displayed after sunset. Martial arts classes and various fitness groups use the area every morning, while Sundays involve a free concert in the open-air auditorium. All in all, Rizal Park is a wonderful place for tourists to soak up a little of Manila's everyday life, in a lush and beautiful natural setting.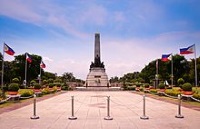 Rizal Park Maynard Rabanal
San Agustin Church
San Agustin is Manila's oldest church and stands within Intramuros. Completed in 1607, it has survived the ravages of time and successive invasions. In fact, it was the only public building left standing after a terrible earthquake in 1863, and it has withstood a number of devastating tremors since then. Regarding its design, the church has a Baroque pulpit, an 18th-century pipe organ, and a magnificent and intricately-carved door. It's one of four churches in the Philippines to be designated a UNESCO World Heritage Site, and is also a National Historical Landmark. Visitors will find a monastery alongside the church. It holds paintings of saints and other religious art. The Sacristy houses a collection of richly embroidered vestments, and Philippine notables are buried in the crypt. San Agustin is an active church with regular services and is a very popular wedding venue. Visitors can view the interior of the church for free during mass.
Address:
General Luna St, Manila, Metro Manila, Philippines.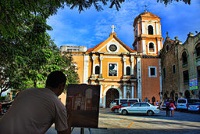 San Agustin Ricardo C. Eusebio
National Museum of the Philippines
The National Museum and Art Gallery of the Philippines showcases the cultural, natural and historical heritage of the islands. The large and comprehensive institution categorises its exhibits in five divisions, namely art, botany, zoology, geology and anthropology. Visitors will find the archipelago's oldest human remains in the museum's collection. They can also view the remains of the San Diego Spanish galleon, which sank in Philippine waters in 1600. Though reportedly short on funding, the institution is clean, well-kept and has good facilities. Photography is permitted, but not with flash. All things considered, the deeply interesting museum is a worthwhile stop for travellers of all ages.
Address:
Padre Burgos Ave, Ermita, Manila, Metro Manila, Philippines.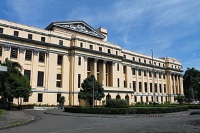 Malacañan Palace
The Malacañan Palace is the seat of government and official residence of the Philippines head of state. Situated on the north bank of the Pasig River, the villa has been a noble residence since the 1800s, when it was built for a Spanish aristocrat. Before that, it was a humble place for fisherman. The Spanish Government bought the property as a summer house for its Governor General in 1825, though it later became the head of state's permanent seat. Today, visitors will find a museum in the palace. The institution features national treasures, historical artefacts, and mementos from each of the Philippines' presidents, including the notorious Ferdinand and Imelda Marcos, who ruled as authoritarian dictators. The building itself is very attractive and the rooms are furnished beautifully. Visitors can enjoy great views over the river from some of the windows. Guided tours are compulsory and very informative. Photography is permitted, though visitors are obliged to register their cameras at the entrance. Also, the number of cameras per group is sometimes limited. Visitors may have to go through security checks.
Address:
Malacañan Palace, JP Laurel Street, San Miguel, Manila, Metro Manila, Philippines.
Opening time:
Tuesday to Sunday, 8am until 6pm.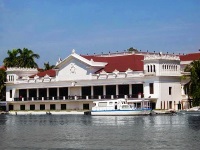 Malacañang Palace LordAntagonist
American Cemetery and Memorial
Located near the Makati commercial centre, the American Cemetery is a quiet oasis in bustling Manila. The hillside burial ground contains thousands of white marble crosses, which mark the graves of those who died in battle. A tour of the site will reveal a circular memorial, where visitors can read the names of people who went missing in action, as well as mosaics depicting battle scenes from the Second World War. They will also find a small memorial chapel. Travellers who are interested in military history should note that the cemetery has the world's largest number of American military dead from World War II. Most of them died in New Guinea and the Philippines. The site's extensive maps and memorials will give visitors some insight into the how the war unfolded in the region. A staff member is always on duty during opening hours, and will give tours, answer questions, and escort visitors to particular graves and memorials. All things considered, the beautifully landscaped memorial is rightly one of the most popular attractions in Manila.
Address:
Taguig City, Manila, Metro Manila, Philippines
Opening time:
9am - 5pm, Monday to Sunday.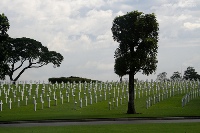 Once were soldiers donabelandewen
Las Pinas
Las Pinas neighbours Manila on Luzon Island, and is a popular stop among visitors to the Philippines. Its bamboo organ is one of its best attractions. Housed in the charming San Jose Church, its unique sound continues to draw international organists to the city's annual Organ Festival. Travellers can also visit the Sarao Jeepney Factory, where they can view these iconic vehicles being assembled. Indeed, these gaudy, public buses have come to represent Philippine art and culture. Otherwise, Las Pinas is celebrated for being clean and eco-conscious, and is a fun area to explore. Visitors will find some fantastic guesthouses and restaurants in the village.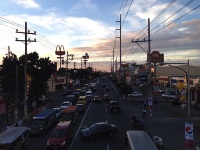 Las Pinas RioHondo
Tagaytay City
Tagaytay is one of the most-visited tourist destinations in the Philippines. Located just south of Manila, the town's most famous attraction is the Taal Volcano, which sits on an island in a lake. The volcano has another lake within its vast crater. Filipinos regard Tagaytay as their 'summer capital', with many of them heading there to escape Manila's challenging summer heat. The area provides many recreational opportunities, and has some top hotels and restaurants. Travellers can also visit the 'Palace in the Sky': an unfinished complex that was originally meant to be a home for former president Marcos. Instead, it serves as a park and viewpoint. The area's huge flower farm is worth stopping at, too. Golfing, diving, horse riding, snorkelling and ziplining are among the activities on offer.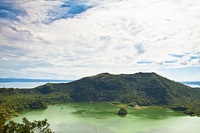 Taal Volcano Vadim
Subic Bay Freeport Zone
Subic Bay is located on the site of a former United States Naval base. The eruption of Mount Pinatubo in 1991 buried the area in ash, and it has since been transformed into a buzzing eco-tourism and commercial hub. It's only five minutes away from the Philippines International Airport. Dense forests cover most of the area, which is enclosed by a security fence. Visitors will find forest trails and unspoiled beaches, and can explore shipwrecks and coral reefs in the bay's dive sites. They can also enjoy sports facilities and duty-free shopping centres. The area's attractions include Ocean Adventure, which is an open-sea marine park where tourists can scuba dive and swim with dolphins, Pamulaklakin Forest and the wildlife-rich Zoobic Safari Forest Adventure Park.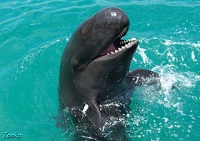 Subic Bay TauchSport_Steininger
Binondo (Chinatown)
Binondo is the world's oldest 'Chinatown', and remains one of its largest, most authentic and culturally intriguing. The Spanish established it at the end of the 16th century, when they gave tax-free land outside Manila to Catholic Chinese immigrants, along with self-governing privileges. The immigrants were mostly from China's Fujian Province, and soon established a bustling community. Today, Binondo is among Manila's most vibrant areas, where visitors can shop for a range of goods, and sample exotic cuisine. Foodies should definitely stop at the enclave's converted movie theatres, which now house fine, traditional Chinese restaurants. On a cautionary note, visitors should watch out for bag snatchers and pick pockets as they explore the crowded district.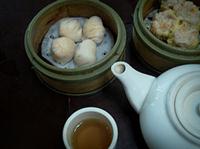 Manila has hot, humid weather all year round and the city's proximity to the equator ensures that the temperature range is small, rarely dropping below 68°F (20°C) and seldom rising above 100°F (38°C). It is a little cooler between November and February. The hottest month is May, when the temperature averages 83ºF (28ºC). The rainy season is between June and October, although some precipitation is possible throughout the year. The driest period is between December and May.
The rainy season tends to involve short, heavy downpours, punctuated by plenty of sunshine. Some travellers insist that a visit during the rainy season is ideal as it's cheaper and less crowded, and the downpours are refreshing. Typhoons can hit the city between June and September and can sometimes cause flooding. The hot weather and humidity is pleasantly tempered by sea breezes for much of the year.
Manila suffers from high levels of air pollution and smog is very common. The most popular time to visit is between January and May, when it is at its driest. That said, it is essentially a year-round travel destination. Tourists should be sure to bring plenty of sunscreen whatever time of year they visit.
Ninoy Aquino International Airport
Location:
The airport is situated eight miles (13km) south of the centre of Manila.
Transfer Between Terminals:
A free airport shuttle bus runs between terminals for passengers catching connecting flights. However, reports suggest that this service can be unreliable. As a result, travellers may have to pay for a cab between terminals.
Getting to the city:
The Metro-Rail Transit station is near the airport, and trains run regularly. Travellers should disembark at EDSA-Taft station, where they will find an airport shuttle that operates between the airport and the station. Also, a city bus service leaves from outside the arrivals areas of Terminal 1 and Terminal 2. A jeepney can take passengers to Terminal 3, or they can make use of the airport shuttle service.
Car Rental:
Car rental is available from Europcar, Avis and National desks, among others.
Airport Taxis:
Yellow metered taxi cabs leave from the stands outside each terminal. Regular, white cabs are now available in addition to newly introduced ride-hailing services like Grab.
Fascilities:
Passenger services at Manila airport include bars, shops and restaurants, ATMs, banks with currency exchange, left-luggage and postal services.
Parking
Parking is available near all terminals for approximately PHP 300 per night.
Manila has one of the most vibrant and exciting nightlife scenes in Southeast Asia. Visitors will find bars, strip clubs and everything in between.
Morato Avenue in Quezon City is a good place to start. Travellers may want to begin with dinner at one of the area's many restaurants before hitting a local bar or comedy club. Or, they could head to the Pasay City and Makati region for a visit to the upscale girlie bars. Manila's Malate District offers everything from bars, and nightclubs to gay clubs, lounges, live music venues and karaoke clubs. Most bars in Manila close around 2am, but some will stay open later.
Eastwood City in Quezon City features a great selection of bars, clubs and cocktail lounges as well, while Quezon Avenue's strip is brightly lit up after dark, and almost always bustling with expats and tourists. The Greenbelt region has a great selection of bars and clubs too.
Manila's roads are notorious for heavy smog and traffic congestion, especially at peak hours. Public transport is inexpensive and plentiful, though, and includes the elevated light rail system (LRT) and the Metro Rail Transit (MRT). Both have helped to alleviate some of the congestion. However, public transport can also be dangerous in the Philippines and travellers should exercise vigilance.
The elevated light rail system is a good option as it is fast, clean and efficient. It's very crowded during the evening rush hour, though. Many bus companies comprehensively service the city too, and local jeepneys (brightly coloured minibuses) can be hailed anywhere.
Buses and jeepneys are the cheapest form of transport for areas not covered by the LRT. Taxis are inexpensive and convenient, provided that passengers always agree on a fare before setting off. Travellers can also rely on calesas (horse-drawn carriages) for short trips. Tricycle pedicabs are available for hire, and the ride-hailing service, Grab, is another option.
Tourists will find an enticing range of shops, restaurants, art galleries and performing venues in Manila, which is easily among the region's most exciting capitals. History buffs should certainly visit the National Museum, where they'll find exhibitions of sunken treasure dating back to 1600, and the Ayala Museum, which covers the history of the Philippines. They will also enjoy exploring the ruins in Intramuros. Located on the Pasig Rivers south bank, it was founded in 1571 and was originally the capital of the Spanish East Indies.
Travellers will see many ornate churches across the largely Catholic city. A prime example is the San Agustin Church. It dates back to 1606 and has survived wars, earthquakes and invasions. Manila also has one of the largest Chinatowns in the world. Visitors can dine on delicious cuisine and purchase exotic Chinese goods. The Malacañan Palace, which is the residence of the Head of State, is well worth a visit too, while the peaceful American Cemetery and Memorial honours those who died during WWII.
Corregidor
Shaped like a tadpole, this small island is a memorial and open-air museum that commemorates the Filipino and American troops' victory against Japanese forces. Corregidor is also the largest of several islands at the entrance to Manila Bay, and lies off the tip of the Bataan Peninsula. Its strategic position made it a good location for the last stand against the Japanese in the Pacific War, and its land remains littered with the detritus of battle. Travellers can arrange guided tours through the Corregidor Visitor's Information Centre, as well as many tour operators in Manila. Attractions include the Pacific War Memorial, the Japanese Garden of Peace, the Filipino Heroes Memorial and the Malinta Tunnel, where visitors can view an audio-visual presentation of the island's history.
Transport:
There are regular ferry services available from Manila.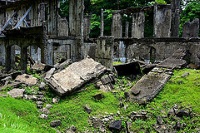 Corregidor Island cisc1970
Palawan
The island of Palawan stretches from Luzon towards Malaysia. Thickly forested and accented by coves, beaches, lagoons and limestone cliffs, the gorgeous region is a must for nature lovers. Puerto Princesa is the primary gateway to the island. Most travellers head north after arriving in the coastal city. That said, the Puerto Princesa area has many hiking and spelunking opportunities, and the underground river near Sabang is certainly worth visiting. Travellers will find El Nido in the north. The small, lively beach town is Palawan's most popular destination, and is geared towards island hopping. It also has plenty of places to eat out and buy local handicrafts. From El Nido, travellers can choose to take a boat to the neighbouring island of Busuanga and the town of Coron. They will find fewer niceties than on Palawan's main island, but can explore the island's gorgeous aquamarine lakes, and experience some of the best scuba diving in the region. Indeed, the island's Tubbataha Reef is extremely important to the Philippines from an ecological point of view, given that it's a feeding ground and nursery for marine life. The area is archaeologically significant too, as palaeolithic remains have been discovered on the island. They date back approximately 22,000 years.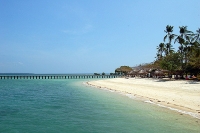 Dos Palmas, Palawan denAsuncioner
North Luzon
The northern reaches of Luzon Island draw travellers who crave adventure and an authentic taste of traditional Filipino culture. Lush, mountainous terrain characterises the region, though much is lacking by way of infrastructure. Still, its intriguing tribes and unspoilt landscapes are worth the extra effort needed to reach them. Banaue is one of the most popular tourist stops in northern Luzon. Visitors will encounter a string of villages around the municipality, where people still live according to age-old tribal traditions. The area's main attraction is the Banaue Rice Terraces. Constructed about 3000 years ago, the UNESCO World Heritage site comprises terraces that start from the base of the Cordillero Mountains and extend upwards for thousands of feet. They're cleverly irrigated by channelled springs and streams. Nature lovers can also enjoy nearby waterfalls, natural pools, and scenic hiking trails. The region's little town of Sagada is something of a backpacker's haven. Caving and hiking are among the area's drawcards, though its main attraction is a series of ancient burial caves in the mountainside. Travellers will see the remarkable 'hanging coffins' perched on limestone outcrops. Visitors will reach the coffins via a hike through jungle.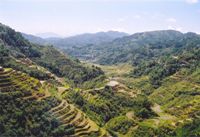 Banaue Rice Terraces Magalhaes
Villa Escudero
Villa Escudero is an old colonial plantation owned by the Escudero family. Located just south of San Pablo on Luzon Island, the property spans three municipalities in two provinces. Don Arsenio Escudero converted the original sugar cane plantation into a coconut plantation in the early 20th century, after inheriting the land from his father. The plantation went on to become hugely profitable and featured the Philippines' first hydroelectric power plant (to power the coconut factory). For their part, the Escuderos became pivotal to the battle for Filipino independence, as their wealth and resources allowed them to aid many independence fighters by way of shelter and supplies. The family's fortune also financed the construction of beautiful colonial-style Filipino haciendas, which Escuderos still live in. Visitors will find a museum on the property as well. It houses a fascinating collection of antiques and natural finds - the legacy of Escudero men, who travelled widely and were renowned for pursuing a variety of interests.
Address:
Villa Escudero, Km 91, Tiaong, Quezon.
Transport:
Take a bus to San Pablo from the Buendia Bus Terminal in Manila. This should cost around PHP180, which you can pay to the conductor once you board.
Vigan
Vigan is said to be Asia's best-preserved example of a planned Spanish colonial town. The charming destination ranks among UNESCO's World Heritage Sites for this reason. Visitors will encounter cobblestone streets and buildings that fuse Spanish-Colonial architecture with Filipino and Oriental designs. Its list of attractions include the hugely impressive Baroque-style St Paul's Cathedral, a horse-drawn-carriage ride through the cobbled streets, and the chance to spend a night in one of the grand colonial houses in the city's 'Mestizo' district. Many of the streets are lined with shops selling clothes, trinkets, and souvenirs. January is the best time to visit, as the annual Fiesta celebrations bring parties, beauty contests, variety shows, and a carnivalesque atmosphere to the streets.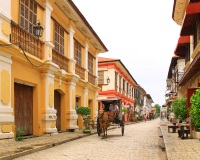 Vigan City Obra19
Puerto Princesa Subterranean River National Park
The Puerto Princesa Subterranean River National Park is located in the province of Palawan, and lies about 36 miles (58km) north of Puerto Princesa. Regarded as one of the New Seven Wonders of Nature, the underground river sees a significant number of tourist visits. Travellers can choose from many tour operators. The well-maintained National Park is part limestone karst mountain landscape, and the famed river follows a five mile (8km) course through a large cave complex. Ultimately, it merges with the South China Sea. Visitors will enjoy a guided boat ride through the cave complex, which includes fascinating rock formations and a lively bat population.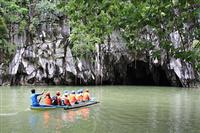 Underground River Mike Gonzalez
Boracay
Located in the western Visayas, the tiny, butterfly-shaped island of Boracay is a major hotspot for international sun-lovers. Its powder-white, palm-studded beach is said to glow at night. Holidaymakers will appreciate the island's unspoilt beauty, along with its hotels, guesthouses, restaurants and fun nightlife. They can also enjoy an array of water sports, such as cliff diving, kiteboarding, snorkelling, windsurfing, and scuba diving. Boracay has rightly won multiple awards and deserves its place among the world's top beach resort destinations. The best time to visit is during the Amihan season (between October and May), when there is little to no rain, and the prevailing wind blows from the east, leaving the island's western region (the main tourist area) calm and sheltered.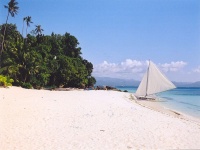 Boracay beach Magalhaes
Puerto Galera
Located on the island of Mindoro, Puerto Galera began as a refuge for Spanish traders in the 16th century. Today, the 'Port of Galleons' consists of several towns and beach resorts, which together form one of the country's largest urban areas. A UNESCO programme declared Puerto Galera a protected area in the 1970s. This put the area on the tourist map and helped the cause of its coral reefs and marine life - which had been suffering because of dynamite fishing. Puerto Galera is now one of the most sought-after scuba diving locations in the world. Travellers will find many sites within 10 minutes of the three main beaches, where they can explore wrecks, deep trenches and vibrantly colourful reefs. Sabang and White Beach offer an active nightlife. Visitors who want a less-crowded experience should head to one of the island's smaller coves or beaches.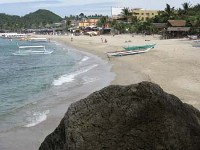 Puerto Galero puertogalero.org