Plaza Mayor and Plaza San Martin
Shoppers, vendors and sightseers crowd the long pedestrian street that connects the striking Plaza Mayor to Lima's other main square, Plaza de Armas. Visitors will find the heart of the old town in these two locations, and invariably begin their sightseeing at one of them. Plaza de Armas' bronze fountain and old street lamps give it a gracefully colonial feel. Indeed, its story stretches back to the era of Spanish rule, when it was the central marketplace and the venue for bullfights. Today, several notable buildings surround the square, including the grand Spanish Baroque Cathedral, which occupies the site of an ancient Inca temple and houses the Museum of Religious Art and Treasures, and the impressive Government Palace, where the changing of the guard takes place. The Archbishop's Palace is also in the vicinity. Tourists should take in the Plaza San Martin as well. The square is a hive of activity, where shoe-shiners, street artists, and soapbox speakers surround its central fountain. On a cautionary note, visitors should avoid the usually peaceful and jovial Plaza San Martin when political protests and rallies are underway, as these can occasionally turn violent.
Address:
Jr. Junin and Jr. Carabaya.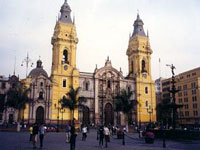 Lima Cathedral Judith Duk
Museo de la Nacion (National Museum)
Located in Lima, the anthropological and archaeological museum's exhibits trace the history of Peru's ancient civilisations. All in all, they provide an outstanding overview of the country's archaeological richness. The museum's chronological layout guides visitors through the complicated ancient history, highlighting the many conquering cultures and their achievements. Among other things, visitors can view the art and history of the original inhabitants, and the Inca Empire. Regarding more recent history, one of the museum's highlights is an exhibition on Peru's internal conflict (1980 - 2000). Visitors can enjoy guided tours for a small fee, and will marvel at the size of the collection, which spans a few floors.
Address:
Avenida Javier Prado Este 2465, San Borja.
Transport:
Bus marked Javier Prado/Aviacion or taxi from Lima Centro or Miraflores.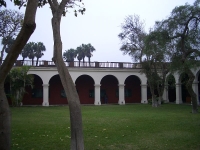 National Museum, Lima Chiwara
Museo de Oro del Peru (Gold Museum)
The Museo de Oro del Peru showcases several centuries of Peruvian gold craftsmanship. Its safe-rooms are housed in a fortress-like building and are crammed with treasures from the Incas and their predecessors. In fact, most of the artefacts are pre-Incan. The massive collection of jewellery, weaponry, gleaming gold statues and ceremonial objects has been exhibited around the world and is truly outstanding. Visitors will also see many other cultural artefacts, such as masks, clothing, mummies, wooden staffs, pre-Incan weapons and exquisite tapestries. Regarding access, travellers should note that the museum is in a residential area beyond the normal tourist route. It's well worth seeking out, though.
Address:
Avenida Alonso de Molina 1100, Monterrico.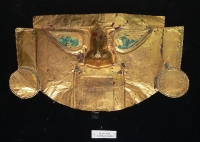 Incan Gold in Museo de Oro del Peru Manuel González Olaechea
Museo Rafael Larco Herrera
The museum houses a world-class collection of ancient ceramic items, with thousands of pre-Columbian clay pots on display. Most of its pieces come from the Moche Dynasty, whose people lived along Peru's northern coast between 100 and 700 AD. The Moche culture is recognised as having accomplished one of ancient Peru's most imaginative languages through the use of creative pottery. Indeed, their work provides wordless clues to all aspects of their civilisation. Visitors can learn about their dance, music, transport, religion and agriculture through their ceramic shapes and designs. The Moche are also renowned for their fascinating erotic pottery. Museum visitors will find examples on display in the separate 'Erotic Hall', and they depict ancient Peruvian sexual practices in a lifelike, explicit and often humorous way. Beyond pottery, the museum's collection includes crowns, masks, garments, statues and jewellery from around 4 000 years of pre-Columbian Peruvian history. The Larco Museum is housed in an 18th-century mansion and is surrounded by a beautiful, award-winning garden. It remains one of the most popular tourist attractions in Lima.
Address:
1515 Avenida Bolivar, Pueblo Libre.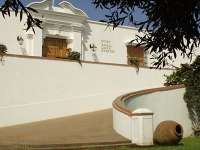 Museo Rafael Larco Herrera Lyndsay Ruell
Church of San Francisco
San Francisco is the most spectacular of Lima's colonial churches. Thankfully, locals and visitors can still enjoy its striking white and yellow towers and stone façade, as its one of the few buildings to survive the earthquake of 1746. Its famous underground catacombs contain the bones and skulls of around 70 000 people, while arches, columns, mosaic tiles and a Moorish-style ceiling decorate its exquisite interior. The Baroque church also has a superb 17th-century library full of antique texts, and a room of painted masterpieces by Flemish greats Rubens, Jordaens and Van Dyck. Visitors must take a guided tour if they want to explore the church and catacombs. Tours are available in English. The Church of San Francisco is located just one block away from the Plaza Mayor, which is a UNESCO-listed site.
Address:
Corner of Lampa and Ancash Avenues.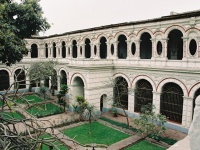 Church of San Francisco AgainErick
Lima's weather is influenced by the cold, offshore Humboldt Current, and the city's mild desert climate is much cooler than visitors might expect for a desert region. Indeed, temperatures rarely fall below 54°F (12°C) and seldom rise above 84°F (29°C) year-round.
Lima is generally a cloudy and foggy city, and doesn't see much sun. Travellers will find more sun as they travel along the coast and away from the city. Rainfall is extremely low, coming mainly via drizzles in winter, or the occasional brief shower in summer.
Regarding seasons, Lima has two distinct periods. Summer runs from December through April and is sunny, cloud-free, and foggy. Temperatures range from 64°F (18°C) to 84°F (29°C). Winter lasts from June to October and is a grey season, during which temperatures range from 54°F (12°C) to 66°F (19°C), and conditions are frequently overcast. May and November are transitional months. Otherwise, humidity is high all year and Lima's sunsets are especially colourful.
Winter is the most popular time to visit, when visitors can expect clear, sunny weather in the mountains. It's also a good time to see the Amazon Basin, given that there are fewer mosquitoes.
Jorge Chávez International Airport
Location:
The airport is situated seven miles (12km) from Lima.
Time:
Local time is GMT -5.
Getting to the city:
Buses and minibuses service the city centre. Travellers will find their stops outside the airport gates. They travel to the city, stopping along the main avenues.
Car Rental:
Avis, Budget and Hertz offer services at the airport.
Airport Taxis:
Taxis can be pre-booked or found outside the airport terminals.
Fascilities:
Facilities at the airport include banks, bureaux de change, ATMs, a post office, a couple of restaurants, shops, left luggage and a tourist information desk. There are disabled facilities; those with special needs should contact their airline in advance.
Parking
Parking is charged at PEN 7 per hour and PEN 49 per day, and is located across from the main terminal building.
Lima has a fun and varied nightlife, and its locals are known to love a good party. Generally speaking, they're very welcoming of foreigners. Miraflores is the best party district, and has some fantastic bars and salsa clubs. Visitors must be well-dressed to gain entrance to most seaside establishments.
The capital is easily the most progressive city in an otherwise conservative country. Many of its nightclubs welcome gay and lesbian patrons, especially in Miraflores. Barranco's after-dark spots are also worth visiting, some of which can be found on the coast, near the Puente de los Suspiros (Bridge of Sighs). Bars tend to open at 8pm or 9pm, but many nightclubs and live music venues only open at 10pm or later. Popular spots usually stay open until about 4am. Drinks are generally cheap in Lima, especially if patrons choose local varieties. Casinos are popular in Peru and many of the larger, upmarket hotels have casinos attached.
For those who want a more sophisticated cultural experience, Lima has some good ballet, theatre and opera. The wonderful Teatro Municipal is a great option, and the Museo de la Nacion and Teatro Segura offer wonderful cultural experiences too.
Lima is divided into four quarters, all of which are small enough to explore on foot. Travellers should rely on the city's buses and taxis when moving between sections, though. Lima's buses range from microbus vans to larger 'school bus' vehicles. Travellers can hail vans in the street and should approach the 'school bus' variety with a degree of caution. Though inexpensive, they're uncomfortable and are frequently involved in accidents.
Destinations are rarely marked, so passengers should ask the driver to confirm the route before boarding. Taxis are also cheap and common, but are indistinguishable by their make or model. Travellers should mark them by plastic signs on their windscreens. Taxis generally aren't metred, meaning passengers should establish a fare before departing. Foreigners should find out how much fares usually cost to avoid getting overcharged.
Visitors also should avoid renting cars, given that roads are often poorly maintained, and that local drivers are reckless and aggressive. That said, the city has a number of rental agencies.
Lima is home to an enticing range of attractions. From wonderful restaurants to several picturesque neighbourhoods, Peru's capital is, indeed, a feast for the senses.
Culture lovers should tour the historic Old Town, beginning at the Plaza Mayor and Plaza San Martin. The two squares are lined with stalls, artists, buskers, museums and colonial buildings, and are connected by a long pedestrian street. Lima's nightlife centre, Miraflores, and the bohemian resort district of Barranco are worth exploring too.
The city also has a number of spectacular churches, with the magnificent Baroque Church of San Francisco standing out among them. Its impressive library, intriguing catacombs and richly decorated interior are definite must-sees. Travellers can arrange to do guided tours. The Museo de la Nacion, the Museo de Oro del Peru (which displays ancient gold artefacts), and the Museo Rafael Larco Herrera are among Lima's best museums. Visitors who are travelling with children should stop at the Magical Water Circuit (Circuito Magico del Agua), which is a stunning display of light and water in the Reserve Park.
On the culinary front, Lima has become one of the most respected destinations in the Americas. Foodies will find restaurants that cater to every taste and every budget, though local Peruvian fare is unsurpassed.
Pisco
Pisco is a small port and fishing village, and is best known for its fiery white-grape brandy of the same name. One of Peru's major ancient civilisations, the Paracas, established their culture in the area. They left an astounding collection of antiquities, which travellers can see in Lima's museums. The area's main appeal is as a base from which to explore the nearby Paracas National Reserve, where visitors can view an incredible variety of birds and marine life. Boat tours of the Ballestas Islands are another of the area's drawcards. The islands are off limits to people, but the boat tours afford spectacular close up views of the wildlife. Visitors will see thousands of resident and migratory birds, including terns, penguins, cormorants, flamingos, pelicans and red boobies. Huge colonies of sea lions line the shores, and dolphins, turtles and whales populate the surrounding waters. Boats also pass the famous Candelabra on their way to the islands. The pre-historic drawing is etched into the sandstone cliffs overlooking the bay.
Address:
Pisco is 150 miles (95km) south of Lima.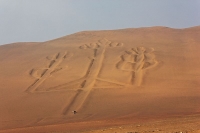 El Candelabro, near Pisco, Peru Aguakina
The Nazca Lines
Nazca is a small desert town in southern Peru. Named after the Nazca civilisation, the area is famous for the mysterious lines and diagrams etched into the surrounding desert floor. Visitors will also find some interesting museums and archaeological sites, including the Chauchilla Cemetery, where 12 exposed underground tombs contain skeletons and preserved mummified forms. That said, the town's main attraction is an aerial flight over the Nazca Lines, which are spread over miles of the region's vast desert terrain. The dimensions of these enormous figures, spirals and geometric designs are so large, the only way to view them is from the air. Pilots will point out the outlines of intriguing bird and animal representations, such as the Condor, Monkey, Spider, Hummingbird, and the unusual cartoon-like character known as the Astronaut. These figures were made by removing sun-darkened stones from the desert floor to expose the lighter coloured stones below, and were created over a thousand years ago.
Experts have not discovered why they were created, nor how they were designed. For tourists, the Nazca Lines are among the strangest and most unforgettable sights in the country. They're a legacy of the ancient Nazca culture and one of South America's great mysteries.
Address:
Nazca is a few miles in from the coast, 238 miles (383km) southeast of Lima.
Transport:
Ormeno and Civa are two of the best bus companies with offices in Nazca.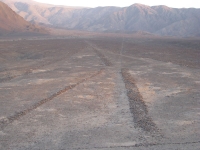 The Nazca Plane, Peru Brattarb
Marcahuasi
Marcahuasi is a plateau in the Andes. Travellers who are interested in the mythical side of Peruvian culture will find it a wonderful excursion from nearby Lima. The mountains are home to some massive and remarkable rock formations of mysterious origin, which seem to depict various animals, human faces, and other symbols. There is debate about whether the formations are natural or man-made, and theories abound as to how the sculptures could have been made and why. Visitors will also see ruins on the north side of the plateau, where more than 50 structures stand in varying states of dilapidation. Some locals view the plateau with superstitious awe, and consider it a spiritual site of great power. The dramatic landscape doesn't see many tourists. Marcahuasi has camp sites and the views from the plateau are breathtakingly beautiful. Nights can be freezing cold, though. Visitors can rent tents, mattresses and other equipment in the village of San Pedro de Casta, which is the gateway to Marcahuasi. Local guides are also available.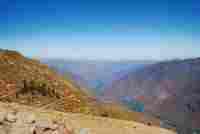 View from Marcahuasi. Martintoy