If there's one place in South America brimming with fascinating and awe-inspiring attractions, it's Peru. With wonders such as Macchu Pichu, the Colca Canyon, the mysterious Nazca lines, the Coricancha Inca Ruins and Pisco, it's no wonder Peru is one of South America's most popular tourist destinations. The country is a favourite with backpackers and budget travellers and it is possible to travel cheaply if necessary. However, Peru's most famous tourist activity, hiking the Inca Trail, is expensive and must be organised in advance as permits are required and very limited.
Cities like Lima, Cusco, and Arequipa are charming and atmospheric, if a little shabby, with lots of colour and run-down colonial buildings. Peru has an interesting and refreshingly unique cuisine and the restaurant scene in places like Lima is fun to investigate. Lima also has a vibrant nightlife and some decent museums.
Getting around Peru is fairly cheap and easy with plenty of internal flights operating on an almost daily basis and an affordable and reasonably reliable public transport system. It's advisable to fly between cities when possible or rent a car and explore all this mystical country has to offer, although long-haul bus trips are also an option.
Plaza Mayor and Plaza San Martin
Shoppers, vendors and sightseers crowd the long pedestrian street that connects the striking Plaza Mayor to Lima's other main square, Plaza de Armas. Visitors will find the heart of the old town in these two locations, and invariably begin their sightseeing at one of them. Plaza de Armas' bronze fountain and old street lamps give it a gracefully colonial feel. Indeed, its story stretches back to the era of Spanish rule, when it was the central marketplace and the venue for bullfights. Today, several notable buildings surround the square, including the grand Spanish Baroque Cathedral, which occupies the site of an ancient Inca temple and houses the Museum of Religious Art and Treasures, and the impressive Government Palace, where the changing of the guard takes place. The Archbishop's Palace is also in the vicinity. Tourists should take in the Plaza San Martin as well. The square is a hive of activity, where shoe-shiners, street artists, and soapbox speakers surround its central fountain. On a cautionary note, visitors should avoid the usually peaceful and jovial Plaza San Martin when political protests and rallies are underway, as these can occasionally turn violent.
Address:
Jr. Junin and Jr. Carabaya.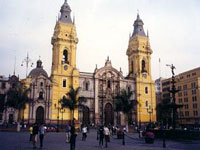 Lima Cathedral Judith Duk
Museo de la Nacion (National Museum)
Located in Lima, the anthropological and archaeological museum's exhibits trace the history of Peru's ancient civilisations. All in all, they provide an outstanding overview of the country's archaeological richness. The museum's chronological layout guides visitors through the complicated ancient history, highlighting the many conquering cultures and their achievements. Among other things, visitors can view the art and history of the original inhabitants, and the Inca Empire. Regarding more recent history, one of the museum's highlights is an exhibition on Peru's internal conflict (1980 - 2000). Visitors can enjoy guided tours for a small fee, and will marvel at the size of the collection, which spans a few floors.
Address:
Avenida Javier Prado Este 2465, San Borja.
Transport:
Bus marked Javier Prado/Aviacion or taxi from Lima Centro or Miraflores.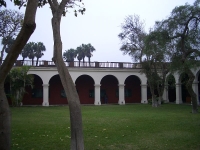 National Museum, Lima Chiwara
Museo de Oro del Peru (Gold Museum)
The Museo de Oro del Peru showcases several centuries of Peruvian gold craftsmanship. Its safe-rooms are housed in a fortress-like building and are crammed with treasures from the Incas and their predecessors. In fact, most of the artefacts are pre-Incan. The massive collection of jewellery, weaponry, gleaming gold statues and ceremonial objects has been exhibited around the world and is truly outstanding. Visitors will also see many other cultural artefacts, such as masks, clothing, mummies, wooden staffs, pre-Incan weapons and exquisite tapestries. Regarding access, travellers should note that the museum is in a residential area beyond the normal tourist route. It's well worth seeking out, though.
Address:
Avenida Alonso de Molina 1100, Monterrico.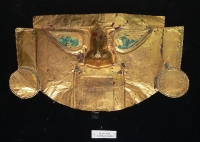 Incan Gold in Museo de Oro del Peru Manuel González Olaechea
Museo Rafael Larco Herrera
The museum houses a world-class collection of ancient ceramic items, with thousands of pre-Columbian clay pots on display. Most of its pieces come from the Moche Dynasty, whose people lived along Peru's northern coast between 100 and 700 AD. The Moche culture is recognised as having accomplished one of ancient Peru's most imaginative languages through the use of creative pottery. Indeed, their work provides wordless clues to all aspects of their civilisation. Visitors can learn about their dance, music, transport, religion and agriculture through their ceramic shapes and designs. The Moche are also renowned for their fascinating erotic pottery. Museum visitors will find examples on display in the separate 'Erotic Hall', and they depict ancient Peruvian sexual practices in a lifelike, explicit and often humorous way. Beyond pottery, the museum's collection includes crowns, masks, garments, statues and jewellery from around 4 000 years of pre-Columbian Peruvian history. The Larco Museum is housed in an 18th-century mansion and is surrounded by a beautiful, award-winning garden. It remains one of the most popular tourist attractions in Lima.
Address:
1515 Avenida Bolivar, Pueblo Libre.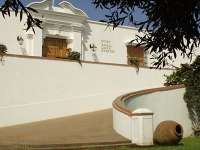 Museo Rafael Larco Herrera Lyndsay Ruell
Church of San Francisco
San Francisco is the most spectacular of Lima's colonial churches. Thankfully, locals and visitors can still enjoy its striking white and yellow towers and stone façade, as its one of the few buildings to survive the earthquake of 1746. Its famous underground catacombs contain the bones and skulls of around 70 000 people, while arches, columns, mosaic tiles and a Moorish-style ceiling decorate its exquisite interior. The Baroque church also has a superb 17th-century library full of antique texts, and a room of painted masterpieces by Flemish greats Rubens, Jordaens and Van Dyck. Visitors must take a guided tour if they want to explore the church and catacombs. Tours are available in English. The Church of San Francisco is located just one block away from the Plaza Mayor, which is a UNESCO-listed site.
Address:
Corner of Lampa and Ancash Avenues.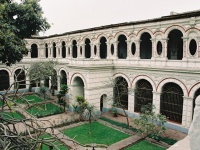 Church of San Francisco AgainErick
Plaza de Armas
The Plaza de Armas is Cuzco's graceful main square, and is lined with colonial-style covered walkways, and houses that contain souvenir shops. Visitors will also find bars, restaurants and travel agencies. A large cathedral is the most prominent structure overlooking the square. Its elaborately carved wooden altar is covered in gold and silver plate, and its carved wooden choir stalls are regarded as Peru's finest. Cathedral visitors usually linger over The Last Supper painting, which portrays Jesus Christ and his disciples gathered around a table, which presents a platter of the local Inca delicacy, cuy (roasted guinea pig). La Compania is also on the plaza. It's one of Cuzco's most ornately decorated churches and is often floodlit at night. History lovers should make a point of walking the alleyway of Loreta, as it's lined with Incan stone walls.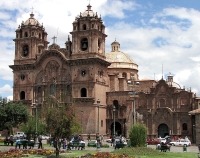 Church of la Compañía de Jesus, Cusco, Peru D. Gordon E. Robertson
Coricancha Inca Ruins
The sacred complex of Coricancha was considered the centre of the Inca world. Its name means something like 'Golden Enclosure', though Inca stonework is all that remains of the ancient Temple of the Sun. The walls and floors were once covered in sheets of solid gold, and the courtyard was filled with golden statues. Spanish reports tell of opulence that was 'fabulous beyond belief'. Spanish colonists constructed the Church of Santa Domingo on the site, destroying the temple and using its foundations for the cathedral. Major earthquakes have severely damaged the church, though the Inca stone walls still stand, and are a testament to their superb architectural skills and sophisticated stone masonry. Visitors will find an underground archaeological site museum nearby. It contains a number of interesting pieces, including mummies, textiles and sacred idols. Tourists will have the best experience if they explore the site with a guide, as good tours provide context and bring the place to life.
Address:
Pampa del Castillo at Plazoleta Santo Domingo.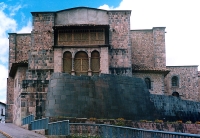 Coricancha Inca Ruins, Peru Håkan Svensson
Sacsayhuamán
Of the four ruins near Cuzco, Sacsayhuamán is the closest and most remarkable. Spanish conquistadors used it as a quarry during their day, given its proximity to Cuzco and the dimensions of its stones. Indeed, the site provided many of the materials for the city's colonial buildings. The Spanish destroyed the original complex to such an extent that little is known about the actual purpose these magnificent buildings once served. That said, the complex is usually referred to as a fortress because of its high, impenetrable walls. Some believe it may just as easily have been a religious or ceremonial centre. The ruins cover an enormous area, but only 40 percent of the original complex remains. History lovers must visit, as the site offers a fine example of the Inca's extraordinary stone masonry. According to estimates, the complex took about 100 years to build, requiring thousands of labourers. The massive blocks of stone fit together perfectly without the aid of mortar. Each one weighs between 90 and 125 tonnes, and stands around 16ft (5m) tall.
History buffs will note that the Inca and Spanish fought at the centre during the infamously bloody battle of 1536. The conflict left thousands of native people dead, providing food for circling condors. Since then, Cuzco's Coat of Arms has featured eight condors in memory of the event. Today, the site holds the annual celebrations of Cuzco's most important festival, Inti Raymi: the sun festival. Tourists should attend the colourful and spectacular affair if at all possible.
Transport:
A steep 40 minute (2km) walk up from the Plaza de Armas.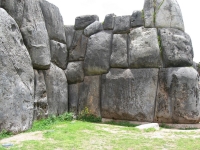 Sacsayhuaman, Peru Leon Petrosyan
Chan Chan
History lovers should make a point of visiting Chan Chan while they're in Peru. Once the Chimu Kingdom's capital, it was home to around 60 000 inhabitants, and was wealthy in gold, silver and ceramics. Most of its treasures disappeared with Spanish looters generations ago, though it remains the largest pre-Columbian city in the Americas, and the largest adobe city in the world. Today, it is considered an endangered UNESCO site, given that its adobe buildings are sensitive to time and the elements. Indeed, only one of the site's nine palaces has been properly excavated and opened to the public. Visitors will still see more than enough to paint a picture of what the city must have looked like. Highlights include the intricate depictions of birds, fish and otters on the walls, which add mesmerizing details to the massive site. Travellers will have the best experience if they visit with a guide.
Address:
Moche Valley, outside Trujillo.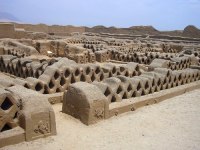 Chan Chan Yandi
Santa Catalina Monastery
The Santa Catalina Monastery is an enormous complex of rooms, chapels, plazas, ornate fountains, narrow cobbled streets, and beautifully decorated archways. High walls enclose these marvellous features. The thick and brightly painted walls also contain a number of cells, which once housed over 200 members of the female nobility. These women chose to shut themselves away from the world and devote their lives to prayer. The monastery opened its doors to the world some 400 years later, allowing visitors to wander through its exquisitely finished gates and admire its valuable collection of Spanish American religious art. Today, about 30 resident nuns live out of sight in the northern part of the complex. Visitors should make a point of seeing the monastery's Orange Tree Cloister, which is painted sky-blue and has wonderful murals on its vaulted arches. The huge 17th-century kitchen is another highly recommended sight.
Tourists should walk along the narrow street known as Calle Toledo as well. It is the oldest part of the monastery and leads to the open-air laundry, where nuns washed their clothes in large jugs filled from the canal. Unlike any other church compound, Santa Catalina is a masterpiece of colonial architecture, and is the most fascinating religious complex in Peru.
Address:
Santa Catalina 301.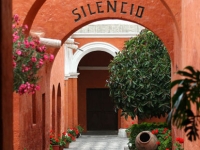 Santa Catalina Monastery Jialiang Gao
Museo Santuarios Andinos (Museum of Andean Sanctuaries)
This small museum's most famous attraction is the 600-year-old frozen body of a young Inca girl named, Juanita. It was discovered in near-perfect condition on the top of the Ampato Volcano in 1995. She was sacrificed to the mountain gods and buried in a tomb with a number of funeral offerings - which are also on display. The body was encased in ice and preserved by the freezing temperatures for hundreds of years. It was found along with other ice mummies after a volcanic eruption melted the ice and exposed the tomb. The Ice Maiden is displayed in a refrigerated glass case, and analysis of her DNA has afforded great insights into the Inca culture. An interesting video documents the discovery and is included as part of the compulsory tour. Visitors will encounter other interesting artefacts from archaeological sites in the surrounding mountains. The museum is located very near the Plaza des Armas in Arequipa, in the historic area of the city.
Address:
Calle la Merced 110, Arequipa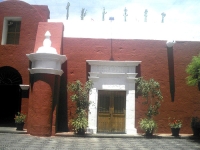 Museo Santuarios Andinos Otra vez me hice Mujer
The Colca Canyon
The Colca Canyon is the most popular excursion from Arequipa, and the world's second deepest canyon. Culture lovers will relish the extremely picturesque valley, which is home to huge mountains, grand churches, lively market places and herds of wandering llamas. The Crux del Condor Lookout is the region's most popular viewing point, and the best place to see giant condors soaring above the dramatic depths of the canyon below. Many people stay in the quaint market town of Chivay, which is some three hours from Arequipa. It offers a good range of restaurants, bus services and accommodation, and is an excellent base from which to explore the area. Hikers will find many trails in the surrounding hills. They can also venture down to the bottom of the canyon and overnight in one of the tiny Indian settlements below. Travellers can choose from a number of tour operators, whose packages range from hikes to multi-day adventures. Visitors can set off alone and enjoy self-guided tours too.
Transport:
Public bus from Terminal Terrestre or San Juan de Dios 510, Arequipa. Organised tours also visit the canyon daily. It is a five-hour journey.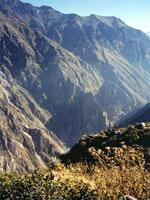 Colca Canyon, Peru Judith Duk
Peru has three climate zones, one of which governs the coastal region. Its desert landscape is caused by the cold Humboldt Current, which prevents cloud formation over the land. Lima is generally sunny and humid, with next to no rainfall, though it experiences heavy sea mists from April to November. The northern coast has hot, sunny summers, with occasional rain showers. The coast gets less arid farther north, as the effect of the Humboldt Current decreases.
The Andes region is cool, and its wet season runs from October to April. Its dry season lasts from May to September. During the dry season, days in the highlands are clear and sunny, though nights become very cold - especially at altitude.
The forested region of the Amazon Basin has an equatorial climate, where conditions involve hot weather and frequent rain throughout the year.
The peak tourist season runs from May to October, particularly in July and August. Winter (June to September) is the best time to walk the Inca Trail, given the wonderful visibility travellers can expect during the clear, sunny days. This is also a good time to visit the jungle basin, as there are fewer mosquitoes.
Money:
The official currency is Sol (PEN), divided into 100 céntimos. Visa is the most widely accepted credit card, but all major international credit cards are accepted in many, but not all, establishments. Outside of big cities, facilities may be more limited. US Dollars are the easiest currency to exchange and plenty of restaurants, hotels, and shops in the main cities accept dollars for payment. Casas de cambio (exchange bureaux) often give better rates than hotels and banks and can be found in any town on the tourist circuit. ATMs are available in the main cities.
Language:
Spanish is the official language. In areas where they are predominant, Quechua, Aymara and other aboriginal languages also have official status. English is spoken only in major tourist centres and hotels.
Electricity:
Electrical current is 220 volts, 60Hz. Two-pronged plugs with flat blades as well as plugs with two round prongs are in use.
Entry Requirements:
US nationals do not require a visa for touristic stays of up to 183 days. A passport valid for 6 months from the arrival date is required.
British nationals do not require a visa for touristic stays of up to 183 days. A passport valid for 6 months from the arrival date is required.
Canadian nationals do not require a visa for touristic stays of up to 183 days. A passport valid for 6 months from the arrival date is required.
Australian nationals do not require a visa for touristic stays of up to 183 days. Holders of APEC Business Travel Cards validated for travel to Peru do not require visas for stays of up to three months. A passport valid for 6 months from the arrival date is required.
South African nationals do not require a visa for touristic stays of up to 183 days. A passport valid for 6 months from the arrival date is required.
Irish nationals do not require a visa for touristic stays of up to 183 days. A passport valid for 6 months from the arrival date is required.
US nationals do not require a visa for touristic stays of up to 183 days. A passport valid for 6 months from the arrival date is required.
New Zealand nationals do not require a visa for touristic stays of up to 183 days. Holders of APEC Business Travel Cards validated for travel to Peru do not require visas for stays of up to three months. A passport valid for 6 months from the arrival date is required.
Passport/Visa Note:Visa:
All travellers require passports, return or onward tickets, all documents required for onward travel and proof of funds. If travelling for business purposes, a visa is required. Visas cannot be obtained on arrival. It is highly recommended that passports have at least six months' validity remaining after the visitor's intended date of departure from the travel destination. Immigration officials often apply different rules to those stated by travel agents and official sources.
Travel Health:
Travellers heading to Peru will need a yellow fever certificate if they're entering from an infected area. They should also remember that Peru experiences some outbreaks of the disease. Travellers will need to receive vaccinations for certain regions, though not for Cuzco, Lima and Machu Picchu.
They won't officially need any other vaccinations, but are advised to take precautions if travelling to jungle regions. Immunisation against typhoid is sensible. Malaria is a year-round risk in the lowland areas (except Lima and the coastal regions to the south), and dengue fever is on the increase. Vaccinations for hepatitis A and hepatitis B are recommended as well, and incidents of bat-bite-transmitted rabies have been reported in the Puno and Madre de Dios provinces, and near the border with Ecuador. Visitors should have a course of rabies injections and not sleep in the open if they plan to spend time in these areas.
Diarrhoea and altitude sickness are the most common ailments for visitors. As precautionary measures, travellers should only drink bottled water, avoid drinks with ice, and be wary of street-vendor food. Healthcare is good in the major cities, particularly at private clinics rather than public hospitals. It's expensive, though, and health insurance is essential. Screening for HIV is inadequate and visitors should avoid blood transfusions.
The zika virus is a factor, though rarely at elevations above 2000 metres (6500 feet). For this reason, Cuzco and Machu Picchu should be zika-free. Travellers should still protect themselves from mosquito bites.
Tipping:
Most restaurants add a service charge of 10 percent, which will be indicated by the words propina or servicio near the bottom of the bill. Even if a service charge has been added, the waiter can be offered an additional 10 percent for exceptional service; this is also the going rate for tipping where a service charge has not been added. In hotels, porters expect about US$1 per bag. Taxi drivers are not tipped (the fare should be set before departure). Tour guides are customarily tipped.
Safety Information:
Most visits to Peru are trouble-free and the usual sensible precautions should be enough to keep travellers safe. That said, thieves remain a problem. Travellers should be especially cautious in crowded areas, on public transport, at bus and train stations, and in the centre of Lima at night. Visitors should take extra care in Lima and Cuzco, where there's a risk of street and violent crime.
Foreigners have also been attacked while trekking in the Huayhuash region near Huaraz and should seek safety advice before setting out. Thieves and muggers operate in Huaraz and Arequipa as well.
Women in particular should only take taxis that have been pre-booked by a hotel or an official company. Travellers arriving at Lima International Airport should be wary of thieves posing as taxi drivers or tour operators.
Visitors should avoid all political gatherings and demonstrations, as these have the potential for violence.
Local Customs:
Visitors should not take photographs of anything relating to the military. Many locals will ask for a tip in return for being the subject of a photograph. In some places, this is the primary source of income. Homosexuality, although legal, is frowned upon. Gay travellers should keep a low profile outside gay clubs. Visitors should avoid wearing any native Indian clothing as this will be seen as insulting, regardless of their intentions.
Business:
Business centres on the capital, Lima, and is usually conducted in a formal and somewhat conservative manner. It's worth noting that foreigners will need a business visa from a local Peruvian Consulate.
Dress should be formal, with suits and ties being the norm. Titles and surnames are usually used upon greeting, and handshakes are standard for men and women. Business cards are usually exchanged and it is useful to have them printed in Spanish on one side, though English is fairly common. In fact, any effort to speak Spanish will be well received.
Women may encounter sexism. Punctuality is important, though meetings are not likely to begin on time. Business hours can vary but are usually from 9am to 6pm, Monday to Friday. Some businesses close for a siesta from 1pm to 3pm.
Communications:
The international access code for Peru is +51. Wifi access is available in most hotels, modern restaurants and cafés.
Duty Free:
Travellers over the age of 18 do not have to pay duty on 400 cigarettes, 50 cigars or 250g of tobacco; 3 litres of alcoholic beverages; and gifts to the value of US$500. Items such as sausages, salami, ham and cheese may only be brought in if accompanied by an original sanitary certificate. The import of ham from Italy and Portugal is prohibited. The export of cultural or artistic items from the country is not permitted.