This vibrant country in the centre of South America is relatively undiscovered by tourists and therefore doesn't have the same extensive offering of traditional sightseeing attractions as some of its well-known neighbours.
Although this can make it more difficult to know where to go and what to do, the non-commercialised nature of travel in Paraguay is a huge part of the country's appeal for travellers because the culture feels so authentic and the tourist sites aren't packed with crowds.
Paraguay is a great place to visit for lovers of waterfalls and rainforest. The beautiful Saltos del Monday waterfall is the centrepiece of the Municipal Park Monday which is a great outdoor playground for tourists wanting to experience the natural glory of Paraguay.
There are camping facilities, picnic sites, and hiking trails, while tour operators offer fun adventure activities like climbing and rappelling alongside the dramatic falls. The park is easily accessible from the city of Ciudad del Este, which is also the gateway to the magnificent Iguazu Falls shared by Argentina, Brazil, and Paraguay.
Other wonderful wilderness areas in Paraguay include the eight Itaipu Ecological Reserves which protect swathes of Paraguay's remaining rainforest, as well as the vast Cerro Cora National Park and Ybycui National Park, conveniently located near Asuncion.
Although the historic centre of Asuncion offers some worthy landmarks, museums, and monuments, the most highly-regarded cultural attraction of Paraguay is the collection of 17th-century Jesuit missions near the city of Encarnacion. These UNESCO-listed wonders are a treat to explore. The best preserved of the three sites is Trinidad de Parana but La Santisima and Jesus de Tavarangue are definitely also worth a visit.
Ciudad del Este
Located on Paraguay's border with Brazil, Ciudad del Este is the second largest city in Paraguay and is considered the top shopping destination in the country and the wider region. The border crossing gets a steady stream of traffic from neighbouring countries for that reason, with visitors taking advantage of the low taxes of the region.
Outlets range from high-end electronics shops selling the latest in computers and televisions to street vendors selling all manner of goods. Crowds of visitors swamp the city on Black Friday, the day following the fourth Thursday in November, when sales reach a frenzied peak.
Shopping is the major draw card to Ciudad del Este and the city is not considered particularly attractive to tourists beyond the retail opportunities, but there are some sightseeing options and a variety of good restaurants to enjoy. The city is conveniently located for tourists heading to Iguazú Falls or the Saltos del Monday waterfall, and idyllic camping is available less than two miles (3km) away in the Refugio Tati Yupi.
Cathedral of Ciudad del Este Leon Petrosyan
Encarnacion
Encarnacion, located 200 miles (374km) from Asuncion, is primarily a market town. The entire city was relocated when the Yacyreta Dam was built, and now a massive bazaar occupies the old town, offering all manner of goods for sale. Many good places to eat are found within this wonderful chaos.
The main attractions of Encarnacion are the ruins of the Jesuit Missions of La Santisima, Trinidad de Parana, and Jesus de Tavarangue, listed jointly as a UNESCO World Heritage Site and depicted in the famous 1981 film The Mission.
The city also boasts a pleasant artificial beach along the river, which is a popular place for sunning, swimming, and recreational fun like jet skiing and boating. Encarnacion hosts Paraguay's most famous carnival celebrations in January and February, making this a fun time to visit the city and join in the revelry.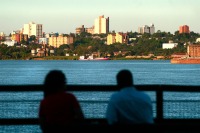 Encarnacion skyline Motorway065
Filadelfia
An island of German culture in Paraguay, Filadelfia was founded as a Russian Mennonite colony in 1930. The neat little community resembles a German suburb more than a Paraguayan city, and lacks a town centre.
Visitors can learn about the history of the colony at the Jakob Unger Museum, which offers tours in German and Spanish; and the Haushaltsmuseum, which has a particularly interesting exhibit on the Chaco War.
One of the most idiosyncratic sights in Filadelfia is the statue of Fred Astaire on the Avenue Hindenburg, while the shady park is filled with butterflies. The tiny town has only a few bars and restaurants and is supposedly secretly patronised by celebrities in disguise as there are no televisions.
It is a quirky sort of place but Filadelfia continues to attract a steady stream of curious visitors. The town is also a sort of gateway to the Chaco region because it is the last stop for things like groceries before heading out into the wild.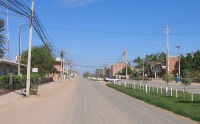 Filadelfia, Paraguay Ilosuna
Asuncion has a humid subtropical climate characterised by hot, humid summers, and mild winters. The city is relatively rainy throughout the year, but with noticeably less rain between June and September. The climate is hot and humid most of the year, with average high temperatures of between 84°F (29°C) and 92°F (33°C) between October and March.
The coldest time of year is June to August, when average temperatures are between 55°F (13°C) and 76°F (24°C). The cooler, drier months are generally considered more comfortable for travel, with most travellers choosing to visit between March and October.
Paraguay, situated on the Tropic of Capricorn, enjoys a hot subtropical climate, with long sultry summers (October to March) and an average annual temperature of about 75ºF (24ºC). The east of the country is more humid and wet, with only slight seasonal changes in temperature and rainfall throughout the year. The western Chaco region has a tropical wet-and-dry climate, almost semi-arid, with plenty of rainfall in the summer months but severe dry spells in winter.
Generally, the best time to visit Paraguay is between March and October when it is cooler, as the peak summer months (December to February) can be uncomfortably hot and humid.
Silvio Pettirossi International Airport
Location:
The airport is situated in Luque, a suburb of the capital Asuncion, about 10 miles (16km) from the city centre.
Getting to the city:
A bus and taxi service connects to the city; buses are very cheap although slow; travel time is about 45 minutes. The bus stop is a short walk from the terminal, and services run from about 5am to 8pm. Taxis are available 24 hours a day.
Car Rental:
Several car rental companies are represented at the airport, including American Rent A Car, Sudamerica Rent A Car, and Travel Rent A Car.
Fascilities:
The airport terminal offers currency exchange facilities, ATMs, baggage wrapping, a duty free shop, and restaurants.
Money:
The currency of Paraguay is the Paraguayan guarani (PYG). United States Dollars are also widely accepted. Visitors are advised to use banks or official Bureaux de Change for exchanging money rather than street exchange kiosks because there are many counterfeit notes in circulation. Credit cards are becoming more widely accepted with larger hotels and restaurants accepting MasterCard, Visa, and, in some cases, American Express. There are numerous ATMs in urban centres, which generally take Cirrus, Maestro, and Visa cards, but visitors who use them are advised to be vigilant due to the risk of crime. Banks are open on weekdays only between about 8.45am and 3pm.
Language:
Both Spanish and indigenous Guarani are official languages. English is not widely spoken or understood.
Electricity:
Electrical current is 220 volts, 50 Hz. European-style plugs with two round pins are standard.
Entry Requirements:
United States citizens require a valid passport and a visa to enter Paraguay, but visas can be issued on arrival at Asuncion for a max stay of 90 days.
British citizens require a valid passport valid for 6 months from the date of exit, but can enter without a visa for up to 90 days.
Canadians require a valid passport and a visa to enter Paraguay, but visas can be issued on arrival at Asuncion for a max stay of 90 days.
Australians require a valid passport and a visa to enter Paraguay, but visas can be issued on arrival at Asuncion for a max stay of 90 days.
South African citizens require a valid passport, but no visa is required for stays of up to 90 days.
Citizens of Ireland require a valid passport, but no visa is required for stays of up to 90 days.
United States citizens require a valid passport and a visa to enter Paraguay, but visas can be issued on arrival at Asuncion for a max stay of 90 days.
New Zealand citizens require a valid passport and a visa to enter Paraguay, but visas can be issued on arrival at Asuncion for a max stay of 90 days.
Passport/Visa Note:Visa:
Those requiring visas must apply to the nearest Paraguayan consulate. It is recommended that travellers always have six months' validity on their passports as immigration officials may impose restrictions other than those officially stated. Vaccinations against yellow fever are required for passengers arriving within six days of leaving or transiting infected areas.
Travel Health:
All travellers should be vaccinated for hepatitis A and hepatitis B, and those planning to travel in rural areas and eat outside of hotels and restaurants should consider a vaccination for typhoid. All travellers arriving from yellow fever risk areas need to carry proof of vaccination to enter Paraguay and the vaccination is also generally recommended for travel in the country.
Travellers should also be up to date with vaccinations for MMR (measles, mumps, and rubella) and tetanus-diphtheria. Malaria medication is recommended for travel to the departments of Alto Parana, Caaguazu, and Canendiyu. Tap water should not be drunk unless it has first been boiled, filtered, or chemically disinfected. Caution should be exercised with street food and any uncooked food.
Healthcare facilities are good in Asuncion but may be very limited beyond the capital. Comprehensive travel and health insurance is recommended and all required medication should be carried into the country, along with a signed and dated letter from a doctor detailing what it is and why it is needed.
Tipping:
Some restaurants do add service charges but this will be indicated on the bill. If no service charge has been added, a tip of about 10 percent is appropriate. For porters and other services, small change is acceptable. Taxi drivers appreciate visitors rounding up the fare.
Safety Information:
Most visits to Paraguay are trouble-free but visitors should note that incidents of violent crime are on the increase, particularly street crime like pickpocketing and muggings in Asuncion, Ciudad del Este, and Pedro Juan Caballero.
Visitors should take sensible precautions such as not carrying large amounts of cash, wearing visible jewellery, or displaying valuables, particularly when walking the streets or using public transport.
Those who travel around the country should note that there are frequently military and police roadblocks and checkpoints in operation. Travellers are advised to avoid protests which occasionally become violent.
Local Customs:
Visitors should respect the fact that Paraguayans are a conservative people who value old-fashioned courtesies. Homosexuality is legal but public displays of affection are frowned upon. All residents and visitors are required to carry identification at all times. Generally, authorities will accept a photocopy of documents like passports. As with neighbouring countries, locals enjoy a siesta over lunch when they snooze or drink maté (local tea) with friends. Shops and businesses may be closed at this time.
Business:
Those heading for business meetings in Paraguay would be well advised to hire an interpreter or have a working knowledge of Spanish; English is not widely spoken, even in the capital. Business appointments are formal and generally occur in the mornings.
Dress should be conservative, preferably lightweight business suits for men and the equivalent for women. Business hours are from about 8am to 12pm and 2.30pm to 6pm Monday to Friday, and 8am to 12pm on Saturday.
Communications:
The international direct dialling code for Paraguay is +595 and area codes are in use. There is mobile GSM 1900 coverage in the main urban areas, with several network providers. There are some internet cafes in Asuncion and some restaurants and hotels also offer internet facilities.
Duty Free:
Visitors to Paraguay may bring into the country amounts of tobacco products, alcohol and perfume deemed sufficient for personal use during their stay. The value of goods brought into the country should not exceed USD 300 if arriving by air or water, and USD 150 if arriving by land.