National Museum
Occupying prime position on Lagos Island in the centre of the city, the National Museum contains a number of treasures and cultural relics of great interest. Take your diary along to record the experience as photography is not allowed.
Highlights include the exhibit 'Treasures of Ancient Nigeria: Legacy of Two Thousand Years', and the bullet-ridden black Mercedes in which former president Murtala Mohammed was assassinated in 1973. Also not be missed is the gallery of Benin brasses and the crafts village, where you can haggles for souvenirs.
Address:
Awolowo Road, Lagos Island
Opening time:
Monday to Saturday 9am-3.30pm, closed Sunday.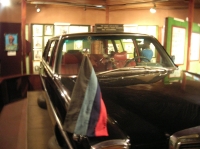 National Museum Shiraz Chakera Follow
Lekki Conservation Centre
Situated on the Lekki Peninsula covering 190 acres (78 hectare), the Lekki Conservation Centre is perfect to experience the fauna and flora of this region's delicate ecosystems. You can see Mona monkeys, crocodiles, bush bucks, Maxwell duikers, and giant rats, among other fascinating creatures.
There are various trails and tree platforms to get the best vantage point. Visit in the early morning when the animals are most active. Tours need to be booked in advance.
Address:
Km-19, Lagos-Epe Expressway, Lekki
Opening time:
Daily 8.30am-5pm, including weekends and public holidays.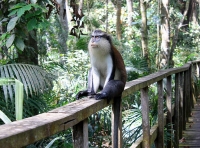 Lekki Conservation Centre Clara Sanchiz
Sungbos Eredo
Take a taxi one hour north of Lagos to see Sungbo's Eredo, Africa's largest pre-colonial construction, a sight rated by experts as an unknown 'Wonder of the World'. The Eredo is a rampart that is 1,050 years old, 100 miles (160km) long, and 70ft (20m) high. Locals will need to guide you in and out, as the structure is rapidly being covered by encroaching forest.
The enigmatic Eredo has been linked to the myths and legends of various tribes and religions. According to the local Ijebu clan, the Eredo may have been built as a memorial to noblewoman Oloye Bilikisu Sungbo, a childless widow, whose grave is located nearby.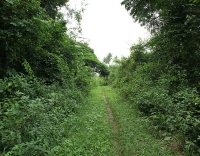 The walk to Sungbo Eredo Jeremy Weate
Lekki Market
For a taste of the real Lagos, head to the bustling, chaotic, and always fascinating Lekki Market. Intrepid shoppers that make the trip here will be rewarded with a wonderful selection of African masks, Nigerian beadwork, and traditional cloth.
The Lekki Market is located about 6 miles (10km) from the centre of Victoria Island, and is a popular taxi route. Bargain hard, but keep smiling. Get a local to help you navigate the market, for about NGN 50, it will be money well spent.
Address:
Elegushi Modern Plaza, Oba Elegushi Street
Opening time:
Daily 8am-6pm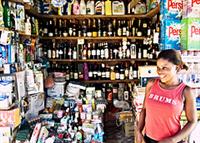 Lekki Market shawnleishman
Eleko Beach
The best beach for Lagos-based visitors is Eleko Beach, located just one hour away from Nigeria's frenetic economic heartland. It's clean and peaceful, with perfect waves and beach huts for hire, and is currently free of the traders and hawkers that can irritate visitors on beaches around Lagos Island
Eleko Beach is a welcome relief from the grime and congestion of the metropolis. To get there, head out east on Lekki Expressway for about 19 miles (30km) and turn right at the Total petrol service station.
Address:
Eleko Beach Road, Lekki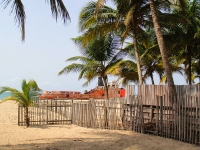 Eleko Beach B S
Osun-Osogbo
One of Nigeria's top tourist attractions and a UNESCO World Heritage Site, the Osun-Osogbo Sacred Grove holds a deeply special place in the hearts and minds of the Yoruba people. Located on the outskirts of the city of Osogbo, in one of the last remaining areas of pristine forest in southern Nigeria, the grove is said to be the home of Osun, the Yoruba goddess of fertility.
In addition to a meandering river surrounded by lush forest, visitors will see numerous shrines and sanctuaries that have been built in honour of Osun, including sculptures done by Austrian national Suzanne Wenger, who lived in the area in the 1950s and earned herself the local name Aduni Olosa, 'the Adored One'. If at all possible, time your visit to coincide with the Osun-Osogbo Festival (late July to August), a 12-day celebration of significant cultural interest, where thousands of locals congregate to invoke ancestral spirits and to rededicate their energies to living in harmony with the deity Osun.
Opening time:
Daily 8am-6pm.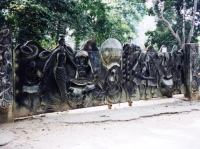 Osun-Osogbo Sacred Grove Alex Mazzeto
Lekki Beach Resort
A favourite among business travellers to Lagos and expatriates living in the area of Victoria Island, Lekki Beach Resort is a new establishment offering well-heeled tourists the opportunity to experience some refinement and luxury in the midst of the often chaotic and ramshackle city.
Built along 1.6 miles (2.5km) of the pristine Lekki Beach shoreline, and covering an area of 157 hectares (388 acres), the Lekki Beach Resort is a major operation featuring luxury accommodation, including an 18-hole golf course designed by Ron Garl, and a clubhouse with a fine restaurant and bar. There are also numerous family-oriented amenities, such as swimming pools, tennis courts, exercise rooms, and a health spa. Undoubtedly the premier place to play golf in Nigeria, the course is also quite a beautiful sight in its own right, blending seamlessly into its natural surroundings and boasting fantastic Atlantic Ocean views.
Address:
D16 Eko Court, Kofo Abayomi Street, Victoria Island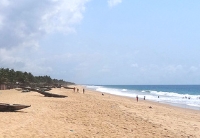 Lekki Beach Ian Cochrane
Lagos has a tropical wet and dry climate with two distinct rainy seasons; the more intense season occurs between April and July, with a milder one from October to November. At the peak of the rainy season, the weather in Lagos is wet about half the time. Lagos experiences a dry season (when it rains less than two days per month) during August and September, as well as between December and March, accompanied by Harmattan winds from the Sahara Desert, which are at their strongest from December to early February.
The temperature range in Lagos is fairly small, generally staying between a high of 91°F (33°C) and low of 70°F (21°C). The hottest month is March, when average daytime temperatures reach 84°F (29°C), while July is the coldest month with an average temperature of 77°F (25°C). The best time to visit Lagos is during the cooler dry season, between August and September.
Whether you're a business traveller or a sightseeing adventurer, the Lagos restaurant scene has something for everyone. Foodies will delight in the range of restaurants available. With choices ranging from local Nigerian fare to traditional Thai cuisine, diners will have a difficult time choosing between the many restaurants available in Lagos.
Nigerian food is genenrally rich and colourful, flavoured with spices and hot chilli peppers, and travellers looking for a taste of the local cuisine should try dishes such as jollof (rice cooked with tomato, onion, and pepper), akara (deep-fried bean cakes), banga (a palm fruit-based soup), or moin moin (a steamed bean pudding).
Eating out in Lagos offers not only variety in ethnic and foreign cuisine, but price and quality too, with a range of upmarket, casual, fast-food and street vendor options. Most trendy and reputable restaurants are located on Victoria and Lagos Islands and the Lekki Peninsula.
Yellow Chili
Ranked one of the top five restaurants in all Nigeria, the Yellow Chilli is one of the best and most stylish places for contemporary Nigerian cuisine in Lagos. The jollof fiesta is particularly worth trying. This popular restaurant draws a big lunchtime crowd of professionals and expats.
Address:
27 Oju Olobun Close off, Bishop Oluwole St, Victoria Island,
Bottles
i
Address:
8 Imam Agusta Close, off Olosa Street, VI. Behind Mobil, near Victoria Island Hospital.
Churrasco
The first Brazilian restaurant in Nigeria has now developed into one of Lagos' best eateries. The menu is all about the eponymous - barbecued meat on skewers that are sliced onto your plate. The restaurant is set on the lagoon and has great views. Surprisingly, the menu and salad bar are suitable for vegetarians too.
Address:
1C Ozumba Mbadiwe Ave, Victoria Island
Bungalow Restaurant
Bungalow serves up an array of great food options, including sizzling steaks, tasty marinated ribs, mixed meat skewers, prawns and fajitas. Bungalow Restaurant is definitely the place to go if you're after familiar, western-style meat dishes.
Address:
1296 Akin Adisola Street, Victoria Island
Vellvett Victoria Island Lagos
The Vellvett is a tastefully decorated restaurant just off Adeola Adeku Street. This great eatery has a wide range of international dishes on offer, from fresh grilled kebabs and Lebanese specialities to tasty pastas and decadent desserts that will have you coming back for more.
Address:
19B Idejo Street, Victoria Island
Murtala Muhammed International Airport
Location:
The airport is located 13 miles (22km) northwest of Lagos.
Time:
Local time is GMT +1
Transfer Between Terminals:
The terminals are within easy walking distance of each other.
Getting to the city:
Larger hotels have a shuttle bus meeting all international flights. Otherwise, taxis are the safest and most efficient way to travel to and from the airport.
Car Rental:
Car rental companies at Murtala Muhammed International Airport include Avis, Hertz, Europcar and Sixt. Note that driving oneself around Nigeria is strongly cautioned against, as the roads can be confusing and chaotic, and there is a risk of car-jacking.
Airport Taxis:
Yellow taxis are available outside the terminal. It is wise to negotiate a fee before departure; the fare into Lagos should be around NGN 5,000.
Fascilities:
Airport facilities include ATMs and currency exchange, executive and VIP lounges, a meet and greet lounge, prayer rooms, disabled facilities, and a tourist information desk in the arrival hall. Shopping is limited to a few retail stores selling electronics, mobile accessories, jewellery and health care products. International and African foods are served by vendors in the airport's food court.
Parking
Parking spaces are available.
With pumping night clubs, late night bars and live music venues, Lagos has firmly established itself as the nightlife capital of Nigeria. The nightlife scene tends to start late in the evening and keep going until the sun rises, with most clubs only beginning to fill up at about 11pm.
The main nightlife destinations in Lagos include Victoria Island and Ikoyi. Mainland Lagos has a couple of great bars, but these are only for the more adventurous as safety is not guranteed. A few upmarket hotels host pool parties, which are a great way to beat the heat and soak up the Lagos nightlife. Awolowo Road attracts a number of diners and late night drinkers, while Nigeria's resident expat population tend to migrate toward Pat's Place.
Finally, no Lagos nightlife experience is complete without a visit to the New Afrika Shrine - a Lagos institution. The original Afrika Shrine was the spiritual home of Afrobeat, owned by Lagos legend Fela Kuti. After it burned down, the musician's son Femi Kuti built the New Afrika Shrine to carry on the tradition, and still plays there when he is in town.
Getting around Lagos can be a thrilling and unpredictable experience. Walking can be risky unless a traveller can convincingly blend in with the local populace, as tourists are often targeted by criminals.
The best bet is to hire a private car and driver. Drivers are available outside most hotels and concierges should be able to recommend a reliable one. Taxis are reasonably safe, reliable, and affordable. Cabs are often painted yellow with a blue stripe running down the side.
Lagos has a number of interesting museums, including the National Museum of Nigeria, the Didi Museum, the Nike Art Gallery, and the National Theatre of Arts and Culture.
For many travellers, the noise and bustle of the city's streets and markets will seem enough of a sightseeing adventure. Lekki Market is a great experience, and one of the best places to explore what city life in Lagos is all about.
After a few days in the city, many visitors may feel the need for some peace and quiet, and there are a number of great attractions within an hour's drive from central Lagos. There are several excellent beaches in the area, including Eleko Beach, Bar Beach, Elegushi, and Lekki Beach. Nearby beach resorts like Hermitage Garden Resorts and La Campagne Tropicana on the Lekki Peninsula are worth a visit, as is the Lekki Conservation Centre. Finally, no trip to Lagos is complete without a visit to Sungbo's Eredo to see the largest pre-colonial construction Africa has to offer, or the ancient slave port of Badagary Town.