Skyline Gondola
The Queenstown Gondola takes visitors up to Bob's Peak above the town, and has incredible views over Queenstown, the lake, and the Remarkables Range. At the top of the gondola is the Luge offering three-wheel cart rides for all different ages and abilities, or there are numerous walks on the mountain with beautiful views of the area. At the bottom terminal is the Kiwi and Birdlife Park featuring nocturnal kiwi houses and other endangered species of New Zealand.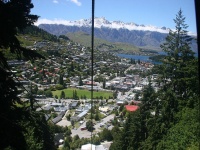 View from Skyline Gondola Will Ellis
Arrowtown
Arrowtown sits at the edge of the Otago Goldfields and was one of New Zealand's biggest gold towns in its day. It still has reminders of the gold rush days with little miners' cottages along the tree lined streets, historic wooden buildings, and 19th century-style shops. There are the interesting remains of a Chinese settlement, with interpretive signs, nestled along the banks of Bush Creek where gold was panned. The Chinese diggers often worked through the remains of previous miner's claims in search of undetected fine gold. The Visitors Centre contains the excellent Lake District Museum that has a small display on local history and gold mining.
Address:
20 minutes from Queenstown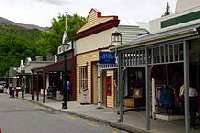 Buckingham Street Bgabel
Lake Wanaka
Lake Wanaka was voted as one of the world's top 10 most romantic destinations. It is a picture-perfect alpine lake located in the Otago region of the South Island. It is New Zealand's fourth-largest lake and certainly one of its most beautiful. The lake is popular for boating, fishing, and swimming and the temperate climate ensures that this is a year-round destination. The nearby Harris Mountains provide ample opportunity for skiing in winter as well.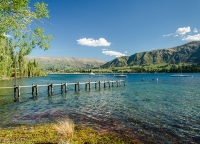 Lake Wanaka Ghislain Mary
Queenstown is a destination for all seasons, with its Alpine climate. Winter is magical with snow-capped mountains and blue skies, providing a haven for winter sports enthusiasts. Spring, officially starting on September 1, brings a meltdown with temperatures ranging between 46ºF (8ºC) and 59ºF (15ºC) with some beautiful, fresh days and cool evenings, punctuated by spring showers. At the end of November high summer sets in with long warm days averaging around 80ºF (26ºC), ideal for outdoor fun in the sun. Autumn arrives in March, still warm with occasional hot spots and balmy evenings, magnificent as the leaves begin to turn.
Queenstown Airport
Location:
The airport is just four miles (6km) from central Queenstown.
Getting to the city:
The best way to get into the city is by taxi, however, shuttles are also available to be booked. Shuttle fares are cheaper for children, but cost extra for transporting ski gear.
Car Rental:
Rental companies including Apex, Avis, Budget, Europcar, Hertz, Jucy, Nationwide, THL, and Thrifty all offer car rental services at Queenstown Airport.
Airport Taxis:
Taxis are available from outside the terminal.
Fascilities:
ATM, currency exchange, baggage lost and found office, baggage storage facilities, tourist help desk, first aid facilities, wifi, retail outlets, and restaurants. The terminal is fully accessible for disabled passengers.
Parking
Long- and short-term parking is available. It is free for the first 20 minutes, with a maximum charge of NZD 25 for the first day, and NZD 75 for a week.
Queenstown is a compact city, easy to negotiate on foot. Double-decker sight seeing buses are a popular way to cover the city's principal attractions. The only existing public transport is a bus service that operates on three lines; day passes are available. Taxis are readily available and there are also several car rental agencies.
Queenstown offers the perfect setting for adventure, relaxation and fun all year round. With a buzzing atmosphere and stunning scenery, you will find there is no other place in the world quite like Queenstown. For iconic views of the city and Lake Wakatipu take a ride on the Skyline Gondola which climbs its way to Bob's Peak, where visitors can enjoy a peaceful walk or visit the Kiwi and Birdlife Park when reaching the bottom terminal.
Around town, one can take a leisurely stroll through Queenstown Gardens or take in the view from the Ben Lomond walkway. For the golfer, there are plenty of world renowned courses to choose from around Queenstown and for the wine fanatic, there are some of New Zealand's finest vineyards around which one can plan a day of excellent wine tasting. For something truly special, visitors to Queenstown should not miss out on a visit to Lake Wanaka, which was voted as one of the world's top 10 most romantic destinations in the world and sports the most photographed tree in New Zealand.
As part of the Southern Scenic Route, Queenstown is ideally located on a tourist highway in New Zealand linking Queenstown, Fjordland, Te Anau and the iconic Milford Road to Dunedin via Riverton, Invercargill, and The Catlins. If one has the time and an adventurous spirit, an Australian travel magazine labelled the Southern Scenic Route as "one of the world's great undiscovered drives" in 2008, so rent a car and start exploring the most beautiful scenery which can be found in New Zealand.