Behind the red lights and coffeeshops, Amsterdam is home to many attractions that will captivate children. Active families will have fun strolling along the canal walkways, admiring the flower-decked houseboats, or cycling in the beautiful Vondelpark. They will also enjoy hiring bicycles and pedalling around the compact city's canals and quaint neighbourhoods.
For a more relaxing day out, parents can pack a picnic and head to one of Amsterdam's fabulous parks, such as the huge Vondelpark. Plenty of other free attractions abound, but the more popular ones involve a bit of money, such as trips to the zoo, farms, museums and theme parks. Younger children will be absolutely enchanted by Efteling and the miniature model city of Madurodam.
Cooking schools and Indoor playgrounds are an option on rainy days, while some of the city's museums will also intrigue children, like Anne Frank House.
The oceanic climate of Amsterdam is temperate, generally mild and damp. Winters (December to February) are fairly mild, though frost can occur, while summers (June to August) are warm but seldom hot. Temperatures average between 68°F (20°C) and 71°F (22°C) in summer, and around 32°F (0°C) in winter. Cloudy, rainy days can be expected at any time of year, and light rainfall is common.
On the whole, the weather in Amsterdam is very changeable, and even mid-summer visitors should be prepared for sudden drops in temperature. Spring and autumn are particularly unpredictable.
Spring (March to May) is the best time to visit, when the beautiful gardens are in bloom. Summer is the peak tourist season. Amsterdam is considered a year-round destination, though, with some travellers preferring to visit in autumn or winter, when the city is at its cheapest and least crowded.
Amsterdam is home to a huge variety of restaurants, with options ranging from French cuisine to Indonesian take-away. Naturally, visitors will find plenty of authentic Dutch dishes, which characteristically use smaller meats such as sausage, and a lot of vegetables. The city also has a very strong tradition of cafeteria dining, including 'brown cafes', so named because of their dark, nicotine-stained walls and wooden fittings. Travellers can sample local beers and staples such as steak and salads in these cosy places. The city's pricey fine-dining establishments contrast sharply with these budget-friendly options.
Visitors should certainly try some local snacks while they're in town, such as savoury pancakes (or pannekoek), pickled herring, frikadel (a snack sausage served with mayonnaise, ketchup and onions), and small windmill-shaped cookies called speculaas.
While breakfast will traditionally be served up until 10am, lunch between 12pm and 2pm, and dinner from around 5pm, the Dutch are flexible in both tastes and preferred eating hours. Indeed, several cafes and restaurants operate into the wee hours of the morning, especially on the city's vibrant Leidseplein and Rembrandtsplein squares, which are dedicated to late night entertainment.
Service is notoriously poor in Amsterdam, as a gratuity is usually included in the bill and waiting staff do not rely on tips. It's polite to round the bill up to the nearest Euro if the service is good, and to leave tips in cash rather than including them on a credit-card payment.
Blauw aan de Wal
Blauw aan de Wal (Blue on the Quay) is one of Amsterdam's most delightful secrets. Located in the city's Red Light District, this charming establishment occupies a 17th-century former herb warehouse, and serves Mediterranean-inspired dishes. The menu changes seasonally, service is first rate and reservations are necessary.
Address:
Oude Zijds, Achterburgwal 99
D Vijff Vlieghen
The 'Five Flies' oozes an old-world charm that befits one of the world's most famous restaurants. Original Rembrandt sketches decorate the walls of its attractive, country-style dining rooms, and brass plagues on its chairs remind guests that the likes of Orson Welles and Walt Disney have patronised this establishment. All dishes are prepared with fresh Dutch products.
Address:
Spuistraat 294-302 (opposite the Amsterdam Historical Museum)
Cafe de Jaren
Café de Jaren is both stylish and contemporary, with its chief attraction being a waterfront terrace that overlooks the Amstel River. The establishment is a great setting for pre-dinner drinks, sampling a superb bottle of wine, or enjoying a strong coffee. The menu is varied and attractive, with fare ranging from soups and sandwiches to steaks and pastas.
Address:
Nieuwe Doelenstraat 20-22
Dynasty
Amsterdam is well supplied with Asian restaurants, particularly in its rejuvenated Chinatown district. Dynasty is one of the more popular institutions, and serves a mix of Thai, Chinese, Malay, Vietnamese, and Filipino cuisine. Its themed interior is exceedingly beautiful. Reservations are essential.
Address:
Reguliersdwarsstraat 30
Pasta E Basta
The lively restaurant's waiters and bartenders sing opera arias while they tend tables, creating a jovial atmosphere. Pasta E Basta's excellent wine list and superb Italian fare make it a must for foodies spending time in Amsterdam. Bookings should be made well in advance.
Address:
Nieuwe Spiegelstraat 8
Roses Cantina
Amsterdam's most popular Mexican-style bar buzzes with warm Latin-American ambience, and serves up notoriously potent margaritas. The menu includes regular Mexican favourites like burritos, nachos and enchiladas. Fillet steak and burgers are also available and are well complimented with Mexican beer. Open daily from 5pm.
Address:
Reguliersdwarsstraat 38-40
De Silveren Spiegel
The elegant Silveren Spiegel (Silver Mirror) is one of Amsterdam's best-known traditional restaurants. Set in two historic houses and characterised by beautifully decorated, candlelit rooms, its menu includes meat and seafood dishes done in a traditional Dutch manner.
Cafe Luxembourg
Café Luxembourg is an established eatery and a definite must for foodies looking to experience Amsterdam's famous café culture. Its superb food, affordable prices and traditional atmosphere are appealing in any season. Reviewers have called Café Luxembourg 'spacious, elegant and unhurried', and quite simply 'one of the world's great cafés.'
Greetje
Located in a district that includes many beautiful old buildings, Greetje is an essential experience for foodies looking to enjoy authentic Dutch cuisine. It's known for having some of the best service in Amsterdam, and offers traditional Dutch recipes with a modern flair. The restaurant is open for dinner only (6pm), seven days a week.
Address:
Peperstraat 23-25
Pannenkoekenhuis Upstairs
This two-man operation serves up savoury and sweet pancakes at reasonable prices. There are only four tables in this charming eatery, and hundreds of teapots hanging from the ceiling. The service can be slow, but locals swear it's worth the wait.
Address:
Grimburgwal 2, Medieval Centre
Amsterdam Schiphol Airport
Location:
The airport is about thirteen miles (21km) from Amsterdam.
Time:
GMT +1 (GMT +2 from the last Sunday in March to the last Sunday in October).
Getting to the city:
The airport railway station is located beneath Schiphol Plaza and trains depart for central Amsterdam and other destinations around the Netherlands. Trains leave the airport station regularly, except from 12.30am to 5am when the service only runs every hour. Most buses into Amsterdam run every 15-30 minutes from 6am until midnight on weekdays and slightly less frequently on weekends. Many hotels offer free shuttle services to guests.
Car Rental:
Car rental desks can be found inside Schiphol Plaza, and include Avis, Budget, Europcar, Hertz, Sixt and Enterprise.
Airport Taxis:
A taxi to the city centre takes around 30 minutes. Visitors can go to Schiphol Plaza where they will find the metered Schiphol Travel Taxis, which offer fixed rates for everyone who travels to and from the airport.
Fascilities:
Facilities at Schiphol include ATMs and currency exchange facilities, a lost and found, information desks, luggage lockers and wrapping services, state-of-the-art conference facilities, a medical clinic, pharmacy and casino. There are also numerous shops and restaurants, a food court, and duty-free shopping.
Parking
Short-stop parking facilities are located close to the terminal for €1 per 10 minutes. The daily maximum cost is €40. Daily parking can be booked in advance on the Schiphol website and the lots are connected to the terminal via a frequent shuttle bus service. Valet parking is also available.
Keukenhof
Keukenhof is regarded as one of the world's largest and most beautiful spring gardens. Millions of tulips, daffodils and hyacinths fill the extensive grounds with colour and fragrance every year, attracting legions of tourists. The site is divided into themed gardens, sculpture routes, and various exhibitions, while numerous pavilions feature flower and plant shows for keen gardeners and flower arrangers. Visitors will find many cafes and restaurants, as well as souvenir stands and flower shops selling bulbs and seeds. They can also take a cycling excursion or a boat trip from Keukenhof to explore the bulb fields surrounding the garden. Visitors should allow at least a few hours to explore the park and enjoy the many events, displays, and performances on offer.
Venue:
The Keukenhof is located in the bulb-growing area between Amsterdam and The Hague.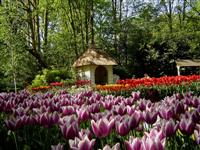 Keukenhof flowers in bloom Targeman
Kings Day
The king's birthday is a very festive occasion in the Netherlands, and Amsterdam goes all out to celebrate. The city stages a street party that starts the night before and keeps going throughout the next day. Traditionally, attendees wear orange (the Dutch royal family is the House of Orange) and ensure they have a beer in hand.
The party also resembles a giant jumble sale. That is, street trade proceeds without regulation for the day, allowing people to display their unused and unwanted goods and potentially sell them to passers-by. Bargain hunters and party seekers will enjoy themselves, especially if the sun shines. The occasion includes live music and many street performances.
Travellers should also look into spending the day on a boat. Amsterdam's canals provide a wonderful vantage point from which to take in the festivities, and allow visitors to avoid some of the crowds and queues on land. That said, boat traffic can become heavy on King's Day.
Venue:
Most of the action takes place at Vondelpark in the city centre.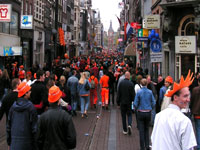 Queen's Day Bob Tubbs
Amsterdam Pride
Amsterdam's Pride is one of Europe's most popular and well-attended 'gay pride' festivals, and takes place annually between late July and early August. For many, its highlight is the Canal Parade, in which about 75 decorated craft carry revellers along the Amstel, Stopera and Prinsengracht canals to the crowd's delight.
The festival includes a full programme of street parties, sporting events, an open-air film festival on the Nieumarkt and many cultural and theatrical events. The city's club scene also comes alive, with special events and parties held all week long. Parents may want to be selective about where they go, as the festival traditionally involves a lot of crudity and nudity. All of the main events take place in central Amsterdam. Travellers should bear in mind that the city gets very busy over Pride, and book their accommodation well in advance.
Venue:
Various places throughout the city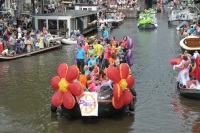 Amsterdam Gay Pride Parade FaceMePLS
Amsterdam Roots Festival
Amsterdam's Roots festival started as a celebration of African music in 1983, and has become a major event on the global music calendar. Today, the annual programme draws top artists from the world over. Performances take place at different venues around the city, though the festival always ends with a massive open-air concert in the Oosterpark, which is the highlight in most concert-goers' minds.
The Roots Festival is part of the Holland Festival and a wonderful experience for lovers of world music. Music genres are diverse, with main stages including World Stage, Club Stage, Urban Groove and Bass Stage, and a lot of pop and dance music in the mix. Festival-goers can enjoy dance and music workshops, a food fair and lots of craft and clothing markets along with the music. The festival also has an area dedicated to children's entertainment.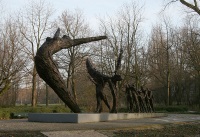 Oosterpark, Amsterdam Arthena
Holland Festival
The Holland Festival is a yearly trend-setting and innovative presentation of the dramatic arts, and the highlight of the country's cultural season. Dance, music, theatre and opera performances are all on offer, meaning it truly covers the full spectrum of the arts. The festival also caters for a wide range of tastes, as attendees can expect to see everything from pop to high-drama. A street café on Leidseplein serves as the festival's centre.
Famous actors, authors and musicians mingle with the crowds, and Amsterdam's museums, theatres and galleries come alive with exciting exhibitions and performances. Travellers should check the festival's official website for details. Culture lovers could not pick a better time of year to visit the Netherlands. That said, they will need to book tickets and accommodation far in advance, as the festival is extremely popular.
Venue:
Information and booking at The Festival Centre, Stadsschouwburg, Leidseplein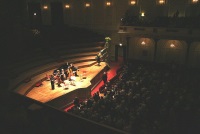 Concertgebouw, Amsterdam PersianDutchNetwork
New Years Eve in Amsterdam
Locals and tourists pack into central Amsterdam on New Year's Eve, then head to the city's many bars and clubs to continue celebrating. Dam Square and the Leidseplein draw most of the revelry and, as midnight approaches, fireworks light the sky.
The Oosterdok area usually hosts the biggest event, with the VOC Ship, Science Centre NEMO, and Scheepvaartmuseum forming a backdrop for festivities, free of charge. These open-air celebrations are a treat for the whole family, and are the occasion's main highlight.
Visitors can expect a festive, friendly mood in the city's bars, and a seedier atmosphere in the Red Light District. Many nightclubs offer New Year specials with top DJs, music concerts, and performances, and there are also a number of quirky parties for those who like to dress up.
Venue:
Various venues throughout the city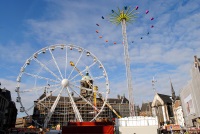 Funfair on Dam Square, Amsterdam Nikthestoned
Arrival of St Nicholas
Travellers who visit Amsterdam with kids in November should catch the annual appearance of Santa Claus. He usually arrives on a ship three weeks before the celebration begins, and rides a white horse to Dam Square. His coming is a festive occasion, when musical bands liven up the atmosphere, and are accompanied by animals, clowns and acrobats - much to the delight of children.
The true story of Santa Claus dates back to the 3rd century, when the Bishop of Myra, St Nicholas, dedicated his life to helping the poor and needy. The passing centuries gave rise to many legends and stories about St Nicholas, though he remains best known for giving presents to children. Visitors can see many puppet shows, arts and crafts stalls and theatrical performances in honour of his visit.
Venue:
Central Station, Amsterdam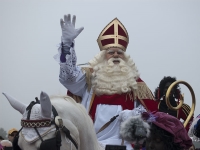 Arrival of Santa Claus Wouter Engler
Uitmarkt
Every year, Uitmarkt heralds the official beginning of the country's cultural season. Essentially, it introduces and celebrates to the upcoming activities. Visitors will encounter stages all over Amsterdam, and can enjoy a wide variety of free performances, which include dance, music, film and theatre. They can also attend numerous workshops around Leidseplein and Musuemplein.
Hundreds of cultural institutions are on hand to provide information about their events. The festival's large book market is a must, and children will relish the junior programme.
Venue:
Various venues throughout the city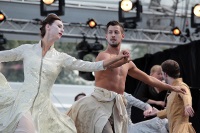 Uitmarkt, Amsterdam Brankoc
ING Amsterdam Marathon
Runners from all over the world enjoy Amsterdam's flat terrain, sparse traffic and stunning architecture. The race dates back to 1975, and is widely recognised as one of the most professionally organised races on the international athletics calendar.
Besides the main marathon, athletes can choose from a half marathon, a kid's marathon, a mini marathon and an 8km run. DJs, singers and samba bands line the course, egging runners on and entertaining spectators. Runners can carbo-load and socialise at a Pasta Party on the night before the race. Along with the public, they can also attend the free and popular marathon expo, which is home to stalls promoting all things related to athletics. The route traditionally starts and finishes at the Olympic Stadium.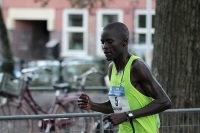 Abel Kirui at the 2014 Amsterdam Marathon Brankoc
Famed for its wild nightlife, Amsterdam offers visitors something quite unique when the sun goes down. Pubs, clubs, soft drugs and the sex trade feature among the options.
The Red Light District is a major drawcard, with many tourists choosing to simply wander through and see women posing in shop windows, and hear insistent touts push sex shows. Safety is not an issue, though visitors should be wary of pickpockets and other petty criminals. Travellers should also understand that De Wallen (as locals call the Red Light District) is a nightlife hub aside from the sex trade.
Amsterdam is famously tolerant of marijuana use. Visitors can purchase a variety of strains in some coffeeshops, and smoke at these establishments. Tourists should note that while marijuana use is tolerated, it's not strictly speaking legal. Some caution is necessary.
The city's mainstream nightlife centres around Leidseplein, where visitors will find the most popular bars, clubs and restaurants. Amsterdam also has a fondness for live music, particularly jazz, as many of the world's jazz legends have settled here. Music lovers can enjoy performances at fun jazz clubs, or catch world-class rock and pop acts at many venues. Bigger concerts take place at the Koninklijk Theater Carré, Heineken Music Hall, and the huge Amsterdam Arena.
For a more cultured night out, visitors can purchase tickets to a number of highly-regarded orchestras. Or, they can watch the National Ballet and Netherlands Opera. Many theatres produce shows in both Dutch and English, including De Balie, Felix Meritis, Theater Frascati, and the Vondelpark Open-Air Theater.
The central area of Amsterdam is fairly compact and easy to get around on foot. The GVB public transport office at Central Station has route maps and a guide to the ticketing system, which is based on zones, with the same ticket valid on trams, buses and metros. After midnight, night buses run from Central Station to most parts of the city. Taxis are among the most expensive in Europe and renting a car is not recommended. Streets in the city centre are narrow and awkward to navigate, and parking is limited and expensive. The ideal way to get around is by bicycle. Visitors will find several rental agencies around town.
Amsterdam is the capital of the Netherlands, and one of the most historic cities in Europe. Flat and blessed with a clear, crisp atmosphere, most of its attractions lie within easy walking distance. The city is perfectly navigable by foot or bicycle.
Visitors will find that a culture of art appreciation pervades Amsterdam. Indeed, two of the city's museums are dedicated to world-famous Dutch painters, namely the Van Gogh Museum and Rembrandt House. The Rijksmuseum holds a collection of 17th-century Dutch artists, including Frans Hals, Rembrandt and Vermeer. These museums, along with the Diamond Museum and the Stedelijk Museum of Modern Art, are located around Museum Square (Museumplein) - which is also home to the US Consulate and the famous Concertgebouw symphonic hall.
In keeping with the city's rich history, the very home in which Anne Frank and her family hid from the Nazis during the 1942 occupation is open to visitors. Her famous diary is preserved and on display. Other popular sites include the Hermitage Amsterdam, The Jewish Historical Museum, The Resistance Museum, and the Museum of the Tropics.
Amsterdam's reputation as a liberal party city attracts many tourists as well. Visitors tend to explore the Red Light District (De Wallen), where legalised prostitution and the sale of marijuana draw revellers from across the globe. The Amsterdam Sex Museum is not for the squeamish or easily offended.
Travellers can make the most of their time in Amsterdam by purchasing an I Amsterdam card, which will give them free access to public transport, as well as discounts on museums, attractions and restaurants. The card is available at several tourist offices in the city, at some museums and online.
Maastricht
Maastricht is one of the oldest cities in the Netherlands. Perched peacefully on the banks of the Maas River, it's among the sunnier spots on the country's southern-most point. The once humble Roman settlement now boasts a high number of national heritage sites. It's also the birthplace of the European Union and the single European currency, the Euro. Regarding attractions, ancient fortifications provide pleasant walking routes, and the Bonnefantenmuseum allows visitors to trace the city's historical origins. The Basilica of Saint Servatius is a medieval cruciform basilica that houses a significant collection of religious artefacts. Visitors will find a selection of old shops and department stores in the old centre of Maastricht, where they can savour the destination's fine food and wine. The university town's large and vibrant student community gives it a sense of energy.
Address:
Maastricht is located 133 miles (215km) from Amsterdam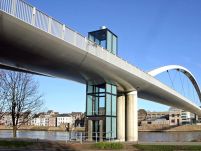 Maastricht Les Meloures
Peace Palace
The deliberately named Peace Palace is a significant place for arbitration, and for the maintenance and promotion of world peace. Situated in The Hague, the building houses the International Court of Justice, the Permanent Court of Justice and The Hague Academy of International Law. The International Court of Justice's first session took place here in 1946. Regular guided tours reveal the palace's wonderful gardens and impressive interiors. Visitors will also see a beautiful art collection, which various countries gifted to the Peace Palace. Tour dates appear on the official website, and must be booked in advance online. Visitors are not allowed to take photographs inside the palace, and cannot enter with luggage - including handbags. Lockers are provided, though. The Visitor's Centre (which is more of a museum) does a free audio guide and is a good option for anyone who can't go a tour.
Transport:
Tram 10 to Hague Central, or bus 24 to the Vredespaleis stop
Opening time:
The Peace Palace is only accessible on organised tours, which are run on certain weekends.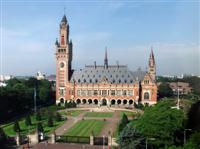 Peace Palace Public Domain
Hoge Veluwe National Park
Visiting the Hoge Veluwe National Park is a fantastic way to enjoy the Netherlands' (somewhat limited) great outdoors. The site's topography features heathland, peat bogs, woodland and even sand dunes. Its wildlife population includes badgers, foxes, red deer, roe deer, wild boar and mouflon (a kind of wild sheep), and provides ample cycling and walking opportunities. The area also houses the beautiful St. Hubertus Hunting Lodge, and the Kroller-Muller Museum, which contains artwork by luminaries such as Van Gogh, Picasso and Mondrian. Site visitors can walk through a Sculpture Garden as well.
Opening time:
Opening hours vary from month to month, but are generally from at least 9am to 8pm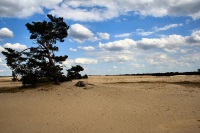 Hoge Veluwe National Park, Netherlands Stefan Kruithof
Haarlem
The quaint city of Haarlem lies 15-minutes away from Amsterdam by train, and has the distinction of boasting more museums per capita than any other city in the Netherlands. Its cosy, small-town feel and cheaper accommodation rates mean that many tourists are choosing to make it their base while vacationing in the Netherlands. A bustling market and a wide array of bars, cafes, restaurants, and live music venues means that Haarlem is an attractive choice for a variety of travellers. Its mix of historic sights and youthful energy is tremendously appealing. Haarlem's list of must-see attractions includes the Grote Markt (Market Square), where 10 streets converge around the town's 700-year-old centre, and the Saint Bavo Church, which contains an organ that dates back to 1738 and was once played by the great composer, George Frederic Handel.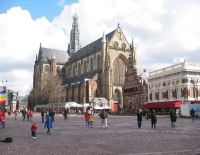 Grote Kerk, Haarlem Fryslan0109