Durbar Square
Protected as a UNESCO World Heritage Site, Durbar Square is the religious and social heart of Kathmandu's old city. Built between the 12th and 18th centuries by the ancient kings of Nepal, it's a complex of palaces, temples, shrines, statues, and courtyards.
The square is a queer assortment of the old and the new: elaborately carved architectural features and curving roofs provide shelter for cows and weary tourists. Brahman priests and painted sadhus perform rituals and pose for photos, while souvenir sellers and rickshaw drivers compete for attention among the crowds.
Stone lions guard the gates to the Old Royal Palace which contains a number of courtyards and houses the Narayanhity Durbar Museum. Set into the palace wall is a 17th-century stone inscription written in 15 languages. It's believed milk will flow from the spout if anyone deciphers the entire inscription.
Opening time:
Durbar Square: daily 8am-5pm. Old Royal Palace: Tuesday to Saturday 9:30am-4pm.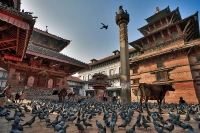 Durbar Square Alexander Shafir
Swayambhunath Stupa
Colourful fluttering prayer flags adorns the golden spire of the 5th-century Swayambhu Stupa. It crowns a hill overlooking the Kathmandu Valley and offers fantastic views over the capital city of Kathmandu.
The Swayambhunath Stupa is one of the most recognisable symbols in Nepal, with the painted eyes of the Buddha watching all those who ascend the worn stone steps. A UNESCO World Heritage Site, it is one of the holiest Buddhist sites in Nepal and is at the source of the valley's mythical beginning.
Legend has it that the history of the valley began with the draining of an ancient lake by an Enlightened Being, when a lotus flower was transformed into the hill and the shining light became the stupa itself.
Also called the Monkey Temple, swarms of pilgrims and red-clad monks circle the complex, spinning the prayer wheels while scores of monkeys which give the temple its nickname prance about in irreverent troupes.
The temple complex is scattered with shrines and statues of Buddhist and Hindu deities, and the assortment of pilgrims from both faiths characterises the country's unique religious harmony. Visitors should note that although they are often adorable and entertaining, the monkeys can sometimes become aggressive if you have something they want.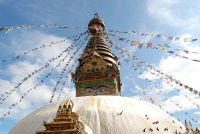 Swayambhu Stupa Peretz Partensky
Pashupatinath Temple
One of the most sacred Hindu shrines in the world, the UNESCO World Heritage Site of Pashupatinath is one of the major temples devoted to Lord Shiva on the Indian subcontinent. It attracts thousands of Hindu pilgrims each year, with Shiva being the patron deity of Nepal.
The Temple of Pashupatinath is renowned for its beautiful architecture and stands on the banks of the holy Bagmati River, a tributary of the Ganges. Other temples, shrines, statues, and pagods surrounded this large temple complex, which can take some time to explore. The temple buildings are closed to non-Hindu visitors but the grounds are not.
Shiva devotees and holy Hindi ascetics called sadhus roam the complex in great numbers, meditating and praying on the steps throughout the temple. One of the richest temples in Nepal, it received a great deal of wealth from kings and aristocrats in devotion to the god.
The complex is also home to Kathmandu's funeral ghats, a series of cremation platforms spread along the river where the bodies of Hindus are burnt and the ashes scattered into the holy river. Tourists should be respectful when witnessing these cremation ceremonies and particularly cautious about taking photographs.
Address:
Three miles (5km) east of Kathmandu, in Deopatan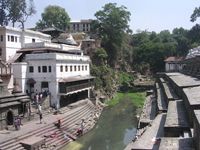 Pashupatinath Temple JoonYoung Kim
Boudhanath Stupa
The Boudhanath Stupa is the largest in the Kathmandu Valley, standing about 131 feet (40m) tall. It's one of the biggest and most important Buddhist stupas in the world. The all-seeing red, white, and blue eyes of the Buddha are painted on all four sides of the stupa, similar to Swayambhunath.
Hundreds of fluttering prayer flags, prayer wheels, and small images of the Buddha surround the building. It is central to the Tibetan culture in Nepal and said to date back 500 years, although there is some debate about the exact date of construction.
The Boudhanath Stupa is on the ancient trade route from Tibet to Nepal, and Tibetan pilgrims and merchants have been praying at the site for centuries. The influx of Tibetan refuges has led to more than 50 Tibetan monasteries built around the stupa. It's a UNESCO World Heritage Site and one of the most popular tourist attractions in Kathmandu.
It is conveniently close to the city, located just 6.8 miles (11km) outside Kathmandu. Buddhist festivals cause a flurry of activity at the stupa, with thousands of pilgrims joining together in the sacred rituals, such as the Tibetan New Year, or Lhosar, in February every year.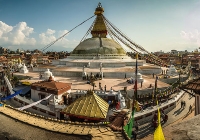 Boudhanath Stupa GONG Jie
The Kathmandu Valley is a warm, temperate zone which has a mild climate most of the year, and the city of Kathmandu, situated at an altitude of 4,297 feet (1,310m), has a mild, subtropical climate.
Between May and August, summer temperatures range from 67°F to 81°F (19°C to 27°C) and in winter, between November and February, temperatures average between 36°F and 68°F (2°C to 20°C). During the rainy monsoon season, between June and August, there is an average rainfall of between 7.8 to 14.7 inches (20 to 37cm) in Kathmandu.
May and June can be very hot and humid until the monsoon rains bring relief. In spring (March to April) and autumn (October to November), the temperatures are pleasant with occasional short bursts of rain, while November to February is dry but can be very cold, especially at night.
The best months to visit Kathmandu for a holiday are October to November and March to April, when the weather is warm and largely sunny, and the air is crisp and clear. Winters (November to February) are extremely cold, while early summer (May and June) is swelteringly hot and humid. Desired activities usually determine the best times to visit.
Kathmandu is chaotic and overcrowded, yet within its confusing borders lie many great restaurants. Thamel is by far the most popular restaurant district for tourists, where one can find a wide variety of international cuisines and restaurants to suit all budgets.
The local cuisine is invariably the best option, with Nepalese food tening to be popular with foreigners. The most popular traditional food is momo, a dumpling sometimes stuffed with various fillings or eaten as an accompaniment to all sorts of meals.
Curry is also a great specialty and comes in various forms. Chiya, a milky, spicy tea similar to Indian chai, is a wonderful traditional drink. Foreigners should note that the Nepalese only bring food to their mouths with their right hands and traditionally the left hand should not touch food.
Finding restaurants by address in Kathmandu can be difficult as street names and numbers are unreliable or non-existent. Hotels offer directions and sometimes guides, and friendly locals will also help locate eateries. Restaurants that have business cards usually include small maps on the back and they're worth keeping if one want to return.
Himalayan Java
Himalayan Java is a coffee shop and restaurant in Kathmandu, offering a fine selection of Nepali coffee blends. Try the subtle Mountain Supreme, the darker House Blend, or perhaps Long Black, the darkest roast used for espressos.
The restaurant serves fantastic wood-fired pizza and the venue has a lovely garden terrace and lounge area to enjoy. Himalayan Java has been doing business in Kathmandu since 1999, and a number of branches have opened across the country.
Krishnarpan
Krishnarpan exudes a rich and historic atmosphere, featuring lattice wood tables, antique dinnerware, and staff dressed in traditional clothing. The venue serves classic Nepalese cuisine, combining fresh meats and vegetables with exotic spices and oils to create a delicious blend of flavours.
Address:
Dwarikas Hotel, Battisputali
Olive Garden
Set in the modern and elegant Radisson Hotel, the Olive Garden offers up familiar international cuisine as well as dishes with a Mediterranean flair. This superb fine-dining establishment is replete with green linens and lively colour, serving as the ideal spot for a business meeting or even a memorable evening with loved ones. Prior booking is required for lunch.
Address:
Radisson Hotel, Lazimpat
Bhojan Griha
Located within an old building in the heart of Kathmandu, Bhojan Griha offers diners a genuine taste of Nepal. Inside the exquisite setting, traditional music and dance performances entertain guests as guests enjoy their food. Favourites include dumplings, called momos, and the masu, a type of stewed meat, while the achar, a mixture of fruits and vegetables with spices, is a great accompaniment to any of the choices off the menu.
Address:
Dillibazar, Kathmandu
Tribhuvan International Airport
Location:
The airport is situated four miles (6km) east of Kathmandu.
Transfer Between Terminals:
The small international and domestic terminals are located within easy walking distance of one another.
Getting to the city:
A prepaid taxi service operates from immediately outside the arrival gate. Rates are exhibited on a board and the fare must be paid in advance. Local buses also serve the airport, the journey is 35 minutes and costs about NPR 40.
Car Rental:
Car rental companies are represented.
Airport Taxis:
Both prepaid taxis and normal taxis are available at the airport. They are often more expensive than regular taxis hailed outside the airport. Taxi drivers often try to overcharge passengers, so only pay when you are at your destination and agree on a price before getting into the vehicle. Fares into the city are generally around NPR 500 during the day, with a NPR 100 surcharge at night.
Fascilities:
Facilities include banks and a bureau de change, shops, duty-free, snacks, internet, post office, and tourist information. The airport is well equipped with facilities for those with disabilities.
Holi
Also known as the Festival of Colours, this ancient Hindu celebration is becoming increasingly popular all over the world as a secular festival commemorating community, life, and colour. Holi has always marked the coming of spring and the end of winter, as well as the fertility of the earth.
As 80% of the population is Hindu, it serves as an important religious day in Nepal. Indeed, it's one of the most important and popular days in the country, serving as a national holiday often enjoyed communally even by Muslim and Christian minorities.
Traditionally celebrated with bonfires and playful water and paint fights using balloons and powdered paint. It's a jubilant, life-affirming party and its popularity is evident in its adoption by non-Hindu cultures appreciating its symbolism.
Foreigners will usually be enthusiastically welcomed, with Holi being a special time to be in Nepal. In fact, it's difficult to stay dry and normal-coloured, so tourists should be careful with cameras even though photographic opportunities are visually splendid.
Venue:
Various venues throughout the country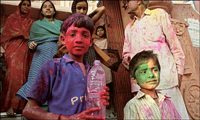 Festival of Holi
Maha Shivaratri
Maha Shivaratri is dedicated to Lord Shiva, celebrated in Nepal at the Pashupati Temple just outside Kathmandu. It is Nepal's biggest annual religious event, attracting an estimated one million pilgrims.
For around five days before the festival, devotees from all over the world gather at Pashupatinath where they chant, meditate, fast, and tend holy fires. The passion of the devotees ensures a moving experience, as people cover their bodies in ashes and pray until falling into a trancelike state.
On the eve of the celebrations, worshippers light a great fire outside the temple. It's believed that those who warm themselves at its flames will have their sins forgiven and be blessed with health and prosperity by Lord Shiva. Pilgrims pour milk on holy statues, making offerings of fruit and incense. Prayers and ceremonies take place deep into the night.
Venue:
Pashupati temple complex, 2.5 miles (4km) east of Kathmandu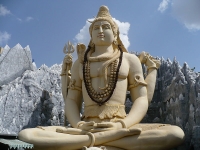 Shiva Indianhilbilly
Kathmandu is not famous for its nightlife, but there are options for those seeking some evening entertainment. Most of the nightlife in Kathmandu is based in Thamel and on Freak Street, and there are also quite a few bars to be found near Pulchowk in Patan.
By law, music isn't allowed to be played after 10pm but many bars and clubs stay open until later. In Nepal's capital, travellers are sure to find a venue to suit their tastes, whether it be a backpacker bar, trendy club, upmarket cocktail lounge, or cultural show at a traditional restaurant.
Popular bars in Kathmandu include Tom & Jerry's and the upmarket Tamas Spa Lounge in Thamel, as well as Absolute Bar in Patan. Nightclubs in Kathmandu generally have a cover charge. Tourists can also catch a movie at the Kathmandu Mini Vision in the Kathmandu Plaza.
They can also try their luck at one of the city's popular casinos or enjoy some live music. Noisy cover bands tend to be the order of the day, but New Orleans Café is a Kathmandu institution and is a good spot for some jazz and blues.
Visitors can find information about events and current entertainment in local publications, such as the Kathmandu Post and The Himalayan Times. Walking around the city late at night isn't recommended. Once the streets start emptying after 9pm, it is better to get a taxi home.
It's best not to use the public bus system in Kathmandu as buses tend to be crowded and unreliable, leaving only when full to bursting. If one isn't a seasoned traveller, taxis are available and usually found outside hotels and shopping centres.
Passengers should ensure the meter is on, although fixed prices are negotiable for sightseeing. Always agree on a fare before setting off if there is no meter, and ask at your hotel for guidelines on pricing as drivers do tend to overcharge tourists if they can get away with it.
Auto rickshaws ( ) are good options and usually operate on fixed routes, while pedal rickshaws are best only for short trips. Bicycles and motorcycles are hireable, but pollution, heavy traffic, and bicycle theft make these unappealing options, particularly as getting lost is easy in Kathmandu.
Self-drive car hire is not available and rented cars come with a driver. But this is an expensive option and traffic is invariably heavy, making it slow going. It's actually better to negotiate the city on foot when possible as it's often the least stressful way to get around and the best way to really experience daily life on the bustling streets.
Once one of the world's most inaccessible destinations, a holiday in Kathmandu is now very easy to arrange. Many travel to Kathmandu to start expeditions into the rest of the country, as well as to experience its vibrant traditions, preserved architecture, and fascinating Buddhist and Hindu culture.
A vacation in the capital of Nepal attracts mainly those intent on undertaking adventure trips in Nepal, like trekking, rafting, and mountain climbing. But the city has its share of diversions and tourist attractions, with more temples and monasteries than any traveller could possibly hope to visit.
Must-see sites include Durbar Square, Pashupatinath Temple, the Swayambhunath Stupa, and the Boudhanath Stupa. There are also many sites close to the city, making for exciting excursions. The city has plenty of restaurants in its Thamel tourist district, and shopping in Kathmandu offers visitors a variety of goods ranging from authentic local handicrafts to religious souvenirs.
There are many shops selling handwoven cotton fabric, clothing, and popular Nepalese souvenirs, including Tibetan carpets, and (scroll paintings), Terai baskets, and traditional rice paper.
Kashmiri shawls, Tibetan robes, and embroidered kaftans are also very popular, and there is a lot of religious paraphernalia for sale at Buddhist sites in Kathmandu. However, the most sought after treasures are the rare lime-green tourmaline gems.
Royal Chitwan National Park
Of the 14 national parks and reserves in Nepal, the Royal Chitwan National Park is the oldest and most popular safari destination for visitors. Situated in the subtropical Tarai lowlands, the jungle is home to endangered animals such as the one-horned rhinoceros and the royal Bengal tiger.
Other animals include leopards, wild elephants, Indian bison, sloth bears, crocodiles, pythons, monitor lizards, pangolins, and over 400 species of birds. The terrain is mostly flat, consisting of dense jungle, marsh, and grassland. There's no guarantee of good game sightings, so it is best to spend at least two days in the park.
Elephant safaris are the most popular way to explore the park. Jeep safaris, guided walks, overnight jungle expeditions, and canoe trips are also available. There is a wide choice of accommodation, ranging from luxury camps or hotels within the park to budget options on the outskirts.
The best place to look for budget accommodation is Sauraha, becoming something of a tourist centre with hotels, restaurants, bars, travel agents, money changing facilities, shops, and even internet cafes. The town has a beautiful setting, sitting on the banks of a wide river in the jungle.
Transport:
The Royal Chitwan National Park is an excursion from Kathmandu or Pokhara. Its linked by public bus, tourist coach, and air, and is a seven-hour bus journey from Kathmandu or six hours by bus from Pokhara.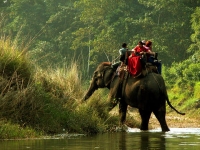 Elephant-back safari Leonardo C. Fleck
Bhaktapur
Also known as the City of Devotees, Bhaktapur lies just 22 miles (35km) east of Kathmandu. The wealth of fabulous architectural showpieces, soaring pagodas, richly ornamented houses, and medieval layout is testament to the period when the city was the capital of the Kathmandu Valley during the 14th and 16th centuries.
The whole town is a UNESCO World Heritage Site filled with palaces, temples, statues, and squares, connected by a maze of largely pedestrian streets. The main Durbar Square boasts many architectural attractions, including the Golden Gate, the 15th-century Palace of 55 Windows, and several statues of ancient kings.
Taumadhi Square is presided over by the elegant Nyatpola Temple. Sitting atop a five-story platform, Nyatpola is the tallest pagoda temple in the Kathmandu Valley. Bhaktapur is also the centre of traditional pottery and weaving industries in the region.
Visiting Bhaktapur is like stepping back in time, with its largely preserved ancient traditions, frequent colourful festivals and a meticulously restored cityscape. Visitors to this magnificent ancient city are required to pay a fairly steep entry fee, after which it's possible to stay in the city for up to a week.
Transport:
Bus (45 minutes) or taxi from Kathmandu.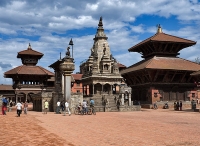 Bhaktapur Alexander Shafir
Patan
Officially called Lalitpur Metropolitan City, Patan is one of the three royal cities in the Kathmandu Valley. It has a rich cultural heritage and is known for its fine crafts, evident in the elaborate architecture, stone carvings, and metal statues found all over the city.
Patan is actually one of the biggest cities in Nepal, with historic attractions mostly located near Durbar Square and best explored on foot. Patan Durbar Square is a good place to see beautiful examples of palaces, temples, and shrines, and stunning stone carvings of the Sundari Courtyards.
The entire city of Patan was designated a UNESCO World Heritage Site in 1979 and is a centre of both Buddhist and Hindu culture in Nepal. Patan is home to more than 1,200 monuments, so tourists are spoiled for choice.
One of the most stunning sites is the Krishna Mandir, a stone temple with magnificent friezes built in the 16th century. Other amazing temples include the Mahaboudha Temple, the Rudravarna Mahavihar, the Machchhendranath Temple, the Golden Temple, and the Kumbheshwar Temple. The Patan Museum is also a very popular tourist attraction.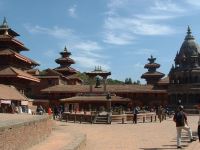 Patan Kit Hartford
Changu Narayan Temple
Dedicated to the Hindu god Vishnu, Changu Narayan Temple sits on a ridge overlooking the Kathmandu Valley. Believed to be 1,600 years old, it's one of the oldest and most impressive examples of pagoda architecture in Nepal.
The complex is a UNESCO World Heritage Site known for its incredible woodcarvings, metal inscriptions, and stone statues adorning the courtyard, all dating from between the 5th and 13th centuries. The complex is located on a high hilltop and surrounded by a forest and a small village called Changu.
The views from the top are spectacular on a clear day and there are various shrines and sculptures in the extensive temple grounds, as well as vendors and artisans who offer comparatively well-priced and crafted souvenirs.
The temple is a deservedly popular attraction but its location just outside of the city ensures it's not too crowded. There is an information centre at the entrance to Changu where tickets are issued and information about the temple and wider area is available. Those wanting refreshments will find a number of cafes and restaurants near the temple.
Address:
Nine miles (15km) from Kathmandu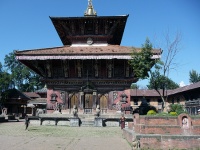 Changu Narayan Temple lavenderstreak