A laidback, friendly, and comparatively very safe touristdestination in East Africa, Mozambique offers visitors numerousthings to see and do. Perhaps most popular are the dozens ofstunning tropical beaches that are perfect for just lazing aroundon.
For beach holidays, Mozambique is arguably the best destinationin Africa. It's widely lauded as one of the best destinations inthe world for scuba diving and game fishing, and its colourful andwell-preserved coral reefs and clear warm waters attract plenty ofsnorkelers and honeymooners.
See the enormous sand dunes and freshwater lakes of BazarutoIsland or visit Benguerra Island's forests and wetlands. Historyenthusiasts will enjoy the historic lighthouse on Inhaca Island anda number of UNESCO-listed cultural attractions.
Known mainly for its beach resorts and ocean activities, otherattractions include Africa's second largest artificial lake, CahoraBassa, and Gorongosa National Park. The north of the country offerssome amazing wilderness areas.
Go horse riding on the beach in Vilanculos, or scuba diving inits turquoise waters, and take a trip on a Pemba Bay dhow. Pontad'Ouro, in the south, is good for swimming with dolphins, orsurfing one of the most perfect waves in the world.
Bazaruto Island
The largest island in the archipelago, BazarutoIsland is about 23 miles (37km) long and four miles (7km) wide,surrounded by magnificent stretches of white sand. Enormous sanddunes comprise the eastern strip, while the interior contains largefreshwater lakes inhabited by crocodiles and frequented by a widevariety of water birds, including flamingos.
On the northern tip of the island is a lighthousebuilt by the Portuguese over 100 years ago, which signals to thelarge number of ships travelling the historic Mozambique Channeland affords spectacular views from its tower.
World famous for its large game fishing, Bazaruto isa popular diving destination with a rich variety of marine lifesurrounding the island. The Bazaruto Marine National Park offerscoral reefs, crystal-clear waters, and diverse underwater life.
Reef sharks, dolphins, manta rays, and turtles areregular visitors to these waters, and the turtles lay their eggs onthe beaches of the island. Humpback whales can be found betweenAugust and October, and whale sharks between April and July.
Tourist facilities, upmarket lodges, and exclusiveresorts dot the island and most gear themselves towards luxurytourism. Bazaruto is accessible by boat or plane fromVilanculos.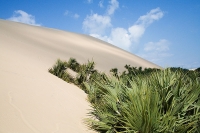 Bazaruto Island Julien Lagarde
Benguerra Island
Benguerra is the second largest island of theBazaruto Archipelago, less than half a mile (1km) south ofBazaruto. Like its neighbour, Benguerra boasts stunning beaches,large sand dunes, and freshwater lakes.
Its forest and wetland areas attract a huge varietyof birds and animals, while its surrounding reefs offer some of thebest diving and snorkelling opportunities on the African continent.Two-mile Reef is to the east of Benguerra.
Its protected lagoon, known aptly as the Aquarium,vis an underwater paradise with beautiful corals and a wealth oftropical fish, popular with both divers and snorkelers. People willfind the famous Pansy shells along the sandbanks to the north ofthe island.
Most visitors go to Benguerra for the big gamefishing as its deep waters teem with the likes of marlin andbarracuda. The area is world-renowned as a sport fishingdestination and is accessible by boat or plane from Vilanculos.Happily, there's plenty of accommodation on the island.
Tourist facilities are good, with a number ofupmarket lodges and exclusive resorts geared towards luxurytourism. Benguerra is a popular honeymoon destination and remainsan unspoiled natural paradise, fast becoming one of the best luxurybeach destination in Africa.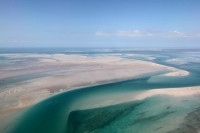 Bazaruto Archipelago Richard Moross
Central Market
The Central Market spills out of a beautiful yetcharmingly shabby old building. It's a hub of activity offering allkinds of goods, from fruit and vegetables, a variety of seafood,and household items, to handicrafts, basketware, and carvings.
This is a market designed to serve local needs andnot tourists, making it an authentic experience and a goodopportunity to see how the people in Maputo shop and what they eat.Although it's primarily a food market, one can find manyinteresting souvenirs and trinkets.
Vendors are ready to haggle, and you can oftennegotiate yourself big discounts, though knowing a littlePortuguese will be a help. Bear in mind that the merchants willusually charge foreigners exorbitant prices, so don't be afraid towalk away and compare prices elsewhere.
It's also a good idea to have small change ready.Unfortunately, the market is a haven for pickpockets and thieves,so visitors should be very vigilant about their surroundings andconceal all valuables from view.
Address:
Av. 25 de Setembro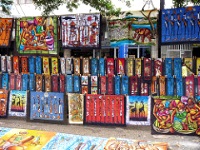 Central Market Cordelia Persen
Polana Hotel
The Polana Serena Hotel boasts one of the city's mostdesirable addresses overlooking the bay. The historic hotel is amajestic building, evoking the style and sophistication of timesgone by with its gardens, Victorian lift, and five-star luxury.
Built in 1922, the Polana is widely considered to beone of Africa's finest old luxury hotels. If you are looking tosplurge while visiting Maputo, the Polana Serena Hotel is your bestbet. It's centrally located and close to many of the city's mostpopular tourist attractions.
There are three restaurants at the hotel: the VarandaRestaurant, which is open all day; the Delagoa fine-dining Frenchrestaurant; and the Aquarius sushi restaurant. There's also astunning outdoor pool area surrounded by tropical gardens, as wellas a casino, a spa, and other luxury features.
A sunset drink in one of its cocktail bars is a mustfor those passing visitors not tempted to splash out on anextravagant stay. At the very least, it is worth asking permissionto stroll around the gardens and see the view.
Address:
Av. Julius Nyerere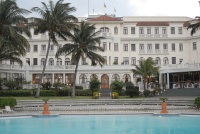 Polana Hotel F Mira
Cahora Bassa Lake
Situated in the Tete Province of Mozambique, CahoraBassa is one of Africa's largest artificial lakes. One of threemajor dams on the Zambezi river system, along with Kariba andItezhi-Tezhi, it powers the largest hydroelectric scheme insouthern Africa.
Songo is the nearest town, established in 1969 tohouse workers for the construction of the dam. There is a number oflodges and camps where tourists can stay, including Ugezi TigerLodge which has an à la carte restaurant and a campsite withfloodlights and security.
Fishing is the dam's biggest drawcard and fishingtrips are very popular, as the vast stretch of water contains ahuge variety of fish, including tigerfish, sharptooth catfish,vundu, bream, longfin eels, and Zambezi parrotfish.
Other attractions in the area include boat cruisesand waterskiing. The lake and surrounding landscapes are verypicturesque, replete with lush vegetation, dramatic mountainscenery, and a large population of hippos.
Majestic baobab trees grow on the southern shores, while thearea's rich birdlife will enthral bird enthusiasts. Sunset cruisesand boat tours down the beautiful gorges of the dam are a must fortravellers in the region.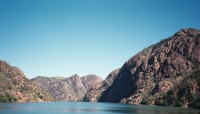 Cahora Bassa Hydroelectric Dam EmjayE2/Magnus Manske
Gorongosa National Park
Often referred to as the 'place where Noah parked hisark', Gorongosa National Park was a popular tourist destination forthe rich and famous back in the 1960s. During this time, theregion's abundant wildlife attracted stars like John Wayne, JoanCrawford, and Gregory Peck.
The subsequent years of war and poaching decimatedthe wildlife count, with programmes implemented to restore the parkto its previous star status as one of the richest wildlife refugeson the planet.
Dominated by savanna and grassland, Gorongosa has avariety of terrain. Along with woodland and impressive limestonesgorges, with lush rainforest covering the slopes. The park nowincludes the verdant Mount Gorongosa, source of the life-sustainingrivers that traverse the reserve.
The mountain is sacred and features prominently intraditional folklore. Even after 17 years of civil war andextensive poaching, the Gorongosa National Park still supportsastounding biodiversity and wondrous beauty.
Experts have documented 398 bird species, 122mammals, 34 reptiles, and 43 amphibians. Comfortable lodgings areavailable for visitors, and game viewing highlights includeelephants, buffalo, lions, crocodiles, and zebra.
Transport:
There are traversable roads to the park from both Beiraand Maputo, but it is advisable to make this trip in a 4x4vehicle.
Opening time:
Park is closed between mid-December andmid-April.
Buffalo are being reintroduced to thepark PaulRae
Ilha de Mozambique
Ilha de Mozambique is an island in the Nampula Province ofnorthern Mozambique, up the coast from Beira. Home to a fascinatingheritage, it was an ancient trading port and the capital for nearlyfour centuries while under Portuguese rule before the move toLourenco Marques, now Maputo.
Now a UNESCO World Heritage Site, the Island of Mozambique is anexquisite mix of Portuguese and Muslim architecture. These divideold Stone Town in the north and Reed Town in the south. There's agreat museum found inside the Palacio Govierno, a big red buildingin Stone Town.
Also worth seeing is the fort at the eastern tip of the island,home to the Chapel of Nossa Senhora de Baluarte. It is possibly theoldest surviving European building in the southern hemisphere,dating back to 1522.
On a beach on the northern end of the island, there is a divecentre where visitors can take boat trips or just laze on the sand.The more adventurous should travel by dhow to Chaga or Mossuril onthe mainland to explore the coast.
Requilias and Escondidino are two popular restaurants in StoneTown, and there are a number of local places serving fish and rice,or chima. One of the best options for accommodation is the campsiteon the mainland, next to the bridge.
Transport:
The tiny island is accessible via a bridge from themainland. Because of its size, visitors wont have any troublewalking around the island; its a 20-minute walk from end to end,and Gabriels has bicycles for hire.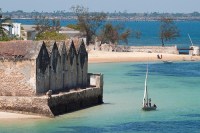 Ilha de Mozambique Stig Nygaard
Vilanculos
Vilanculos is a popular tourist destination and thegateway to the Bazaruto Archipelago, a group of islandsincorporated into Mozambique's stunning underwater national park.Visitors on day trips from the town are encouraged to go scubadiving and snorkelling in the clear waters.
There's also the chance to go horse riding along theunspoiled beaches of the Vilanculos coast. Sailing around thearchipelago in a traditional dhow is a great way to enjoy the azureocean waves, sandy beaches, palm trees, and coral reefs of theislands.
Vilanculos is also a great fishing area, ranked asthe best black marlin destination in the eastern Indian Ocean. Theregion is best explored on foot, offering a number of goodrestaurants, a few bars and shops, and a central market in thevillage of Vilankulo.
Although it has been experiencing a tourism boom andhas decent amenities and great accommodation options, it hasretained its local flavour. There is even a new internationalairport on the outskirts of town, with flights to both Johannesburgand Maputo.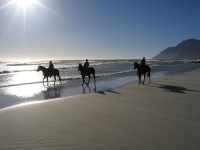 Enjoy horseriding on the beach inVilanculos graemenewcomb
Tofo Beach
Tofo Beach is in the Inhambane Province ofMozambique. It has certainly become a hotspot for young travellers,with beautiful stretches of beach, a friendly laidback atmosphere,an entertaining nightlife, and great diving and snorkellingsites.
Restaurants in Tofo mostly specialise in seafood andpiri-piri spiced dishes. Casa Barry has good seafood and views,while Bamboozled offers all-you-can-eat buffets. There's also anumber of beach bars and a bustling nightlife, with Fatima's Nestand Dino's Bar and Grill drawing big crowds.
Those looking to get away from the throngs oftourists can find local taverns on the edge of town. Tofo, easilyexplored on foot, also has a market in the centre of town, and youcan buy local art on the beachfront. However, those looking forauthentic culture and history may be disappointed.
The main draw of Tofo is the natural beauty, withpristine beaches perfect for swimming, diving, and water sports.There's amazing scuba diving at popular sites like Manta Reef, andthe chance to spot humpback whales, reef sharks, and whale sharks.Beware of jellyfish though, as the giant Portuguese man o' warfloat through in swarms.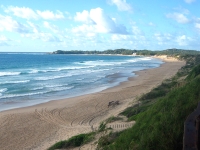 Tofo Beach Erik Cleves Kristensen
Quirimbas Islands
Soon to be listed as a UNESCO World Heritage Site,the Quirimbas Islands are fast becoming Mozambique's new touristhotspot. This chain chain consists 31 islands in total, stretchingsouth from Cape Delgado for 200 miles (320km).
Home not only to some fantastic sun-beaches, fishingopportunities, and world-class snorkelling and diving sites, italso offers truly fascinating cultural sites. Easily accessed fromPemba, the Quirimbas Islands should be the first destinations onany tourist's Mozambique travel itinerary.
Visitors can explore the historic Stone Town on IboIsland, or the mangrove-fringed Quirimbas National Park. There'salso the opportunity to go diving from one of the 1,300-foot (400m)drop-off sites sprinkled around the archipelago.
The Quirimbas National Park makes a wonderfulhoneymoon destination, whether one chooses a wooden chalet on theresort island of Medjumbe or a villa on the ultra-exclusive VamiziIsland. Exotic and beautiful, the Quirimbas Islands are a beachholiday sure to rival any in the world.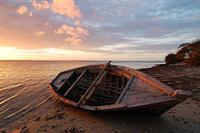 Quirimbas Islands Rosino
Jardim Tunduru Botanical Gardens
Located in downtown Maputo, the Jardim Tunduru Botanical Gardensoffers a welcome shady retreat on steamy tropical days. The gardenswere designed in 1885 by Thomas Honney, who in his career alsodesigned gardens for the King of Greece and the Sultan ofTurkey.
Although still beautiful and exquisitely laid, the gardens arenot as well-maintained as one might like and are a littleovergrown. But they are still a worthwhile stop on a walking tourof the city and a great place to enjoy a picnic or a stroll.
The Jardim Tunduru Gardens also feature tennis courts, agreenhouse, several wonderful old trees, colourful tropical flora,and a statue at the entrance of Mozambique's famous firstpresident, Samora Machel.
The gardens are centrally located and situated close to a numberof other attractions in Maputo, with several restaurants in andaround them. They're open daily and admission is free. Homelesspeople sometimes sleep in the grounds at night and it's quitedangerous after dark.
Jardim Tunduru Botanical Gardens James and Alex BonTempo
Niassa Game Reserve
Spanning an area of some 24,000 square kilometres (10million acres), the Niassa Game Reserve is the largest protectedarea in Mozabique. It's one of the most pristine wilderness regionsin the whole of Africa.
Roughly the size of Denmark, the Niassa Reserve istwice the size of South Africa's famed Kruger National Park andboasts an abundance of wildlife, including varied birdlife, andabsolutely stunning natural scenery.
The park is special because it's essentially awilderness area and is relatively unexplored. Visitors to theNiassa Game Reserve are spellbound by the changing landscape,ranging from mountain forests to miombo woodlands and savannagrasslands.
This is not to mention the high concentration of wildanimals, including something like 13,000 elephants, 200 endangeredwild dogs, lions, leopards, and a huge assortment of birds. Giantrock formations, of which Mecula Mountain is the largest, areanother exciting feature of the park.
Tourists usually visit between April and October, theprime season for game viewing. The best places to stay in theNiassa Reserve is definitely the world-class Lugenda WildernessCamp, which offers comfortable lodgings, game drives, hikingtrails, rock climbing, and stargazing opportunities.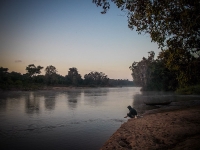 Lugenda River inside Niassa Reserve TimCowley
Beira
Situated in the central region of Sofala Province,Beira is the second largest city in Mozambique. It is home to thePort of Beira, acting as a gateway for the central interior portionof the country and the landlocked nations of Zimbabwe, Zambia, andMalawi.
The Portuguese Mozambique Company originallyestablished Beira in the late 19th century, with the Portuguesecolonial government developing it further from 1947 until 1975.After gaining independence, Beira still sports aspects of colonialarchitecture but has deteriorated in some areas.
Beira has a few interesting sights, including theCathedral of Beira and the Fort of San Gaetano. Many of the shops,restaurants, and facilities in Beira cluster around the Praça doMunicípio and Praça do Metical squares in the centre of town.
There are some charming houses along the Ponta Gêaand the port, including the Casa Infante de Sagres. Macuti Beach,with its iconic lighthouse, is easily the most fashionable part ofBeira, though many parts are in need of repair. Savanna Beach is 16miles (25km) out of town and you have to take a little boat acrossto the beach.
The water is cleaner than in Beira and it's a greatspot for fishing. About 8 miles (12km) out of Beira, between Macutiand the airport, Rio Maria is set between the sea and a lovelyriver. There are no facilities there but it is a very relaxingspot.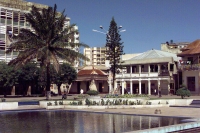 Beira Atamari
The climate of Mozambique is typically tropicalbetween October and March, with a wet season during the longsummer, and a dry season in the winter, from April to September.There is little variation of temperatures between the seasons.
Differences in climate are dependent mainly onaltitude. The wet season brings the heaviest rain along the coast,and cyclones occur during this period. Mozambique's climate variesin different regions of the country. But generally, the inlandareas are slightly cooler and more humid than the coastal areasduring the rainy season.
Rainfall is usually heaviest between December andMarch. The southern parts of the country are drier and lesstropical than the north, with temperatures along the coastaveraging 80ºF (27ºC) during winter. The rainy season can getswelteringly hot and humid with average coastal temperatures of88ºF (31ºC).
The best time to visit Mozambique is in the cooler,dry winter season between April and September, when it's sunny andthe water is still pleasantly warm. The country is also a popularNew Year's destination, particularly for South Africans, but thosetravelling in December and January should be prepared for rain.
Money:
The official currency is the Mozambican Metical (MZN), which isdivided into 100 centavos. In the southern parts of the country,South African Rands, US Dollars, and Pounds Sterling are often alsoaccepted to pay for accommodation. Credit cards are accepted insome upmarket hotels in Maputo, but card facilities throughout therest of the country are limited so it's advisable to carry cash.ATMs are scarce and tend to be unreliable, but local banks havebranches in most cities.
Language:
Portuguese is the official language, though over 40languages are spoken in the country. English is taught in secondaryschools, but is only spoken in the southern touristregions.
Electricity:
Electrical current is 220 volts, 50Hz. The roundedthree-pin plug is common, particularly near the border with SouthAfrica and in Maputo. Two pronged, round- and flat-pin plugs arealso found.
Entry Requirements:
US citizens must have a passport that is valid on arrival inMozambique. A visa is required.
British citizens must have a passport that is valid on arrivalin Mozambique. A visa is required.
Canadian citizens must have a passport that is valid on arrivalin Mozambique. A visa is required.
Australian citizens must have a passport that is valid onarrival in Mozambique. A visa is required.
South African citizens must have a passport that is valid for atleast 30 days after their arrival in Mozambique. No visa isrequired.
Irish citizens must have a passport that is valid on arrival inMozambique. A visa is required.
US citizens must have a passport that is valid on arrival inMozambique. A visa is required.
New Zealand citizens must have a passport that is valid onarrival in Mozambique. A visa is required.
Passport/Visa Note:Visa:
All foreign passengers to Mozambique must hold return/onwardtickets, the necessary travel documentation for their nextdestination, and proof of sufficient funds to cover their expenseswhile in the country. Until recently visitors of most nationalitiescould obtain a 30-day tourist visa on arrival in Mozambique, butvisas can now no longer be purchased at points of entry and must beorganised beforehand. Those visiting Mozambique from a countrywhere there is no Mozambican diplomatic mission should be able toget a visa on arrival but this should be confirmed in advance. Notethat a yellow fever vaccination certificate is required to enterMozambique, if arriving within six days of leaving or transitingthrough an infected area. NOTE: It is highly recommended that yourpassport has at least six months validity remaining after yourintended date of departure from your travel destination.Immigration officials often apply different rules to those statedby travel agents and official sources.
Travel Health:
Health regulations in Mozambique require visitors tohave a yellow fever certificate if travelling from infected areas.Malaria is a risk throughout the year and prophylactics arerecommended, as well as precautions against mosquitos.
Vaccinations are recommended for hepatitis A,hepatitis B, and typhoid. Visitors who will be spending a lot oftime outdoors and may be at risk of animal bites should consider arabies vaccination.
Diseases caused by unsanitary conditions are commonthroughout the country, and untreated water should be considered asunsafe to drink. Cholera and other waterborne diseases areprevalent during the rainy season.
The government has declared tuberculosis (TB) anational emergency and expects it to be a problem for the next 15years. Hospital facilities are generally poor in Mozambique, andoutside the major cities of Maputo and Beira medical facilities arelimited.
Comprehensive medical insurance is essential andvisitors should carry personal medical supplies with them. Makesure that all medication is in its original packaging andaccompanied by a signed and dated letter from a doctor, detailingwhat the medication is and why it is needed.
Tipping:
Tipping has become standard practice in Mozambique, particularlyin tourist areas where a tip of about 10 percent is expected inrestaurants.
Safety Information:
Safety is not an issue for most visitors to Mozambique, buttourists should remain vigilant at all times. Violent crime is onthe increase, particularly in the major cities and tourist areas.Mugging, bag snatching, and pick-pocketing is fairly common, andvisitors are advised to be alert in public places, to keepvaluables out of sight, and to avoid walking anywhere at night. Allvisitors, especially women, should avoid walking alone on thebeach, as beaches and offshore islands are not policed, and therehave been several rapes and attacks on tourists.
Visitors are advised that it is extremely risky to wander offwell-travelled paths and roads, as a few unexploded landmines stilllie scattered about the southern parts of the country. Localinformation should be sought before going off-road outsideprovincial capitals.
Remain vigilant when driving, as traffic accidents are commondue to the poor condition of the roads, and car-jackings are on theincrease as well. Many roads can become impassable in the rainyseason (November to April), when there is also a risk of cyclones.Overland travel after dark is not recommended, and travellersshould be especially alert when driving near the Mozambique-SouthAfrican border. Police checkpoints are common, where foreigners maybe at risk of harassment. There have been many reports of policeattempting to solicit bribes, but travellers should insist on awritten citation that can be paid at a police station.
*In March 2019 the Tropical Cyclone Idai struck Mozambique,devastating critical infrastructure such as electricity,communications, and road networks. Foreign travel offices nowadvise against all but essential travel to the Provinces of Sofala,Zambezia, Manica and Tete. Visitors to the country should continueto monitor local and international weather updates and follow anyadvice given by local authorities.
Local Customs:
Identity documents should be carried at all times. Takingphotographs of public buildings is prohibited by law. Drug offencesare taken very seriously, and can receive long jail terms and heavyfines.
Business:
Largely cut off from foreign investment, Mozambiquehas only in recent years started opening up to the worldwidebusiness community. Conducting business in Mozambique can bedifficult, as many people only speak Portuguese or their own ethniclanguage.
Translators are usually found in Maputo, but remainhard to come by. Generally, business in Mozambique follows thePortuguese model in terms of etiquette: punctuality is importantand dress is usually conservative, with lightweight materialsrecommended.
Business associates should be addressed by theirprofessional titles unless otherwise stated, and meetings generallystart and end with a handshake. Men and women may shake hands, butany additional physical contact can be interpreted as romanticinterest. Business hours are usually 7.30am or 8am to 12.30pm, and2pm to 5.30pm, Monday to Friday.
Communications:
The international dialling code for Mozambique is +258. Theoutgoing code is 00 followed by the relevant country code (e.g.0027 for South Africa). City/area codes are also in use. Outgoinginternational calls, other than for South Africa, must go throughthe operator.
Mobile phone GSM 900/1800 networks provide limited coverage inand around Maputo, Beira, some coastal locations and a few otherisolated towns.
Duty Free:
Travellers to Mozambique may enter the country with thefollowing items without incurring customs duty: 200 cigarettes or250g of tobacco, perfume for personal use, and 750ml of spirits orthree standard bottles of wine. Drugs are strictly prohibited and apermit is required for firearms and ammunition.