Koutoubia Mosque
Towering over the labyrinthine streets and markets of Marrakech is the city's principal landmark, the minaret of the Koutoubia Mosque, known as the 'mosque of the booksellers' because of the bazaar of book traders that used to be nearby.
The red stone mosque was first built in 1147, but demolished and rebuilt in 1199 because it was not correctly aligned with Mecca. The mosque has 17 aisles and 112 columns, and room for thousands to pray within. The ornately carved minbar (pulpit) is believed to have been a gift from the Almoravid Sultan Ali Ben Youssef. The minaret is 221ft (69m) high and consists of six chambers one atop the other, ascended by a ramp through which the muezzin rises to the top balcony.
The mosque, as a sacred place of worship, is unfortunately closed to non-Muslims, but the gardens and the general area around it is a wonderful place for an evening stroll. The minaret is perhaps at its most beautiful when lit up at night, but is best for photographs at sunset, when the red stone glows. Hearing the call to prayer of this ancient mosque is a particularly special experience.
Opening time:
Not open to the public.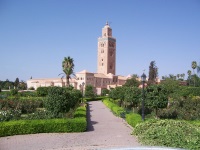 Koutoubia Mosque, Marrakech Daniel Csorfoly
Djemaa el-Fna
What it lacks in beauty, the large town square of Marrakech, Djemaa el-Fna (Square of the Dead), makes up for with a pulsating liveliness that belies its name.
Every day the square is a colourful circus of performing artists including snake charmers, musicians, storytellers and healers who vie with each other to be noticed by the milling crowds. Every evening food stalls take over and the competition is fierce among them for the passing trade, with everything from boiled snails and sheep's heads to thick vegetable soup, kebabs or fresh salads on offer. Freshly squeezed orange juice stalls stand side by side encircling the market and offer a refreshing drink both day and night.
The square is a fascinating place to be a while relaxing at of the surrounding cafes and watching the swirling parade. The square is also the gateway to the souks (bazaars) of Marrakech, tucked away in the surrounding labyrinth of narrow streets and alleys. It is easy to lose your way, but well worth exploring. Bargain for anything from water mugs and dates to famous Moroccan carpets. Mercifully, the souks are also well shaded from the searing Moroccan sun and offer respite from the heat.
Address:
Derb Chtouka, Marrakesh 40008, Morocco.
Transport:
The square is most easily accessible by foot and taxi.
Opening time:
Open 24 hours a day.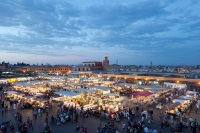 Djemaa el-Fna, Marrakech Boris Macek
Saadian Tombs
The beautiful necropolis was built by the Saadian Sultan Ahmed el Mansour in the late 16th century as a final resting place for he and his successors. The tombs were discovered in 1917 and carefully restored to their former splendour.
There are 66 indoor tombs, lavishly decorated with colourful, intricate mosaics. The central mausoleum, the Hall of the Twelve Columns, is exceptionally ornate with a high, vaulted roof, furnished with stunning carved cedar panels and columns of grey Italian marble. The tombs are spread through three rooms and there are gardens outside the building where the graves of soldiers and servants can be seen.
The Saadian Tombs are a remarkable tourist attraction but they don't require much time and can be fully appreciated in under an hour. The tombs are a stop on many sightseeing tours. Photographs are permitted inside the building, which is fantastic because the minute details and mosaics are the highlight.
Address:
Rue de la Kasbah near the city walls in the old city.
Opening time:
9am-4pm, every day.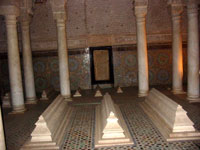 Saadian Tombs Donar Reiskoffer
Ben Youssef Madrasa
The Ben Youssef Madrassa was once an Islamic college in Marrakech named after Sultan Ali ibn Yusuf, who expanded the city considerably. This madrassa was one of the largest theological colleges in North Africa and may have housed as many as 900 students.
After being closed down in 1960, it was refurbished and reopened in 1982, an interesting attraction for the value of its educational influence, but mostly thrilling for tourists because of the stunning architecture and mosaics. The courtyards and patios are richly carved in marble, cedar and stucco, with intricate geometric patterns and Islamic inscriptions. The Ben Youssef Madrassa is often ranked as one of the best attractions of Marrakech. Visitors can explore the student study rooms and dormitories. Luckily, photography is permitted, because it is one of the most spectacular buildings in Morocco.
Although centrally located, the madrassa can be difficult to find, partly because various touts sometimes mislead tourists for reasons of their own, often trying to redirect them to family-owned stores and the like. It is better to rely on a good map and take directions from locals with a pinch of salt.
Address:
Kaat Benahid, Marrakech 40000, Morocco
Opening time:
9am-7pm (until 6pm in winter).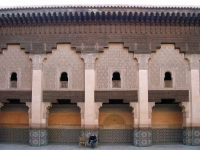 Ben Youssef Medrassa China Crisis
The Museum of Marrakech
The Museum of Marrakech is located in the Dar Menebhi Palace, built at the end of the 19th century by legendary Mehdi Menebhi, in the old centre of Marrakech. The palace was restored by the Omar Benjelloun Foundation and converted into a museum in 1997. The house itself is representative of classical Andalusian architecture, with fountains in the central courtyard, numerous carvings and beautiful tiles. The museum holds exhibits of both modern and traditional Moroccan art, as well as historical books, coins, pottery and other Berber artefacts.
The convenient location and interesting building make this a worthwhile stop even for the museum-phobic and it is one of the most popular attractions in the city; in fact, the exhibitions may not overly impress, but the intricate mosaics and other interior features should. Regrettably, for genuine art lovers, and those interested in the historical artefacts, there is little information provided in English, so the appreciation must be largely visual. There is a gift shop selling prints of some of the art and photographs on display in addition to a little café for refreshments. Photographs are permitted inside the museum.
Address:
Place Ben Youssef, Medina.
Opening time:
9am to 6:30pm daily.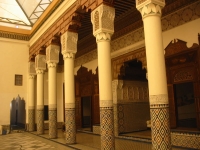 The Museum of Marrakech Donar Reiskoffer
Bab Agnaou
Bab Agnaou is one of the 19 gates of Marrakech and was built in the 12th century, in the time of the Almohad Dynasty, and stands the innermost and most ornate of the city's gates and was one of the first stone monuments built in Marrakech.
The colour of the stone seems to change drastically depending on the light, weather and time of day, and the bas-relief is sophisticated and still impressive to this day. Experts believe that the function of the gate may have been nationally symbolic, as suggested by the corner-pieces which are decorated with floral designs, framed by three panels with inscriptions from the Quran.
Bab Agnaou is also a geographically convenient sight for tourists exploring the city as it forms the entrance to the royal kasbah in southern Marrakech. The kasbah, built by the Almohad sultan Yaqub al-Mansour, is home to the El Mansouria Mosque, the El Badi Palace and the Saadian Tombs, all magnificent tourist attractions, making this a part of the city that seldom goes unexplored for visitors. Of all Marrakech's gates Bab Agnaou is generally acknowledged as the most picturesque and it is included in almost all the walking and sightseeing tours of the area.
Address:
Entrance to the medina (ancient Moorish quarter) on Route dOurika.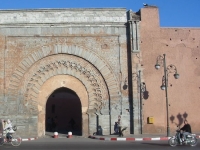 Bab Agnaou Donar Reiskoffer
Majorelle Garden
The Majorelle Garden is a botanical garden designed by the French artist, Jacques Majorelle, in 1924. Previous owners have included Pierre Bergé and Yves Saint-Laurent (whose ashes were scattered there when he died in 2008). The garden is also home to the Islamic Art Museum of Marrakech, which houses an exhibit of North African textiles from Saint-Laurent's personal collection, and paintings by Majorelle.
The garden is home to more than 15 bird species endemic to North Africa, and full of ponds and water features. The garden took 40 years to create. It is one of the most popular tourist sites in Morocco and a must for all visitors. The villa in the centre of the garden, which houses the museum, is a stunning blue, accented with other bright colours, a mixture of classic Moroccan features and art deco creativity. This is a particularly good attraction for a hot day as the gardens are shaded and always seem much cooler than the rest of the city. There is a lovely café in a shaded courtyard for refreshments and a gift shop selling YSL products, among other things. Although the gardens can be explored quickly in under an hour, this is a place best enjoyed for at least a few hours.
Address:
Rue Yves Saint Laurent، Marrakesh 40090, Morocco
Opening time:
Opening times vary according to season: October to April, 8am to 5:30pm; May to September, 8am to 6pm; and during Ramadan, 9am to 5pm.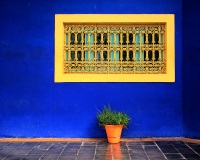 Majorelle Garden, Morocco Bjorn Christian Torrissen
Souks
Marrakech is home to a labyrinth of bustling (workshops and markets) offering the city's most fascinating wares. Whether shopping or simply exploring, they are a must for any visitor.
At the northern end of the souks, best accessed from the Ben Youssef Mosque, there are blacksmiths making wrought-iron goods and the distinct odour of leather workshops wafts down the alleys. The stalls emerge further south and are met by the Rahba Kedima, a market famous for its bizarre offerings of animals and eccentric potions for spells. The market is colourful and crowded with plenty of fodder for keen photographers.
Moreover, there are real bargains to be found if you haggle hard: the first price given will invariably be more than double what would be a fair price as the merchants expect customers to bargain. The souks are a wonderful experience and many foreigners visit repeatedly during their stay, but although guides are absolutely not necessary in the market, it is advisable to stay vigilant and keep an eye out for pickpockets.
Transport:
The souks are best explored on foot.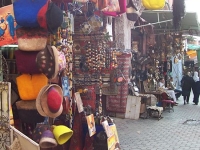 Marrakech Souks Neil Jones
El Badi Palace
The ('the incomparable palace') consists of the remnants of a glorious palace built by the Saadian King Ahmad al-Mansur, in 1578. The original building is thought to have had about 360 rooms, a courtyard and a pool, and was decorated with Italian marble and large amounts of Sudanese gold. It also had a small, underground jail where the king kept his prisoners. The design of the palace was influenced by Granada's Alhambra, but the original palace was torn apart by Sultan Mawlay Ismail.
Today, the once luxurious palace is a ruin consisting of some intact rooms and numerous walls, terraces, gardens and foundations. The underground jail can still be explored and there are a number of beautiful mosaics surviving, but visitors have to use some imagination to conjure up the onetime grandeur of the place. The ruins still retain some their romance, but very little effort has gone into maintaining or preserving the site. Despite the ramshackle nature of the attraction anybody with an interest in history and archaeological sites should enjoy exploring the site. There is little or no shade so travellers should go prepared for the sun and should avoid the hottest part of the day. There is a small admission fee.
Address:
Ksibat Nhass, Marrakesh, Morocco.
Transport:
Like much of Marrakech, a short walk or shorter taxi ride are the most convenient options.
Opening time:
8am-5pm every day.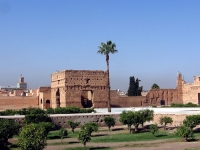 El Badi Palace Oliver Mallich
Marrakech may not be the first place that comes to mind when one thinks of ideal holiday destinations for children, but for travellers taking their kids abroad, Marrakech offers a uniquely exotic, eye-opening experience that the little ones will never forget.
Travellers can start with a hop-on hop-off bus tour to discover the sights, sounds and smells of this bustling Moroccan city, and tell the children exciting stories about the sights along the way, including Theatre Royal, Palais des Congres and Les Jardins Majorelle. If they can't stand the heat, take them to Oasiria Water Park to cool off in one of the children's lagoons, ride on the pirate ship, or splash around in the wave pool - just don't forget sunscreen! The Majorelle Botanical Gardens provide plenty of space for the kids to run around and make an ideal picnic location for the whole family. In a similar vein, the Olive Grove of Mariah, about an hour from Marrakech, is home to a gigantic swimming pool, gardens and even a restaurant.
During the winter months (late November to March), when heavy downpours can occur, make use of the French Institute of Marrakech's cultural activities programme, which includes everything from circus shows to films, and storytelling fit for children of all ages.
The weather in Marrakech is sunny nearly all year round, with pleasantly warm, dry summers and mild, slightly damp winters. The climate in Marrakech is hot, semi-arid, and often typically Mediterranean. Despite the proximity of the formidable Sahara Desert, Marrakech does not have a desert climate. The average temperatures range from 54°F (12°C) in the winter, to 84°F (29°C) in the summer.
The hottest months of the year are July, August and September, when temperatures can reach 100°F (38°C); however Marrakech's humidity is low, making temperatures are generally bearable. Winter can bring heavy downpours of rain, which leave the streets of the old town very muddy, and winter nights can be cold, but those visiting the city at this time should still get plenty of sun and will be rewarded by seeing the Atlas Mountains at their most beautiful when they are capped with white snow.
Marrakech is a year-round destination but spring (March, April, May) and autumn (October, November) are considered by many to be the best seasons in the city as it is warm and sunny but not swelteringly hot. Many foreigners prefer to avoid Ramadan as some shops and restaurants close and one has to be more careful about public behaviour.
A melting pot of cultures, to say that Moroccan cuisine is eclectic and exciting is an understatement and anyone eating out in Marrakech will learn this fairly quickly. An exotic mix of Arab, Middle Eastern, Mediterranean and African influences, dining in Marrakech is an unforgettable experience.
Spices are a major part of Moroccan cuisine with cumin, cinnamon, ginger, turmeric, pepper, coriander and saffron being the most commonly used. One cannot eat out in Marrakech without sampling a , a traditional lamb or chicken stew, which has been slowly braised in a clay pot resulting in delicately tender meat and an intensely aromatic flavour. Some of the most popular dishes include soup, couscous, (fried phyllo pastry with cream) and (phyllo-pastry pie with pigeon, egg and almonds).
Visitors can sample street-side barbeques or splash out at upmarket restaurants throughout the city, where palatial-style eateries can be found as well as top-class French, Asian and Italian restaurants. For a truly authentic experience, head to the Medina at sunset and watch as over 100 kitchens and stalls specialising in different dishes are set up in Djemaa el-Fna Square to become one of the world's largest open-air eateries.
Cantanzaro
One of Marrakech's most popular eateries with foreigners, this simply furnished Italian restaurant and pizzeria has a wood-burning oven in an open kitchen, filling the air with delicious Italian aromas. Order a Royal pizza, topped with ground beef, prawns, mushrooms and ham; or try pasta in a creamy tomato and vodka sauce, and feel truly aristocratic as a bow-tied waiter caters to your every wish. Save room for the excellent tiramisu, or perhaps the home-style apple crumble? Cantanzano is open Monday to Saturday for lunch and dinner (12pm to 2.30pm, and from 7.15pm to 11pm); reservations are recommended and they do serve alcohol.
Address:
42 Tarik Bnou Ziyad
Cafe du Livre
This bookstore-cum-restaurant offers velvet chairs and comfortable loungers; a few strategically placed armchairs entice readers to sit down with coffee and cake, accompanied by free wifi for those who need to stay connected. An open kitchen serves salads, soups, sandwiches and burgers, or mushroom risotto and freshly baked cakes. Indulge in brunch-style breakfasts or an afternoon high tea with complimentary brownies. The tapas plates of hummus, tapenade, aubergine d'caviar and pâté are also good. Open Monday to Saturday, 9:30am to 9pm. Café du livre also serves alcohol.
Address:
44 Rue Tarik ibn Ziad
Dar Moha
This restored riad is a wonderful venue for a romantic dinner. The back garden is the best place to eat, its walls decorated in Majorelle Garden blue and encircling a central swimming pool. Candle-lit tables and rose petals accompany a set menu of nouvelle Moroccan cuisine; familiar meals with a fresh twist. Try the beef tagine with figs and walnuts, cooked with cinnamon and argan oil. Lively yet subtle Gnaoua and Andalusian music completes the ambient scene. Open Tuesday to Sunday 12pm to 3pm, 7:30pm to 11pm. Visitors should make reservations and alcohol is served.
Address:
81 Rue Dar el Bacha
Cafe des Epices
Café des Épices is great for people-watching and the owner obligingly dishes out tasty sandwiches, salads, pastries along with helpful information. Spiced teas and coffees round it all off tastefully on the rooftop terrace at sunset, whil the first floor's chill-out lounge has become a popular spot for local youngsters. The atmosphere is new world, with music to match. Open daily, 8am to 8pm.
Address:
Place Rahba Qedima, Medina
Menara International Airport
Location:
The airport is situated four miles (6km) south-west of Marrakech.
Transfer Between Terminals:
The terminals are within walking distance of each other.
Getting to the city:
There is a shuttle bus (No. 19) running from the airport every hour between roughly 6am and 12.25am, and to the airport between 6am and 11.40pm. It goes via Hivernage, Jemaa El Fna, Bab Doukkala, Gueliz, ONCF Station.
'Petit' taxis are available at Parking Lot 1, and the fare should be about MAD 80 to MAD 100, with a 50 percent increase at night. Larger taxis are available at increased rates.
Car Rental:
There are a few car rental companies with offices in Marrakech-Menara, including Sixt, National, Hertz, Avis, Europcar, ADA and a few other local companies. However, driving in Marrakech is a bit of an extreme sport with aggressive drivers and little parking.
Airport Taxis:
Taxis that will take passengers to the city centre are available just outside the terminal. A sign shows the advised payment which is usually down from USD 17 and generally more expensive at night. Fares should determined before transport and the ride should be between 15 and 20 minutes.
Fascilities:
Money and communications: There are ATMs, banks and currency exchange facilities available.
Luggage: Lost luggage queries are handled by individual airlines. Conference and business: There isn't much in the way of conference and business facilities in the airport, but nearby hotels have good options. Other facilities: There are handicapped facilities, as well as shops and restaurants in the airport.
Wi-fi: There is no wi-fi available at the airport, although several hotels nearby do have free wi-fi.
Information: There is an information desk in the airport, however it is often left unattended.
Shopping: There is duty-free shopping at the airport with the usual selection of alcohol, tobacco and perfume. There are also a few craft and souvenir stores, and a Lacoste shop in Terminal 1.
Food and Drink: The airport has a few cafés, and a Moroccan pastry shop in Terminal 2.
Parking
Daily and hourly parking is available at Marrakech-Menara International Airport, for a fee.
Marathon des Sables
Often known simply as the MdS, the week-long Sand Marathon takes place in the gruelling conditions of the Moroccan desert. Sandstorms and relentless heat are the major obstacles facing competitors. The race is 155 miles (250km) of craggy, sandswept terrain and competitors from around the world participate in the charity event that benefits the infrastructure of the region.
It is a multistage adventure race through the formidable Sahara Desert, made more difficult by the fact that all competitors must carry whatever they need to survive (apart from water and a tent, which will be provided). Only the fittest and most prepared are advised to enter, owing to the extreme nature of the race.
In fact, the Marathon des Sables has been ranked by the Discovery Channel as the toughest footrace on earth and is said to be the equivalent of five and a half marathons. Completing the race is a huge achievement and the desert landscapes are said to richly reward the effort. It is possible to enter as an individual or as a team. It is not the easiest race to watch for obvious reasons, but spectators and supporters do gather at certain landmarks.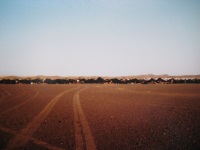 Marathon Des Sables camp, Morocco James Heilman, MD
Montreux Jazz Festival Morocco
Celebrated in the stunning setting of La Ménara and the Bahia Palace in Marrakech, the Moroccan version of the Montreux Jazz Festival combines all the memorable elements of this classic event. Workshops, acoustic concerts and the famous Montreux Jazz Club are all prepared to entertain casual visitors and jazz lovers alike.
The original event is held on the eastern shore of beautiful Lake Geneva in Switzerland and attracts around 200,000 people each year. Specialising in jazz, blues, rock and pop, the festival provides groove-busting beats that make you want to move your body or just listen in musical awe. The Montreux Jazz Festival has hosted the likes of Stan Getz, Nina Simone, Ella Fitzgerald, Charlie Mingus, and Dexter Gordon since its inception in 1967, and every year leading artists in their respective genres are showcased. Pop and rock icons like Sting, Leonard Cohen and Prince have also performed, proving that you don't need to be a jazz fanatic to enjoy this amazing festival.
The Moroccan event is not yet as big and famous as the flagship festival but it is steadily growing in popularity and prestige and attracts many international visitors. See the official website below for details.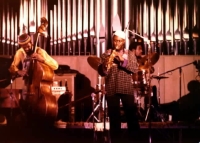 Jazz musicians Einar Einarsson Kvaran
Morocco is not renowned for a glitzy or exciting nightlife, but Marrakech is something of an exception, offering visitors some captivating experiences after sunset. Nightlife in Marrakech is a unique combination of sophistication and tradition, offering everything from local storytellers and dancers to international festivals, lounges, bars and energetic dance clubs. Flyers and posters around town advertise upcoming events and venues, and it isn't difficult to find something entertaining to do at night.
The best of Moroccan entertainment can be experienced at Djemaa el Fna square, where local musicians, storytellers and dancers entertain visitors into the night. The square is truly the heart of Marrakech and an entertainment hub for tourists. This traditional night-time entertainment is really the best nightlife option in the city, but there is a bar and night club scene. Travellers should bear in mind that in Morocco locals refer to night clubs as 'discos' and to cabaret venues as 'clubs', which are often great fun! The best areas to find bars and dance clubs are the districts of Gueliz and Hivernage, particularly along Avenue Mohammed V.
Morocco is an Islamic country and alcohol is not always available in restaurants and entertainment venues, although the attitude towards alcohol is somewhat laid-back in Marrakech in comparison to the rest of the country. The exception to this is the month of Ramadan, when foreigners need to exercise restraint and should only drink in hotels. The hotel bars and restaurants in more tourist-centric areas of the city can usually be relied upon to serve alcohol.
Some of the best parts of Marrakech, and certainly those of most interest to tourists, are best explored on foot. The city consists of the Medina (old town) and the Ville Nouvelle (new city), approximately four kilometres apart. Beige-coloured petits taxis are cheap, with metered fares, and provide a good form of transportation between the two destinations if it is too hot to walk. However, many travellers opt to find accommodation in the old city and seldom leave this area. Taxis can be hailed on the streets and it is best to check that the meter is working and turned on before departing. Alterntively, travellers should agree upon a fare before setting off.
Public buses are a bit of a free-for-all and can become unbearably hot, but they are cheap, frequent and cover the entire city. Driving in the city of Marrakech is difficult unless you know your way around and is not recommended, considering the narrow alleyways of the central urban medina area, and the heavy traffic of various vehicles, pedestrians and animals. If travellers choose to hire vehicles - and there are many rental companies available - they would do well to use them for excursions out of the city, and keep them safe in hotel parking lots while sightseeing in Marrakech on foot. The coach bus stations are situated in the new city and cover routes between Morocco's major cities and towns. Mercedes Benz sedans are called grands taxis and are another alternative for getting to neighbouring towns.
The most recent addition to Marrakech is the extensive tram network which is helping to thoroughly modernise transportation in the city.
With a rich and diverse cultural history and enough smells, tastes and colours to spark just about any traveller's interest, tourist attractions in Marrakech are second-to-none and it will take visitors a while to explore all that this enchanting city has to offer. With its ochre sandstone buildings, Marrakech (known as 'The Red City') is redolent of romance, exoticism and beauty.
Head to the Djemaa el-Fna Square where Berber merchants, travelling peddlers and entertainers such as snake charmers, musicians, fire-eaters and fortune-tellers can be found - a truly unforgettable cultural experience which can feel at times like a free carnival-show. History buffs will enjoy the countless monuments to be seen and should not miss out on the Saadien Tombs, Koutoubia Mosque, El Badii Palace and the breathtaking fountains of Echrab ou Chouf and Mouassine. The Majorelle Gardens are a botanical masterpiece, having been touched by the hands of Yves Saint-Laurent and Pierre Bergé, and are one of Marrakech's top tourist sights. Hop-on hop-off bus tours around Marrakech are readily available, and travellers will not be disappointed by the incredible array of attractions available for them to explore.
Marrakech is a genuinely intriguing city which invites days of sightseeing, but travellers should come prepared for some unwelcome pressure from the many touts, merchants and unofficial tour guides that throng foreigners. People in the street may misdirect tourists asking for directions into family-owned stores, and women travelling alone may encounter some unwanted attention.
Oukaimeden
A ski resort in the desert! Thick snow envelops the Jebal Oukaimeden mountain peak during the winter months (usually January and February), just a 46 mile (74km) drive from Marrakech. The town of Oukaimeden, which can be reached by taxi or car, is well-equipped with the basics for skiers, with restaurants, ski equipment to rent, comfortable hotels set in lush greenery and backed by blue mountains, as well as ski schools for beginners.
Skiers can ascend the mountain by donkey or camel, but there are also some modern ski lifts. Five ski runs traverse down from the dizzying heights of Jebel Attar and there are nursery slopes and some intermediate runs. The ski equipment for rent can be somewhat outdated and visitors should be wary of renting from unofficial shops. At the top of the chair lift young men typically vie for jobs as guides down the mountain and many visitors choose to hire them for at least one run because the routes are difficult to discern.
Oukaimeden is one of the best ski resorts on the African continent, although of course there is not much competition. The resort is tiny and the facilities very basic compared to European equivalents, but there is a lot of fun to be had at Oukaimeden. The resort is notably Moroccan in style and this gives it an eccentric feel for those used to European ski resorts. A lot of development is due to begin at Oukaimeden, which will no doubt make it more typical, and more convenient.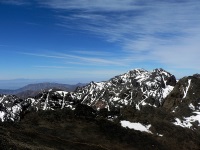 The Atlas Mountains, Morocco Kobersky
Ouirgane
The village of Ouirgane, in the foothills of the Atlas Mountains, about 90 minutes' drive from Marrakech, stands at the centre of a popular resort area, where summers are cooler and winters less harsh than those experienced in the city. The surrounding Berber countryside offers picturesque villages and hamlets to explore, set in pine forests full of wildlife and groves of fruit trees, alongside streams cascading down from the High Atlas Mountains and fields of wild flowers. The soil is a striking red, which emphasises the luxuriant greenery and makes the landscapes slightly otherworldly in some lights. The area is also known for its extraordinarily beautiful rose gardens.
The village is mainly just used as a peaceful place to relax, and as a hub for outdoor activities like hiking, mountain-biking and horseriding. There are a few attractions in town, however, including the Tin Mal Mosque, what remains of the somewhat ruined old kasbah, and a small souk (market) every Thursday, which is noted for its traditional Berber pottery. The mild climate is what makes Ouirgane a year-round attraction, the best time to visit the town and surrounding area is between March and May, or between mid-September and December.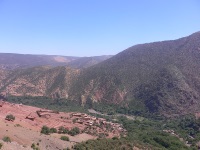 Toubkal National Park Fabrice Cadou
Todra Gorge
The Todra Gorge, a canyon on the eastern side of the High Atlas Mountains, is undoubtedly one of the most spectacular natural attractions that Morocco has to offer. Nature lovers who feel starved in the choked streets of Morocco's cities can simply take the trip to the Todra Gorge (most easily accessed from the town of Tinerhir) where they will be rewarded by the experience of a lifetime. To put the grandeur of the gorge into perspective, consider that over its final 1,950 feet (600m), the canyon narrows to a rocky passage only 33 feet (10m) wide, while the sheer walls rise up 984 feet (300m) on either side.
Sunlight only reaches the bottom of the Todra Gorge, where an ice-cold river flows, for a few hours each morning, and night-time temperatures regularly fall below freezing. Although a place of awesome ruggedness, tourists need not worry about being too far 'off the beaten track' as a well-maintained hiking path runs through the gorge, and there are restaurants and even a hotel situated about halfway along. In fact, those in search of a tranquil wilderness may be disappointed as the gorge's popularity ensures that it is sometimes quite crowded. Climbing is a popular activity in the gorge and several adventure tour operators offer climbing trips and equipment.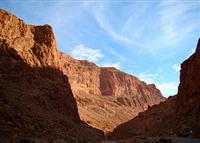 Todra Gorge, Morocco Bjorn Christian Torrissen
Aït Benhaddou
Aït Benhaddou is an ancient fortified city (ksar) situated along the former caravan route between the Sahara and Marrakech. It is certainly one of the most breathtaking tourist attractions in Morocco. A UNESCO World Heritage Site, Aït Benhaddou is not only a place of great historical significant that stands as a record of Maghreb architectural practices, but is so immediately evocative of the most romantic visions of ancient Arabia that visitors are may mistake it for a fanciful mirage.
The buildings, constructed against a mountain and surrounded by steep defensive walls, are all built from moulded earth and clay brick, and the sight of them, ornamented with decorative motifs and appearing blood-red in the evening light, is so stirring that Aït Benhaddou has been featured in numerous Hollywood films (from Lawrence of Arabia to Gladiator). Providing some picture-perfect examples of kasbahs and medinas, no trip to Morocco would be complete without a visit to Aït Benhaddou. The city is most picturesque at sunrise and sunset, so visitors should remember to pack their cameras.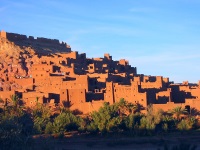 Ait Benhaddou, Morocco Donar Reiskoffer
Essaouira
The popular holiday resort town of Essaouira dates from the 18th century and is easily reached by bus from Marrakech. The town is encircled by a fortified wall and faces the sea, featuring a beautiful stretch of beach, some pretty whitewashed houses, boat-builders workshops and art galleries. What makes Essaouira popular is the laid-back holiday atmosphere, and the reliable coastal wind which makes it a perfect place for wind-reliant watersports like kite surfing; although the wind can make sunbathing and swimming more difficult. It is also famed for its woodcarving tradition, particularly due to the appeal of the local fragrant Thuya wood, which ensures that some gorgeous souvenirs can be found.
Other popular activities in Essaouira include horseback riding on the beach, visits to the Argan Woods and Thuya Forests, and excursions to nearby Diabat, which draws tourists mainly on the strength of Jimi Hendrix's presence there many years ago. The harbour of Essaouira is a hive of activity, with stalls and open air seafood restaurants, and is particularly busy during the daily fish auction that attracts as many seagulls as buyers, sellers and onlookers (there is no fish auction on Sundays). The area is thought to have been inhabited since prehistoric times and is dotted with archaeological remains: Mogador Island, just off the coast, boasts the ruins of a Roman villa.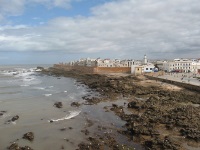 Essaouira, Morocco Kayaky
Agadir
The holiday destination of Agadir, south of Marrakech, is contemporary and fresh, fast developing into Morocco's major resort town. The reason? Agadier's magnificent sandy beaches.
Agadier was rebuilt after an earthquake in 1961 which wiped out most of its historic heritage as an important seaport and centre for caravans traversing the Sahara. The rebuilt city has been modelled as a tourist destination and fishing port, favoured by package tours, particularly as a starting point for excursions into the Western Sahara to the south. Agadir has a lovely promenade along the coast and a vibrant restaurant and café culture tailored towards tourists. The nightlife is also fast developing and the shopping scene shouldn't disappoint.
Conveniently, Agadir is the city in Morocco most tolerant of foreign customs which helps most tourists feel most comfortable, and helps to ease them into the their travels further into the country. The town is conveniently located near popular attractions such as the walled city of Taroudannt and the Massa Lagoon, and contains a number of luxury hotels and excellent golf courses. Agadier makes for either a comfortable start to a Moroccan journey, or useful respite for those who have already seen much of the country already.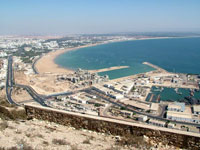 Agadir Marcin Sochacki