Steeped in history, spanning miles of Mediterranean and Atlanticcoastline, and boasting exciting attractions, Morocco is asightseer's paradise. Part of the appeal is the inviting climatebut there is so much more to this diverse and historically richcountry than meets the eye. Within the enchanting medieval medinasof Fez and Marrakech, where snake charmers blow their hypnoticmelodies amid the smell of the tanners' yards and the hustle andbustle of the open-air markets, the fascinating and exotic soul ofMorocco can really be glimpsed. With Phoenician, Hellenic,Carthaginian and Roman civilisations all having passed throughMorocco, it's also worth revelling in the immensity of thecountry's past by exploring its countless museums, palaces,mosques, tombs and ruins.
Furthermore, adventurous travellers can head south to explorethe hot desert sands of the Western Sahara, and see breathtakinglandscapes which are a privilege to behold; or for a completelyunexpected holiday experience, head deep into the High AtlasMountains for a skiing holiday with a difference. There areexciting 4x4, horseback and camelback treks to enjoy as well aslovely coastlines to explore.
Many of the sights around the cities are best explored on foot,but for those planning on criss-crossing the country, trunk-linetrains run through the heart of Morocco, connecting over onehundred stations spread out over 1,184 miles (1,907km) of track.Bus travel is also a popular mode of transport.
Koutoubia Mosque
Towering over the labyrinthine streets and markets of Marrakechis the city's principal landmark, the minaret of the KoutoubiaMosque, known as the 'mosque of the booksellers' because of thebazaar of book traders that used to be nearby.
The red stone mosque was first built in 1147, but demolished andrebuilt in 1199 because it was not correctly aligned with Mecca.The mosque has 17 aisles and 112 columns, and room for thousands topray within. The ornately carved minbar (pulpit) is believed tohave been a gift from the Almoravid Sultan Ali Ben Youssef. Theminaret is 221ft (69m) high and consists of six chambers one atopthe other, ascended by a ramp through which the muezzin rises tothe top balcony.
The mosque, as a sacred place of worship, is unfortunatelyclosed to non-Muslims, but the gardens and the general area aroundit is a wonderful place for an evening stroll. The minaret isperhaps at its most beautiful when lit up at night, but is best forphotographs at sunset, when the red stone glows. Hearing the callto prayer of this ancient mosque is a particularly specialexperience.
Opening time:
Not open to the public.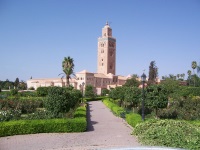 Koutoubia Mosque, Marrakech Daniel Csorfoly
Djemaa el-Fna
What it lacks in beauty, the large town square of Marrakech,Djemaa el-Fna (Square of the Dead), makes up for with a pulsatingliveliness that belies its name.
Every day the square is a colourful circus of performing artistsincluding snake charmers, musicians, storytellers and healers whovie with each other to be noticed by the milling crowds. Everyevening food stalls take over and the competition is fierce amongthem for the passing trade, with everything from boiled snails andsheep's heads to thick vegetable soup, kebabs or fresh salads onoffer. Freshly squeezed orange juice stalls stand side by sideencircling the market and offer a refreshing drink both day andnight.
The square is a fascinating place to be a while relaxing at ofthe surrounding cafes and watching the swirling parade. The squareis also the gateway to the souks (bazaars) of Marrakech, tuckedaway in the surrounding labyrinth of narrow streets and alleys. Itis easy to lose your way, but well worth exploring. Bargain foranything from water mugs and dates to famous Moroccan carpets.Mercifully, the souks are also well shaded from the searingMoroccan sun and offer respite from the heat.
Address:
Derb Chtouka, Marrakesh 40008, Morocco.
Transport:
The square is most easily accessible by foot andtaxi.
Opening time:
Open 24 hours a day.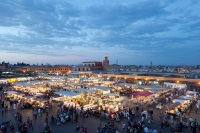 Djemaa el-Fna, Marrakech Boris Macek
Saadian Tombs
The beautiful necropolis was built by the Saadian Sultan Ahmedel Mansour in the late 16th century as a final resting place for heand his successors. The tombs were discovered in 1917 and carefullyrestored to their former splendour.
There are 66 indoor tombs, lavishly decorated with colourful,intricate mosaics. The central mausoleum, the Hall of the TwelveColumns, is exceptionally ornate with a high, vaulted roof,furnished with stunning carved cedar panels and columns of greyItalian marble. The tombs are spread through three rooms and thereare gardens outside the building where the graves of soldiers andservants can be seen.
The Saadian Tombs are a remarkable tourist attraction but theydon't require much time and can be fully appreciated in under anhour. The tombs are a stop on many sightseeing tours. Photographsare permitted inside the building, which is fantastic because theminute details and mosaics are the highlight.
Address:
Rue de la Kasbah near the city walls in the oldcity.
Opening time:
9am-4pm, every day.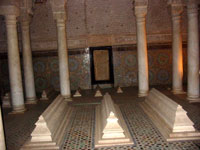 Saadian Tombs Donar Reiskoffer
Karaouine Mosque
The al-Karaouine Mosque, located in the heart of the Fes El Bali(Medina), was founded in 859 with an associated madrassa (school)that subsequently grew to become one of the leading educational andspiritual centres in the Islamic world and is now called theUniversity of al-Karaouine and incorporated into the modernuniversity system of the country. According to UNESCO it is theoldest continually operating educational institution in theworld.
The mosque itself is enormous (one of the largest in Morocco)and beautiful, although austere, with many striking features. It isconsidered the most sacred mosque in the country and the timing ofIslamic festivals across Morocco are determined here. Unfortunatelyfor tourists non-Muslims may not enter it, but often the doorsstand open and it is certainly worth taking a peek inside to get asense of the place. The mosque is still surrounded by numerousmadrasas, many of which are open to the public, and these arecertainly worth exploring. The most famous of these is the AttarinMadrasa, built in the early 14th century, which features abeautiful bronze door and elegant courtyard with some impressivemarble, alabaster and cedar wood decoration.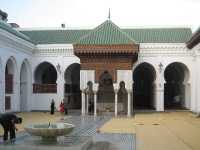 Karaouine Mosque, Fez Khonsali
Kasbah des Oudaias
The Kasbah des Oudaias was recently added to UNESCO's list ofWorld Heritage Sites and is a pleasant place to take a stroll andadmire some interesting architecture.
The Kasbah was the Alhomad citadel of medieval Rabat, and isguarded by an impressive arched gate built around 1195. Inside theKasbah is the palace and Andalucian gardens, as well as a broadterrace, which gives beautiful views of the river and sea close tothe city's oldest mosque, the Kasbah Mosque, founded in 1050. Belowthe terrace are several fortifications with gun emplacementsguarding the estuary, and even further below is a beach, usuallycrowded with locals.
The views from this ancient stronghold are marvellous, and alittle café sits beside the palace, where visitors can havetraditional mint tea and almond cookies while admiring the view.The winding alleys and characteristic blue and white buildings givethe area a cool and peaceful allure.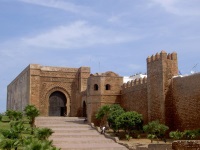 Kasbah des Oudaias, Rabat Friend of Gilgamesh
The Citadel of Chellah
Emerging from the boulevards of the Ville Nouvelle (New Town) ofRabat, one comes across the ruins of Chellah, once the thrivingwalled Roman port city of Sala Colonia, abandoned in 1154 in favourof Salé across the river mouth.
In the time of the Almohads the site was used as a royal burialground, and following this, the Merenid sultan, Abou El Hassan,added some monuments and the striking main gate in the mid-14thcentury. Just inside the gate are Roman ruins dating from 200 BC,which include a forum, a temple and a craftsmen's quarter.
The citadel is now part of a garden and in spring the ruins aresurrounded by a beautiful variety of flowers. The Chellah Gardensare entered through an ancient gateway created by the Almohads andnotable ruins inside, apart from the Roman remains, include what isleft of the small mosque dedicated to Abou Youssef, severalelaborate tombs, and a stone minaret in the centre of the grounds.Visitors are welcome to wander freely and none of the ruins are offlimits. The garden is a lovely place to spend some time and since2005 has been the venue of an annual international jazz festival,Jazz au Chellah.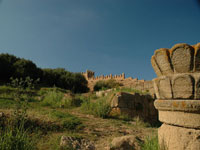 Chellah Shawn Allen
Hassan Tower
The massive Hassan Tower, which dates to 1195, is the minaret ofa mosque and towers over the capital, Rabat. However, the hugeRabat Mosque itself was never completed and was largely destroyedin an earthquake in 1755.
The mosque and the minaret were intended by the builders to bethe largest in the world but today all that is left of the mosqueis several walls in various states of ruin and 200 columns. Also,the minaret, made from striking red sandstone, is unusuallysituated at the centre of the mosque building, and was intended tobe 262ft (80m) high, though it stands at 164ft (50m) today. Eachfaçade of the minaret is intricately patterned with differentmotifs on each face.
Opposite the mosque is the Mausoleum of Mohammed V, one of thegreat monuments of modern Morocco, inaugurated in 1967. Thedeceased king, Mohammed, lies entombed in white onyx, surrounded byroyal guards, and hundreds of Moroccans pay homage by filingthrough the mausoleum each day. The tower, what remains of themosque, and the modern mausoleum form an important historical andcultural complex which has been declared a UNESCO World HeritageSite and is a popular tourist attraction.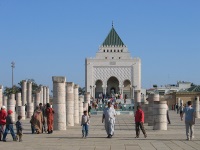 The site of Hassan Tower, Rabat Fabos
Volubilis
Volubilis, near the Moroccan town of Meknes, situated betweenRabat and Fez, was a central Roman administrative city in Africafrom around the third century BC, built atop a previousCarthaginian city. Volubilis was unique in that it was notabandoned after the Romans lost North Africa to the Arabs, witheven the Latin language living on in the area for severalcenturies.
Volubilis remained inhabited until the 18th century, when it wasdemolished to provide building materials for the palaces of MoulayIsmail in nearby Meknes, which meant that a great deal of the Romanarchitectural heritage was lost.
Today the ruins are a UNESCO World Heritage Site and consist ofsome well-preserved columns, a basilica, a triumphal arch and about30 magnificent mosaics. It is recommended that you have aknowledgeable guide for this site, as it is greatly enriched byknowing the background and context of what you are seeing. It takesa few hours to stroll around all the ruins and visitors should besure to come prepared for the baking sun as there is little shade -drinking water, sunscreen and a hat will make all the difference,and comfortable walking shoes are also essential.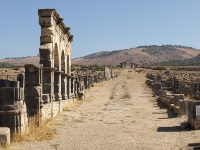 Volubilis, Morocco Christian Rosenbaum
Grand Socco
The word socco is the Spanish version of souk, meaning market,and has stuck to this square in the heart of Tangier because of itsSpanish heritage.
The square is, however, no longer a marketplace, but rather acity crossroads and huge taxi rank, fronted by cafés, outside thefortified old part of the city. The Grand Socco has developedsomething of a reputation for being a meeting place for criminalsand drug dealers, but it is still an interesting spot to spend timewatching the passing parade, particularly the Rif women incolourful traditional costume touting vegetables and fresh mint. Itis also the hop off point for entry to the medina, for admiring theluxurious Mendoubia Gardens on the north side, and themosaic-studded minaret of the Sidi Bou Abid Mosque to the west.
The Grand Socco is particularly active at night, when foodstalls and second-hand goods stores pop up and the square takes onsome of its traditional function as a market, and tourists shouldbe vigilant and should not openly display wealth; however, thecrime in the Grand Socco is generally petty and opportunistic.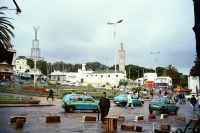 The Grand Socco, Tangier Chris Yunker
Tangier American Legation Museum
In the midst of the old medina in Tangier, the US has provided athriving cultural centre, museum, conference venue and library inthe only historic landmark of the United States that is locatedabroad.
The American Legation Museum is housed in the American Embassy,established in Tangier soon after Morocco became the first power torecognise the United States of America as an independent country in1777; the Moroccan ruler, Sid Suleiman, gifted the US this buildingin 1821. Although the sultan presented such buildings to a numberof countries, the US is the only one to have held onto the propertyuntil the present day. The museum houses art collections, restoredhistoric rooms, and a number of permanent exhibitions.
The American Legation Museum is one of the most popularattractions in Tangier and well worth a visit, particularly asentrance is free, but it should not demand too much time - an houror two is sufficient for most visitors. For many American touristsit is fascinating to explore the first official representation oftheir country overseas. Guided tours are offered and thecurator/tour guide is a font of knowledge, but it is possible toexplore on your own.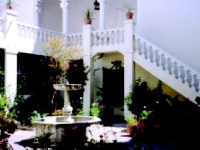 American Legation Museum, Tangier Public Domain
Dar el Makhzen
A collection of art from all over Morocco is housed in theimposing Dar el Makhzen, a former sultan's palace dating from the17th century.
The art collections are housed in the prince's apartments, whichare breathtaking with frescoed ceilings, sculptured plasterwork andintricate mosaics. The art on display has been assembled from allregions of Morocco, and includes firearms decorated with marquetry,pottery, carpets from Rabat, silks, and bound manuscripts from Fez.The Dar el Makhzen palace is home, too, to a fascinating museum ofantiquities relating to Morocco's pre-history, gathered fromarchaeological sites such as Lixus, Cotta and Volubilis. The museumincludes a lifesized model of a Carthaginian tomb, and areproduction of an ancient necropolis, which is situated in apeaceful Andalusian garden.
This palace is not to be confused with the Dar el Makhzen inFez, which is famous for its stunning golden doors and intricatelycarved and tiled gateway, but is not open to the public. TheSultan's Palace in Tangier is situated on one of the highest pointsof the city and therefore affords visitors some glorious views andexcellent photographic opportunities.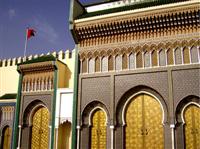 The Royal Palace Jules Antonio
Chefchaouen
Chefchouen is a magical little town up in the Rif Mountains,just a short drive from Tangier. The town as an interestingheritage, as it was a home to Spanish refugees in the middle ages,and took in Christian and Jewish refugees alike as the centuriesprogressed - all of these influences come to bear on visitors'experience of Chefchouen today.
The medina of Chefcouen isrenowned as one of the most charmingin Morocco, with whitewashed, gabled houses and blue-rinsedbuildings where craftsmen sit in their shops sewing caftans andembroidering jellabahs. The medina is dominated by the 17th centuryGreat Mosque, which fronts a picturesque square dotted withmulberry trees and inviting restaurants. The square is alsosurrounded by souks selling carpets, leather goods, pottery andcopper ware. While Chefchaouen has enough picturesque Moroccancharm to attract droves of tourists, another aspect of itspopularity is its reputation for recreational drug use (it is thecentre of a marijuana and hashish producing region).
Probably the best thing to do here is hike. One of the bestplaces to trek to is the tiny, traditional village of Kalaa, hidingin the hills outside Chefchaouen. Here one can relax in the remoteserenity of rural Moroccan life that has changed little over thecenturies. The village is also a wonderful base for exploring theRif Mountains and hikes can be arranged to other local villages inthe area and all the way to the Mediterranean. As tourism increasesmore villagers are opening their doors to the trade and new guesthouses are springing up in the area.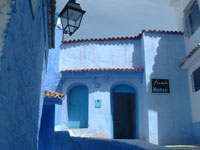 Chefchaouen hamman Vitecek
Asilah
The fishing village of Asilah, south of Tangier, has become apopular seaside resort because of its nearby Paradise Beach,relaxing ambience, and picturesque, 15th-century, Andalusianmedina, which extends to the sea wall. Asilah is characterised bypicturesque white buildings reminiscent of Santorini, but with adash of Moroccan flavour.
The town has a long and fascinating history, dating back to1500BC, and it was not always as peaceful as it is now: in the 19thand 20th centuries Asilah was a notorious base for pirates, andfrom 1912 to 1956 it was occupied by the Spanish. The ramparts andgateworks designed to fortify the old town against invaders of oldare still intact.
Getting around Asilah is easy enough, with feet being the bestmode of transport, although donkey carts are also a fun option.Asilah is accessible from Tangier by train and coastal road. Asilahis fairly quiet for most of the year, except when artists andperformers descend for the Asilah Arts Festival each August. Theresort town hosts several other arts and music festivals, includinga mural-painting festival which ensures that the town's wallsremain covered in striking paintings all year.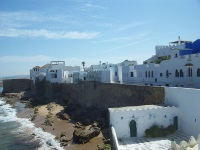 Asilah, Morocco Dans
Ben Youssef Madrasa
The Ben Youssef Madrassa was once an Islamic college inMarrakech named after Sultan Ali ibn Yusuf, who expanded the cityconsiderably. This madrassa was one of the largest theologicalcolleges in North Africa and may have housed as many as 900students.
After being closed down in 1960, it was refurbished and reopenedin 1982, an interesting attraction for the value of its educationalinfluence, but mostly thrilling for tourists because of thestunning architecture and mosaics. The courtyards and patios arerichly carved in marble, cedar and stucco, with intricate geometricpatterns and Islamic inscriptions. The Ben Youssef Madrassa isoften ranked as one of the best attractions of Marrakech. Visitorscan explore the student study rooms and dormitories. Luckily,photography is permitted, because it is one of the most spectacularbuildings in Morocco.
Although centrally located, the madrassa can be difficult tofind, partly because various touts sometimes mislead tourists forreasons of their own, often trying to redirect them to family-ownedstores and the like. It is better to rely on a good map and takedirections from locals with a pinch of salt.
Address:
Kaat Benahid, Marrakech 40000, Morocco
Opening time:
9am-7pm (until 6pm in winter).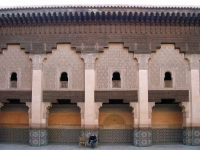 Ben Youssef Medrassa China Crisis
The Museum of Marrakech
The Museum of Marrakech is located in the Dar Menebhi Palace,built at the end of the 19th century by legendary Mehdi Menebhi, inthe old centre of Marrakech. The palace was restored by the OmarBenjelloun Foundation and converted into a museum in 1997. Thehouse itself is representative of classical Andalusianarchitecture, with fountains in the central courtyard, numerouscarvings and beautiful tiles. The museum holds exhibits of bothmodern and traditional Moroccan art, as well as historical books,coins, pottery and other Berber artefacts.
The convenient location and interesting building make this aworthwhile stop even for the museum-phobic and it is one of themost popular attractions in the city; in fact, the exhibitions maynot overly impress, but the intricate mosaics and other interiorfeatures should. Regrettably, for genuine art lovers, and thoseinterested in the historical artefacts, there is little informationprovided in English, so the appreciation must be largely visual.There is a gift shop selling prints of some of the art andphotographs on display in addition to a little café forrefreshments. Photographs are permitted inside the museum.
Address:
Place Ben Youssef, Medina.
Opening time:
9am to 6:30pm daily.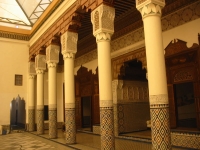 The Museum of Marrakech Donar Reiskoffer
Bab Agnaou
Bab Agnaou is one of the 19 gates of Marrakech and was built inthe 12th century, in the time of the Almohad Dynasty, and standsthe innermost and most ornate of the city's gates and was one ofthe first stone monuments built in Marrakech.
The colour of the stone seems to change drastically depending onthe light, weather and time of day, and the bas-relief issophisticated and still impressive to this day. Experts believethat the function of the gate may have been nationally symbolic, assuggested by the corner-pieces which are decorated with floraldesigns, framed by three panels with inscriptions from theQuran.
Bab Agnaou is also a geographically convenient sight fortourists exploring the city as it forms the entrance to the royalkasbah in southern Marrakech. The kasbah, built by the Almohadsultan Yaqub al-Mansour, is home to the El Mansouria Mosque, the ElBadi Palace and the Saadian Tombs, all magnificent touristattractions, making this a part of the city that seldom goesunexplored for visitors. Of all Marrakech's gates Bab Agnaou isgenerally acknowledged as the most picturesque and it is includedin almost all the walking and sightseeing tours of the area.
Address:
Entrance to the medina (ancient Moorish quarter) on RoutedOurika.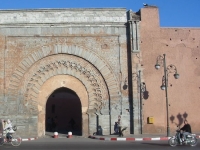 Bab Agnaou Donar Reiskoffer
Majorelle Garden
The Majorelle Garden is a botanical garden designed by theFrench artist, Jacques Majorelle, in 1924. Previous owners haveincluded Pierre Bergé and Yves Saint-Laurent (whose ashes werescattered there when he died in 2008). The garden is also home tothe Islamic Art Museum of Marrakech, which houses an exhibit ofNorth African textiles from Saint-Laurent's personal collection,and paintings by Majorelle.
The garden is home to more than 15 bird species endemic to NorthAfrica, and full of ponds and water features. The garden took 40years to create. It is one of the most popular tourist sites inMorocco and a must for all visitors. The villa in the centre of thegarden, which houses the museum, is a stunning blue, accented withother bright colours, a mixture of classic Moroccan features andart deco creativity. This is a particularly good attraction for ahot day as the gardens are shaded and always seem much cooler thanthe rest of the city. There is a lovely café in a shaded courtyardfor refreshments and a gift shop selling YSL products, among otherthings. Although the gardens can be explored quickly in under anhour, this is a place best enjoyed for at least a few hours.
Address:
Rue Yves Saint Laurent، Marrakesh 40090, Morocco
Opening time:
Opening times vary according to season: October toApril, 8am to 5:30pm; May to September, 8am to 6pm; and duringRamadan, 9am to 5pm.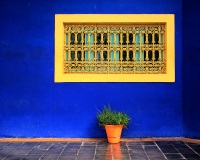 Majorelle Garden, Morocco Bjorn Christian Torrissen
Souks
Marrakech is home to a labyrinth of bustling (workshops and markets) offering the city's mostfascinating wares. Whether shopping or simply exploring, they are amust for any visitor.
At the northern end of the souks, best accessed from the BenYoussef Mosque, there are blacksmiths making wrought-iron goods andthe distinct odour of leather workshops wafts down the alleys. Thestalls emerge further south and are met by the Rahba Kedima, amarket famous for its bizarre offerings of animals and eccentricpotions for spells. The market is colourful and crowded with plentyof fodder for keen photographers.
Moreover, there are real bargains to be found if you hagglehard: the first price given will invariably be more than doublewhat would be a fair price as the merchants expect customers tobargain. The souks are a wonderful experience and many foreignersvisit repeatedly during their stay, but although guides areabsolutely not necessary in the market, it is advisable to stayvigilant and keep an eye out for pickpockets.
Transport:
The souks are best explored on foot.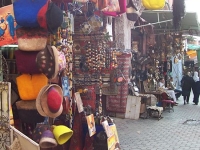 Marrakech Souks Neil Jones
El Badi Palace
The ('the incomparable palace') consists of theremnants of a glorious palace built by the Saadian King Ahmadal-Mansur, in 1578. The original building is thought to have hadabout 360 rooms, a courtyard and a pool, and was decorated withItalian marble and large amounts of Sudanese gold. It also had asmall, underground jail where the king kept his prisoners. Thedesign of the palace was influenced by Granada's Alhambra, but theoriginal palace was torn apart by Sultan Mawlay Ismail.
Today, the once luxurious palace is a ruin consistingof some intact rooms and numerous walls, terraces, gardens andfoundations. The underground jail can still be explored and thereare a number of beautiful mosaics surviving, but visitors have touse some imagination to conjure up the onetime grandeur of theplace. The ruins still retain some their romance, but very littleeffort has gone into maintaining or preserving the site. Despitethe ramshackle nature of the attraction anybody with an interest inhistory and archaeological sites should enjoy exploring the site.There is little or no shade so travellers should go prepared forthe sun and should avoid the hottest part of the day. There is asmall admission fee.
Address:
Ksibat Nhass, Marrakesh, Morocco.
Transport:
Like much of Marrakech, a short walk or shorter taxiride are the most convenient options.
Opening time:
8am-5pm every day.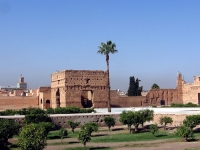 El Badi Palace Oliver Mallich
The King Hassan II Mosque
One of the largest mosques in the world, and the largest inMorocco, the King Hassan II Mosque was designed by Frencharchitect, Michel Pinseau. It is affectionately nicknamed the'Casablanca Hajj'. Perched on the edge of the city of Casablanca,this picturesque structure looks out over the Atlantic Ocean andfeatures one of the world's tallest minarets, towering at 689 feet(210m). The minaret is 60 storeys high and topped by a laser whichpoints towards Mecca.
Almost half of the massive mosque lies over the Atlantic, andthe water can be seen through a gigantic glass floor. This featurewas inspired by a verse in the Qur'an: 'the throne of God was builton water'. The mosque can accommodate over 100,000 worshippers. Thedesign is a mixture of classic Islamic architecture and Moroccanelements and it was worked on by hundreds of Morocco's bestcraftsmen, finally being inaugurated in 1993. The massive cost ofbuilding such an impressive mosque was a source of contention inthe poor country, but it is now viewed with pride by locals and isa popular tourist attraction. Thankfully, the Hassan II mosque isopen to non-Muslims, but to explore the magnificent interior youmust take a guided tour which can be conducted in severallanguages. Visitors will be expected to dress appropriately andwill have to remove their shoes.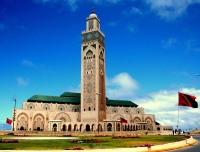 Hassan II Mosque Andrew E. Larsen
The Shrine of Sidi Abderrahman
Located past the ocean-side neighbourhood of the Corniche, theShrine of Sidi Abderrahman is built on a rock out at sea and isonly accessible at low tide. Non-Muslims are not allowed to enterthe shrine, but travellers wishing to explore the tinyneighbourhood around it are permitted to do so. Most visitors justopt to admire it from a distance, catching a glimpse of the shrineand its breathtaking white walls while walking along the beach.Traditionally, people visit this shrine to heal mental illness andit is one of Morocco's most famous coastal shrines.
The Corniche was once a thriving resort area and there are stillmany hotels, nightclubs and restaurants lining the coastalboulevard (Boulevard de la Corniche), but many of these now looksomewhat rundown and there is a sense that the place is past itsprime. The Boulevard de l'Ocean Atlantique is now the moreglamourous street, where newer and more upmarket accommodation canbe found. One thing the Corniche neighbourhood does have inabundance is international fast food chains and this in combinationwith the American-style movie theatre makes it a good place tovisit for those needing a comforting taste of home.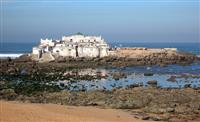 Sidi Abderrahman Shrine, Morocco Bernard Gagnon
Casablanca Twin Centre
Designed by a Spanish architect, the Casablanca Twin Centrefeatures two skyscrapers which are 28-storeys tall and tower abovethe city at 377 feet (115m). Known as La Grande Casa, the buildingshouse offices, businesses, a five-storey shopping mall and aluxury, five star hotel. The towers are the tallest buildings inthe city and are situated in the Maarif district, at theintersection between Zerktouni Boulevard and Al Massira Al KhadraBoulevard.
The two towers, named the East Tower and the West Tower, arejoined at the lower levels by a large complex which contains thebulk of the shopping centre. Above this section, the East Towercontains the five-star Kenzi Tower Hotel, while the West Towerholds part of the shopping centre and offices. The spa, bar andrestaurant facilities in the hotel are open to non-residents andthe panoramic restaurant on the 27th floor is particularly popular.The locals are proud of the building because it represents themodernisation of Casablanca, and it is a great attraction fortourists looking to do some shopping, fine dining, or just to getsome wonderful views of the city.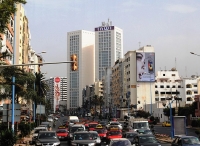 Casablanca Twin Centre HombreDHojalata
Meknes
Meknes, located just 37 miles (60km) from Fez, is theleast-visited of Morocco's Imperial Cities, and this is exactlywhat draws discerning travellers to discover its considerablecharms. A city brimming with history but mercifully short on chaos,Meknes is the ideal destination for those looking to exploreMorocco's rich, imperial past at a reasonable and measuredpace.
The city of Meknes was the brainchild of Moulay Ismail (ruler ofMorocco for an incredible 55 years, between 1672 and 1727), whosought to construct a city fine enough to rival any in Europe.Although not the most sympathetic of rulers - most of theconstruction was done by Christian slaves who were kidnapped byMoroccan pirates from as far afield as Iceland - Ismail's visionwas impressively followed through, and modern-day visitors toMeknes can revel in the wonders of more than 50 palaces, 20beautifully-carved gates, and a city wall that stretches for 28miles (45km).
The city of Meknes has a wonderfully preserved medina area and acollection of great souks which can be navigated independently,without the need for a tour guide. Must-see sights include BabMansour, the grand gate of the imperial city, featuring splendidmosaics; and Dar El Makhzen, the historical palace of MoulayIsmail. Tourists to Morocco who want to experience its culture, butare wary of the frenetic nature of its cities, are strongly advisedto make Meknes a feature of their travel itineraries.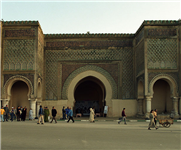 Meknes, Morocco Jerzy Strzelecki
Morocco's climate is moderate and subtropical, cooled by breezesoff the Mediterranean Sea and Atlantic Ocean. The weather isunpredictable and can be changeable, swinging from extreme heat tounexpected cold. The climate is also highly variable according toregion and terrain and travellers are advised to check theconditions for the exact destinations they will be visiting. Theclimate of the northern Moroccan coast and central areas isMediterranean, with hot dry summers and mild wet winters.
In the interior the temperatures are more extreme: winters canbe fairly cold and the summers very hot. Marrakech has an averagewinter temperature of 70ºF (21ºC) and an average summer temperatureof 100°F (38°C). In the Atlas Mountains temperatures can drop belowzero in any season and mountain peaks are snow-capped throughoutmost of the year. The winter, between December and February, is wetand rainy in the north of the country; while in the south, at theedge of the Moroccan Sahara, it is dry and bitterly cold. Summer isthe driest season.
Weather-wise, the best time to visit Morocco is generally in thespring and early summer, between March and May. Alternatively,autumn, occurring between September and November, is also mild andpleasant.
Money:
The unit of currency is the Moroccan Dirham (MAD), which isdivided into 100 santimat. ATMs are available in the larger citiesand towns, but can be unreliable; currency can be exchanged atbanks or official bureaux de change, which are also widespread inmajor towns. Dirhams cannot be obtained or exchanged outsideMorocco and receipts must be retained as proof of legal currencyexchange, in addition to being the only way to re-exchange moneywhen departing. Major credit cards are accepted in larger shops,hotels and restaurants.
Language:
Arabic is the official language, but eight otherlanguages are also spoken including Berber, French and Spanish.English is generally understood in the tourist areas, but French ismore widely spoken.
Electricity:
Electrical current is 220 volts, 50Hz. Two-pin roundplugs are in use.
Entry Requirements:
US citizens must have a passport that is valid for the period ofintended stay in Morocco. No visa is required for stays of up to 90days.
British citizens must have a passport that is valid for theperiod of intended stay in Morocco. A visa is not required forstays of up to 90 days for holders of British passports endorsedBritish Citizen, British National (Overseas), or British Subject(containing a Certificate of Entitlement to the Right of Abodeissued by the United Kingdom).
Canadian citizens must have a passport that is valid for theperiod of intended stay in Morocco. No visa is required for staysof up to 90 days.
Australian citizens must have a passport that is valid for theperiod of intended stay in Morocco. No visa is required for staysof up to 90 days.
South African citizens must have a passport that is valid forthe period of intended stay in Morocco. A visa is required.
Irish citizens must have a passport that is valid for the periodof intended stay in Morocco. No visa is required for stays of up to90 days.
US citizens must have a passport that is valid for the period ofintended stay in Morocco. No visa is required for stays of up to 90days.
New Zealand citizens must have a passport that is valid for theperiod of intended stay in Morocco. No visa is required for staysof up to 90 days.
Passport/Visa Note:Visa:
Generally, travel to Morocco does not require a prior visaapplication; however, travellers should enquire about the specificsfrom their nearest Moroccan embassy. Also, all foreign passengersto Morocco must hold proof of sufficient funds to cover theirexpenses while in the country. All visitors who wish to stay for alonger period than their visa exemption allows, must report to thenearest police station within 21 days of their arrival in Morocco.NOTE: It is highly recommended that your passport has at least sixmonths' validity remaining after your intended date of departurefrom your travel destination. Immigration officials often applydifferent rules to those stated by travel agents and officialsources.
Travel Health:
No vaccinations are required to enter Morocco. Those who may beat risk of animal bites or who will be coming into contact withbats should consider a rabies vaccination, and all travellers areadvised to consider vaccinations for hepatitis A, hepatitis B andtyphoid.
It is advisable to drink bottled water and raw or uncooked meat.Avoid swimming, wading, or rafting in bodies of fresh water. Thebeaches around Casablanca are polluted and considered unsafe forswimming. Medical facilities are decent in all major cities but canbe extremely limited in rural areas. Health insurance is essential.All required medications should be taken along, in their originalpackaging, and accompanied by a signed and dated letter from adoctor detailing what they are and why they are needed.
Tipping:
A tip of 10 to 15 percent is expected in the more expensive barsand restaurants, though some establishments do include a servicecharge. Most services are performed with the aim of getting a fewdirham, but aggressive hustling shouldn't be rewarded.Nevertheless, visitors should note that tips are the only incomefor some porters and guides.
Safety Information:
Violent crime is not a major problem in Morocco, but there havebeen some incidents of theft at knife point in major cities and onbeaches. Sensible precautions such as avoiding badly lit streets atnight should be adhered to. Guides offering their services shoulddisplay an official badge from the local tourist authorities.
Historically, most visits to Morocco are trouble-free. The toutsand merchants can get quite pushy and confrontational so visitorsshould be firm in refusing goods or services. There have beenreports of female travellers struggling with unwanted attentionfrom Moroccan men, and it is considered a difficult country totravel in alone as a woman.
Local Customs:
Morocco is a Muslim country and it is best to keep the wearingof swimsuits, shorts and other revealing clothing to the beach orhotel poolside. Women travelling alone will generally be hassledless if dressed conservatively. The country has many smokers, andit is customary to offer cigarettes in social situations. Religiouscustoms should be respected, particularly during the month ofRamadan when eating, drinking and smoking during daylight hoursshould be discreet as it is forbidden by the Muslim culture.Foreigners have been expelled in the past for allegedproselytising. The giving and receiving of things, and the eatingof food, should only be done with the right hand, as the left isconsidered unclean. Homosexuality is a criminal offence, and sexualrelations outside marriage are also punishable by law.
Business:
Business in Morocco has been influenced by France and thereforetends to be conducted formally, with an emphasis on politeness.Dress is formal, and women in particular should dressconservatively. Most business is conducted in French, although someEnglish is spoken. It is best to ascertain beforehand what languagethe meeting will be in, and arrange an interpreter as needed.Visitors are expected to be punctual, though meetings may not starton time. Moroccans are friendly and enjoy socialising; trust andfriendship are an important part of business dealings so beprepared to engage in small talk. A handshake is common whenarriving and departing. Women may encounter some sexism inbusiness, although this is starting to change. Most businesses areclosed on Fridays, and some are also closed on Thursdays.
Communications:
The international access code for Morocco is +212. The outgoingcode is 00 followed by the relevant country code (e.g. 0044 for theUnited Kingdom). City/area codes are in use. Hotels can add a heftysurcharge to their telephone bills so it is best to check beforemaking long international calls. Public wifi is readily availablein most major cities and 3G/4G networks offer widespread coveragethroughout the country. Therefore, it is advisable that visitorspurchase a local sim on arrival.
Duty Free:
Travellers to Morocco over 18 years do not have to pay duty on200 cigarettes or 50 cigars or 400g tobacco; 1 litre spirits and 1litre wine; and perfume up to 5g.