Palais du Prince
Established in the 13th century, Monaco's royal palace has been the residence of the ruling Grimaldi family ever since. The most famous resident was Grace Kelly, who was married to Prince Rainier III. Every generation has left their mark on the place, and as a result this is not one of Europe's most elegant castles from the outside. It is worth taking a look inside though; 15 rooms, including the Throne Room, are open to the public. In the south wing of the palace is the Musée des Souvenirs Napoléoniens, which contains a collection of Napoleon's memorabilia. The changing of the guard takes place in front of the palace every day, lasting just two minutes, so take care to be on time.
Transport:
Monaco Bus line 1 or 2 to the Place de la Visitation bus stop (signed Terminus Monaco-Ville)
Opening time:
State apartments: 9:30am-6:30pm (1 June to 30 September), 10am-5pm (October). Changing of the Guard: 11:55am.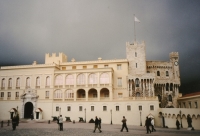 Palais du Prince Slawojar
Oceanographic Museum and Aquarium
Monaco's Oceanographic Museum and Aquarium was opened by Prince Albert I in 1910 and houses his personal collection of marine life, models of the Prince's laboratory ships and other crafts made from marine products. The imposing building is perched dramatically on a cliff and faces the sea, providing lovely views. The basement houses an impressive aquarium with over 4,000 fish species and 200 invertebrates, as well as the Shark Lagoon.
Address:
Avenue Saint-Martin
Opening time:
Daily 10am-6pm (October to March); 10am-7pm (April to June, and September); 9:30am-8pm (July and August).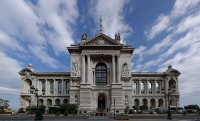 Oceanographic Museum and Aquarium Berthold Werner
Monaco Cathedral
The Monaco Cathedral is a beautiful structure that was built in 1875 and rests on a site of a 13th-century church that was dedicated to Saint Nicholas. The Cathedral houses the tomb of the much-loved Princess Grace, as well as the former Princes of Monaco. During religious festivals and religious holidays, the sounds of the Cathedral's splendid four-keyboard organ can be enjoyed, as well as the Sunday mass, which is sung by the Cathedral Choir.
Address:
4 Rue Colonel Bellando de Castro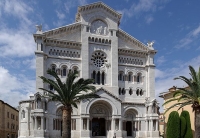 Monaco Cathedral Berthold Wernerld Werner
Monte-Carlo Casino
The opulent and world-renowned Monte-Carlo Casino was built in 1878 by Charles Garnier, architect of the Paris Opera House. The Salle Garnier hosts ballet, opera and concerts, while the Gaming Rooms are filled with all the glitz and glamour one would expect from a top-class casino. The rooms sport stained glass windows, sculptures, and of course, the rich and famous. Jacket and tie are required for men.
Opening time:
Open daily. The European Rooms, Private Rooms and the English Club have different times for their games. No admittance for anyone under the age of 18.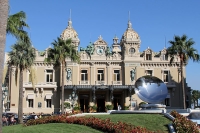 Monte-Carlo Casino Fruitpunchline
Monte-Carlo, like Monaco, has a spectacular Mediterranean climate, boasting roughly 300 days of sunshine a year. July and August are the hottest months, while spring and autumn are the best times to visit, as temperatures are milder.
Going out for dinner in Monte-Carlo is as glamorous as it sounds. With some of the finest restaurants, offering first-class cuisine prepared by some of the world's most renowned chefs, visitors can anticipate only the best. After a day of sightseeing, yachting and sipping on cocktails, a dining experience of only the very best quality is what can be expected.
Monte-Carlo being the expensive city that it is means that most restaurants will cost substantially more than the average meal, but that is not to say you won't find something a little more budget-friendly if you look for it. There are an assortment of cuisines offered in and around the city, each offering an experience. Early booking is essential, as is a jacket and tie, at most restaurants in the city.
For something typically French and sophisticated, Le Louis XV promises a classy and elegant evening with top notch food using only the best local produce. Restaurant Joel Robuchon Monte-Carlo offers similar taste and flare, giving patrons a chance to experience modern French cuisine, influenced by the Mediterranean. For those wanting something a little more fusion in style, the Pacific is the place to go. Here you will likely find the rich and famous occupying tables. For something a little more down to earth, Il Terrazzino is a great restaurant for typical Italian fare; great quality for a little less Euro.
With lots on offer, Monte-Carlo is an exciting place to explore in terms of its cuisine and is unlikely to leave visitors disappointed.
Le Louis XV
Steered by Chef Alain Ducasse, a few words come to mind when summing up this restaurant: classy, elegant and stylish, pure delicacy is exercised in everything from the clean lines, crystal chandeliers and fresh décor to the expertly prepared and executed fine French cuisine. The dishes reflect local cuisine using only the freshest produce. Jacket required and tie recommended. Open Thursday to Sunday for lunch and dinner. Bookings essential.
Pacific
Located in Monte Carlo's famous épingle de la Rascasse, many of the city's rich and famous come here purely to be seen, but for those who come here for the food - you can't go wrong. With a distinctive design ethos, the bar and restaurant are both stylishly and elegantly laid-out with clean lines and intricate lighting - perfect for when the bar converts into a nightclub later on. Specialising in fusion cuisine, diners will not be disappointed. Try the signature Pacific black cod with miso sauce. Delicious! Open daily for lunch and dinner. Reservations recommended.
Address:
17 av des Spélugues
LHorizon
The views and cuisine at L'Horizon are simply stunning leaving diners coming back time and time again. With a 360-degree view over the Opera House, Prince's Palace and Casino against the Riviera, what more could one ask for while dining out in Monte Carlo? Sample delicious Mediterranean fare like Mediterranean fish soup, croutons and saffron sauce, or the pan-fried sea bass and vegetables or Beef fillet 'a la plancha'. Open March to November daily for breakfast, lunch and dinner. Bookings essential.
Address:
12 av des Spélugues, Fairmont Monte Carlo
Il Terrazzino
Specialising in the culinary delights of Naples and southern Italian fare, Il Terrazzino is a must for anyone who loves a little Italian. The home-cooked food and cosy dining room, reminiscent of a country deli will make you feel right at home. Try the Linguine Marinara with capers, olives, marjoram, tomato sauce and anchovy, or the veal friend with mozzarella, tomato sauce and basil. Open Monday to Saturday for lunch and dinner. Bookings recommended.
Mozza
A friendly an unpretentious restaurant, Mozza serves excellent Italian food that is consistently rated among the best in Monte-Carlo. The separate lunch and dinner menus are short, but memorable and very reasonably priced. Mozza takes full advantage of its terrace on the Larvotto end of Monte Carlo to enjoy spectacular views of the Thursday and Friday fireworks displays held in June and July.
Address:
11 rue du Portier
Restaurant Joël Robuchon Monte-Carlo
Well-known French chef Joël Robuchon runs this elegant restaurant in the Hotel Metropole. The modern French cuisine is influenced by the Mediterranean setting and the menu changes seasonally. For a cheaper option, the restaurant offers a fixed-price lunch. Restaurant Joël Robuchon is small and seats only 60 people at a time, so reservations are essential.
Address:
Hotel Metropole, 4 Avenue de la Madone
A good place to get into the swing of things is Le Bar Américain where the upper-crust mingle and socialise with their Champagne and cocktails in hand, while a jazz trio belts out some upbeat tunes to get you in the mood. But on a perfect warm summer's evening there's no better place to watch the sun go down that at the hip and trendy Sea Lounge where party people meet over a cocktail or two by the water's edge in Monte Carlo Beach. The Living Room and the Black Legend are popular nightclubs where anyone wanting to get their groove on can dance the night away, while lively bars like the Ship and Castle or Black Diamond are more upmarket and many come here to pose and be seen. Jimmy'z on avenue Princesse Grace is place to go where you can don your favourite party outfit, slip into those killer heels and dance the night away with Monte-Carlo's beautiful people.
If live music is what you're after, visit Moods on place du Casino, which has already attracted some big international acts while Sass Café is another hot spot for live music, lots of dancing and a rip roaring good time. Or if jazz is more your thing, head to the Blue Note to get your groove on! For a quieter and more sophisticated night out, the Grand Théâtre de Monte Carlo is the place to go to see international ballets and other productions as well as the Ballets de Monte Carlo. Mention the resident opera company, and the symphony, while the Monte Carlo Opera also draws hundreds of visitors to its world-class performances.
Monte-Carlo has an efficient public transport system, with five bus lines. An excellent way to save money is to buy the Daily Tourist Pass, which at a flat rate, allows unlimited travel all day. A series of elevators also operate to transport visitors and residents up and down the steep streets of the city. Perhaps the best way to explore the city, however, is on foot.
Monte-Carlo offers a lot more than just striking natural beauty, it also features some historical and modern attractions sure to keep visitors of all persuasions happy. With a Mediterranean climate, Monte-Carlo is pleasant all year round, though winters can sometimes be a little chilly, and summers very crowded. The city is fairly easy to navigate your way around, once you know the short cuts.
There is plenty to see and do here. Head to the Oceanographic Museum and Aquarium to see Prince Albert's personal collection of marine life or just visit the 4,000 fish in the aquarium, as well as the Shark Lagoon. Visit the Prince's Palace, which was established in the 13th century and has been the residence of the Grimaldi family ever since, where 15 rooms are open to the public, including the throne room, or check out the magnificent Monaco Cathedral which houses the tombs of the late Princess Grace and former princes of Monaco.
Big spenders should spend some time making or blowing their fortune at the Monte-Carlo casino, or if that's too much for you, enjoy relaxing in the Jardin Exotique where the thousands of plants will amaze green-fingered travellers, or spend an afternoon marvelling at the fabulous yachts in La Condamine, one of Monaco's oldest districts, where you can even spend some time browsing through the Condamine Market.