Mexico has consistently proven to be one of the most popularholiday destinations in the world and for good reason. With itsexotic sandy beaches, blue waters and warm climate, extraordinaryhistory and diverse landscapes, it would take a few months, if notyears, to explore and discover all that this magical country has tooffer.
Spend a few days wandering round the ancient Mayan and Aztecpyramids and ruins, explore the deserts and swamps, marvel at therainforests and discover the hundreds of species of orchid alongthe way, or navigate an eco-tour by mountain bike, jeep, kayak orhorseback. There are 67 National Parks conserving indigenous faunaand flora, and the country is a bird-watcher's paradise, with themost species of birds in the whole of North America.
The west coast of Mexico's Baja California peninsula is regardedas having some of the best whale watching destinations in theworld. The three lagoons on the Pacific Coast that offer the bestlocations for watching Gray Whales are Magdalena Bay, San IgnacioLagoon and Scammon's Lagoon. Humpback Whales and Blue Whales breedin the Sea of Cortez, and Bahia de Los Angeles is the centre forwhale watching expeditions in the area.
Beach resort cities such as Acapulco, Cancun and those of theBaja California region are considered to be a slice of heaven. Thewonderfully unique architecture and evidence of European colonialrule still exist in the cities, while El Zócalo in Mexico City, thesecond largest city square in the world, is where it all happensand is the best place to experience some real Mexican flavour.
Mexican cruises mix old world charm with modernamenities, giving a great blend of excitement and serenity to theholiday cruise. Mexican cruises typically only visit the west coastwhile the beautiful and warm waters on the east are usuallyincluded in Caribbean cruise packages.
Sierra de la Laguna Biosphere Reserve
The Sierra de la Laguna Biosphere Reserve, located inthe mountains south of La Paz, provides a rugged home for anincredible diversity of animal and plant life. Declared a UNESCOGlobal Biosphere Reserve in recognition of its distinctive faunaand flora, the reserve is home to mountain lion, coyotes, foxes,kangaroo rats, desert mule deer, gophers and badgers. Thisecological treasure house attracts hikers, mountain bikers andnaturalists keen to see cacti, palms and pine trees grow side byside and picturesque rock pools form underneath towering graniteboulders. The core of the reserve is dominated by scenic oak-pineforests, which although scenic, can make it difficult to spotanimals.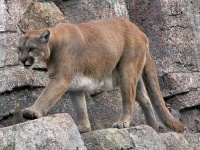 Mountain Lion Tony Hisgett
El Zocalo
The enormous paved Plaza de la Constitucion, orZocalo, is the second largest city square in the world. Dominatedon one side by the magnificent colonial Presidential Palace, and onthe other by the great Metropolitan Cathedral with its ornateinterior, the square is Mexico City's centre of government andreligion. The square itself is always filled with activity, withvendors and buskers, informal traditional Aztec dance performances,family groups, workers on lunch break and passing tourists. Everyevening the presidential guards, in a show of great ceremony, lowerthe national flag from the central flagpole. The square isconstantly encircled by the city's ubiquitous green Volkswagentaxis, and is a good starting point for those wanting to explorethe city.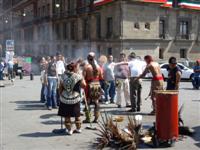 Ceremony in the plaza krebsmaus07
Templo Mayor
Templo Mayor (Great Temple) was the principal templeof the Aztecs, believed to mark the centre of the universe. It waspart of the sacred complex of the ancient city of Tenochtitlan, andtoday it has been excavated to show the multiple layers ofconstruction. The temple was first built in 1375, and enlargedseveral times, each rebuilding accompanied by a frenzied bloodysacrifice of captured warriors to rededicate the sacred area.Within the site is the excellent Museo del Templo Mayor, displayingartifacts from the original site including a great wheel-like stonecarving of the Aztec goddess of the moon, Coyilxauhqui. Theentrance fee covers admission to both the museum and thearchaeological site.
Address:
Seminario 8, Historical District
Transport:
Take metro to Zocalo. Templo Mayor is off Zocalo, to theright of the city cathedral if you face it.
Opening time:
Tuesday to Sunday 9am to 5pm.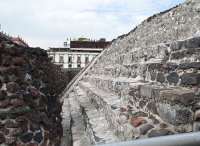 Templo Mayor AlejandroLinaresGarcia
San Angel
Formerly a separate village, San Angel is one of themore charming of Mexico's suburbs, an exclusive neighbourhood withancient mansions and colonial houses along cobbled streets. It isfamed for its Saturday craft market in the pretty Plaza SanJacinto, which brings colour, crowds and a festive atmosphere tothe area, and has excellent art and handicrafts for sale. Thesuburb is crammed with little restaurants and cafes, severalmuseums exhibiting the works of Frida Kahlo among others, and thelovely El Carmen complex consisting of a triple-domed church, aformer monastery, school buildings, and a museum. San Angel issurrounded by a volcanic rock bed called the Pedregal. Parts ofthis unusual landscape have been declared protected areas wherevisitors can see the endemic flora and fauna.
Address:
Southwest of Mexico City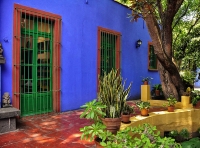 Frida Kahlo House Rod Waddington
Zona Rosa
The Zona Rosa (Pink Zone) is Mexico City's majordining, nightlife and shopping district. It is a compact areacrammed with bars, shops, boutiques, restaurants and hotels. Thedistrict has subtly shifted in its appeal recently. Once afashionable hub for youth and the upper classes, the Zona Rosa isnow also frequented by the city's gay community and tourists. Thesymbol of Mexico City, a gilded statue of Winged Victory which isthe Independence Monument, looms above the district and is one ofthe city's most photographic features. There is accomodationavailable in the area, but visitors are advised that it can benoisy at night.
Transport:
Line 1 on the metro to Insurgentes Station.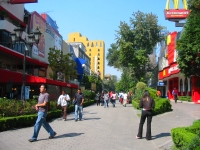 Zona Rosa Thelmadatter
Teotihuacan
Situated 31 miles (50km) from Mexico City, the UNESCOWorld Heritage Site of Teotihuacan is Mexico's largest ancientcity, dating from around 300-600 BC. Legend has it the Aztecs foundthe abandoned city and, recognising signs of its previousmagnificence, they named it what it is today: Teotihuacan, 'placeof the gods'. The central thoroughfare of Teotihuacan is the Avenueof the Dead, a 1.3 mile (2km) stretch connecting the three mainattractions. The Pyramid of the Sun is the third largest pyramid inthe world, a huge red painted structure over a cave withspectacular views from the top. The smaller, more graceful Pyramidof the Moon contains an alter believed to have been used forreligious dancing. The Citadel is a large square complex that wasonce the residence of the city's ruler. Within the walls is itsmain feature, the Templo de Quetzalcoatl.
Transport:
Teotihuacan bus departs from Gate 8 of Mexico CitysTerminal del Norte every half hour
Opening time:
Tuesday to Sunday 9am-5pm.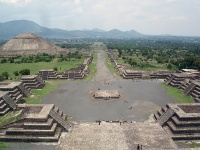 View from the Pyramide de la Luna inTeotihuacan Jackhynes
Chichen Itza
Chichen Itza, with its famous pyramids and temples,is the Yucatan's most visited ancient Mayan site, set in the jungleand said to have been inhabited for more than 2,000 years. The mainattraction at Chichen Itza is the Pyramid of Kukulkan (the plumedserpent god), or El Castillo, a grand pyramid topped by a templethat dominates the site and has been declared one of the 7 NewWonders of the World. Inside the pyramid is a smaller pyramid, theinner sanctum, containing one of the greatest finds on the site,the brilliant red jaguar throne with jade spots, inlaid eyes andreal jaguar teeth. Another building of interest is El Caracol (TheGiant Conch Snail), an observatory with slits in the dome alignedwith certain astronomical appearances at specific dates. Visitorsshould bring drinking water, sunscreen and comfortable walkingshoes.
Transport:
Bus services from Cancun or Playa del Carmen (2.5hrs bybus)
Opening time:
Daily 8am to 4.30pm. Light and sound show begins 7pm(autumn and winter) and 8pm (spring and summer).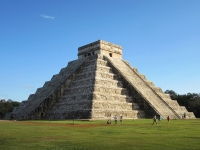 Chichen Itza David Stanley
Santo Domingo
Santo Domingo is the most beautiful of SanCristóbal's churches, with an intricately carved pink Baroquefacade that is especially impressive when lit up at night. Theinterior is richly decorated and shimmers with gold. The ornatepulpit and golden altarpieces are the main focus of this16th-century architectural monument. Visitors are welcome atservices but should prepare to be scolded by local worshippers ifthey don't show proper respect. The area in front and around thechurch is filled each day with craft stalls and village traders andis a great place to find Mexican souvenirs like woven blankets andshawls and amber jewellery.
Address:
Lázaro Cardenas Street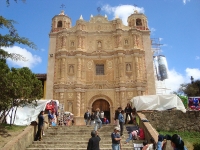 Santo Domingo omar91
San Juan Chamula and Zinacantan villages
These two highland villages are the home of theTzotzil people, descendants of the ancient Mayans, and some ofMexico's most traditional indigenous communities. San Juan Chamulais a centre for religious festivals. The main attraction is thechurch where, every Sunday, men in loose homespun white woollenponchos and women in embroidered finery congregate for the weeklymarket. The typical dress of the Zinacantan villagers is a red andwhite striped poncho decorated with tassels and a flat, round hatdecorated with ribbons. The countryside is dotted with crosses andofferings dedicated to their ancestor gods or the Earth Lord.Visitors should respect the local traditions and customs; villagerscan be unfriendly and are wary of tourists. The best way to visitthe villages is with a local guide. Photography is forbidden.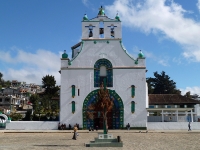 Church of San Juan Rob Young
Palenque
The setting for this spectacular ancient Mayan cityis splendid, a hauntingly beautiful site engulfed in the endlesstropical jungle that bristles with the shriek of insects. Thearchitecture is fantastic and for many Palenque is the mostremarkable of the major Mayan sites. Early morning is the best timeto capture the setting at its most photogenic, when swirlingvapours encircle the temples and the jungle. The highlight is thetallest and most important of Palenque's buildings, the magnificentTemple of Inscriptions. Constructed on eight levels, the rearinterior wall is decorated with panels of Mayan hieroglyphicinscriptions describing the history of Palenque and the temple.There is a museum near the entrance of the site.
Address:
Four miles (6.5km) from Palenque town.
Transport:
Frequent minibus services from Palenquetown.
Opening time:
Daily 8am to 4.30pm.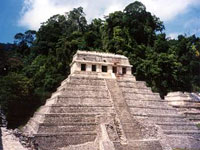 Palenque Judith Duk
Guanajuato
Guanajuato is a colonial gem, founded around the richsilver deposits discovered by the Spanish in 1558. The city has anunusual layout, crammed into a narrow valley, with houses andstreets forced into irregular positions due to the naturally hillytopography. Brightly painted houses perch on slopes reached bynarrow cobbled alleyways, hidden plazas, steep stairways andunderground tunnels. The most narrow, and most visited, alley isthe Callejón del Beso (Alley of the Kiss) where the balconies ofthe leaning houses on either side almost touch each other, afeature in the local romantic legend about furtive loversexchanging kisses. Every weekend the famous strolling musicians, orcallejoneadas, in traditional dress, lead processions through thenarrow winding alleyways, strumming, singing and telling stories tothe crowds that follow.
Transport:
Bus from Mexico City (about four hours).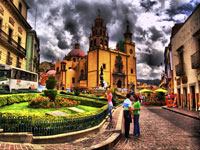 Guanajuato Jose Juan Figueroa
Creel
The rustic logging town of Creel is the gateway tothe Copper Canyon, popular as a starting point for exploring thecanyons and Tarahumara Indian country. The Ferrocarril Chihuahua alPacifico (ChePe) train runs along the main canyon between Chihuahuaand Los Mochis. The trip takes about 15 hours, passing throughdramatic scenery and several villages and is a popular way toexplore the region. Creel is the largest town in the canyon andoffers accommodation, restaurants, Tarahumara craft shops, toursand guides. Situated high in a valley, the cool mountain air at7,677 feet (2,340m) makes a pleasant escape from the humidity onthe coast. Travellers should note, however, that there have beenincidents of cartel-related violence in the vicinity of the CopperCanyon, and should take all possible safety precautions.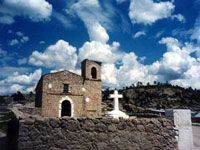 Copper Canyon, church near Creel Judith Duk
Isla Mujeres
Located just a short ferry ride from the resort, IslaMujeres is a stunning island with quiet villages and beautifulviews that make for a great excursion from Cancun. The calmatmosphere is a relaxing break from the bustle of Cancun's busybeaches, and Isla Mujeres offers some excellent restaurants servingfreshly-caught seafood. Hidalgo Street in El Centro is the maindining, shopping and entertainment area. Popular activities on IslaMujeres include lounging on the pretty beaches, swimming withdolphins, snorkelling and scuba diving, exploring the remarkableUnderwater Sculpture Museum, swimming with sharks, deep-seafishing, and kayaking. The most popular beaches are on the northand west sides of Isla.
Transport:
Regular ferries are available from Puerto Juárez or GranPuerto on the mainland.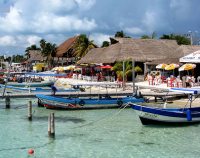 Isla Mujeres Cameron Wears
Bosque de Chapultepec
Bosque de Chapultepec is a truly immense urban park.Mexico's answer to Central Park spans over 686 hectares (1,695acres), and on any given day is brimming with people. The park ishome to boating lakes, monuments, a zoo, playing fields, andChapultepec Castle. The castle stands on a hill in the centre ofthe park, housing the Natural History Museum and offeringincredible views of the city. There's plenty to see and do in thepark, but most people come to relax on lunch breaks or weekends.Kick back, grab a taco and indulge in some people-watching.
Address:
Bosque de Chapultepec I Secc, 11100 Mexico City, CDMX,Mexico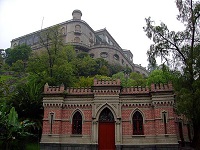 Chapultepec Castle Nuno Tavares
Wet n Wild Cancun
The Wet'n Wild Waterpark in Cancun claims to be thebest waterpark in Latin America. The park works in conjunction witha splendid dolphinarium which is a very popular attraction inCancun. Many resorts offer joint packages to the waterpark anddolphinarium. Attractions at the waterpark include a wave pool, alazy river, a kiddies pool, bumper boats, and four or fivewaterslides including the Twister, the Kamikaze and the BubbleSpace Bowl. There are also plenty of beach loungers for those whojust want to relax in the sun. Tickets are expensive, but includeunlimited beverages, ice-cream, snacks and meals. There arelifeguards on duty and medical attention on standby.
Address:
Blvd. Kukulcan Km. 25 Hotel Zone Cancun.
Opening time:
Open daily 9am to 5pm.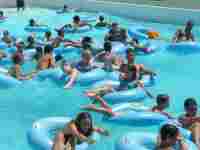 Pool lounging Solitude
Museo Maya
Cancun's archaeological museum, the Museo Maya, isnew, modern and air-conditioned and a visit can be a welcome relieffrom the heat outside. The museum consists of three largeexhibition halls and houses about 350 Mayan artefacts discovered inthe region. Artefacts include carvings, pottery, weapons, tools,ritual objects and burial masks. One of the highlights is the14,000-year-old skeletal remains found in Tulum's underwater caves,which greet visitors as they enter. The museum is enclosed bylovely landscaped grounds and nestled within are some fascinatingMayan ruins, including a small pyramid. This site, called the SanMiguelito Archaeological Site, is possibly the best part of a tripto the museum.
Address:
Blvd. Kukulkan km. 16.5, Zona Hotelera, Cancun
Opening time:
Open Wednesday to Monday 8am to 5pm.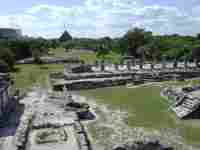 Ancient ruins Cancun Jok2000
Cancun Beaches
When it comes to watersports, people watching,sun-lounging, clear blue water, beach bars and restaurants, andgreat tourist facilities, Cancun is unbeatable. Beach resorts andpowdery white sand are the order of the day. The northern stretchof Mujeres Bay includes the popular Playa Langostina, Playa LasPerlas and Playa Tortugas, all great for watersports, bars andrestaurants. Playa Linda is a launching point for boat and divetours, while Playa Caracol and Punta Cancun are excellent forfamily fun. East side beaches are breezier with rouger surf. ChacMool, Playa Marlin, Gaviota Azul and Playa Ballenas are ideal forparasailing, windsurfing, while Punta Nizuc and Playa Delfines arebeautiful beaches perfect for a day of sand and surf. The best divesites lie between Cancun and Isla Mujeres, at the colourful reefsof El Tunel, Grampin, Chuchos and Largo. The Cancun UnderwaterMuseum (MUSA) is also a fantastic option for divers.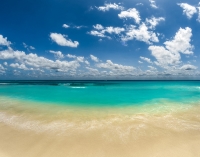 Cancun Beach Rick Gonzalez
The Tropic of Cancer divides Mexico into a tropical south andtemperate north, which means that the northern region experiencescooler winter temperatures, whereas the south is hot all year withlittle seasonal variation. The coastal plains and Yucatan Peninsulaof the south experience average annual temperatures ranging between75°F and 82°F (24°C and 28°C). The annual average temperatures inthe northern lowlands are somewhat lower, ranging between 68°F and75°F (20°C and 24°C), mainly because there is greater seasonalvariation. The whole country tends to be hot and humid between Mayand August and is pleasantly warm throughout the year. Rainfallvaries widely according to region and terrain, but Mexico does havedistinct wet and dry seasons: most of the country experiences arainy season between late May and mid-October, with significantlyless rain the rest of the year. February is the driest month andJuly is the wettest. Hurricanes are possible between June andNovember.
The best time to visit Mexico is between November and early May.It is best to avoid the peak summer months (June to August), whenit is uncomfortably hot, and the Easter holidays (March and April),when it can get unbearably crowded.
Money:
Mexican currency is the Mexican Peso (MXN), divided into 100centavos. Credit cards are widely accepted, particularly Visa,MasterCard and American Express. ATMs are available in most citiesand towns and are the most convenient way to get money, but forsafety reasons should only be used during business hours andvigilance is advised. Although many businesses will accept foreigncurrency (particularly US Dollars) it is best to use pesos. Foreigncurrency can be exchanged at one of many casas de cambio (exchangehouses), which have longer hours and offer a quicker service thanthe banks.
Language:
Spanish is the official language in Mexico. Some Englishis spoken in tourist regions.
Electricity:
110-120 volts, 60Hz. Two-pin flat blade attachmentplugs are standard.
Entry Requirements:
US citizens must have a passport that is valid upon theirarrival in Mexico. A visa is not required for stays of up to 180days.
British citizens must have a passport that is valid upon theirarrival in Mexico. A visa is not required for holders of Britishpassports endorsed British Citizen, British National (Overseas) orBritish Subject for stays of up to 180 days.
Canadian citizens must have a passport that is valid upon theirarrival in Mexico. A visa is not required for stays of up to 180days.
Australian citizens must have a passport that is valid upontheir arrival in Mexico. A visa is not required for stays of up to180 days. Note that visa exemptions apply to holders of an APECBusiness Travel Card, provided that the card is valid for travel toMexico (i.e. endorsed with "MEX" on its reverse side).
South African citizens must have a passport that is valid upontheir arrival in Mexico. A visa is required. Passengers with avalid visa issued by Canada, Japan, USA, United Kingdom or aSchengen Member State are visa exempt for a maximum stay of 180days.
Irish citizens must have a passport that is valid upon theirarrival in Mexico. A visa is not required for stays of up to 180days.
US citizens must have a passport that is valid upon theirarrival in Mexico. A visa is not required for stays of up to 180days.
New Zealand citizens must have a passport that is valid upontheir arrival in Mexico. A visa is not required for stays of up to180 days. Note that visa exemptions apply to holders of an APECBusiness Travel Card, provided that the card is valid for travel toMexico (i.e. endorsed with "MEX" on its reverse side).
Passport/Visa Note:Visa:
All foreign passengers to Mexico must hold a Mexico Visitor'sPermit (FMM), which is issued free of charge, and obtainable fromairlines, Mexican Consulates, Mexican international airports, andborder crossing points. As part of the Western Hemisphere TravelInitiative (WHTI), all travellers transiting through the UnitedStates are required to present a passport, or other valid traveldocument, to enter or re-enter the United States. Foreignpassengers to Mexico should ensure that their passports and othertravel documents are in good condition - even slightly tornpassports will not be accepted. NOTE: It is highly recommended thatyour passport has at least six months validity remaining after yourintended date of departure from your travel destination.Immigration officials often apply different rules to those statedby travel agents and official sources.
Travel Health:
Those entering Mexico from an infected area require a yellowfever certificate. There are no vaccination requirements forvisitors to Mexico, however visitors should take medical advice iftravelling outside the major tourist areas. A malaria risk existsin some rural areas, but not on the Pacific and Gulf coasts, anddengue fever is on the increase. Vaccinations are recommended forhepatitis A and typhoid. Travellers who may come into close contactwith animals and may be at risk of bites should consider a rabiesvaccination.
Sensible precautions regarding food and water should be followedand visitors are advised to be cautious of street food and stick tobottled water. Medical facilities are basic, so comprehensivemedical insurance is recommended. As medicines may be in shortsupply in certain areas travellers should consider taking alongprescription medications, in their original packaging, andaccompanied by a signed and dated letter from a doctor detailingwhat it is and why it is needed.
Note: Zika is still a risk in Mexico. Because Zika infection ina pregnant woman can cause serious birth defects, women who arepregnant should seek advice from healthcare providers beforetravelling to Mexico.
Tipping:
Tipping is customary in Mexico for almost all services asemployees are not paid sufficient hourly wages and often rely ontips. Waiters and bar staff should be tipped 10 to 15 percent if aservice charge hasn't already been added to the bill. The Americancustom of tipping 15 to 20 percent is practiced at internationalresorts, including those in Los Cabos.
Safety Information:
There can be incidents of robberies and muggings in Mexico,especially in the big cities such as Mexico City. Travellers,particularly women on their own, should be vigilant and take careof their belongings, especially on public transport. Only useauthorised taxi services, and try to avoid bus travel at night.
Visitors are advised to be wary of people presenting themselvesas police officers attempting to fine or arrest them for noapparent reason, leading to theft or assault. If in doubt ask foridentification.
Most of the violence related to drug cartel wars in Mexico isconcentrated along the border between Mexico and the United States.Tourist zones are generally unaffected, though it is worth checkingthe news before travelling.
Hurricanes may affect the coastal areas between June andNovember.
Local Customs:
Mexicans are not impatient and do not appreciate impatience inothers, so travellers should expect opening hours and publictransport times to be flexible and laid back. Mexicans are friendlyand hospitable people and courteous behaviour and polite speech inreturn is greatly appreciated. Travellers should also note that itis common for Mexicans to communicate closer than one arm's lengthfrom each other and that it is not an attempt to be forward.
Business:
In Mexico, business is ideally conducted face-to-face. Althoughmany Mexican businessmen speak perfect English, Spanish is theofficial language of business in Mexico - and learning a few choicewords and phrases will go a long way toward ingratiating yourselfwith your new associates.
Business etiquette in Mexico is marked by a combination offormality and friendliness. It is very rare to hear the word 'No'being used in a direct or confrontational way - bald refusals areseen as rude. Use titles ('Señhor' and 'Señhora') untilspecifically instructed not to do so, but do not shrink away fromengaging in personal discussions with your colleagues. Businessmeetings must be scheduled in advance, and then confirmed a fewdays before they are due to take place.
The dress code for the Mexican business world is smart andformal. Business hours in Mexico are generally from 9am to 6pm,Monday to Friday (with a 2 or 3 hour siesta in the earlyafternoon).
Communications:
The international access code for Mexico is +52. If callinginternationally from a phone booth use the official TelMex phonebooths, as all others charge very high fees. There is widespreadnetwork coverage in Mexico from Telcel, Movistar, and AT&TMexico. As international roaming costs can be high, purchasing alocal prepaid SIM card can be a cheaper option. Hotels, cafes andrestaurants offering free wifi are widely available.
Duty Free:
Travellers to Mexico over 18 years do not have to pay duty on200 cigarettes or 25 cigars or 200g tobacco; 3 litres spirits or 6litres wine; other goods to the value of US$500 if arriving by air,or US$300 if arriving by land are premitted without incurring dutyfees. Prohibited goods include narcotics, firearms and usedclothing that is not part of your personal luggage. The export ofarchaeological artefacts is strictly forbidden.